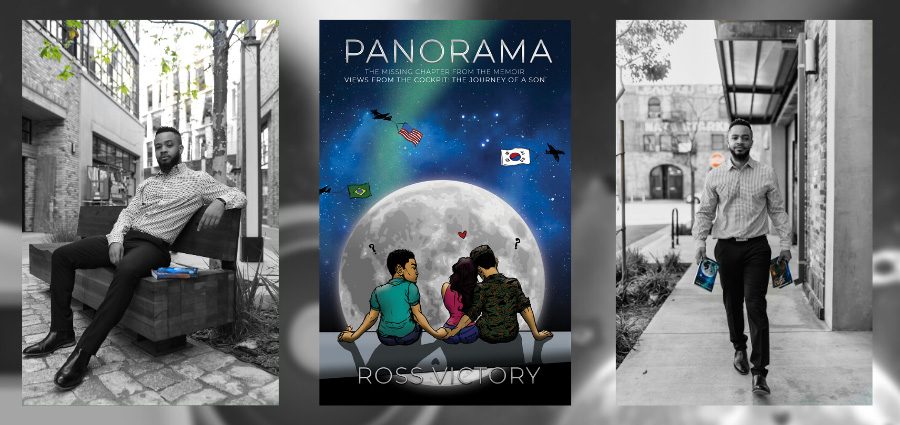 "PANORAMA" NEW BOOK BY L.A. AUTHOR ANNOUNCED FOR JUNE 21; PAGE-TURNER POSITIONED TO INCREASE BISEXUAL VISIBILITY
Photo by Christian Yi
Originally Posted On: http://ritzherald.com/panorama-new-book-by-l-a-author-announced-for-june-21-page-turner-positioned-to-increase-bisexual-visibility/
Award-Winning Author and singer/songwriter, Ross Victory's new memoir Panorama: The Missing Chapter announced to release on Father's Day, June 21, 2020, through Amazon, Barnes & Noble, Kobo, Wal-Mart, Target, Victory's website, and online retailers in e-book and paperback.
After Victory's first book, Views from the Cockpit (2019), which uses airplane metaphors to explore a father-son relationship—one year later—Panorama will debut as a related, stand-alone extension exploring life-changing experiences while living abroad in Seoul, South Korea.
Panorama showcases Victory's emotive, sensory-driven writing style putting international adventure and bi issues front and center, supported with themes of masculinity and inner child healing. Sub-topics include fatherhood, social media stalking, and bisexual erasure among people of color.
In Panorama, readers should expect to be whisked into a cerebral Wonderland of vivid descriptions, laughter, and Victory-like gut punches and irony. Victory becomes involved with a Brazilian soldier serving in Seoul, both of whom find themselves abroad to escape familial dysfunction. Readers join the two men on their Korean adventures before things take an unexpected turn. Readers gain to realize the nuance and complexity of bisexual experiences, with focus on typical and mostly straight bisexual men, on a curricular level. Bi narratives are mislabeled, depicted as transitionary, vilified, and deemed irrelevant in straight and gay monosexual frameworks.
Victory cites, "Some bi people are heteronormative, some are queer, some are married with kids, some are celibate…Bisexuals may be reluctant to raise their hands as bi because they don't feel safe… don't know how to access the millions like them yet still have to appear functional and whole. The general public gets bi references from the straight and gay world who do not have interest in propping up bi visibility. The narrative of Panorama is pushing ten years old, but after the loss of two first degree family members back to back, I understand that I have to be the visibility and representation I seek. I trust my life experiences and I am finally equipped and confident enough to put skin in the game and serve with my story."
Panorama ends with an essay targeted at phobic straight and gay monosexuals, also religious voices, who Victory positions as antiheroes in the case for bi visibility. The Human Rights Campaign sites bi-erasure and biphobia as the leading cause of suicide among bisexuals, disproportionate to suicide rates among straights, gays, and lesbians. Panorama illuminates that bi-oriented people, visible or invisible, are negatively impacted in all mental health outcomes from the minoritizing and suppression of bisexuality in social discourse.
Cornell University Professor of Developmental Psychology, sexuality researcher, and author of "Mostly Straight: Sexual Fluidity Among Men," and "The New Bisexual," Ritch Savin-Williams, Ph.D. calls Panorama "…a profound reflection on our view of men, masculinity, sexuality, and romance." Williams warns, "The reader should know these issues have been ignored."
Panorama is a boost for bisexual people who may feel exiled from straight and gay discourse because of their unique cultural intersections. Panorama serves as the catalyst for readers to recognize, label, and understand the impact of oppression that results from carrying one or more devalued identity, and the effects on society. Panorama will shift the reader's perspective and is highly effective in its mission to do so.
Panorama includes erotic, sexually suggestive prose and artwork that may not be appropriate for immature readers. As Victory is also a singer and songwriter, a music single by the same name will accompany the book release through Spotify and Apple Music.
Pre-order Panorama here.
Visit Victory's website here.