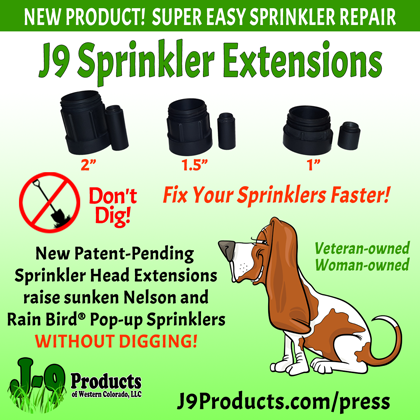 New Patent-Pending Invention Helps Save Precious Resources
J9 Sprinkler Extensions Save You Time, Water, Money, and "Back-Breaking" Labor
FOR IMMEDIATE RELEASE
Grand Junction, CO, July 14, 2022 — Why dig when you can just screw it in? If one of your dreams is a beautiful lawn, J-9 Products of Western Colorado has an easy and inexpensive solution that may help.
Over time, most pop-up sprinkler systems become less effective due to sunken sprinkler heads. This issue wastes water and may cause brown spots in your yard. Until now, the way to fix this problem was to replace the buried sprinkler with a taller sprinkler or to put a riser under it. Either fix requires digging a large hole around the base of where the sprinkler is attached. Then you're on your hands and knees, reaching down into the hole, trying to attach the riser or sprinkler while making sure that rocks and dirt don't get into the water line.
Scott Mullin wanted an EASY way to raise sprinkler heads that had sunk in his own lawn.  If you've ever tried to dig in hard clay or rocky soil, you'll know why! His invention of J-9 Sprinkler Extensions solved the problem.
Eliminate the digging with this DIY pop up sprinkler extensions repair kit. J-9 Sprinkler Extensions contain a coupling and a riser that are secured inside the existing sprinkler. Just unscrew the cap from the sprinkler body and screw in the risers. Raising your sunken sprinkler head typically takes about five minutes! Although they are super easy to implement, an installation guide and videos are available at https://j9products.com/installation-guides.html.
These risers come in three sizes, which can be combined to raise your buried sprinkler head to the exact height needed. J9 Sprinkler Head Extensions have undergone extensive testing and are designed specifically for use with Nelson or Rain Bird® pop-up sprinklers. They are built with durable materials and a patent is pending on this helpful invention.
J9 Sprinkler Extensions help you save the non-renewable precious resources of time and water. This simple and inexpensive 5-minute fix also saves money and labor time/costs for homeowners, property management companies, landscapers, apartment owners, golf courses, business owners, hotels, city parks, and anyone else maintaining a lawn. To get started, just visit: https://j9products.com/shop.html.
J-9 Products of Western Colorado, LLC is owned by Scott and Janine Mullin, who live in Grand Junction, CO.  According to Scott, "The long-term goal of J-9 Products is to continually develop quality WOW Factor DIY items that solve the simple problems." Sprinkler head extensions designed to work with Hunter® sprinkler systems are already in the testing phase. But right now, anyone using Nelson or Rain Bird® pop-up sprinklers can save time, money, and water, as well as alleviate a lot of frustration by ordering J9 Sprinkler Extensions online.
Media Contact:
Scott Mullin, Inventor
970-361-2932
[email protected]
https://j9products.com/cont-J9.html
Originally posted On: https://syndication.cloud/new-patent-pending-invention-helps-save-precious-resources/