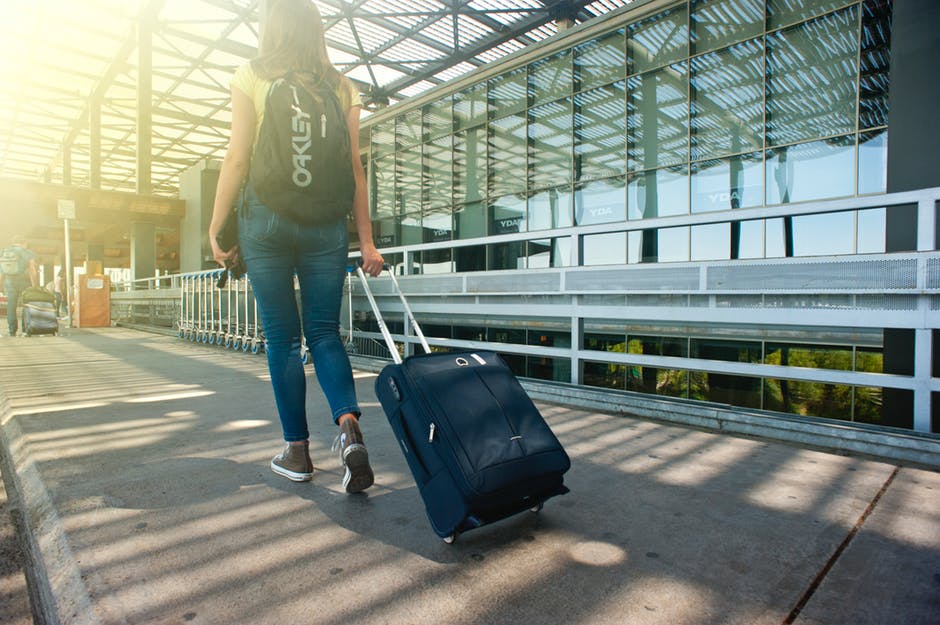 Lyft, Uber, and Taxis Banned from Terminal Curbside Pick-Up at LAX
Serving nearly 90 million passengers a year, Los Angeles International Airport (LAX) is the second-busiest airport in the country and the fourth-largest in the world.
To help make the traveling experience better for flyers, LAX is making some massive changes. To reduce congestion, LAX has begun construction of an elevated airport train — a $14 billion project set to open in 2023.
As a result of this effort, LAX prohibits rideshare services like Lyft, Uber & Taxis from picking up passengers outside of the terminal. The new area is called LAX-it — or "LAX Exit."
Airport officials promise that this process is as smooth as ever. However, some passengers would say otherwise.
Keep reading to find out how Uber pick-up at LAX ban affects you and how GoRide Shuttle Service offers a better solution.
What Happened to Uber Pick-Up at LAX?
Before the pick-up change at LAX, passengers would be able to hitch a ride at the curbside. Now passengers would go through a more complicated process.You will have to board a shuttle that takes you to the new pick-up area. Here's how it works.
When you land at LAX, you would call a Taxi or open the Lyft or Uber app and request a car. If there is confusion, the app will give you further instructions on how to request a ride. Once you exit the terminal, you will get on one of the shuttles to the pick-up area. Airport officials point out that the pick-up area is a short walk from terminals 1,2,7 and 8. The sidewalks have added signage to help you navigate your way to the new area. If you are hailing a taxi, there will be a taxi stand at the pick-up destination.
How Long Does the Shuttle Ride Last?
The shuttles arrive every three to five minutes. Officials say that the longest shuttle ride will be from Terminal 1, which will be around 15 minutes.
To help expedite the shuttle travel times, LAX is changing the inside lanes on the arrival level to bus-only lanes.
Theoretically, passengers should arrive at their Lyft, Uber, or Taxi within 30 minutes of exiting the terminal — even on the airport's busiest days.
Are the Shuttles ADA-Approved?
Yes, the shuttles can accommodate those with disabilities. There are no ramps, stairs, or curbs in the shuttle or pick-up area. Also, the shuttles have tie-downs for wheelchairs. Customer service agents are waiting at each shuttle to assist anyone who needs it.
What is the New Pickup Area Like?
The pick-up area is a sectioned part of the LAX parking lot — east of Terminal 1. The parking lot now has bathrooms, umbrellas, phone charging spots, and food trucks. It is said to have a capacity for over 2,600 cars an hour. Airport officials also say that it has lines that hold over 93 Uber and Lyft vehicles that can pick up riders at the same time. The taxi stand can hold over 40 taxis.
Also, employees will be available 24/7 at pick-up spots to help passengers lift luggage and load the car.
It seems like LAX-it is the answer to stressed travelers' prayers, right? Well, not exactly. Let's see how it measures up.
What Do Travelers Think About the New LAX-it?
While this change intended to make getting a ride from the airport more manageable, it seemed to make the process more confusing. Passengers complained that the customer service was poor and there were long wait lines.
Due to traffic gridlock and overcrowded shuttles, customers expressed that it took them longer to get a ride than it did to fly to Los Angeles. One of the main problems with the new system is customer confusion. Many struggled to figure out how to get to the pick-up area. Also, the ridesharing lines were unorganized and difficult to distinguish.
Customers were also alarmed at the long wait times for their rideshare service. Once flyers got to the pick-up area, they waited more than an hour to get to their ride. If that wasn't bad enough, travelers were also stunned at the surge in pricing. According to one LAX flyer, a typical rideshare trip that cost around $30 before LAX-it, now costs up to $70 plus tip. On busy days like Friday, customers can expect to pay about 150% more.
It seems that LAX-it makes traveling more stressful. Thankfully, GoRide is not banned from picking up and dropping off customers at LAX terminals.
How is GoRide Shuttle Service Different?
Unlike Taxis and ridesharing services like Lyft and Uber, GoRide Shuttle drivers will pick up passengers at the curb of the LAX terminal — just like the old system.
You would request a driver using the GoRide Shuttle Service app and wait between the inner and outer lanes of the arrival levels. No crowded shuttles or long lines. Private curbside pick-up makes getting a ride easier and less hassle. GoRide is not a Rideshare service and you can easily communicate directly with your driver. If your flight is delayed, you can contact them with a direct phone number.
GoRide Shuttle Service is also safe and reliable. Ridesharing services have come under fire for its safety issues. However, with GoRide, it's not a rideshare service and you can rest assured that you will arrive at your destination safely. Our team of professional drivers are licensed, insured, and undergo a lengthy background check.
Are you traveling with children? Forgo the overwhelming LAX-it experience and book GoRide. Our GoRide transportation service is child-friendly and offers booster seats and car seats.
Let GoRide Improve Your Travel Experience
Want to avoid the hassle of Uber pick-up at LAX? Book GoRide for your curbside pick-up from LAX. Our service is guaranteed to alleviate the stress of traveling.
Are you planning a trip? Schedule your transportation in advance to make your trip to and from the airport as smooth as possible.
Download the app on your Apple iOS or Android device or contact us.