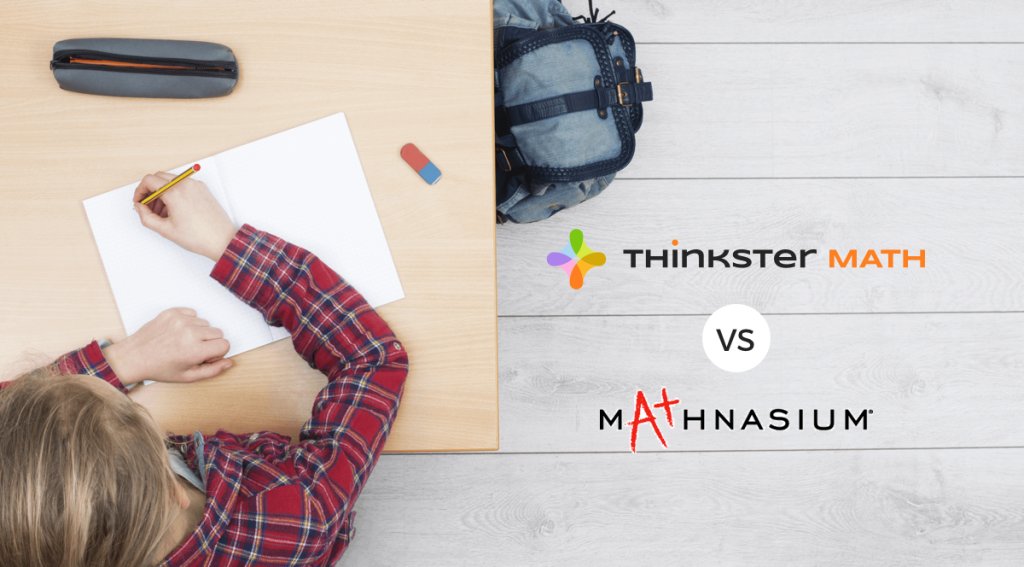 How Much Does Mathnasium Cost Compared to Thinkster Math?
Originally posted on https://hellothinkster.com/blog/how-much-does-mathnasium-cost-compared-to-thinkster-math/
When you're seeking the ideal math tutoring program for your child, nothing less than the best will do. With so many options to consider, weighing your choices can be challenging. You need to know whether the program is available online or in person, assess the curriculum, get a sense of the homework level, and take a look at the program's resources. Of course, you'll want to calculate the tuition, too. Find out how much math tutoring programs such as Mathnasium cost compared to Thinkster Math, compare the program offerings, and decide which tutoring program is right for your child.

What is Mathnasium and how much does it cost?
Mathnasium is a center-based program. Students attend sessions at a local center where they work through worksheets and are supported by a tutor. Mathnasium is a good option for families who want a program that offers center-based, small group tuition. Students work through the worksheets during the sessions only. They don't take the worksheets home and are not assigned homework.
Mathnasium was started over 15 years ago and is based on a program developed by a US teacher who wanted to help children understand math without the focus on rote memorization and repetitive exercises. Although center based, like programs such as Kumon, their focus on understanding math and the use of in-center tutors to teach their program makes it a good choice for families who are looking for a local math program with additional support.
Mathnasium offers an online program for families in a few states in the US.
Mathnasium costs around $200-$300+ per month.
What is Thinkster Math and how much does it cost?
Thinkster Math is a digital, online program. Students are assigned worksheets and meet online for one-to-one coaching sessions where they can work on school homework, test prep or on Thinkster's worksheets. Thinkster Math is a great program for families who don't want to attend a center and who want a program that offers unlimited worksheets that their children can work on, to improve their math skills, throughout the week.
Thinkster Math was started in the US by 2 ex-Kumon Math parents and a group of math teachers. They wanted to help their own children develop their math skills, with work that would support their children's school work. They also wanted to use the latest technology to deliver this work, to make it accessible to more families. The Thinkster Math program is based on the US curriculum and Singapore Math. There are also worksheets offered to support international curriculum such as topics taught and tested in the UK and Australia.
Thinkster Math students complete as many or as few digital worksheets as their schedule permits. They can also meet their tutor online for shared whiteboard sessions several times a month.
Thinkster Math costs from $100 – $200 per month for plans which include one-on-one coaching.  They also have plans starting at $60 per month that offer support and guidance from a coach without actual one-on-one tutoring sessions.
Thinkster Math and Mathnasium Math compared
Both Thinkster Math and Mathnasium offer a personalized approach to helping children improve their math skills. In the sections below, we'll take a deeper look at the similarities and differences in Mathnasium and Thinkster Math's subscription plans, and student and parent experience.
Subscription Plans – Thinkster Math vs Mathnasium Math

Both Thinkster Math and Mathnasium provide each new student with a skills assessment to identify gaps in their math knowledge. An individual study plan is then developed to fill those gaps and extend the student's math knowledge. On the Thinkster Math program, this takes part during the free trial period. On the Mathnasium program, this takes place during the initial session, which at times is free.
Mathnasium families pay a registration fee in addition to the monthly subscription fees. There is no registration fee for the Thinkster Math program, only the monthly subscription fees. For both programs, parents pay monthly and can cancel at any time. There are no long-term contracts but discounts are available on both programs for paying for multiple months.
Mathnasium costs more than Thinkster Math. In some cases, more than double the price. This can be explained by the fact that Mathnasium students attend a physical location, so a large part of the higher fees is to account for rental of the tutoring space. Since Thinkster Math students don't need to attend a center and can take lessons online at their convenience, the costs are more reasonable.
Worksheets – Thinkster Math vs Mathnasium Math
Both the Mathnasium and Thinkster Math curricula are based on the school math curriculum. They both offer work that helps with school homework and test prep, and include word and logic problems to expose students to a wide variety of questions for each topic.
Mathnasium students complete worksheets only while they are at the Mathnasium study center. They can't take the worksheets home and no homework is given. Thinkster Math features unlimited worksheets which can be completed at any time.
Many students are used to working with digital resources at school. Mathnasium worksheets are paper-based, allowing students to write both their working out and their solutions on the worksheets.
The main Thinkster Math program uses digital worksheets. Students are able to write on the Thinkster Math digital worksheets using a trackpad or use a stylus or their finger on a tablet.
Thinkster Math provides both instructional videos and a video library for students to watch examples prior to, during, or after completing a worksheet. Mathnasium Math worksheets provide a brief example problem at the start of each subtopic to help students get started on the topic.
Student and Parent Experience – Thinkster Math vs Mathnasium Math
The overall quality of the experience for both students and their parents is an important factor in determining the medium and long-term success of a math program. If the student and/or parent aren't happy with aspects of the program, then either the student will fail to reach their full potential or the family will quit the program.
Thinkster Math has excellent scores from families on the independent Verified Reviews website,
"5/5 – Thinkster provides excellent math tutorial services. The more my child uses it with my help, the more she gets a better understanding of math concepts. It is very convenient also to use in my home instead of going to a tutorial center, which is more expensive. Thank you Thinkster for your worksheets! Please keep up the great service" – Beena J., 6/15/2017
"Thinkster has been so amazing. The focus is on math but our son has improved in all subjects because he has gained so much confidence from figuring out how to study properly.
It's also so convenient to do the worksheets on an iPad at home and to do the tutoring sessions on our own time rather than the store hours of a tutoring place like Kumon," – Michelle K., 5/26/2017
———————–
Mathnasium has many positive reviews on the testimonials page of the Mathnasium website:
"Kailee's confidence has improved tremendously in all her subjects. Mathnasium has not only helped in math, it's helped in all her subjects. All of Kailee's grades have improved. She made honor roll for the first time since pre-K this year. Thank you, Mathnasium!"
"Her recent report card, received over the weekend, shows a B- in math now. We're all smiles around the house. We love everything you and your staff have done for Mimi," Eileen P., Parent

Let's take a look in more detail as to how Mathnasium and Thinkster Math compare in terms of the student experience.
At Mathnasium, students are given a booklet of worksheets based on a variety of topics identified in a pretest. Students generally attend a Mathnasium center one or two times a week. There are usually 4 or 5 other students working with each tutor. The tutor spends a few minutes explaining the work and then lets the student start working on that topic while the tutor helps other students. Students can take homework to their Mathnasium sessions. However, all work takes place at the center and the workbooks cannot be taken home. The Mathnasium tutors grade the work that the student completes at the in-center tutoring sessions.
On the Thinkster Math program, students are also assigned work based on pre-tests and skills assessments. A variety of topics are usually assigned, and students can tackle the topics in any order, based on how comfortable they are with the topic. Topics can also be added in, to support school work or test prep, or taken out and added back in later if families want to prioritize other topics. Students can complete an unlimited amount of worksheets and since the worksheets are digital, they can be completed at any time.
Thinkster tutors grade and provide feedback every day to a child's work. This provides Thinkster tutors with a very clear window into understanding how Thinkster students are working each day and help them to personalize their student's work more often and much more effectively within each week, leading to significant performance improvements. Thinkster tutors use active Replay Technology to "playback" the student's work, so they can see where the student paused, made mistakes or scratched out while they were completing the worksheet.
Thinkster Parents are able to keep track of their child's performance improvement by looking at and reviewing their child's progress chart. The Thinkster Parent App allows parents to communicate with their child's tutor much more easily by texting, emailing or calling them directly as and when needed. In addition, the parent app provides notifications of the work completed by the student as well as actually showing the grading and feedback provided by the tutor on specific problems.
Regular one on one Thinkster whiteboard tutoring sessions can also be scheduled on a regular or flexible basis.
Summary – Thinkster Math vs Mathnasium Math
Extra time spent practicing math in a structured way is a great way to improve students' math skills. Both Mathnasium and Thinkster Math are structured programs with tutor support (one on one for Thinkster and small group for Mathnasium).
The program at Mathnasium costs more and is set at a higher price point due to costs associated with having families attend a physical location. Thinkster Math is able to offer their math program at a more affordable price point and includes one on one support. We hope this review of Mathnasium and Thinkster Math has given you an overview of both programs and will help you decide which program will suit you and your family.
Try out our Thinkster math tutor today and see the benefits for yourself. Join throughout the school year or if looking to incorporate a summer math program into your child's routine.
Features and support are constantly changing! This analysis was accurate to the best of our knowledge as of January 2018
Sign up for a free 1-week Thinkster Math trial at www.hellothinkster.com
Note:  Mathnasium®  is a registered trademark of Mathnasium LLC. Thinkster Math is in no way affiliated to the same.