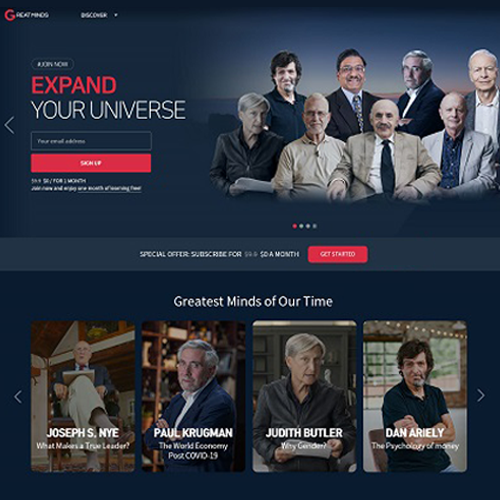 The Global Knowledge Lecture Platform Great Minds is Officially Open
FOR IMMEDIATE RELEASE
7 March 2022— Great Minds will officially open PC and mobile web services at the end of February with the goal of becoming a global knowledge lecture platform for educated people around the world.
Great Minds (www.thegreatminds.com) is a lecture platform where users can listen to talks given by world-renowned scholars and learn from their comprehensive knowledge. At the end of 2021, the platform opened a two-month beta trial service.
During this period, the platform offered video lectures by seven world-famous scholars (36 in total) such as the lecture 'The World Economy Post COVID-19' given by Nobel Prize-winning economist Paul Krugman and the lecture 'What Makes a True Leader?' delivered by Joseph Nye, Distinguished Service Professor, Emeritus and former Dean of the Harvard's Kennedy School of Government.
Users are increasingly interested in spending time on rewarding intellectual activities instead of things that just kill time.
Various users from the United States and Republic of Korea responded in succession during the trial period.
There were many opinions about the way the platform differentiated itself from other forms of OTT content. One such review said that "the website is easy to use and has an intuitive screen composition." Another review said that "it's not for killing time, but for rewarding intellectual activities."
In order to reflect the opinions of users, Great Minds offers one month free when you sign up for membership.
By the end of February, new members will receive their first month free when signing up for a $9.99 membership.
The platform will be offering numerous benefits such as a free subscription for leaving a service review on the Great Minds website.
The platform will also be offering multilingual subtitles after the official opening. Subtitles will be available in English, French, Spanish, Chinese, Japanese and Korean.
Great Minds will continue to provide support for high-definition lecture videos and downloadable lecture material workbooks.
Kim Myung-joong, the president of EBS Broadcasting Station and the Executive Director of the knowledge lecture platform, said, "In the future, we will continue to recruit renowned individuals in the fields of economy, management, energy, global environment, education as well as masters from all over the world in practical fields such as the performing arts and cooking."
Experience the Great Minds service at www.thegreatminds.com.
Originally Posted On: https://syndication.cloud/the-global-knowledge-lecture-platform-great-minds-is-officially-open/