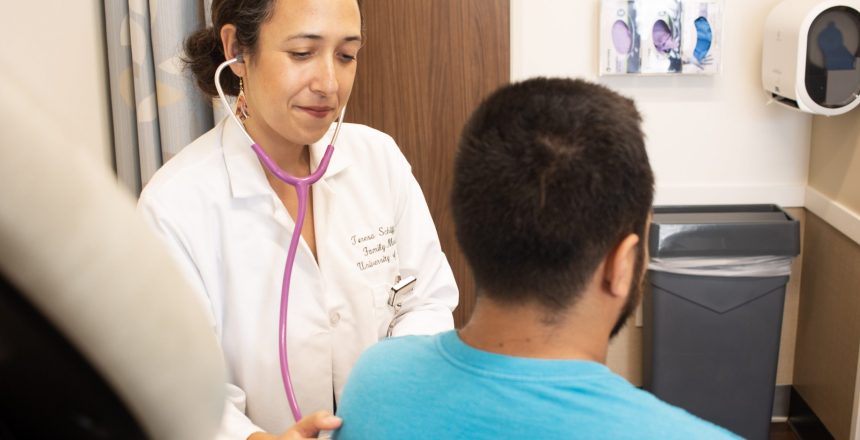 The Big Move And The True Meaning Of Family Medicine
Photo by Vina Cristobal
Originally Posted On: https://uhphawaii.org/index.php/the-big-move-and-the-true-meaning-of-family-medicine/
Well, it's happened.
University Health Partners (UHP)'s Family Medicine clinic has completed the move from the Physicians Center at Mililani to their new home which is conveniently nestled at Pali Momi Outpatient Center in Aiea, a move that has been a long time coming. The dedicated leadership and staff of Family Medicine slogged through the hard work of searching, identifying, building, complying, drawing up contracts, organizing, planning, packing, and directing, during this time when a lockdown kept most of us at home. And all the while, they cared for their patients and even accepted some new ones.
It was no small feat. Yet everyone involved seems to agree with Dr. Robert Thomas Carlisle, one of the two new physicians who have just joined UHP in our Family Medicine clinic. The move and transition "went phenomenally well. It could not have run more smoothly," he said, giving all credit to those people at his new UHP Family Medicine ohana, who, he added, "had a well-designed plan." He called them "inspiring to work with."
Family Medicine Department Chair, Dr. Allen "Chip" Hixon, agrees that the move to Pali Momi from The Physician's Center at Mililani "was kind of uneventful. We did so much planning. It went very smoothly."
Dr. Hixon is quick to credit the "remarkable staff" in Family Medicine for making this move such a success, while specifically giving credit to the clinic's Business Director, Leah Taylor, for so skillfully planning and executing the move. [See the article on Leah Taylor in this issue.] It helped, he said, that Hawaii Pacific Health's architect and project manager "were wonderful to work with."
The goal, Dr. Hixon said, was to create "a way to have the best family medicine curriculum" for the residents while addressing the myriad needs of the patients we care for. They worked hard on design, he said, making sure they "used the space effectively for patient flow." They also are aiming to create a "team-based clinic" with an ambulatory pharmacist, clinical psychologist, "and all those necessary services" along with family medicine.
Though it took a lot of time and hard work, the move to Pali Momi gave Family Medicine's Clinical Operations Manager, Desiree Navarro, a chance "to reflect a little bit."
Desiree said that helping with the packing up of the clinic at Miliani afforded her "a little trip down memory lane" as she went through some of things they had stored there during the 20 years she has been with the clinic. "It was nice to go back and say, "Hey, I remember this!" Overall, she agreed with Dr. Hixon and Dr. Carlisle that the move and transition have been very smooth.
A high priority for the Family Medicine Clinic was that their patients continue to receive care throughout the move. And they did. The clinic not only continued to see their established patients, but throughout this move and transition, took on some new patients too. "Not losing any communication with patients, partners, vendors – this was a very important part to me," Desiree said.
Dr. Hixon shared an interesting bit of information about the history of the site of the new clinic: Years back, the site of Pali Momi was a sugar plantation, and during the late 1930s and early 1940s, Dr. Howard Liljistrand was the plantation's doctor in the healthcare facility maintained there for the workers. When the plantation closed abruptly, the workers were suddenly left without employment and healthcare. Dr. Liljestrand bought the hospital from the sugar company so he could continue to care for his patients, the former plantation workers. When he retired, he was able to sell the land to the people who developed a hospital there which would become Pali Momi Medical Center.
"So our new clinic," Dr. Hixon said, "is on the same space, the same block, the same geography as this very early plantation primary care doctor that was working there in the late 30s and 40s. I think there is a historical legacy there."
The story of Dr. Liljistrand is one of a provider who is dedicated to the well-being of his patients. It is wholly fitting that UHP's Family Medicine doctors are practicing medicine on the very spot where he did. Talking with the clinic's doctors and staff, it is abundantly clear that the quality of the relationships they maintain with their patients is central to their approach to treatment.
"Family Medicine is based on relationships over time," Dr. Hixon said. "This is an idea that may have gotten lost in our current busy society, that may seem quaint and old-fashioned, but we're also providing the latest evidence-based care and prevention, following the latest guidelines and services, so it is a combination of past, present, and future."
Family medicine, he says, "is not organ-system based, as many of the medical specialties are. For us, it starts with the person, with understanding the person – their life and their needs. The acute, chronic, and preventive care builds from there."
In their relationships with specialist physicians, Dr. Hixon compares family medicine doctors to quarterbacks or point guards. "If we to need to pass the ball, surely we do. Healthcare is a team sport."
Desiree's comments echoed Dr. Hixon's emphasis on establishing relationships with their patients. "We build very good relationships with our patients," she added. "They understand our program and they love it! They actually love being a part of this – that they can help teach our residents. I have heard it from them."
She said she encourages her staff to "find appreciation for working at a physician's center and under UHP, for being able to provide education and provide care to patients. That is the message I bring to my staff," she said. "To bring the positive, to learn from the negative. Grow with the changes. Our mission is to serve the health needs of the community, now and in the future."