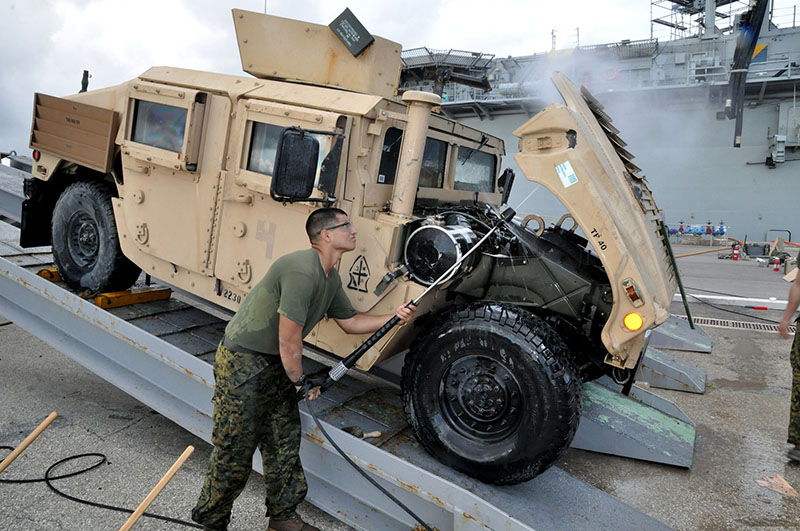 Pressure Washer Hose Buyer's Guide
We know searching for the right pressure washer hose can be overwhelming. The first page of Google points you towards all the big box and online stores you can think of. Their options are fine for a casual user who wants to wash his car, but what if you need to something a little more industrial? There are a lot of options and considerations when choosing the right hose. This guide will teach you about them and help you understand what you need.
Is Leaving a Mark Avoidable? Technically, No.
Pressure washer hose is notorious for leaving marks on whatever you're washing. Dragging a hose across a deck may not always leave a mark, but vibrations from a running pump, alongside the abrasion caused by frequent dragging, will definitely speed up the wear of the cover and, consequently, leave a mark on your driveway or deck.
On the bright side, markings can be reduced by using the right hose. Color, cover material, and proper use can help. Light colored hoses are the best option, with markings standing out less than their black counterparts. Our customers have had the most success with gray. We've tried black, blue, and white, all marking more than gray covers.
Synthetic rubbers have the best abrasion resistance, because they are specifically designed to be non-marking. Plastic hoses—like those found at Lowes and Home Depot—are fine when you need a light-duty hose, but they don't hold up as well.
Size and Length Matters… Duh
Choosing the right diameter is often driven by the port in the pump. Most people choose a 3/8" hose when they have a 3/8" port, a 1/4″ hose with a 1/4″ port, and so on. Using 3/8" hose will provide more pressure and more flow at the gun. This is most important with 1/4″ connections. Pressure drop in a 1/4″ hose can be nearly 400 psi, whereas a 3/8" hose would only give you a 50-psi pressure drop (at 3 gpm in a 100 ft hose).
Keep in mind: the longer the hose, the greater the pressure drop. We don't want to raise needless concern here, but if you can get away with a 50-footer, don't buy the 100. More import than pressure drop, longer hoses are hard to handle. If you've ever tried to coil a 100-footer with a gun on the end, you know exactly what we're talking about. We recommend a reel for anything longer than 50 feet, especially if you're a daily user.
Is It Time To Replace My Hose?
The most common indicator that it's time to replace your hose is a damaged cover with exposed wire reinforcement. The cover's job is to protect the wire from corrosion, which leads to reduced pressure as the reinforcement deteriorates. If you can feel a broken wire poking through the cover, it's time for a new hose. A broken wire is a leak path for water, causing corrosion; and, more importantly, you're asking for a nasty cut and a trip to the Minute Clinic for a Tetanus booster.
Trust us, we've learned the hard way.
Don't forget to keep a close watch on the hose ends, as they can accumulate rust and calcification on the inside, leading to reduced flow.
Pressure
If you have a 2500 to 4000-psi pressure washer, then feel comfortable using a one-braid, 4000-psi hose. You don't need to upgrade. More isn't always better. Industrial-grade, one-braid pressure washer hoses are easier to handle than two-braid. While two-braid hoses are used in 5000 & 6000 psi applications where extra strength is required, they come at the cost of decreased flexibility and increased weight.
Which End Connection Do I Need?
Pressure washer connections typically are either Metric M22 X 1.5 (14mm tube is the most common), 3/8" NPT pipe thread, or straight-through quick connects. The M22 male thread is found on the pump. From here there may be an adapter to 3/8" NPT or a quick disconnect. Make sure to use some kind of thread sealant like Teflon tape if you have NPT. NPT threads don't seal by themselves and require help.
*Electric units sometimes have the M22 X 1.5, 15mm threads. There are two ways to determine if you have threads for 14mm or 15mm tubes. One is to measure the inside of the male connection after the taper using calipers. It will be very close to either 14mm or 15mm. The other is to measure the diameter of the male part in the middle of the female threads. This feature, usually with an O-ring, mates up with the taper inside the male threads. It will measure very close and just under 14mm or 15mm.
Cleaning with Chemicals, Detergents, & Hot Water
Sometimes, pressure alone isn't enough. The surface you're cleaning might require some extra elbow grease. If you use chemicals, detergents, or hot water, you need a hose that can handle it. Hoses made with plastic tubes are often times good with chemicals and detergents but don't do well with hot water. Synthetic rubber is engineered to handle a wide range of industrial cleaners and handle hot water. Hoses rated to 311°F will provide the longest life if you routinely use a heater in your washer system. Heat and chemicals can quickly break down your hose.
Let me tell you a story:
We were once selling a "water cooling" hose to a steel mill. The application was only 160°F, so we chose a common water transfer hose rated for 180°F. This was the same rating as the equipment manufacturer's hose, so we felt comfortable replicating the spec.
The manufacturer's hose lasted three months, and so did ours.
At first, we didn't even think temperature mattered; after all, our hose was rated for the application. After some investigation, we decided that temperature might be our culprit. We specced a 350°F hose ten years ago, and it's still going strong. This taught us a valuable lesson: hot water can wreak havoc on your hose, and if you have a burner, you need a hose specifically designed for hot temperatures.
PowerKlean 4000
TCH has designed a hose from the ground up to address the needs of pressure washers all over. PowerKlean 4000 has all the best attributes combined into one hose. It's a non-marking, high-temperature, light and flexible hose that handles all pressure washer applications up to 4000 psi. The PowerKlean 4000 comes in standard lengths of 50 and 100 feet, and we can accommodate any custom length you require, just call and get a quote.
3/8" I.D.
4000 psi
Gray synthetic, non-marking cover, synthetic tube

Resistant to weather, oil, and O-zone

311°F/155°C
One-braid, steel-wire reinforcement
TCH Industries
Our focus and obsession is the distribution and fabrication of hose for industry and hose related products. Founded nearly 40 years ago, we are proudly owned and operated by the same family. Our manufacturing partners are some of the biggest and best names: Eaton, Parker, Dixon Valve, Hose Master, Brennen, Hannay Reels, and many others.
In short, we are a customer-centric hose company filled with happy professionals who can help you meet all your hose related needs. If you have any questions, please reach out to us by filling out the form below!