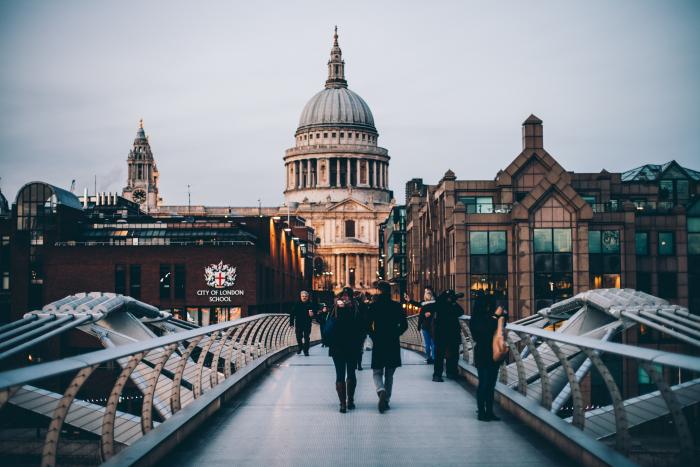 How to Find a Job in London
Whether you're looking for a new job in your chosen field or even a whole new career, if you live in London, you're in the right place. The nation's capital is also a thriving hub of business and commerce that puts you within easy reach of some of the nation's best employers.
Still, with so many jobs on offer, searching for a new job in London can be a time consuming affair. And, let's face it, for busy professionals like yourself time is money. The last thing you can afford is to spend your valuable time searching for jobs. Without the right help and guidance or a clear strategy, searching for jobs can feel like a full time job in itself.
However, when you've mastered the skill of job hunting (and it is a skill), you can separate the wheat from the chaff and find the vacancies which are most suitable for you. Once you've discovered a position that you're interested in, the real challenge starts… How can you present yourself both in your application and in person in a way that makes you irresistible to your prospective new employer.
Fortunately, we've compiled this handy reference guide to finding the perfect job in London. Keep this page bookmarked and you'll be able to save time searching for the right jobs while making the ultimate impression in your application…
Start Out by Knowing Exactly What You're Looking For
Ask not what you can do for your new employer, but what your new employer can do for you. Before you start trawling the job sites and classified pages, you need a clear idea of what you want and need from your new role. While it pays to keep an open mind and be flexible, the clearer your criteria, the less time you'll waste looking at jobs which are ultimately wrong for you.
Some important considerations include:
Job title or responsibilities (beware of menial jobs dressed up in flashy titles)
Location (is it within easy commutable distance or will you be constantly tardy?)
Does it offer enough hours to support you?
Is it flexible enough to allow you to meet other commitments (e.g. kids)
What does it pay?
Incentives and bonuses
Company size
Company culture and values
Job perks and benefits
Industry and sector
Time To Dust The Cobwebs off Your CV
Be honest. How long has it been since you so much as looked at your CV let alone updated it? The longer you leave your CV, the more likely it is to be out of date. Even when you're not actively job hunting, it pays to keep coming back to your CV so that it can remain an accurate record of your job roles, responsibilities, training and accomplishments. Even if you've only had one job since last updating your CV, there may still be plenty you can add to it that will boost your appeal for employers. Keep in mind that your industry and field may have changes as much as you. Be sure to mention how the skills you've developed make you equipped to handle new developments and changes in your industry.
When updating your CV think like an employer, and make sure that you add the details and aptitudes that they'll want to see.
Work on Your Online Presence
In the digital age, it bears remembering that your new prospective employer will likely Google you. As such, how you come across online is more important than ever. While a professional online presence is more important for some roles than others, it can't hurt to give your online presence a touch of gloss.
Setting up a LinkedIn profile and keeping it up to date is a great place to start. You may even want to establish your professional self on other platforms like Facebook, Instagram or Twitter. It may also be a good idea to ensure that your personal profiles and comments are as private as possible. Even a whiff of controversy can put some employers off.
Be sure to factor in your location when building an online presence. When job hunting in London, be sure to mention London and London-based employers in your social profiles or any website on which you post. It may even be worth carrying out some keyword research to find out which words you should be using to describe your role, your skills and your location to make yourself more visible online to employers.
Look for Work in London: A Multi-Method Approach
London is a big place with a lot of employers. As such, when looking for work, you'll need to embrace a number of different methods to find the right opportunities for your career. Searching for relevant jobs online is a great start, especially in the digital era, but this shouldn't be the only avenue you pursue. You should upload your CV to as many job sites as possible to make it easy for employers looking for your skill set to headhunt you.
Don't forget that not all opportunities are found in the digital realm. Word of mouth is especially helpful when looking for a job in your local borough of London. Simply spreading the word that you're looking for work in London could mean that a friend, relative or colleague can identify an opportunity for you. You may know someone who knows someone who can give you an opportunity that won't get posted online.
Print media like newspapers are still great sources for job postings and, or you can still see jobs advertised while you're out and about. Retail outlets, cafes and restaurants, for example, still advertise their job opportunities by placing a card in the window.
Sometimes the old methods are still the best!
Find the Right London Job Sites for You & Your Industry
When seeking out work online, using the right job sites can make all the difference. Some job sites are better suited to certain industries than others and some employers would rather post job vacancies on smaller, lesser known websites rather than the likes of Indeed or Monster. Bigger sites can pull in great volumes of vacancies but sometimes this can create more problems than it solves, especially in a huge city like London.
What's more, big sites don't always apply rigorous filtering to search results. Using a London job board like Just London Jobs may make it easier to narrow down your search. If you're unsure where to start, why not try asking local contacts where they post London job listings?
Don't Lose The Individual Touch
When you're applying for lots of jobs, avoid falling into the trap of sending identical applications to every employer or recruiter. Employers can spot these from a mile away and it may give the wrong first impression. By all means establish a template, but add extra details for each position and each employer to demonstrate an individual touch.
Applicants stand a much better chance of success when they fully tailor their applications for each position. When you tailoring your CV for a role, ensure that you use the job description, person specification and your own research on the employer as a guide. Consider which of your skills and experience you should put front and centre to make yourself as appealing as you can to each individual recruiter.
Keep Track of Your  Applications
When you're submitting multiple job applications every week or even every day, it can be tricky keeping track of all of your applications. As such, it can be easy to forget what you've applied for which can leave you woefully unprepared. If someone calls you about a job that you have applied for but completely forgotten about this can send a bad first impression and start you off on the back foot. It may be beneficial to keep a spreadsheet of the positions you apply for and keep it up to date for quick reference. This can also help you keep track of contact details and deadlines to which will make it easier to…
Stay Proactive and Check Back Regularly
Employers and recruiters alike value a proactive approach. Staying in touch with them is very important. If you miss any emails, phone calls or other responses to your applications, they won't wait around too long for you. They'll just move on to another applicant. That's why it's so important to check for responses every day. The sooner you see the responses to your applications, be they positive or negative, the faster you can take quick action and impress them with your responsiveness. Remember that even if you weren't successful this time around, if you make a good impression, an employer or recruiter may still remember you for future positions. Keep your phone on and charged to ensure that you don't miss out on attempts to contact you. Be prepared to pick up when the phone rings, even if you're usually wary of cold calls. The last thing you need is to miss an offer of an interview.
Find your ideal job in London by looking in the right places and taking the time to craft perfect and individual applications. Focus on choosing the right positions and keeping track of all of your applications. Just London Jobs can help you to find the perfect job in London and take your career to the next level.