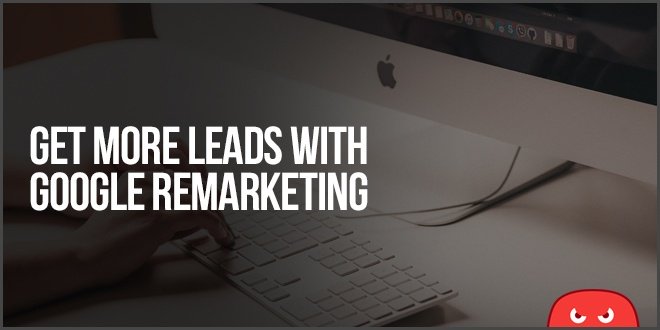 How To Get More Leads With Google Remarketing Ads
Photo From thehoth
Originally Posted On: https://www.thehoth.com/blog/google-remarketing-ads/
Want to know how to get more leads by automatically following up with hot prospects?
With Google Remarketing Ads, you can show ads to people who have previously visited your website and entice them back in!
These are hot prospects because they have already been to your site and have likely considered purchasing from you – you just have to follow up with them.
In this article, I'm going to walk you through step by step how to set up a lead generation campaign that will get you more leads with remarketing!
Let's get into it:
Step 1: Create A Compelling Offer
The first step is to create a compelling offer.
If you want to get someone to take an action – like sign up, call your business, or give you their information, it's a good idea to incentivize that action.
This is called an "offer." This is what someone is going to get in exchange for giving us their information.
It doesn't even have to be complicated!
Nothing captures attention like a compelling offer meaning a discount, BOGO, or even a freebie.
In fact, according to Inc.com, 74% of consumers are just looking for a deal.
To entice your prospects, we need to make a unique and compelling offer that has a lot of perceived value.
This could be a wide array of things but here are a few examples:
25% Off Your First Order
Free Delivery
Get A Free Bonus When You Opt In
Free Consultation or Strategy Session
Free Trial
Editor's note
Still stuck on this? Just do some quick competitor research and see what you're competing against!
Search your main keywords in Google, and go look at the ads at the top.
Click on them and check out their landing pages.
What are they offering?
This should give you some good ideas to start!
Once you have your offer, we need to create a way for the audience to input their information in order to claim that offer.
We can do that with a high-converting landing page.
Step 2: Create A Landing Page
A "landing page" is the page where your visitors will land after clicking on your ad.
It has one job: to convert traffic into new leads.
That is why our example below tells you about the offer, the business and how to claim it.
You'll notice it's very simple – No navigation, no social media profile links, nothing else.
This is all by design. The only purpose of this page is for someone to input their information. We don't want them browsing around or getting off track.
Compared to a website that has multiple buttons to click on, no clear Call To Action, and nowhere to input their information.
When spending money on paid traffic, every dime counts and that is one of the many reasons why we don't use normal websites in our campaigns.
The typical conversion rate for a website is 2.35% where as our dedicated landing pages are getting anywhere from 10 – 25%+
Another big plus to a landing page is that it will allow you to obtain new leads information to follow up with them via email or text in the future.
(Did you know that for every $1 spent on email marketing you get $42 in return?)
Now that you have your offer, and landing page, let's talk about how to create a remarketing audience in Google Ads and how it works.
Step 3: Set Up Remarketing
Most visitors are not going to convert to a customer within the first time seeing your company online.
In fact, it normally takes a consumer 6 to 8 touches to become a customer.
That means if someone has visited your website, and they didn't buy yet – your chances aren't over, you just need to follow up with them!
You can do exactly that with remarketing.
Remarketing is where we're able to target any individual that has visited your website in the past and show them ads as they browse the web.
It looks a bit like this:
Here at The HOTH and with our clients using HOTH PPC we use remarketing ads on a daily basis.
And it is one of the most profitable & highest converting strategies we have used to date.
I'm sure you have seen or will see our ads once you leave The HOTH website.
Once someone hits the site and then leaves the remarketing begins.
You may have seen similar ads after leaving Amazon, Best Buy, Target, or other big box store websites.
When you go and visit other sites, it might look like these brands are just buying ad space up everywhere, but it's not exactly true.
With retargeting campaigns, you can display ads anywhere on the google display network – but ONLY when your audience visits those sites!
(You can look like a giant advertiser but only spend a fraction!)
It is a very affordable and profitable way to bring in new business.
In fact, you could save boatloads by utilizing existing marketing dollars on remarketing.
The average CPC for Remarketing Display campaigns were 20% less (source) than traditional search CPC's.
How to Set Up A Remarketing Audience
We can get as specific as we'd like with our retargeting audience, and even target visitors in specific geographic areas.
To keep it simple and almost guarantee that anyone we're targeting is worthwhile of your time, we're going to target anyone who has visited your website in the last 30 days.
In this case, we would build a targeted audience inside of Google called Past Visitors.
To do this, you'll want to connect Google Ads & Google Analytics, then build an audience inside Google Analytics.
Linking Google Ads & Analytics
Here is a 3 minute walkthrough video
Sign into Google Analytics and click on Admin in the bottom left.
You will see three columns on the next screen. Under the Property column you will find Google Ads Linking.
Once you click it you will be able to link your Google Ad account.
On the next screen under Google Ads Linking click on New Link Group.
Next you will want to choose your Google Ad account.
Tick the checkbox on the left hand side of your ad account and click connect on the bottom.
Congrats you have officially linked your Google Analytics & Google Ad account!
The next step is to create an audience inside of Google Analytics and send that audience over to your Google Ad account.
Create Your Audience
Here is a walkthrough video showing you step by step on how to create an audience.
Sign into Google Analytics and click on Admin in the bottom left.
You will see three columns on the next screen. Under the Property column you will find Audience Definitions.
Once we click new audiences then we will create an audience and then share it to our Google Ad account.
NOTE: If you get a screen that asks to Enable Remarketing, click yes, and then continue following the instructions below.
Under Audience Definition click on All Users & name your audience.
We usually use "Past Visitors – 30 Days" that way we know who the audience is and the length of time.
Now we're going to click Add Destinations, choose our ad account and then click Publish!
You have officially created an audience, linked your Google Ad account, and sent your audience data to Google Ads.
Step 4: Set Up Your Campaign In Google Ads
Now we have all the elements in place.
Let's set up the campaign and start getting some leads!
Create The Campaign
First, sign into your Google Ad account and click on New Campaign.
You will be choosing the goal of leads since we will be wanting to get leads for our new offer.
Next, we want to choose the campaign type. We will be using Display for this campaign specifically.
In the next section we will choose Standard Display Campaign and enter your landing page URL.
If you do not have a landing page URL at this point that is okay. Enter your website and you can update this later.
Now, we will want to name the campaign and also choose the location.
For remarketing campaigns we name them Remarketing – All Visitors. This allows for us to know exactly what the campaign is and who we're targeting.
Set The Targeting
Then we will choose our specific location (if targeting a specific area).
After setting our location we will scroll down and adjust our bidding strategy.
For remarketing, we want to click the down arrow and choose Manually Set Bids.
This allows us to have a lot more control over our bidding strategy compared to Google's automated bidding strategy.
The next step is a two parter.
We will be choosing our audience that we created earlier on.
Under audiences, in the third column click on Browse, scroll down and click on "how they have interacted with your business" then choose the All Visitors audience you created above.
After setting our audience, we can set our Ad group bid.
For now, I would start at $1.
Meaning, if someone sees your ad, you will pay up to and no more than $1 per click.
It is time to create your ads!
Creating Ads
You will be using Google Ads Responsive builder which is ideal for brand new campaigns.
They allow you to test images, headlines, and descriptions.
Best of all, there's no need for an expensive graphic designer.
Now, you will follow the prompts, add your images, add in your headlines, and descriptions.
Once that is complete, click Add To Ad Group and Create Campaign.
That's it. You've just set up a killer retargeting campaign that will follow up with your website visitors and deliver hot leads right to you!
Conclusion
If you follow this step by step guide, you'll be able to capitalize on hot visitors that haven't bought yet.
Remember the important points from this article:
Create a compelling offer that will reduce that barrier to "try" you out and attract new people to your business.
Build a landing page that allows you to focus solely on your offer – not your homepage.
Use remarketing to get in front of your "easy win" targets – People who know you and already visited your website.
Need some more help? That's okay, we're here to help with HOTH PPC!
Schedule a call with one of our PPC consultants to see how you can deploy this system in 7 days or less.