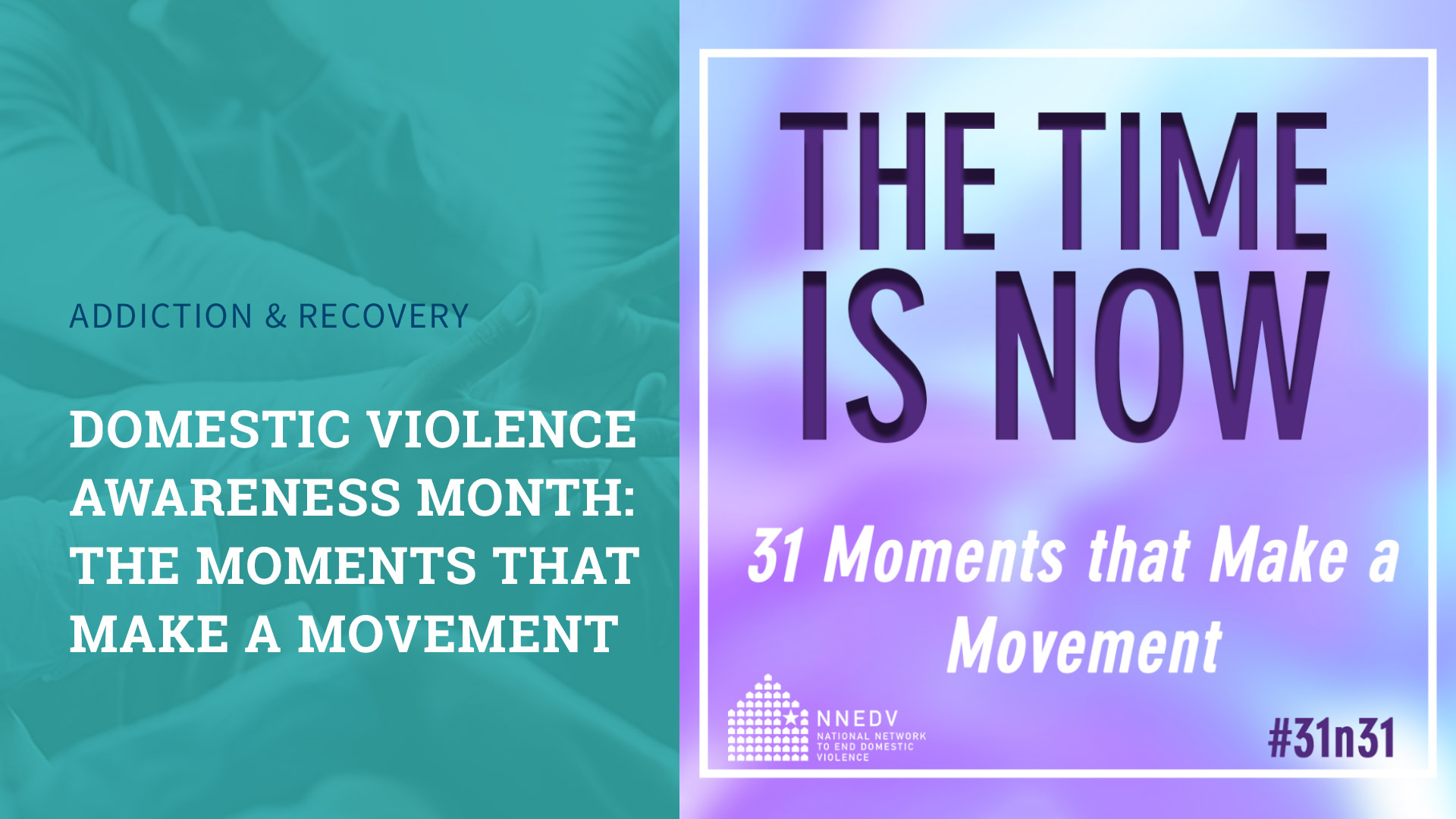 Domestic Violence Awareness Month: The Moments That Make a Movement
Originally posted on https://pinnacletreatment.com/blog/domestic-violence-awareness/
In 1989, the U.S. Congress designated October as National Domestic Violence Awareness Month (DVAM) and declared the first Monday of every October as "National Day of Unity" in honor of those who initiated the movement and worked tirelessly to bring awareness to domestic violence, intimate partner violence, and violence against women and children.
We'll offer some basics statistics on domestic and intimate partner violence, then discuss the connection between domestic/intimate partner violence and alcohol/substance use.
Domestic and Intimate Partner Violence: Facts and Figures
We understand that at the moment, the content driving all forms of national media can be overwhelming. The opioid crisis, politics, domestic and international affairs – it seems we have breaking news of significant import all day, every day.
It's not our pleasure to bring you these statistics on domestic violence.
They're not breaking news.
Unlike the opioid crisis, domestic violence and intimate partner violence didn't increase dramatically over the past decade. And unlike politics, the phenomenon of domestic and intimate partner violence and the related statistics can't be reduced to slogans or made more palatable by clever packaging: they're a part of our lives we need to face directly, honestly, and with no filters.
Here are the latest facts and figures on domestic and intimate partner violence, collected and published this year by The National Domestic Violence Hotline:
More than 12 million women and men per year are victims of rape, physical violence, or stalking by an intimate partner. That's an average of 24 people per minute.
24.7% of women and 13.8% of men over age 18 have been the victim of severe physical violence by an intimate partner.
35.6% of women and 28.5% of men have experienced rape, physical violence, and/or stalking by an intimate partner.
Women age 18-34 experience higher rates of intimate partner violence than any other group.
Between 1994 and 2010, 80% of domestic/intimate partner violence victims were women.
Take a deep breath. Here are the statistics related to children:
Children witnessed 22% of domestic/intimate violence incidents that were later filed in state courts.
Between 30% and 60% of those who perpetrate intimate partner/domestic partner violence also abuse children in the home.
Children exposed to domestic violence or violence in the home are 15 times more likely to be victims of sexual assault than the national average.
These hard facts need little commentary, other than to reiterate what we mentioned above: though this is not breaking news, it is heartbreaking news. In addition, it's important to understand that victims of domestic violence – whether as children or adults – are at greater risk of experiencing chronic physical, psychological, and emotional issues, including but not limited to:
Heart problems
Digestive issues
Reproductive difficulties
Muscular and skeletal disease
Research also indicates that survivors of domestic/intimate partner violence are at increased risk of engaging in behaviors such as smoking, drug use, binge drinking, and risky sexual behavior. Since these behaviors themselves are correlated with increased rates of domestic violence, we can see that when domestic and intimate partner violence go unaddressed, the consequences can be devastating, and often create a cycle that's very difficult to break.
The Connection Between Domestic Violence and Alcohol/Substance Use and Misuse
The relationship between domestic violence/intimate partner violence and alcohol and substance use is complicated.
The first thing you might think of is this: a big, strong man, drunk or high, physically abuses his female spouse. In that example, we identify two problems: the intoxicant and the man.
Yes, it's an example loaded with stereotypical assumptions – but we use it because it's backed by evidence. In the article "Intimate Partner Violence and Co-Occurring Substance Abuse/Addiction," Dr. Richard Soper indicates that 40-60% of cases of domestic violence involve some form of substance use, over 20% of male perpetrators of domestic violence report using alcohol and/or an illicit substance before their most recent or most severe incident, and that 75% of all domestic violence perpetrators are male.
However, that's just the tip of the iceberg, and the fact we default to that example illustrates another problem we have – it focuses more on the abuser than the abused, and more on the perpetrator of violence than the victim. While evidence associates excessive alcohol use in males with committing domestic violence, experts debate whether that violence is caused by heavy drinking or used as an excuse for violent behavior after the fact.
And still we miss the point: victims of domestic violence – both women and children – suffer extreme consequences. Among those consequences, as mentioned above, are a host of chronic physical, emotional, social, and psychological problems that include, among other things, an increased risk of developing an alcohol or substance use disorder.
We'll connect those dots in order to make the point we habitually miss:
Experiencing violence as a victim is considered a traumatic event.
Witnessing violence is considered a traumatic event.
Experiencing and/or witnessing violence as a child is a specific category of traumatic event. It's called an Adverse Childhood Experience, or ACE.
Males or females who experience violent trauma at any age are at increased risk of developing mental health disorders. Many people who live with mental health disorders use alcohol or drugs to alleviate the symptoms of their disorder.
Children who experience ACEs are at elevated risk of developing mental health disorders, engaging in risky behavior, and developing an alcohol and/or substance use disorder during adolescence or adulthood.
Therefore, when we think about domestic violence and alcohol or substance use disorders, it's important to expand our consideration beyond the moment of violence and the acute damage it causes. We need to understand the long-term physical, emotional, and behavioral consequences of the violent incident: for the victims, the emotional disorders caused by the trauma often last longer, cause more problems, and outweigh the acute damage of the violent incident.
A Critical Reminder
The physical, emotional, and psychological fallout from domestic violence can last days, months, years, or a lifetime – for those who survive, that is.
We'd be remiss if, during our discussion of the long-term effects of domestic violence, we did not remind ourselves, and you, of this fact:
20% of homicide victims were killed by an intimate partner.
That's something we should neither lose sight of nor forget.
Our focus, this month, is on raising national awareness in order to educate people about domestic violence in order to prevent it. But if we look back at the history of Domestic Violence Awareness Month, and re-read the original themes and goals of "The Day of Unity" that led to DVAM, we'll find this sentence:
Remembering those who lost their lives to domestic violence.
Since we work in treatment, we focus on healing, and we're hopeful and optimistic by nature. We have to be. However, where domestic violence is concerned, there is no bright side and there is no positive spin.
Unless.
Unless we reach you, and you reach another, and that person reaches someone new – and as a collective, we reach a tipping point and address the problem within ourselves, within our homes, and within our communities.
That's not Pollyannaish: that's a realistic goal, and you can help achieve it.
Join the Movement to Raise Awareness
For #DVAM2019, advocacy groups around the nation are rallying behind the #31n31 tag, which stands for 31 Moments that Make a Movement. If you're interested in participating in DVAM 2019, download this Action Guide to find out how you can lend your energy to the cause. Also, have a look at these websites:
The National Network to End Domestic Violence
The National Coalition Against Domestic Violence
The National Resource Center on Domestic Violence
If you or someone you know is in immediate danger, here's what to do:
Call 911
Call the U.S. National Domestic Violence Hotline at 1 (800) 799-7233
Text the U.S. National Domestic Hotline at 1 (800) 787-3224
Call, text, or chat Love is Respect:
Call/chat the U.S. National Sexual Assault Hotline:
Finally, if you see something, say something. And if you know someone who's in trouble, help them in any way you can – that's how we can work together to end domestic violence.