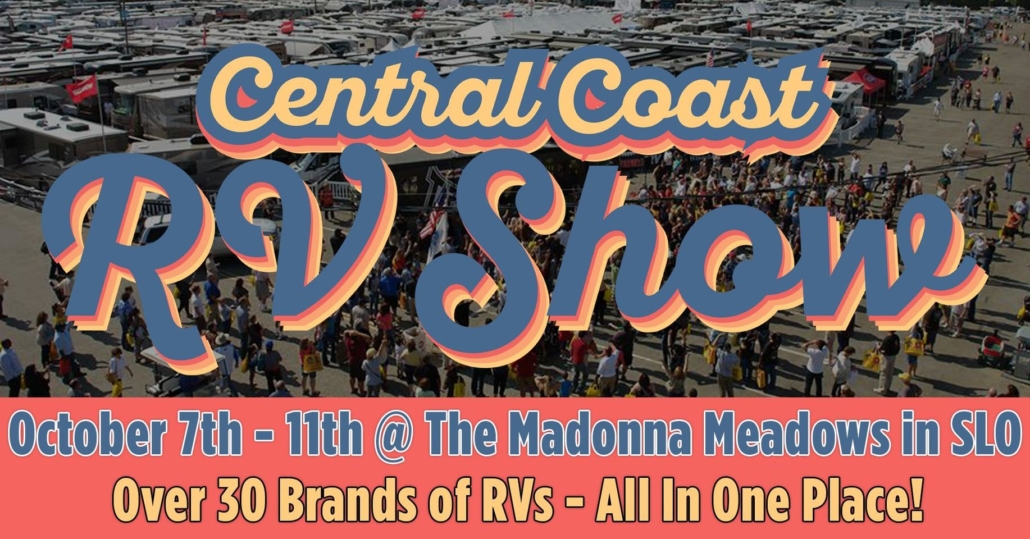 Announcing The Central Coast RV Show
Photo from Central Coast RV SHow
Originally Posted On: Announcing The Central Coast RV Show – California RV Dealer – Sky River RV is your RV Dealer in California
The Central Coast RV Show is almost here! If you're looking for an RV in California, this event is for you.
The
Central Coast RV Show
is going on from October 7th through October 11th, 2021 in San Luis Obispo at
Madonna Inn Meadows
. This is the perfect opportunity to shop over 30 of the best RV brands. Some of the manufacturers that will be represented include: Winnebago, Keystone, Thor, Forest River, Heartland, Jayco, and Newmar!
This is a fun event where you can browse through travel trailers, fifth wheels, motorhomes, and camper vans. There will even be pop-up trailers on site. There is sure to be something for everyone!
Tips to prepare for the RV show
If you're planning on attending this free event, here are some things you can do to be prepared before you arrive:
Know what your goal is
If you're just browsing RVs to get an idea of what you're going to want to purchase in the future, relax and enjoy the show. Make sure to ask lots of questions about all the different options so you can get a great feel for what the perfect RV is for you and your family.
But, on the other hand, if you're attending the Central Coast RV Show because you're looking to purchase an RV, it's helpful to have an idea of what type of RV you're interested in purchasing. For example, if you're going to be looking for a travel trailer, fifth wheel, or pop-up then you want to know what the weight restrictions are and how much your vehicle can tow.
Have a system for taking notes
After you look at a dozen RVs, it starts to get easy to forget what features go with which model. Plan in advance for how you're going to keep it all straight. Some people prefer sticking with a notebook and a pen. Others prefer to use a notetaking app like Evernote.
If you plan on taking images of each RV it can be helpful to first take an image that shows the manufacturer and model of the RV before taking images of the RV itself. Then later when you're flipping through pictures, you can easily tell which picture belongs with which RV.
Talk to the reps from RV manufacturers
The reps that are present are familiar with the ins and outs of their manufacturer RVs. Don't hesitate to ask them questions. Let them know what you're looking for and ask what they have that meets your needs. They have the inside information and can let you know all the different options that are available. This is the perfect time to get your questions answered.
Dress comfortably
Wear clothes that you're comfortable in. You'll be climbing in and out of RVs. You may want to look underneath different models. You'll want to test out the chairs and see if the RV is right for you. Make sure you're wearing something that easily allows you to do all those things you want or need to do. Also, remember that you're going to do a lot of walking, so make sure you wear shoes that are comfortable.
Know your budget
It's really easy to get excited about all the great options that are available and then forget about your budget. If you plan on making a purchase, make sure you have an idea of what type of payment you can afford, or want to afford, before you arrive. This will help you stick to it as your excitement builds.
Get ready for a great time!
You don't want to miss out on the Central Coast RV Show. There are going to be lenders, vendors, and trade appraisers onsite. Remember if you can drive, drag, push or pull it, you can use it as a trade! You also have the chance to win a RAD Power electric bike, so make sure to enter to win while you're at the event.