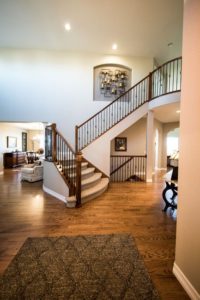 Will New Flooring Boost My Home Value?
Originally posted on https://empirefloors.com/will-new-flooring-boost-my-home-value/
The right flooring works to enhance the style and function of your home. Your floor is an important aspect of a home's design that potential buyers pay close attention to when searching for a new home.
New flooring can increase the value of your home by as much as 5%, so it may be time to update your flooring if you're considering listing your home in the future.
Flooring designs offer a range of materials and installation techniques to choose from. Read on to learn how different flooring options can boost home value.
How Replacing Your Flooring Adds Value
With vinyl, tile, and hardwood floor cost, updating your flooring can be a costly investment, but it's worth considering when planning to sell your home in the future.
Flooring quality and materials are important to potential homeowners. New flooring means less renovation work the new homeowner has to put into their new house.
Wear and tear is a normal part of aging floors, but there are signs that it's time to replace floors. Pets, dirt, and heavy furniture all impact the condition of your home's flooring, resulting in fading, scratches, dents, and stains.
There are several things you can do to maintain the condition of your floors. Yet, certain materials need more maintenance than others. This is important to note when choosing hardwood floors over vinyl as a new flooring option.
There are certain flooring materials homebuyers look for, like hardwood flooring. It's a top-selling point for most buyers, offering you the largest return on your investment.
Installing new hardwood floors allows you to up your asking price. 54% of potential buyers are willing to pay more for a home that features hardwood flooring.
This is the reason many homeowners are replacing other flooring materials with hardwood. Yet, other new flooring materials still appeal to buyers and offer you a good return as well.
Cost to Install Hardwood Floor and Other Materials
The cost to install new flooring varies by material, home size, and installation charges. Expect to pay between $6 to $22 per square foot for hardwood, including hardwood floor installation and materials.
Materials like tile can fall in a similar price range. Carpet and laminate cost about $2 to $12 per square foot. You can also choose a lower-cost vinyl that resembles real hardwood flooring.
Types of New Flooring to Consider
You have different options based on budget, maintenance, durability, and your home's style. It's also important to consider the flow of your home's design, as buyers will look at changes in flooring from room to room.
To get the best return on your investment, here are the top flooring trends to consider.
Hardwood
Hardwood remains a major selling point for realtors. Homes with hardwood flooring throughout often sell at a higher price point. Yet, hardwood floor installation cost causes many homeowners to choose select areas to update.
Hardwoods are popular in the living and dining areas. You'll also find them on staircases, hallways, and in bedrooms. Hardwoods also improve the kitchen, home office, or workout room.
This flooring style is versatile in design, featuring different species of wood, grades, and characteristics. Wood flooring even comes in colors like greys, whitewash, and dark charcoals.
You can choose different plank sizes and installation techniques for a custom look, including different layout patterns to increase aesthetic, like herringbone.
Wood is a durable option that is easy to keep clean. Yet, when going with wood, it's important to always protect your floors. Use rugs to keep heavy furniture from denting or scratching the wood.
Do you have a home with original wood flooring in good condition? You may want to think about refinishing options to make flooring last longer and look brand new.
Be sure to always choose a professional when dealing with hardwoods for best results. When searching for hardwood floor installation companies, look for quality and experience.
Tile
Ceramic tile offers a timeless and elegant aesthetic for the home. It's a popular choice for all bathrooms within the house, as well as the kitchen.
Other materials can get subjected to water damage in an area that has high moisture. Tile creates a custom look with different patterns and styles, including herringbone, mosaic, and different grouting colors.
Vinyl
Vinyl offers a stylish and affordable flooring option for the home. It works great in high traffic areas where dirt and debris can easily damage floors.
This makes vinyl a top choice in mudrooms, all-season patios, and laundry rooms. It can even mimic the look of real tile or wood planks for a much lower cost. Vinyl is a top choice for low maintenance and long-lasting flooring options.
Carpet
Carpet offers a soft and plush flooring choice that's ideal in bedrooms, playrooms, and nurseries.
You can choose from different colors and materials to add texture and comfort. If you have pets, it's important to choose a pet-friendly carpet option.
Old, worn, discolored, or damaged carpets are a huge turn off for buyers, so you should update your carpeting to a newer and more trending design. Neutral colors and soft textures are preferable options.
Eco-Friendly
Flooring options like bamboo and cork offer great alternatives to a hardwood floor. These are eco-friendly flooring choices that don't affect natural resources. After getting harvested these materials regenerate or regrow over time.
Sustainable options are important to younger buyers who care about the environment. 77% of millennials value sustainable products that help support this lifestyle choice.
Laminate
Laminate flooring is another affordable option for flooring. It can get made to look like wood and is easy to clean and maintain.
Laminate also works well in rooms that experience a lot of moisture, but it's not always ideal for resale value.
Upgrading Your Flooring for a Big Boost in Value
There are several great options for adding new flooring to your home, but if you're looking for the best ROI, hardwood remains the top choice. It's appealing to buyers and can help you sell your home for more money.
Learn more about how Empire Flooring can enhance your home's style and function with a flooring upgrade.