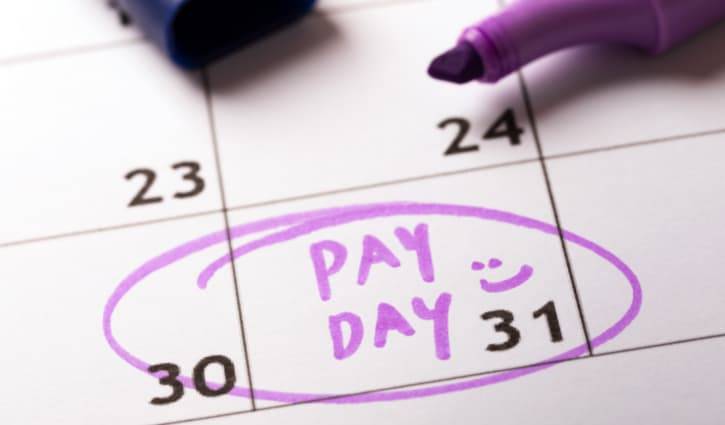 What to Consider Before Applying for a Payday Loan
Originally posted on: https://www.speedycash.com/resources/644/loans/what-to-consider-before-applying-for-a-payday-loan/
Payday Loans Provide Options
Paydays are my favorite days right after holidays and my birthday. The moment a paycheck arrives, or the direct deposit hits the bank, a collective sigh can be heard. Sometimes, payday feels like it is weeks away instead of days though, am I right? When unexpected expenses arise or routine payments fall off your radar, the feeling can be overwhelming and frankly a little scary. There are many options available to help cover expenses when the cash in your checking account won't cut it. Payday Loans are one choice available to consumers who may not have, or can't readily access, other options in their moment of need. Whether the need is an emergency or something that needs to be paid quickly for whatever reason, a Speedy Cash Payday Loan may be the solution you're looking for.
What Is a Payday Loan and How Does it Work?
Applying for an online Payday Loan or applying in store are both quick, uncomplicated processes and you can have cash in hand fast once approved. Since the process moves so quickly, it's important to understand what a Payday Loan is and how it works.
Payday Loans are short-term loans.
Payday Loans are usually due to be paid back within two to four weeks generally whenever you expect your next paycheck. Traditional lending options such as personal loans, installment loans, line of credit loans, and title loans are lending options that are available when you need larger amounts of cash and when a short-term loan is not ideal for your situation.
Payday Loans are typically smaller loans.
Most states have limits[4] on the amount that can be borrowed. Make sure you check the rates, terms, and amounts available in your state before applying. Feel free to ask as many questions as you like when speaking with a lender, reputable lenders will be available to help you through the process.
Payday Loans are designed to be paid in full on your next payday.
Payday Loans are meant to provide access to cash prior to payday and are typically paid off as soon as the next expected paycheck arrives.[3] Payday Loans often carry higher interest rates than traditional loans for this reason: you'll be borrowing the money for a short period of time.
Payday Loans are unsecured loans.
This means you do not have to provide collateral[1] to get the cash you need. State specific requirements should be reviewed prior to applying. You can apply for a Speedy Cash unsecured Payday Loan online or in store, and you will need only a few items to complete your application.
Typically, at minimum, you will need the following:
⦁ Valid government-issued photo ID ⦁ Working phone number ⦁ Proof of steady source of income ⦁ Bank account
Why Choose a Payday Loan?
Every day, consumers choose Payday Loans to cover a range of expenses that must be handled prior to their next payday. A Payday Loan is not for everyone, but in some situations, it may be the best option for you. No matter your situation, a Payday Loan is likely available to you as long as it is a service offered in your state.
When you need to borrow a few hundred dollars that you plan to pay back to the lender of your choice on payday, it may leave you feeling overwhelmed and unsure about where to turn. Especially if you have poor credit[2] and few (if any) people you can turn to for assistance. Applying for a Payday Loan is an option when you find yourself in this situation.
Payday Loans can be used for any purpose you choose and can be accessed quickly. You can have cash in hand after approval, and you will be done with the loan after paying your balance off in full when you receive your next paycheck. If you are unable to pay the loan back with your next paycheck, you should speak with your lender about your situation and decide what is the next step for your circumstances. Many states require lenders to offer extended payment plans to customers if they contact the lender prior to the date the loan is due, check your state's laws for more information on eligibility.
Payday Loans in Action
Let's address the elephant in the room. Payday Loans get a bad rap. The truth is that Payday Loans may provide much needed relief to consumers who need a little help prior to payday. Online Payday Loan lenders and in-store lenders alike provide needed funds to customers by offering Payday Loans. Payday Loan customers have shared stories with us over the years about the ways they use our loans, and it is those stories that keep our team going and striving to help our clients whenever possible.
We have clients who use our loans to help with medical emergencies, items needed for their children and family, travel for essential purposes, and day-to-day essentials that exceed the week's budget, just to name a few. Our customers who utilize Payday Loan services come from all walks of life and use the funds for countless purposes. The common denominator for most of our Payday Loan customers is that funds are needed before payday and other options for lending are not available for their circumstances or preferences. Since 1997,[5] we've been lending a helping hand to our customers who need us and celebrating our customers' wins.
Pre-plan Your Payday Loan Repayment
When considering a loan to cover an emergency expense or an expense that is not within budget, all avenues should be explored and considered. Ideally, all consumers could apply for a loan that has little to no interest or fees and is flexible, while still providing the funds necessary to accomplish the goal or handle the problem. But, for some consumers those options may be limited or non-existent. In those cases, a Payday Loan may be a fit because it is simple to apply, and the process is quick.
A Payday Loan, as we have discussed, is a short-term loan that carries higher interest rates and fees than most traditional lending products. That's why planning how you will repay the loan is an essential part of the assessment process. After considering your options and choosing a Payday Loan to cover your expenses, make sure to budget and plan how you will repay the loan and any associated interest and fees on the due date.
Is a Payday Loan right for you?
While Payday Loans may not be for everyone, they are an available option for many consumers. Quick access to cash when you're in a pinch can be essential when facing certain situations and meeting specific needs. Alternative loan products may offer a better option when you have access to them, but not everyone has the credit, means, or connections necessary to obtain funds within a moment's notice. Payday Loans provide access to cash to consumers when they need it, and reputable lenders such as Speedy Cash recommend paying close attention to the terms, rates, and conditions of any loan type prior to applying and following those terms to avoid any additional expense. Borrowing responsibly is important and having access to cash when you need it is also important. If you determine a Payday Loan is right for you, we're standing by and ready to help.
Sources: [1]VanOverloop, Michelle (2022, Jul 6). Cash Advance vs Payday Loans: What is the Difference? Retrieved from: https://www.speedycash.com/resources/573/loans/cash-advance-vs-payday-loans-what-is-the-difference/
[2]Bareham, Hanneh (2022, Aug 15). What You Need to Know About Payday Loans Retrieved from: https://www.bankrate.com/loans/personal-loans/payday-loans/
[3]Consumer Protection Financial Bureau (2022, Jan 17). What is a payday loan? Retrieved from: https://www.consumerfinance.gov/ask-cfpb/what-is-a-payday-loan-en-1567/
[4]Luthni, Ben (2019, Jan 3). What Is a Payday Loan and How Does It Work? Retrieved from: https://www.experian.com/blogs/ask-experian/how-payday-loans-work/
[5]VanOverloop, Michelle (2022 Jun 15). Happy Anniversary Speedy Cash! In Business for 25 Years! Retrieved from: https://www.speedycash.com/resources/572/saving-money-tips/happy-anniversary-speedy-cash-in-business-for-25-years/