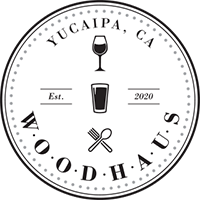 Woodhaus Celebrates its Grand Opening
Woodhaus, a restaurant located in Yucaipa, California, is celebrating its grand opening from March 24 to March 27. The ribbon-cutting ceremony is on March 27 at 3 PM.
FOR IMMEDIATE RELEASE
Yucaipa, CA – March 24, 2021 – Hey California, we've got big news for you! This week begins a new era in culinary excellence. The hot new restaurant, Woodhaus, is having its grand opening starting on March 24!
The restaurant, based out of Yucaipa, California, is a great place to hang out with friends and enjoy food of the highest quality. They are having a grand opening event from March 24 to March 27, from 4-9 PM.
Diners will get a raffle ticket with each order for a chance to win gift baskets! "This grand opening is really going to be something special," said a waiter on the Woodhaus team.
The entire menu at Woodhaus is based around a wood fire oven. With a wide variety of selections, the restaurant prides themselves on their Neapolitan style Pizza.
The toppings you can order are seemingly endless! Are you a fan of meat? Well, the Woodhaus restaurant has you covered! Meat lovers can choose from pepperoni, buffalo chicken, and bbq pork!
Perhaps you are not a fan of meat? Woodhaus has options for you too! Their farm veggie pizza comes with house tomato sauce, cheese blend, cherry tomatoes, broccoli, white onions, and kalamata olives!
If you are looking for a simple pizza, Woodhaus also offers the classic cheese, plain but delicious, and who could forget about the classic margherita pizza, which includes mozzarella, tomatoes, and hand-torn basil!
Woodhaus keeps its ingredients simple. The dough for their pizza has fermented for 72 hours, and is made with double zero flour, water, salt, yeast, and nothing else!
Aside from pizza, diners can enjoy some delicious salads! You can choose from the Caesar, which dons romaine, kale, house caesar dressing, shaved asiago, house croutons, cracked black pepper, or the chopped salad, which includes iceberg, radicchio, fennel, garbanzos, red onion, tomato, cucumber, kalamata olives.
There are also many delicious sharable snacks you can enjoy while you wait for your meal! Snacks include hummus and pita, olives and feta, roasted broccoli, and shishito peppers! All vegetables are local too.
"I consider myself very picky when it comes to food, but I absolutely cannot wait to go check out Woodhaus!" exclaimed a local food critic.
For more information, you can check out the Woodhaus website! Here you can learn more about the Woodhaus Grand Opening, check out their extensive menu, and even order online! If you have any questions or comments to give to the team, there is a contact section where you can leave your information, write your message, and the team will get back to you in no time!
What are you waiting for? Check out Woodhaus today!
About Woodhaus: Woodhaus is a small casual place where you can come and hang out with your friends. The food is centered around the wood fire oven, where we'll be doing Neapolitan style pizza with some salads and sides, and roasting local vegetables.
Contact Information:
Woodhaus, 35010 Yucaipa Blvd Yucaipa, CA 92399
9095709572
Originally Posted On: https://syndication.cloud/woodhaus-celebrates-its-grand-opening/