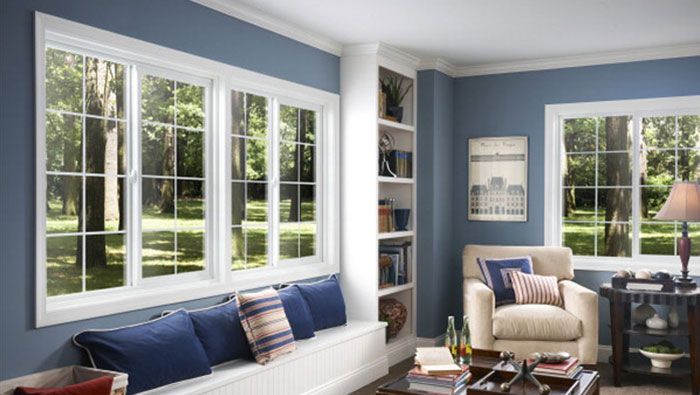 What Are The Best Replacement Windows in 2019?
Originally posted on https://5estimates.com/best-replacement-windows/
Looking for the best replacement windows to give your home some needed upgrades? We put together a guide to help you choose the best replacement. Ranked by window company (no particular order) and window type.
Are you looking for a replacement window to remedy a broken window? Or, you might want to give your home a much-needed upgrade.
Either way, you might find yourself at a loss. There are so many different brands and types of windows to choose from. What are the best replacement windows?
We put together a handy guide to break down everything you could possibly want to know about replacement windows.
Top 10 Best Replacement Windows
There are many different brands that make windows. Like any product, not all windows are made equally. Here are our top ten favorite window brands.
1. Andersen Windows
Anderson is one of the top marketers and manufacturers for windows. They sell replacement and new construction lines in casement and double-hung styles. Anderson Windows come in clad, wood, vinyl, composite construction argon or gas-filled glass for high efficiency and low-emissivity(low-E).
These windows are known for being made out of high-quality materials while still being affordable. Anderson offers tiers starting at 100 series and goes up to 400 series for their stunning Architectural series.
Anderson Windows also makes custom windows with advanced features for security. These windows replacements tend to be cheaper than other brands, allowing Anderson to provide a more comprehensive warranty.
The average cost of their mid-price Double-Hung Vinyl Anderson 200 series, costs about $280 a window, with about $350 to install.
Does Anderson Windows Have a Lifetime Warranty?
Anderson offers an exclusive Owner-to-Owner limited warranty. While other warranties end when a house gets sold, Anderson covers 20 years for glass, and 10 years for non-glass parts. This coverage transfers from one owner to the next.
2. Pella Windows
Pella is another top marketer and manufacturer, making windows in double-hung and casement styles. These window lines come in clad, wood, vinyl, aluminum construction, argon filled and low-E. Pella offers stock sizes as well as custom and special orders.
These windows are known for being well built and pleasing aesthetically. Their wood line is their most well known, and has a highly detailed customized Architect series, Designer series, and the simple yet durable 450 series.
These windows also come in durable vinyl of either 250, 350 or Encompass series. There is also a fiberglass window and the very durable Impervia series. You can get these windows in double or triple-pane, and all are very energy efficient.
Pella's Encompass Double Hung window starts around $150 a window with an average cost of about $250 to install. Each Pella window has a different price, which varies on the series and features of the window. These prices go up higher than most Anderson windows.
Does Pella Windows Have a Lifetime Warranty?
No, these windows come with a transferable ten-year limited warranty. This is another difference between Pella and Anderson, as Anderson offers a longer warranty.
Are Anderson Windows Better Than Pella Windows?
Anderson and Pella (which we'll get into next) windows are often compared to each other. Both manufacturers make quality windows, but Anderson tends to be a little less expensive than Pella.
On the other hand, Pella offers more choices for window material. Both brands are qualified by Energy Star.
3. Preservation Windows
These windows come with an upgraded tackle and block balance feature. This makes the windows more durable and easier to operate. These windows come in a wide range of choices, including stained glass and exterior colors.
Preservation Windows come standard with BetterView screens, allowing more light to come through compared to average window screens.
However, the pricing of these windows is set by a local dealer meaning the cost varies but is typically unusually high. Companies are selling these windows for $800 to $1000 per window.
4. Milgard Windows
These windows are identified by their assortment of affordable replacement vinyl windows. They offer four different window lines, with a range of functions and styles you can choose from. Milgard also has a Quiet Line that's designed to have impressive soundproofing ideal for locations that are noisy.
Milgard aluminum windows are known for their simple modern minimal style of thin frames. The company also offers a more upscale wood-clad fiberglass design. This style is built to withstand heavy weather while still maintaining a traditional wooden look.
These windows come in four main tiers of prices and quality for replacement windows. From highest to lowest prices they make Montecito vinyl windows, Ultra Fiberglass windows, Essence wood windows, and Tuscany vinyl windows.
As for pricing, Milgard's standard aluminum single hung window costs around $185 a window plus about $400 for installation.
5. Simonton Windows
These vinyl windows come is many replacements as well as new-construction lines that are sold in double-hung and casement styles, as well as argon-filled and low-emissivity glass.
These windows come in stock sizes, as well as special and custom orders. You can buy Simonton at Home Depot or through various dealers.
Simonton is a leading window manufacturer. If you are looking for vinyl windows specifically, you'll want to look into this brand.
Simonton Windows offers various styles and glass types. This includes glass that treats against infrared and UV lights so you keep unwanted heat out of your home and help regulate the temperature of your space.
For Simonton Double-Hung Vinyl Windows, which are part of their Vantage Pointe Series, you're looking at $325 a window with a $450 fee to install.
Like most other window manufacturers, Simonton Windows also has various cost tiers depending on the type and series of the window.
6. Alside Windows
These vinyl windows come in several new construction and replacement lines. Their styles include casement, double-hung and bay windows. These windows are custom made to fit in an existing window opening.
Alside windows are mostly sold in the mid-west and eastern parts of the country, usually at Lowes as well as independent home centers.
For more than 65 years, Alside has provided exceptional replacement windows for homes and businesses. Their commitment to innovative design, advanced technology, superior craftsmanship and outstanding customer service has defined their legacy as a true leader in home windows.
7. Atrium Windows
Atrium Windows makes vinyl windows in new construction as well as several replacement lines. The styles they make include sliding, double-hung and casement windows.
This brand has a large selection of custom-built vinyl windows in various colors, styles, and different glass. These windows also come in argon-filled, low-emissivity, and triple-pane glass. You can guy these windows at Lowes' Reibabilt service as well as various independent home centers.
Since 1946 Atrium Windows and Doors has produced millions of exceptional products throughout North America in the pursuit of one passion: to provide the best product and service for home owners.
8. Marvin Windows 
Marvin is another leading window marketer and manufacturer. These windows come in new-construction and multiple replacement lines. These windows come in casement and double-hung styles.
These windows come in clad, wood, composite construction, as well as argon-filled, and low-emissivity. Marvin also markets a line of stock sizes, as well as custom and special order options. These windows are sold through independent home centers and dealers and tend to be premium priced.
Since they opened in 1912 as a family-owned and -operated business, they've looked for ways to help people live better. Marvin Windows continues to evolve by raising the bar, building quality, beauty and simplicity into people's everyday lives.
9. Jeld-Wen Window
This is another top marketer and manufacturer of windows that come in new construction as well as multiple replacements. These windows come in casement, double-hung, clad, wood, aluminum construction, vinyl, low-E and gas-filled. You can find Jeld-Wen windows through independent home dealers and centers.
JELD-WEN is an American based company with its headquarters in Charlotte, North Carolina. The company operates more than 120 manufacturing facilities in 19 countries.
JELD-WEN is one of the world's leading manufacturers of replacement windows for home owners. Their extensive product offering encompasses windows and related building products that are sold globally through multiple distribution channels, including retail home centers, wholesale distributors and building products dealers.
10. Weather Shield
Weather Shield windows come in wood-clad in new construction and multiple replacements. These windows come in casement and double-hung styles as well as low-E and gas-filled. You can get these windows in stock sizes or with custom and special-order options through window dealers.
How Much Does it Cost To Replace 1 Window?
The cost to replace one window will depend on how much your actual replacement window will cost. Depending on the manufacturer, type and style of window that price can range from anywhere between $300 to $800 dollars. Know that picture windows, bows, and bays cost more.
Then there's also the cost of installing the window, which depends on the company you go with. This rate could be a flat fee, or hourly, and should cost you an additional $200 to $400.
How Much Does it Cost To Replace 3 Windows?
Expect to pay between $700 – $2,500 to replace 3 windows.
A single window can cost anywhere from $275 to $1,200 for normal window sizes while higher end products can cost $1,500 or more. In addition to the material price, labor can cost $150 – $500 per window or an average of $75 per hour for labor, depending on the window project.
How Much Does it Cost To Replace 10 Windows?
Expect to pay between $3,000 – $10,000 to replace 10 windows.
Pricing varies by window type, like single-hung, casement, or picture windows. Overall, the cost of replacement windows is a good investment and can expect to recoup about upwards of to 75% percent of your investment.
How Much Does it Cost To Repair a Home Window?
The cost of repairing a home window will depend on the cost of your replacement window as well as how much the company charges to install the window. This could also include a consultation, installation, and purchase price. Typically, the cost of repairs are almost equal to the cost of replacement.
Types Of Windows
Another factor that affects the price of a replacement window, is the type of window you are replacing. Here are some common types of windows.
Double-Hung Windows
This is a common type of window. These windows have a lower inside sash that slides up, as well as an upper outside sash that slides down. Overall, this improves air circulation, making it ideal for full screens.
These windows are also easy to clean because you can easily tile the sash. If you're planning on installing an air conditioner, this style of windows is a smart choice. Keep in mind that most have a high trim on the still, which might require some shimming to get your AC stabilized.
Double-hung windows also tend to do a better job of keeping out cold water and air. If you live in a windy and chilly climate like Chicago, or a rainy place like the Pacific Northwest, these windows are ideal for you. Also if you live somewhere that gets really hot like Los Angeles, these windows are also ideal because they can keep the cool air in, and the hot air out.
Casement-Style Windows
These windows, while a smaller part of the window market, do provide a view that's unobstructed. These windows hinge at one side and have a crank that lets you open these windows outward. When casement-style windows are fully open, the casements provide excellent ventilation and they're easy to clean.
These windows tend to be a little more airtight than double-hung windows. This is because when they close, the sash locks up tightly against the frame. You cannot install window air conditioners on a casement-style window like you can with a double-hung style.
Awning-Style Windows
These windows open outward and are hinged at the top. Similar to casements, the sash presses against the window frame, which lets the window close very tightly.
Fixed Windows
These windows are typically installed in places where lighting and ventilation aren't important. These windows are airtight and come with various unusual shapes and decorative glass accents.
Hopper-Style Windows
These windows are the opposite of awning windows. Instead of only opening outward and being hinged at the top, hopper-style windows are hinged at the bottom and can open either outward or inward.
Single-Hung Windows
Single-Hung look like double-hung windows, but with these windows, only the bottom sash moves. Because of this, these windows tend to be less expensive than double-hung windows. The top sash on these windows is sealed to keep out water and cool air.
Picture Windows
These windows are large and made up of one glass pane. They are usually in living rooms.
Bay Windows
These windows combine two windows with an angled side on either side of a large central window.
Bow Windows
This style is made up of several glass panels that are all the same size and curve gently. Bow windows project from the wall outward instead of flushing with the wall.
Vinyl Windows vs Wood Windows: Which is Better?
When choosing between a vinyl or wood window there are a few things to keep in mind. Here's the difference between each type of window.
Wood Windows
Wood windows are considered to be the "best" windows available. These windows are the most durable, beautiful and energy-efficient you can buy. Not to mention wood interior improves your home aesthetics drastically, making it a potential main selling point to future buyers.
Vinyl Windows
These windows are made from a plastic PVC material. Vinyl windows first debuted in the 1970s as an alternative to wood windows which were more expensive. Today, Vinyl windows make up as much of the window market as wood windows.
You can spot a vinyl window as they are usually white plastic windows. Over the last twenty years, vinyl windows have started coming in other colors besides white.
Vinyl Windows vs Wood Windows
When deciding between a wood and vinyl window, it all comes down to your priorities. If you're on a tight budget and your biggest priority is price, vinyl windows are your best bet. If you want beauty, longevity and added resale value to your home, then you'll want wood windows.
Find A Window Company Near Me
If you're getting new windows for your home, you want to buy the windows from a reputable company that will also install them for you.
Now that you know what to look for when shopping for the best replacement windows, we're here to help.
Find a window company near you today and request quotes to compare today!