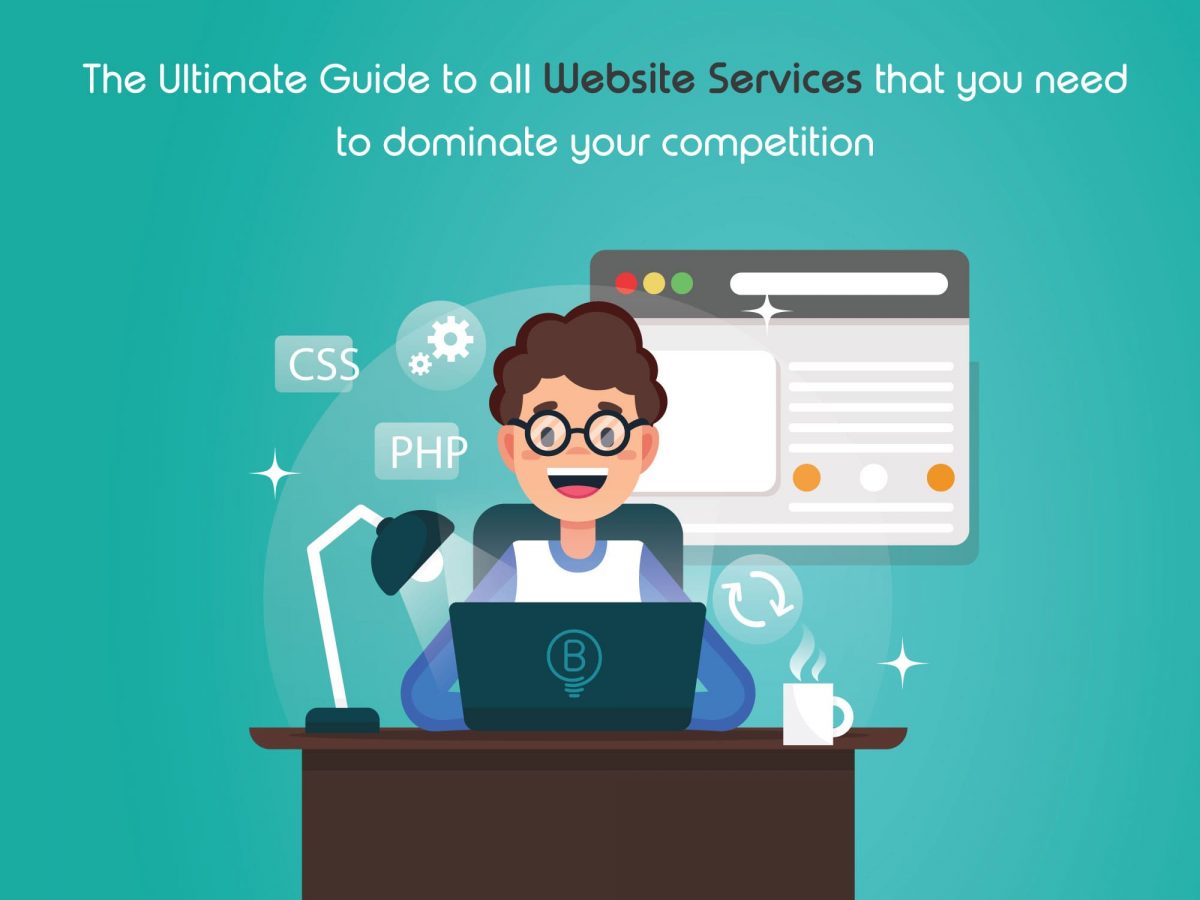 Website Services-An Ultimate Guide to Website Hosting, Design, Development, Optimization and Everything Else you Need to Dominate
Frustrated with having to contact countless Marketing companies, website agencies, and freelancers for your web hosting, website design, website development, Website optimization services  and maintenance needs?
Have you tried freelancers and realized the insecurity and lack of accountability or results in that?
You might ask yourself what website services you need to get your website online, noticed, and optimized so that you'll show up on the first page of search engine results. It's an important question. Most people think that they can throw up a website, put things on it for sale, sit back, and make money by doing nothing.
You're too smart for that. You know that hard work goes into being a success online. Every step in the process comes with its own unique challenges. It's tempting to hire a different company or freelancer for each step in the process, but that just kills your ROI and gets too complicated to keep track of. Instead, it's best to find a company that can do all of these services for you.
What are these services that you need? Read on to find out more about getting a website up and running so that your business can enjoy the benefits of an online presence.
Understanding Domain Registration And What You Should Look For When Hiring Such Services
In order to get your website online, you need to begin by registering your domain name.
But what is a domain name, and how do you go about claiming your own?
Every website on the Internet has its own IP address, which is a string of random numbers that takes users to a specific website. Of course, most of us would have serious trouble remembering hundreds of 9-letter number sequences for each website we want to visit.
So, IP addresses are replaced by domain names — the actual URL of a website, like www.Google.com or www.Brandlume.com. These names are much easier to remember than all those numbers!
Of course, this means that you want to pick a domain name that's easy to remember and relevant to your business (usually, this will be your brand's name.) But how can you make sure that the domain name you want hasn't already been claimed by someone else?
By working with a domain name registrar.
Every domain name on the Internet is managed by a non-profit corporation called the Internet Corporation For Assigned Names and Numbers, or ICANN for short.
Domain registration services, like those offered at BrandLume, Domains.com  or godaddy allow you to search ICANN and ccTLD accredited domain name registrants to ensure that the domain name you want is still available.
All you have to do is type in your preferred domain name and chosen extension (.com, .net, .org, etc.) into our easy-to-use free domain name search tool.
Real-time availability checking lets you know if your desired domain name has or has not already been claimed. If the domain name you want has been taken, you can find similar domain name suggestions that are still available.
All domain names get stored in a central database called registry. All domains have to get added to the registry to get recognized. This is the part that most people have a basic understanding of. There is another side, however, that people aren't prepared for: the hidden fees.
Many providers hit you with a renewal fee or charge you price increases every year. While you would think that most would make their website easy to use, some take the opposite approach. They actually make their website more difficult to navigate in an attempt to confuse you or stop you from switching providers in the future.
Worst yet, bad providers hide fees in their customer agreements. While they can technically say "you should have read the agreement", they also know that most people look for the easiest and quickest way to register a domain. Thus, they know that by hiding fees in their agreement and seemingly great prices, people won't see them.
Good providers believe in making life easier for our customers, not charging you any hidden renewal fees or unexpected price increases. They make their website easy to navigate and have easy to understand migration tools so that you can park unlimited domains. They offer hosting plans that meet today's speed expectations and provide full DNS and WHOIS management access, along with daily synchronization of your domain status (not to brag, but we offer this as a part of our standard package at Brandlume).
Always look for a provider that makes your life easier with intuitive registration and prices that tell you the whole picture, like with BrandLume. Why pay someone else if they're going to make your life difficult?
What Is Web Hosting, And What To Watch Out For When Choosing One
Registering your domain name is only the first step in getting your website online.
Next, you'll need to connect with a web hosting service.
But what is a hosting provider?
Think of it as a kind of "home" that your website lives in. That "home" is actually a server that keeps your website online and accessible to users around the world.
The server provided by web hosting services stores all the files and data of your website. The hosting provider also takes care of all the tech needed to keep your website up and running securely.
Your hosting provider allows you a certain amount of storage space and bandwidth. The right provider will also use backup servers to ensure maximum"uptime" — the amount of time that your website stays online and accessible.
In general, you should look for a hosting provider that guarantees an uptime of 99% or higher.
What To Look For (And Avoid) From Web Hosting Services
Web hosting is all about the three S's: speed, security, and support.
A slow website can destroy a business. The average person only waits for three seconds or less before clicking away from a website. If your website takes longer than this, you're losing customers and weakening your SEO score.
Security is another major concern for online shoppers. With the amount of data theft that takes place online, it's no wonder. Google responded to this by putting up a warning screen if a website doesn't have SSL certification, and penalizing websites that don't have it as of September 2018. This is something that any good web host would provide for free. Imagine if you're online shopping and a security screen pops up when you want to buy something. Are you going to visit that website, let alone buy something from it or trust the brand?
As for support, you want them to answer your questions without pushing everything they sell onto you. You called support for a reason; you need help, not a sales pitch.
Another thing to look for when choosing a web host is transparency. You don't want to get hit with huge renewal fees that make you pay a ransom to keep your website online. You also don't want a company that offers low speeds unless you pay for an upgrade (for a fee, of course). Of course, basic security should also come included with the price. If your website is going to sit behind a warning wall for anyone using Google Chrome, and if Google will penalize its SEO score because of a lack of security, what are you paying for?
These problems become worse if you use one company for registration and another for web hosting services. Do you really want to spend your valuable time figuring out why your website isn't loading fast? Do you want to sit through hours of both companies blaming each other for your low speeds, DNS, cNames and other technical issues that arise? Of course you don't.
That's why BrandLume is all about making sure you can get all of your hosting, domain registry and website design/development needs met with us, under one roof.
Our fully-managed and all-inclusive cloud-based hosting services focus on delivering the fastest available performance, give you unmetered bandwidth, and 100% SSL servers in the UK, USA, and Canada. We're committed to bringing you the very best in hosting services for a fraction of the cost of other premium hosting providers like Rackspace, Google and Amazon.
We offer a 99.9% uptime guarantee, along with free account and website migration services when you're ready to make the switch to BrandLume.
You'll be able to choose from a variety of hosting platforms, like WordPress, Drupal, Shopify, Joomla, and many more. You get unlimited SSD web space, data transfers, email accounts, and hosting of domains. You'll also have access to 24/7 real-time monitoring, nightly backups, and a free restore. You also work with 100% PCI compliant services, spam protection, automated app updates, and much more.
For those who want to focus on getting their website to load as quickly as possible — even with near-viral amounts of traffic — we also provide power-cache technology, free CDN integration, scalable computing resources, and more.
Website Design and Development Services
So, you understand the processes of both domain registration and website hosting.
Now, you need to actually build the website that you're going to put online. If you don't know how to build a website, that's okay! Most of the websites you see online were built by a company or designer. There's a good chance yours will be as well.That's because many companies like WIX or Weebly make it sound like it's easy to make your own website (what they mean is an online business card, not a website that converts shoppers to buyers), but in reality, anyone who has tried knows that couldn't be further from the truth.
So what should you look for and avoid when choosing a company to build yours?
The first thing to do is to look at the company's website that you're considering hiring. Do you like their website? Is it well put together? A company's website is their first impression. They are going to put their best foot forward. If their best foot forward is sloppy and unimpressive, do you really think they'll produce an amazing website for you?
Another thing to consider is their support staff. Are they more interested in selling you things you don't need or actually supporting you? Do you feel like they take an adequate amount of time understanding what you need? If the answer is no, run away. Any company's support staff that focuses more on sales than support is a bad sign when it comes to your website design, development and maintenance.
A big factor that most people don't think of is whether they own the code or not. If a company owns your website after the work gets done, it's almost a guarantee that you'll encounter problems later on or you are held hostage to their maintenance program.
But once your website is actually online, what can you do to ensure that it's the best that it can be? How do you make it intuitive and easy to navigate? How do you create a branded design for your website with an eye towards SEO optimization? What steps should you take to encourage visitors to stay on your website for as long as possible, and above all, to convert?
That's where the importance of superior website design and development services comes into play.
You want a website design that is focused on conversions and affordability. You want the same resources and level of service that insanely expensive and exclusive web designers offer you — but at a fraction of their cost.
Any package you choose should be as comprehensive and detailed as possible so that you aren't doing things on your own or hiring other companies to pick up the slack. That lowers your ROI and hurts your customers. You need premium themes and plugins so that you don't have to pay an arm and a leg to have things made from scratch for no reason.
You want coding that gives you peace of mind. Why force yourself to use an inferior service that ties you in to a long-term contract because they know that their services aren't up to snuff?
That's why so many other web design companies white label our services, and end up selling it to their clients for double or even triple the price.
Whether you're a local business or a medium-to-large company, we have the agency level website design and development services that are the perfect fit for your needs, without the usual hefty costs.
Landing Page Design and Optimization Services
Whether you're embedding a link on social media platforms, in your blog content, or even on a third-party platform or in a guest post, you need to ensure that the people who click on that link are directed to an internal page that makes a killer first impression.
Remember that landing pages — the pages visitors are redirected to when they click on a link to your website — don't always have to be your site's homepage.
They can be product pages, service descriptions, your most popular blog post, or anything else you can imagine. The goal of a strong landing page is to convert as many visitors as is possible. In many cases, your landing page is your first impression to a new customer. If you make them happy, they will continue to come back to you. If you fail them, though, you might never see them again.
Successful campaigns have landing pages that offer multiple aspects of digital marketing. Your page should be SEO optimized, have a message crafted towards your customers, and can even include a video that explains a product or service. The visitors that land on these pages become customers today and tomorrow.
Look for a company that has experience in handling landing pages. You need someone that knows how to design different pages for different types of campaigns. Not all campaigns are for selling a product; some are simply to draw attention to your brand or inform the customer about a new service your offering.
Talk to support and see if they actively listen to what you need or start listing off their plans without any input from you. These companies aren't interested in your success, only your money.
When you work with professional companies, they view customers as partners and not nameless dollar signs. You success is their success. BrandLume treats customers like family, offering world-class 100% transparent support and no long-term contract services that can help any-sized business succeed.
Compare any other company to these landing page optimization packages and see if they can offer short turnaround time, design mockups and revisions, and even page designs unique to each specific ad campaign for the same price. Landing pages improve your ROI and campaign success rates dramatically. Never run a campaign without them again.
Website Speed Optimization and Mobile First Indexing Services
Any company you choose should offer world-class speed optimization that goes beyond the basics with any package. Online, the lack of speed can kill a business. If customers have to wait for your webpage to load, they will take their business elsewhere. What's the point of having a website if no one uses it, or they leave because it's too slow?
With that said, some websites need faster service than others. A lot of factors go into this, from the amount of information on a page to the type of website you plan on operating. Each website is unique and should have options when choosing a speed.
That's why you should look for companies that offer speed optimization add-on services.
These services allow your site to minify HTML requests, CSS, and Java Scripts. They will also optimize any images on your site so that larger files won't slow down your website. BrandLume will analyze your website to find out exactly what's slowing you down, and help you resolve issues that are causing the slowdowns that are not part of the website.
Website Maintenance Services
If your website gets hacked or goes down, it can cause serious damage to both your sales and your branding efforts. You don't want first-time visitors arriving at your site and discovering that it's down. This could cause them to question your website's security. Previous customers that come to your webpage only to discover a downtime message might need something immediately. This causes them to go to another business, potentially taking them away from you for good.
You also need to stay ahead of spammers that want to put malware into your systems. Malware is any software designed to damage your computer, server, client, or network. Some of the most popular malwares are trojan horses, viruses, and worms, but a fairly new malware called ransom attacks is particularly troubling.
Ransom attackers are somewhat new to the world of cyber crime, but they can severely impact a business. Imagine coming to work one day, turning on your computer, and seeing a message that you have to send a large amount of money to someone overseas or they will erase all of your data. If you do it, you run the risk of them attacking you again for more money. If you don't, you could lose everything you've worked hard. The only true way to fight these schemes are to stay ahead of them.
If you're concerned about these types of attacks and looking for a way to stay ahead of them, check out the services here.
There are other reasons you need website maintenance as well, from updating your plugins and themes, providing malware protection, and even run monthly backups of your website. These services keep your website running quickly and without downtime. Website maintenance and consistent updates will also help to keep your website free of spam and ensure that your site is consistent with changes to the Google Algorithm.
As failure to keep up with Algorithm changes can result in search engine ranking penalties, this last features is essential. In Sept. of 2018, there was a minor tweak made to the Google Algorithm that caused some site owners to report a loss in traffic of up to 70%, while others saw their traffic increase by just as much.
In another major update, Google began to penalize websites that don't have SSL encryption protection on their webpages. Now, anyone that uses Google Chrome will see a warning on their screen if they go to a website that doesn't being with https:// instead of http://.
The good news is that for companies that had a website maintenance plan in place, they had already either made the change or were able to do so quickly.
In response to these changes, many website owners believe they should make dramatic changes to what they do. Although in reality, consistent website maintenance is the best way to ensure your website doesn't face massive changes in traffic.
Google doesn't provide many details on smaller algorithm changes like the one in Sept. But they have said that the best way to handle them is through consistency, good content, working links, and getting backlinks from larger websites. Each of those is handled by website maintenance.
Get All Your Website Agency Services Under One Roof
You don't have to go to a handful of different companies or bargain with countless freelancers in order to get the website agency services.
At BrandLume, you get everything you need under one roof, with no strings attached. This helps to keep your designs consistent, ensures all of your needs are met. It also allows you to scale your services with ease.
You get the best hosting/domain registration services available, along with enterprise-level website design and development services. These services are focused on SEO best practice and conversion, so your website actually makes you money, not burns it.
And you get it all at upfront prices, without any long-term contracts, gimmicky bait-and-switch sales tactics, or hidden fees.
Isn't it time that you switched to a company that put your needs first?
Reach out to us today to make it happen, hassle-free.