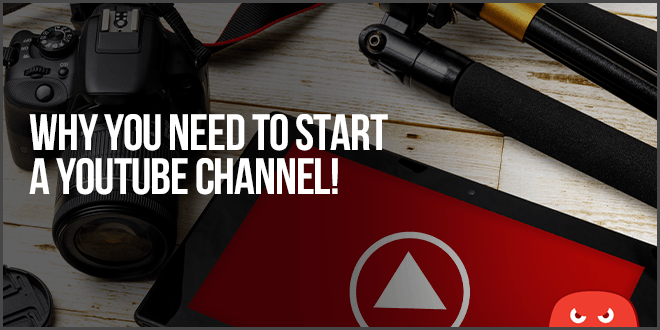 How To Start A YouTube Channel
Originally posted on https://www.thehoth.com/blog/start-a-youtube-channel/
In today's marketing landscape, video content is essential for success.
Although written content has been the basis of content marketing for several years, times have changed. People would much rather watch a video than read pages of content.
In fact, a report from Cisco predicts that video will make up 82% of all internet traffic by 2021. Additionally, thanks to our easy access to smartphones, the average person spends approximately 50 minutes a day watching online videos.
These numbers are certainly impressive, but how do they apply to your content marketing efforts?
With video content as prevalent and popular as it is, it's the obvious choice for reaching new audiences and growing your business. There are almost 2 billionactive monthly users on YouTube, which gives you enormous opportunity to gain visibility and spread brand awareness.
Successful channels are even eligible to make money from advertisements, providing an additional source of revenue for your business. However, the largest benefits come from implementing video content into your website. Video content is easily shareable, engaging and memorable. With it, you can increase dwell time and boost your SEO, while also enjoying more traffic to your website.
Below, we'll walk you through the steps of starting your YouTube channel, and provide you with additional tips to set yourself up for success.
Step 1: Create Your Channel
The first step to starting a successful YouTube channel is creating it!
In order to do this, you will need a Google account. YouTube is owned by Google (this is why YouTube is so instrumental in boosting your SEO), so you will use your Google account to access and manage your YouTube channel.
Once you've got your Google account information ready, all you have to do is head over to YouTube and log in with that information.
Once you're logged in, click the account thumbnail icon in the top-right corner of the screen to open the drop down menu. From here, click the settings icon to go into your account settings.
In your account settings, there will be an option to create a channel.
It will ask for your name, but if this account is for your business, you'll want to choose the option that says Use a business or other name.
You will then be prompted to enter the name of your YouTube Brand Account. Use the name of your business or something similar. Remember, this is how audiences will identify your channel and the people behind it. After you have confirmed your account name, your YouTube channel has officially been created!
Step 2: Customize Your Channel
After creating your YouTube channel, the next step is to customize it to make sure that your channel stands out from the rest.
You can upload photos to your channel and your account icon, making it easy to identify your brand at a glance.
After choosing some photos that fit your channel, click the About tab to add more details.
In the About tab, you can add a description of your channel. This is a great opportunity to tell your audience what you're all about.
You can also add contact information or links to your website, which will give prospective customers the resources they need to easily reach you.
Step 3: Verify Your Account
Once your account is created and customized, you'll want to verify it so you have full access to benefits like custom thumbnails and the ability to upload longer videos.
To verify your account, click on the account icon to bring up the drop-down menu, then click on Creator Studio.
From here, click on Channel and then Status and features.
Then, all you have to do is click the Verify button!
Step 4: Upload SEO Optimized Video
Now that you've got your channel set up, it's time to start uploading videos!
With YouTube, uploading videos is as easy as clicking the upload button and dragging your video onto the screen.
As your video uploads, you'll have the chance to add a title, description and tags to the video.
These details are incredibly important for SEO and ensuring that your content reaches its intended audience. Here are some tips for helping your video rank:
Title – Your video title should be 5-10 words long. It should also include a keyword at the front of the title, which tells YouTube what the video is about. With this information, YouTube will suggest your video when people type your chosen keyword into the search bar. Adding other relevant information, such as the year or "how to", can also help.
Description – Your description should be about 150 to 200 words. In order to rank your video higher on YouTube, you should include the keyword that you used in your title multiple times throughout the description, and especially in the beginning. You can also link back to your website in the description, which increases the chance that your viewers will visit your website.
Tags – The tags help YouTube categorize your video and suggest it to viewers who are watching related content. You should use your keyword here, too. You only need about five tags, any extra tags will only confuse YouTube. In addition to your main keyword, you should include a few alternative keywords that are similar to your main keyword. Then, include a few broader terms that relate to your keyword.
Thumbnails – Thumbnails don't affect your SEO or video ranking, but they certainly encourage people to click on your video instead of the videos above or below it. The best way to grab someone's attention is using a custom thumbnail. Adding text, images or other elements to the thumbnail can make your video look much more appealing.
Step 5: Embed Videos to Your Website
Once you've uploaded your SEO optimized video, you'll want to embed them on your website to further increase your traffic and your rankings.
Don't know how to embed a video on your WordPress? It's simple!
First, log into your WordPress dashboard and either create a new post or navigate to the post that you would like to add your video to.
Then, click the plus sign in the top-left corner to add a block to the current page.
Here, you will have the option of inserting a Video block,
…or a block specific to YouTube.
After inserting the new block, you will be able to embed your video using its YouTube URL.
It's important to use the URL here instead of uploading your video directly to your site. If you upload directly, you won't get any SEO benefits! The presence of links between your website and your YouTube video are essential for driving traffic and increasing your rankings.
Conclusion
Like any marketing strategy, you need to be consistent in your efforts in order to achieve the best results. Upload videos regularly to keep your audience engaged and continue to enhance your SEO benefits.
Need help producing SEO optimized videos?
Whether you lack equipment, time, or expertise, we have the perfect solution with HOTH Video.
With HOTH Video, we take care of the entire production process for you. From scriptwriting to post-production, we build your video from the ground-up, optimizing your video for YouTube and SEO along the way. All you have to do is upload and reap the rewards.