DJI RELEASES ITS NEW GIMBAL, THE OM 5: HOW DOES IT COMPARE TO THE OM4?
Photo from Unsplash
Originally Posted On: https://www.drdrone.ca/blogs/drone-news-drone-help-blog/dji-releases-its-new-gimbal-the-osmo-mobile-5-how-does-it-compare-to-the-om4
DJI has just come out with the newest model in its line of smartphone gimbals, the Osmo Mobile 5. The Osmo Mobile 5 revolutionizes the camera prowess of today's smartphones by eliminating shaky smartphone footage and allowing you to film videos like even the most professional filmmakers. With a compact, foldable design and a built-in extension rod that's perfect for taking group selfies, the OM 5 is a worthy addition to the Osmo Mobile line.
Up until this new release, the Osmo Mobile 4 was the most advanced DJI gimbal on the market, giving you the power to capture smooth and stable footage from your smartphone. Now that the OM 5 is on the market, fans of the OM 4 are wondering whether or not it's worth it to upgrade to the newest model. There are a few key differences between the Osmo Mobile 4 vs. OM 5 that may make it worth making the upgrade.
We'll go over everything you need to know about the brand new DJI Osmo Mobile 5 and do a thorough Osmo Mobile 4 OM 5 comparison to help you decide which gimbal is right for you.
INTRODUCING THE DJI OSMO MOBILE 5
The DJI OM 5 is a versatile and worthwhile companion to your smartphone, allowing you to make the most of all that your phone has to offer. Unlike the Osmo Mobile 4, the OM 5 comes with a built-in extension rod that is both portable and palm-sized. It comes with options for capturing the perfect selfie, super smooth video, an upgraded automatic tracking technology, and even more.
It also comes with a new feature called ShotGuides, which offers you creative suggestions tailor-made to your video that helps you produce stunning photographs anywhere in the world. With the outstanding technology of the OM 5, you'll be able to get the perfect shot every single time.
Following are some of the most important things to know about the DJI Osmo Mobile 5.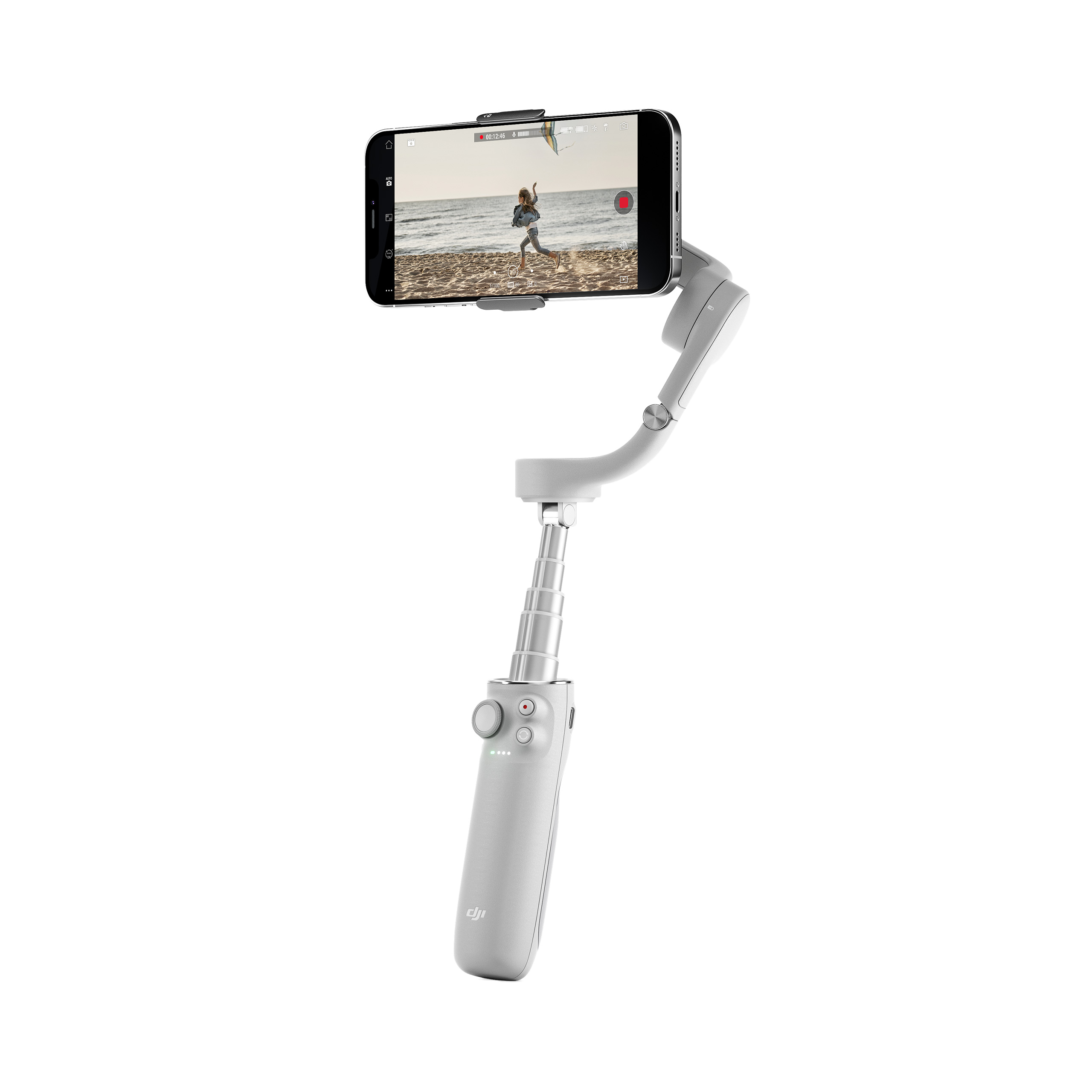 3-AXIS STABILIZATION
The DJI Osmo Mobile 5 uses some of the smartest algorithms that DJI has ever created to power its 3-axis stabilization. With three powerful motors stabilizing the gimbal, the OM 5 will adjust to your movements during filming no matter how vigorous you move. It doesn't matter if you're riding a bike, jogging, or using gesture control—your phone will stay put no matter what. The OM 5 even works with larger smartphones, giving you ultra-smooth output for all of your shots.
NEW DESIGN
Like the OM 4, the DJI OM 5 is a lightweight device with a foldable design that allows it to fit easily in the palm of your hand. This means that you can easily slip it into your pocket and take it with you wherever you go, from high up mountains to inner-city skate parks. The OM 5 is a supremely high quality gimbal that has flexible and highly durable metal joints that give it a premium fit and finish. The gimbal's handle is also ergonomically designed to give you a comfortable grip as it sits in your palm.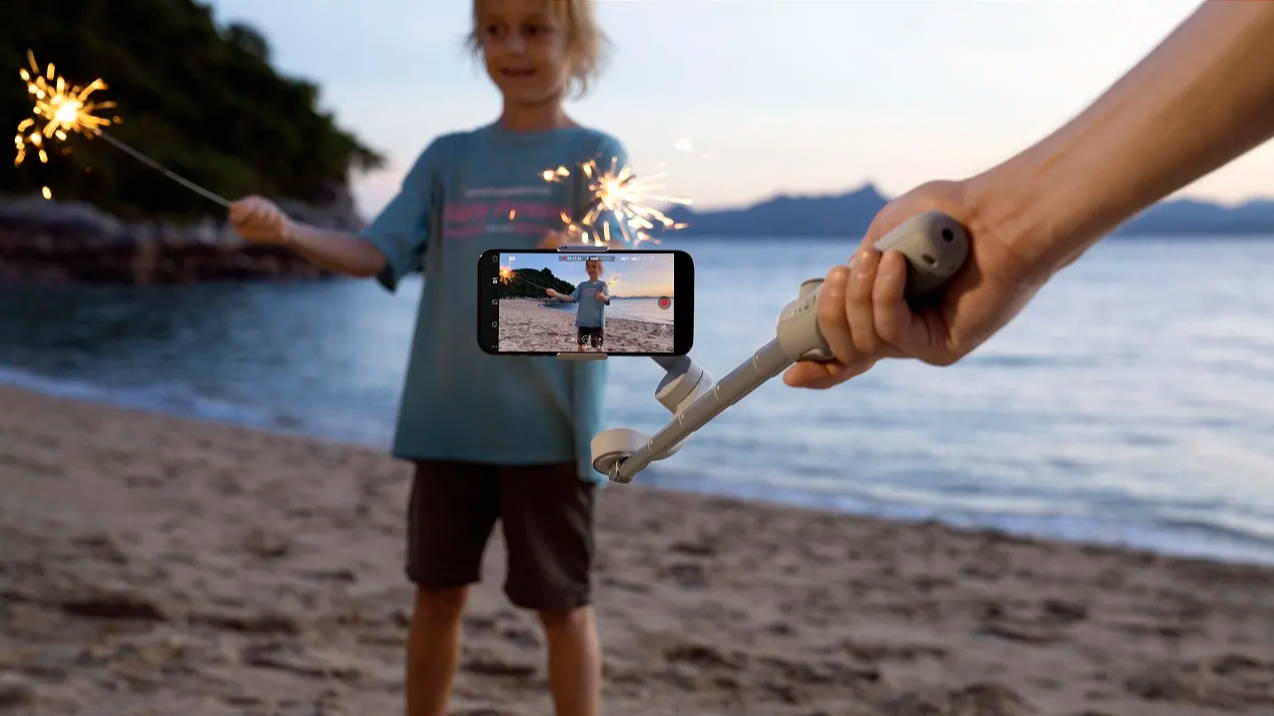 When comparing the Osmo Mobile 4 vs. Osmo Mobile 5, they both use the same magnetic, quick-release mounting mechanism that allows you to conveniently attach it to your phone. This is a high-strength magnetic quick-release mount that helps you shoot on the go. Just slap it on your phone whenever you're ready to capture life as it happens. The OM 5 will also automatically go into standby mode whenever the phone is detached, preventing damage to the gimbal and saving power.
One major difference between the Osmo Mobile 4 vs. OM 5 is that the OM 5 comes with a built-in extension rod for the first time, making it easier for you to capture footage from different and unusual new angles. This 215mm extension rod is precision-crafted to extend smoothly and uniformly, allowing you to easily adjust it as needed to capture creative angles. The DJI OM 5 offers maximum support for heavier phones, so all smartphone users can enjoy smooth, stabilized footage.
SOFTWARE FEATURES
ShotGuides
ShotGuides is an entirely new feature for the DJI Osmo Mobile 5 that detects your surroundings and offers you up helpful shooting tips and creative templates. This advanced feature turns even the most novice users into professional photographers, giving them the power to capture stunning results with recording and editing. It doesn't matter whether you have a wealth of creative ideas or incredible shooting skills at your disposal. With ShotGuides, you can create superior-quality videos with ease.
With the DJI Mimo app, intelligent shots are easier than ever to use. The app will intelligently recognize the series and provide you with a series of recommended templates. Each of these templates comes with a reference video that guides you through the shot and shows you how to move and pose. The app will then put a stunning video together once you've shot six clips.
ActiveTrack 4.0
Another big difference in the Osmo Mobile 4 Osmo Mobile 5 comparison is the new and upgraded ActiveTrack 4.0 mode on the OM 5. This upgraded version of the previous ActiveTrack comes with a brand new automatic face tracking feature for selfie mode, making it that much easier to capture your best angles. It also comes with improved recognition capabilities and responsiveness for easier shooting. Thanks to the accurate and dependable tracking of ActiveTrack 4.0, you can focus on your surroundings and be present enough to capture the perfect shot.
ActiveTrack 4.0 is powered by advanced algorithms that rely on deep learning and computer vision to accurately track subjects. To use it, you lock onto a target by either pressing the trigger button or selecting the subject on the screen. You can also activate and lock ActiveTrack 4.0 using gestures thanks to the gesture control feature.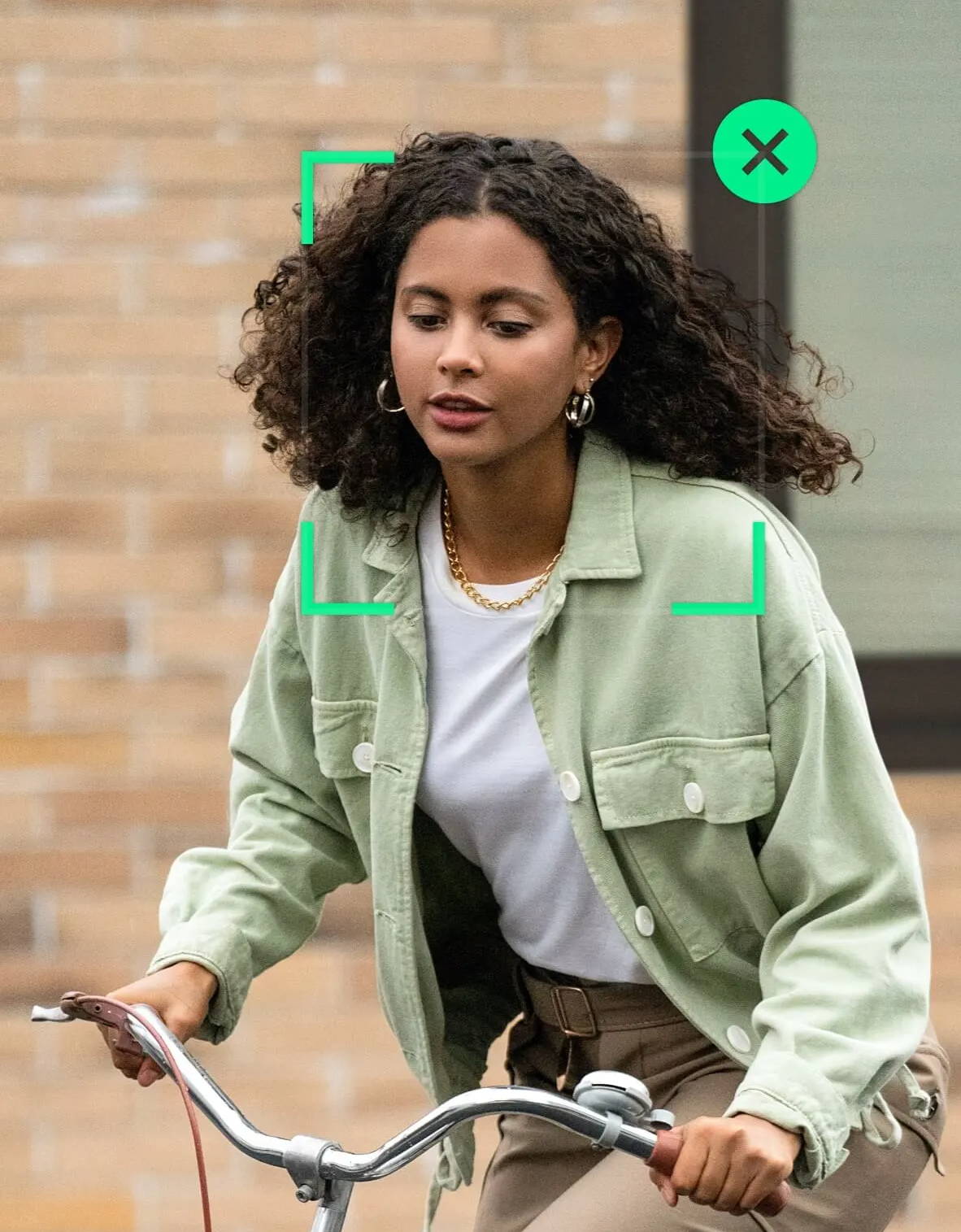 Gesture Control
Gesture control is an excellent software feature shared by the OM 5 and the OM 4 that lets you operate the gimbal hands-free. Whether you're taking a selfie or a group photo, you can operate the OM 5 remotely with just a simple gesture. Thanks to this useful feature, shooting a picture or video is easier than ever.
INTELLIGENT SHOOTING MODES
Most of the intelligent shooting modes contained on the DJI Osmo Mobile 5 are similar to the ones on the Osmo Mobile 4, although there are a few notable differences in our Osmo Mobile 4 Osmo Mobile 5 comparison. We'll go through each of the intelligent shooting modes of the OM 5 and point out the major differences.
Image Modes
240° and 3×3 Panorama
The OM 5 has a 240° Panorama mode that helps you take a standard panoramic shot with a wider angle than any regular photo. You can use this mode either with gestures or with a countdown timer to automatically create panorama shots.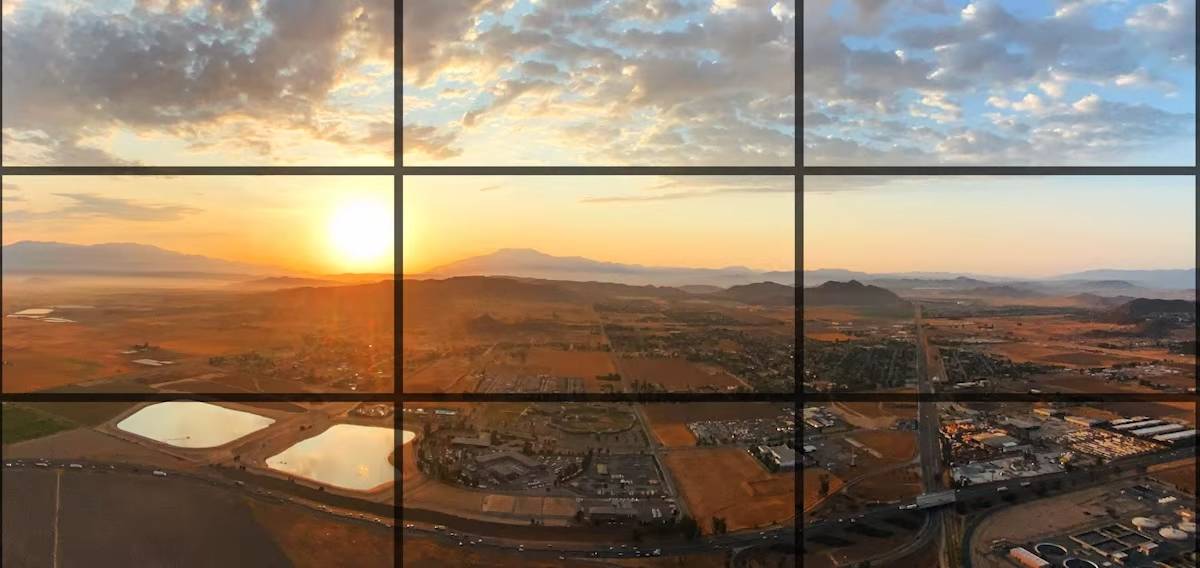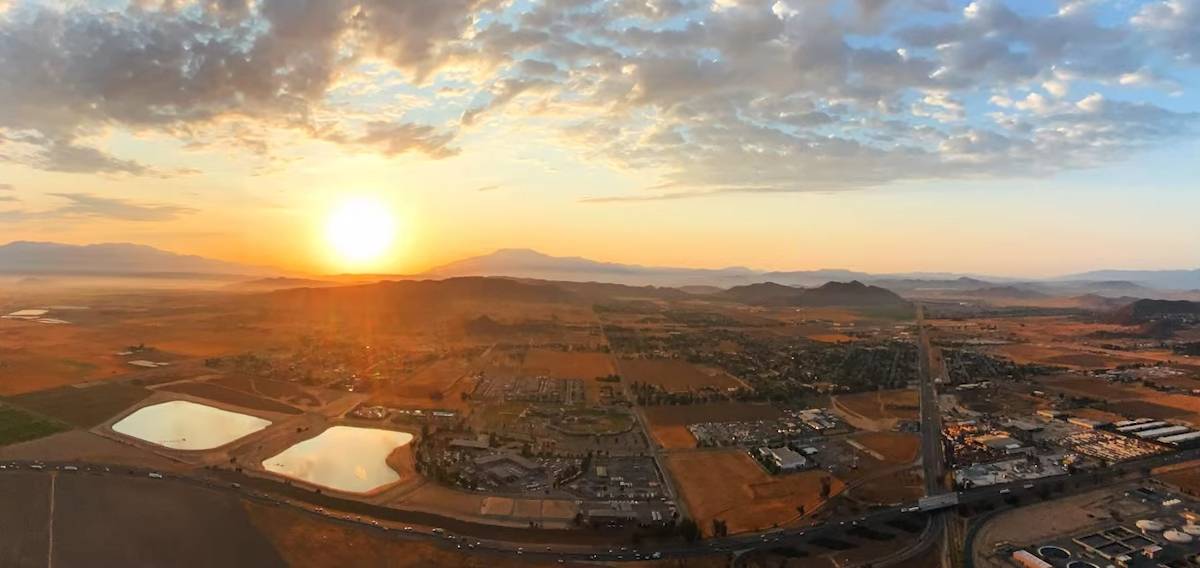 It also comes with a 3×3 Pano feature that helps you create Super-Wide angle shots from a series of photos. The DJI Osmo Mobile 5 will take nine different pictures in a 3×3 grid to capture the entirety of the scene, after which it will combine all nine pictures together into one large frame.
CloneMe Pano
One of the coolest effects of advanced photographic techniques is the ability to be in multiple places at once in a photo. With the CloneMe Pano mode, the DJI OM 5 will take several pictures with a time interval between each shot. This allows you time to reposition yourself in different places in between shots, creating a funny image with copies of yourself. The DJI Mimo app will then stitch the panorama for you, showing yourself in multiple locations at once.
Video Modes
Timelapse, Motionlapse, Hyperlapse
Timelapse Mode allows you to speed up the movement of the different elements on the screen to create visually stunning short videos. With the touch of a couple of buttons, you can create dynamic visuals you wouldn't otherwise be able to capture with your phone.
Motionlapse mode adds motion to your Timelapse shots, helping you cover more area and adding a unique cinematic effect to your video. Hyperlapse mode makes use of the upgraded ActiveTrack 4.0 to latch onto a subject as the camera moves, creating a stunningly unique video experience. With the power of inbuilt Electronic Image Stabilization in your smartphone and the 3-axis stabilization of the OM 5, you can create videos you never could before.
Spin Shot Mode
The Osmo Mobile 4 OM 5 comparison of the Spin Shot mode shows an upgrade on the new OM 5. Similar to the Spin Shot mode of the OM 4, all you have to do is enable Spin Mode in settings and use the joystick to spin the phone. This gives you a shot similar to the kind you'll see in the movie "Inception". However, unlike the OM 4, the OM 5 spins even further, allowing you to create an even more mind-bending shot.
Dynamic Zoom
Dynamic Zoom is a feature that creates an intense and warping visual effect to create videos that are simply outstanding. Even the newest of users can create a cinematic shot similar to the shots in Hitchcock's most famous films. The Dynamic Zoom feature is comparable to the Dolly Zoom on the Mavic 2 Zoom, so users of this drone will recognize the incredible effects of this fun feature.
Story Mode
Another intelligent shooting mode on the DJI Osmo Mobile 5 is Story Mode, a video recording method that lets you make short films all with just a single tap. Story Mode uses a combination of preset shooting patterns and camera motion, creating high-quality videos on demand. You can make your footage one-of-a-kind with special filters and soundtracks, creating short videos to share straight to social media and wow all of your friends.
ACCESSORIES
DJI OM Magnetic Phone Clamp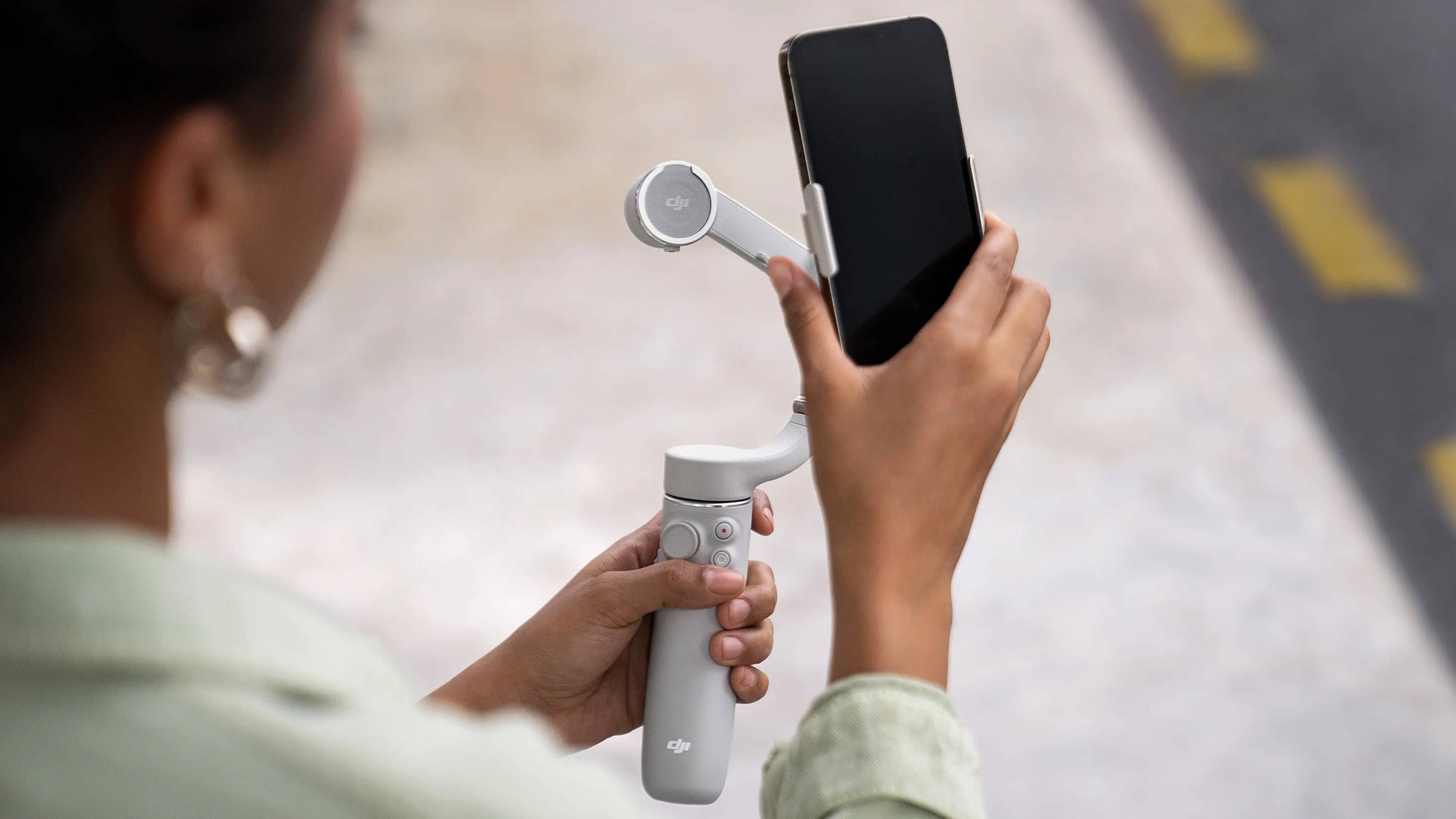 The DJI OM Magnetic Phone Clamp 2 is a handy attachment that quickly and easily attaches to your smartphone. It's a thin, light, and dependable secure that is carefully designed to keep your phone's buttons and cover hidden. With this phone clamp, you can operate the OM 5 without fear of your smartphone becoming dislodged.
DJI OM Fill Light Phone Clamp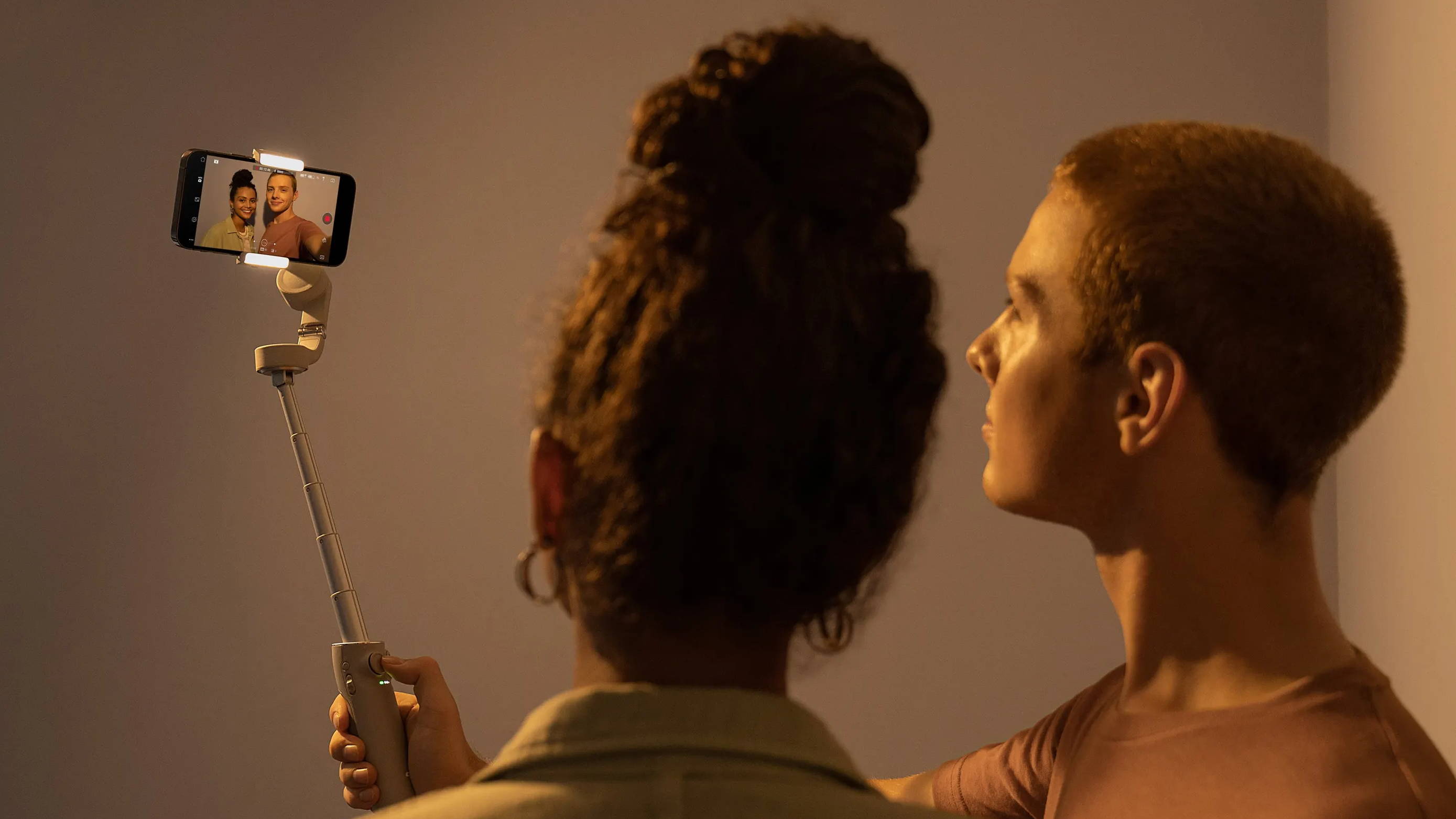 When comparing the Osmo Mobile 4 vs. Osmo Mobile 5, we'll note that the OM 5 has a new optional accessory never before seen. The DJI OM Fill Light Phone Clamp is an independent accessory perfect for shooting in low-light conditions. This clamp has a magnetic design and can be used with the OM 5 to provide extra light just when you need it. It has three different brightness levels depending on the lighting conditions you're working with. It also comes with three color temperature options for its built-in LED auxiliary lights, allowing you to highlight subjects however you need to.
OSMO MOBILE 4 OSMO MOBILE 5 COMPARISON: WHICH IS RIGHT FOR YOU?
While the DJI OM 4 is discounted from $179 to $129, the brand new OM 5 is $179. The OM 5 comes in two optional colors, from Athens Gray to Sunset White, while the OM 4 comes in only one color. Both Osmo Mobile models come with a grip tripod, power cable, storage pouch, and wrist strap to help hold the gimbal.
The biggest differences between the two are the inclusion of the built-in extension rod and the upgraded ActiveTrack feature on the DJI Osmo Mobile 5. The OM 5 also comes with an upgraded Spin Shot mode and a brand new ShotGuides feature that walks videographers of all levels through how to capture a dynamic video. These changes make the DJI OM 5 more than worth the extra price to take advantage of the additional recording capabilities. Check out the DJI Osmo Mobile 5 today to start capturing smooth and stable footage from your smartphone!