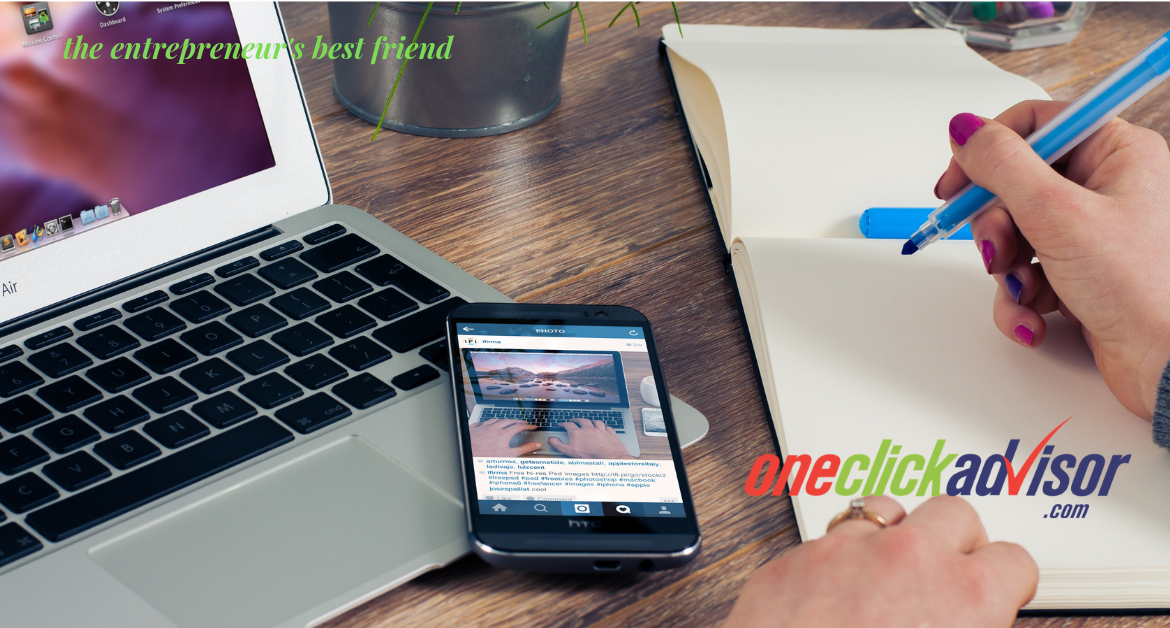 One Click Everything for Small Business Owners
Photo from Canva
Originally Posted On: https://www.publictriumph.com/one-click-everything-for-small-business-owners/
If you own a startup or small business and are looking for help, the questions can feel overwhelming. While there are businesses, groups, organizations, or even well-meaning friends and relatives everywhere with advice and guidance, you still have to create your own luck.
While success in business is elusive and difficult, it is simple in concept. There is a formula for this, and formulas make things easier. In fact, there are many formulas. But planning a business depends on doing three things correctly. Good cloud-based software is available to walk you through it.
OneClickAdvisor is a site with a fantastic set of tools for owners of startups and small businesses. It answers many of these overwhelming questions. The founders of OneClickAdvisor created it after thousands of hours of helping small business owners through small business legal matters, marketing challenges, operational puzzles, and getting financing.
OneClickAdvisor Start is where you can do exactly as the name suggests; start a business. Or, at least you can learn the difference between corporations and LLCs , and actually start a corporation or start an LLC. With every corporation or LLC, you also receive $50 worth of any courses and books the site offers, all available at checkout. Before you do that, make sure the name or brand you are choosing isn't already trademarked.
You can also buy or sell an existing business.
Marketing. Marketing brings the customers in. The fundamentals of marketing can be summed up in the old "4 P's"; which are price, product, promotion and place. All you have to do is get those right and you will be the next tycoon of your industry.
Highlights of OneClickAdvisor Marketing include pricing and other calculators highly useful for determining return on investment (ROI) for marketing initiatives. If you need to check the availability or price of a domain, there is a search tool for that too. There is a complete public relations course available, or with a large portion of it complimentary with the purchase of an incorporation or LLC registration.
OneClickAdvisor also provides a free video explaining how retail prices should be set for maximum possible profit.
Operating. Operations keeps the customers. Stop for a moment and think of your favorite business. How well is it run? Is it consistent? Are the employees well trained and helpful?
It took a lot of time and investment for that business to deliver that experience for you. They had to create systems. You too must create systems if you want to deliver a consistent, but great experience so that your customers keep coming back. OneClickAdvisor Operations is where you can find top-quality providers of inventory management, point-of-sale equipment, customer relationship management, human resources and insurance, and phone service, among other valuable providers. You can also access useful calculators.
Finance. Finance is the scoreboard. Notice that finance is not listed first in the business planning sequence. While marketing, operations, and finance are of equal importance, figure out how to solve a problem before you look for money. It is never the other way around. Expenses are a certainty but sales are elusive. Plan marketing and operations first. How much could you conservatively expect to earn and how much will you expect to spend? Only then should you focus on finding money. Business planning software is invaluable to mapping out the future of the business, which must be done before seeking capital.
OneClickAdvisor Finance can help. Save time and reduce mistakes with our calculators. Get a small business loan, credit card, or other financing. Additionally, you can buy accounting software, often at a discount.
Feasibility always. Maybe the best business decision is to not enter the business. When gauging the feasibility of the business, consider how you could market, operate and finance the business. If you cannot identify a sensible marketing, operational or financial path to success, don't move forward. In summary, there is no substitute for simply taking well-planned action.
Think like a person of action and act like a person of thought.
OneClickAdvisor has many of the keys. For more information, visit anytime.