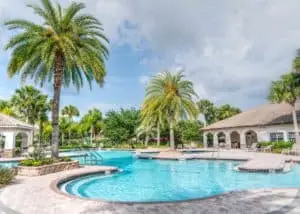 How to Choose a Pool Surface in Orlando
One of the most common questions we get is about how to choose a pool surface in Orlando. That's why we put together this blog post to help you sort out just what kind of pool surface is right for you and your home.
When you decided to remodel or resurface your pool, you had the perfect image of your new pool in your mind. You could see it. You could imagine your family relaxing beside your pool, sipping drinks, barbequing outside for the 4th of July or Labor Day—but now that the time has come for you to decide exactly what surface you want for your pool, you realize just how hard it can be to make a decision.
At Classic Marcite, we understand it can be hard to choose a pool surface in Orlando, that's why we work with you to try and find the perfect pool surface. But we found that there are a few things you should consider before you jump the pool deck and get underwater with all of the options.
That's why we put together this helpful resource for you on how to choose a pool surface in Orlando. The options you have can differ from color, texture, and durability. That's why it's so important to weigh the pros and cons of each surface before you decide which one you'll go with.
White Plaster
White plaster is one of the most common pool finishes. This provides the classic swimming pool look. The mixture of white cement, marble, and limestone aggregate is a good choice for those who want a very conservative appeal. If used, during its lifetime, it's reasonable to expect some change in color and cracking and scaling.
Colored plaster
Another beautiful pool finish is colored plaster. This type of pool finish is pretty much the same as white plaster, but with color. It's important to note that with colored plaster, unevenness in texture is often more evident. However, this isn't considered a deficiency, but part of the finished surface itself.
Quartz
Quartz aggregates come in a number of colors and varieties. When it's combined with plaster, quartz can create a range of shades and colors. This finish is more durable than plaster. However, since it's not just plaster, it is a more costly surface; it lasts longer than plaster.
Pebble
Looking for a natural look? Pebble surfaces not only look natural but are some of the most durable finishes and surfaces available on the market. When compared to any other option, they last the longest. They have small stones embedded in the product that can come in a range of color combinations.
Tiles
Many homeowners like to add tiles to their pools. Tiles are a great way to dress up your pool since they come in all sizes, shapes, and colors, so they can fit right in with any surface you pick.
Pool Resurfacing Services in Orlando
As a family-owned pool renovation and pool resurfacing company in Orlando, Florida, we make sure that we offer honest and special service that helps foster great relationships with our clients.
Classic Marcite provides pool resurfacing services from repairs to finishing, we are committed to supporting our clients with all of their pool needs including: Residential Pool Resurfacing, Commercial Pool Resurfacing, and Overseas Pool Resurfacing.
We are a team of professionals dedicated to transforming the pool resurfacing industry. We seek to bring the best support to our clients. We are the most complete licensed and insured pool resurfacing company in Orlando and Jacksonville.
Contact us today to receive a free, no-obligation quote and to learn how Classic Marcite can bring your pool back to life.