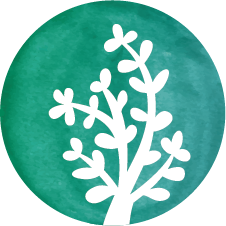 Kitchener's Oldest Yoga Studio Adapts to Pandemic Challenges and Relaunches as the Branches
FOR IMMEDIATE RELEASE
Kitchener, ON, 9 July 2021 – After 16 years in Kitchener's core, Queen Street Yoga is moving to a new location on the edge of downtown and putting down new roots. Like so many others, this small business has been forced to adapt to a pandemic reality. But the change also brings new hope for better things to come.
Faced with paying rent on a big empty commercial space as the pandemic dragged on, Queen Street Yoga's owner, Leena Miller Cressman realized she needed to make a change. Closing a space treasured by many long-time students didn't feel like an option. So studio director Leena Miller Cressman and a long-time employee and now co-owner, Leslie Stokman, decided to uproot their tight-knit yoga community. The pair bought a century duplex near Samuel and Frederick Streets early this year, and began a complete renovation with an eye to welcome students back later this summer.
The studio is reborn with a new name — "The Branches" — but the same mission: Yoga taught with inclusivity, a keen curiosity in the latest movement techniques, and a healthy dose of community activism. The Branches will offer a blend of indoor, outdoor and online yoga classes and yoga teacher training going forward.
Queen Street Yoga is part of a trend of young entrepreneurs in downtown Kitchener who are purchasing their own properties – despite intimidating real estate prices — in order to find stability in the city's quickly changing core. Legacy Greens is another small business that solved a similar conundrum by investing in their own commercial space. The financial challenge was not small. But despite the debt and other hurdles, Stokman and Miller Cressman were motivated to stay in downtown Kitchener.
Since 2005, Queen Street Yoga has been at 44 Queen Street (next to the Walper Hotel). Commercial rents have quadrupled in downtown Kitchener since those early years. When the pandemic shut down the studio, paying rent for that big, empty space meant the studio lost money each month.
Now, with a new space to call their own, The Branches' owners are hoping these pandemic challenges have led them to a better place. They are free to put down roots and create a truly inclusive community space. For example, Queen Street Yoga was located on a third floor, only accessible via long stairways. The Branches can be more accessible, with ground-floor access and ramp construction soon to start.
The studio's relaunch is also a chance to focus on the co-owners' vision and values. To remove financial barriers, The Branches will offer sliding-scale prices for all classes. The current renovations will shrink the business's environmental footprint by eliminating natural gas and retrofitting the building with energy-efficient heating, cooling and insulation.
"This is a chance for us to really create a place that's in line with our social values," Miller Cressman said. "We have the freedom to walk our talk more than ever."
Real financial challenges still remain, with a mortgage to pay and renovation bills stacking up. It's unclear how quickly yoga students will return, even when health regulations allow businesses to reopen. But The Branches has high hopes for new outdoor yoga classes (physically distanced, of course) under the trees on their spacious new back deck. And there's excitement for a better year ahead in a post-pandemic downtown Kitchener.
About The Branches:  Yoga and movement. Rooted in community. We're here to create a better world with Yoga as our common ground. We lead down-to-earth classes, expert teacher training, and an engaged intergenerational community. We opened our doors in 2005, and have become known for our highly experienced teachers, our innovative approach to movement, and our efforts in community care and social justice. Our aim is to make the practices of yoga and meditation more inclusive, more accessible, and more relevant for your day-to-day life. (Formerly Queen Street Yoga) Visit https://thebranchesyoga.com/ for more information.
Media Contact:
Name: Leena Miller Cressman, Studio Director
Phone: 519-741-9642
Email: [email protected]
Originally Posted On: https://syndication.cloud/kitcheners-oldest-yoga-studio-adapts-to-pandemic-challenges-and-relaunches-as-the-branches/