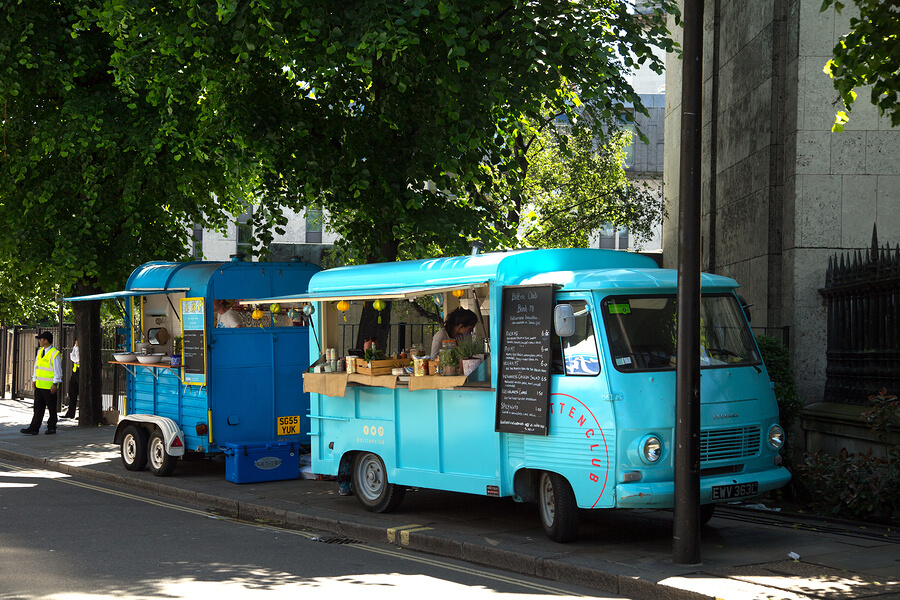 Keep An Eye Out For These Washington, D.C. Food Trucks
Originally posted on https://www.daroapartments.com/dc-guide/food-trucks/
Craving a Meal as On-The-Go as You Are?
Washington, DC is home to a growing number of food trucks offering everything from tacos, Asian cuisine, and lobster, to cookies, crepes, donuts, and more.
Grab a bite of some of the best food you've ever had while on the go.
But, if you're in the mood for a place to sit down and spend some time, check out our favorite restaurants in Cleveland Park, Dupont Circle, and Cathedral Heights.
For now, here are a few of the area's most popular food truck options.
A Little Bit of Something for Everyone
Arepa Zone
The first and only food truck serving Venezuelan cuisine in the DC area, Arepa has been voted best chef, customer service, and breakthrough dish, as well as best new food truck and truck of the year.
Arepa Zone makes its rounds, ensuring that its Venezuelan goodness reaches every corner of DC.
While this food truck is incredibly convenient for a quick lunch, they also have restaurants on 14th Street and Union Market.
If you're looking to sit down and take your time, check out one of their locations.
You can order some of their delicious pabellón bowls, patacón, tequeños, cachapas, arepas, and other classics.
DC Slices
Come on. Everyone loves pizza.
It's one of the only things that almost everyone can agree on. Be it deep dish, NY style, or thin crust – pizza is just good.
And everyone knows it.
But, for some reason, there aren't a lot of food trucks offering pizza. And that's where DC Slices comes in.
Offering fresh-out-the-oven thin-crust pizza, DC Slices serves items for pizza lovers created by pizza lovers.
It offers crowd favorites like cheese, pepperoni, buffalo chicken, veggie, meat lovers, and Hawaiian, as well as varieties of tater tots, mozzarella sticks, salads, and funnel cakes.
How could you go wrong with a food truck this good?
In fact, they're so popular that they have four food trucks roaming the streets to meet the demands of their customers.
So join the masses and grab a slice.
Far East Taco Grille
An American street food truck with ethnic fusion, Far East Taco Grille offers a wide variety of food to satisfy all of your cravings.
When you step up to this truck, you'll be able to order báhn mi, kimchi tacos, bowls, burritos, quesadillas, salads, fries, egg rolls, jalapeño poppers, chips and dip, and more.
Is your mouth watering yet?
Its flavors are inspired by Mexican and Asian cuisines – the best of both worlds!
Just one bite and your whole day will get better.
PhoWheels DC
A family-owned business, this truck is run by Houston, Texas natives.
They grew up surrounded by authentic Vietnamese food both in their community and in their own kitchen. Now they spend their days making all of our lives better with their delicious food.
This Vietnamese-focused food truck is also influenced by Chinese and French elements.
It offers báhn mi, Vietnamese street tacos, pho, egg rolls, shrimp chips, deep-fried Chinese breadsticks, iced coffee, Thai tea, and plenty of sodas and water.
Red Hook Lobster Pound
A mostly cashless operation, the Red Hook Lobster Pound food truck serves lunch to hundreds of DC residents daily.
It offers East Coast favorites like Connecticut-style lobster rolls, New England clam chowder, Maine-style lobster rolls, lobster Caesar salad, Maine root soda, and warm apple cider, among other items.
Their trucks are usually out and about Monday through Friday.
They also have a location at the Wharf, where they serve up lobster-lisciousness. (Their words, not ours.)
It's open Tuesday through Sunday so stop through and get your fill.
Swizzler Gourmet Hot Dogs
Swizzler offers gourmet hot dogs made from grass-fed beef, served on locally made buns, embellished with house toppings, and featuring a spiral cut.
Its menu includes the Leonardo Dog Vinci, Feast Mode, J(ersey) Dawg, Maized & Confused, and the Abe Froman, as well as a Plain Jane build-your-own option on a brioche bun.
These hot dogs will even make vegetarians hungry. Luckily, you can sub a veggie dog in for any of their creations.
Pair it with their hand-cut or parmesan truffle fries, and you'll be full in no time.
So what are you waiting for?
Tasty Kabob
Offering fresh halal food, Tasty Kabab offers chicken and rice, chicken on pita, lamb on rice, lamb gyros, veggie platters, chickpeas, meatball kabobs, chicken and mushrooms, and more.
It was created to bring a father and son's favorite meals from their home country of Afghanistan to the people of Washington, DC, and it's been impressing palates since 2010.
In fact, their food is so good that they've expanded their business to five trucks.
So carve some time out of your day to hit up one of their self-proclaimed "clean, green, tasty machines."
Dessert and Treats Trucks
Captain Cookie and the Milkman
A mobile bakery and dairy bar, Captain Cookie serves fresh-baked cookies, local creamery milk, and made-to-order ice cream sandwiches.
Get your fix of homemade cookie flavors like chocolate chip, snickerdoodle, funfetti, oatmeal, ginger molasses, and double chocolate.
Wash it all down with any of their milk options or make a sandwich out of their vanilla, chocolate, or black cherry ice cream.
Their trucks are booked for private events a lot of the time, so make sure to double-check their schedule.
And a portion of their profits are donated to charity, so feel free to buy a few extra cookies for the road. It is for charity, after all.
Goodies
Goodies aims to take its customers down memory lane, delighting taste buds with its legendary frozen custard and treats.
It's DC's first and only "Vintage Mobile Eatery," and focuses its efforts on frozen treats that pay homage to the legends of rock and roll.
So order a "Juke Box," "Jitterbug," or "Boogie Woogie," and delight in the taste of their Wisconsin-style frozen custard.
Mama's Donut Bites
Specializing in mini donuts that are hot, fresh, and made to order, Mama's creates and offers a rotating list of flavors and combinations.
It was founded by a mother, son, and daughter in 2011, and has been mentioned by both the Washington Post and Northern Virginia Living magazine.
You may want to order some extra donuts to take home with you. We've heard you can use them to make french toast.
Sweetz Cheesecake
Sweetz provides cheesecakes, cookies, cakes, and brownies, including vegan and gluten-free options.
It boasts flavors like classic, raspberry, amaretto, chocolate, chocolate chip Kahlua, black forest, caramel pecan, key lime, Irish crème, mango, tiramisu, peanut butter cup, and many more.
And if you want them to cater an event for you, they offer individual and mini cheesecakes, as well as cheesecake dippers.
While DC might have some of the best dining on wheels, you might also check out some of our favorite restaurants in Cleveland Park or Dupont Circle.
Count us in!
As you can see, DC has some of the best meals on wheels this country has ever seen.
DC also has some of the best neighborhoods in the nation, and we've got apartments in every one of them.
So come in for a tour today!