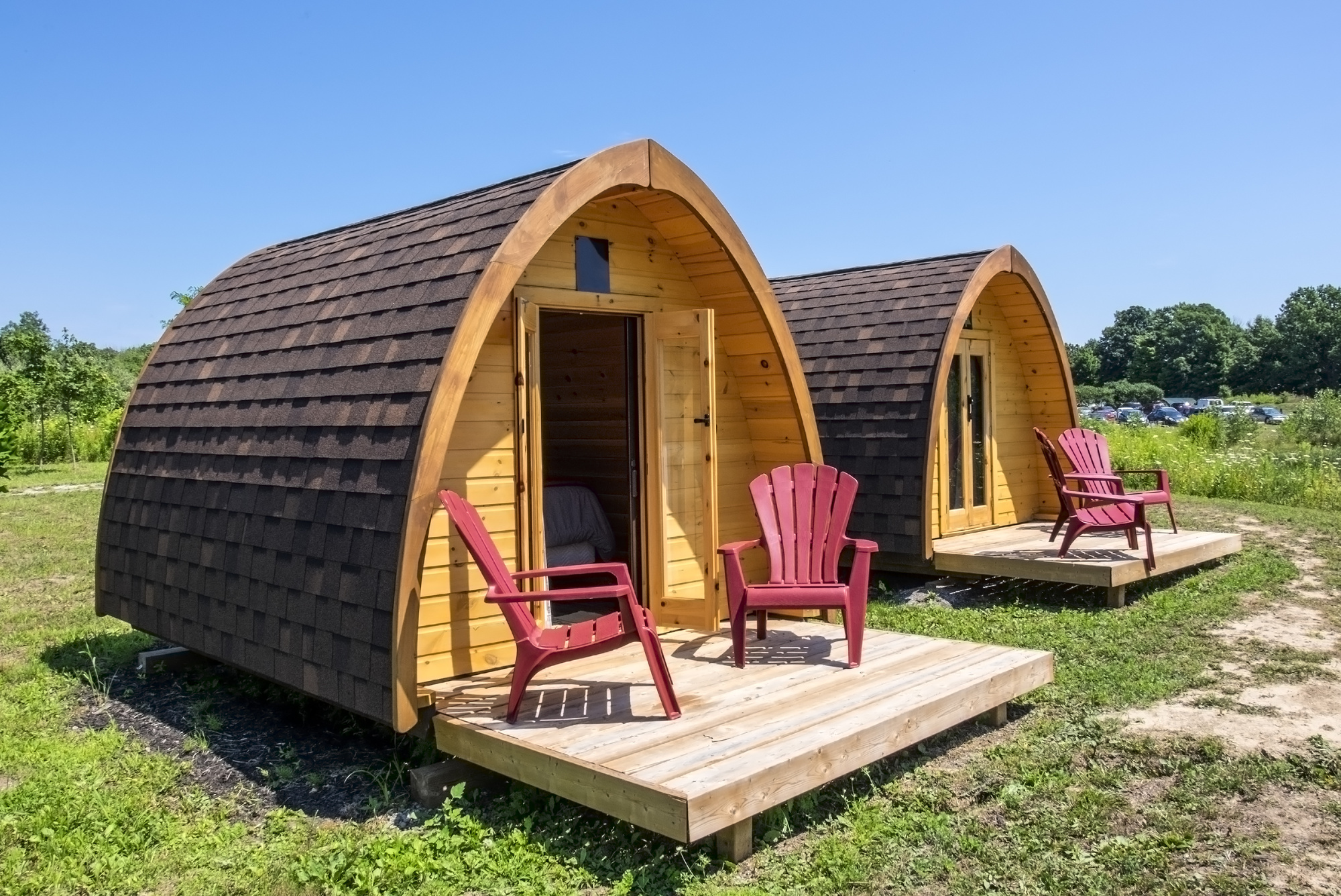 The Most Incredible Glamping Trips You Haven't Heard Of
Do you enjoy the great outdoors — as long as you can plug in your hairdryer, charge your cell phone, and have someone else pitch your tent?
Do you love being one with nature, but aren't quite as sold on having to spend your vacation hiking through the wilderness with no makeup, taking limited baths, and dealing with the elements that ruin your new gel manicure in five minutes?
If so, it sounds like you're the perfect candidate to go glamping, the latest trend in travel.
But what does it mean to glamp, and where are the best places to do it?
Read on to find out.
What Is Glamping?
Maybe you've heard the term "glamping" cropping up in a recent conversation, or perhaps you've just discovered the popular hashtag on Instagram and are eager to learn more about it.
So, what exactly is glamping, and how does it differ from those Girl Scout camping trips that always seemed to end in tears, fights, frustration, and countless insect bites?
This website does the perfect job of explaining it, so we've distilled the most important things you need to know here. In a nutshell, glamping is camping without the fuss, loss of power, and random wildlife that keeps you up until 5:00 AM.
Often, when you glamp, you'll stay in luxury (but still authentic) accommodations that go way beyond the standard tent. Think yurts, wooden huts, pods, and even teepees!
Don't worry — you won't be expected to hunt and gather your own food, either. Instead, you'll be treated to five-star dining, often centered around the local cuisine.
So, what should you bring with you?
When you're getting ready to glamp, be sure to check out our list of the essential things you'll need to throw into your suitcase or strap to the top of your car.
Now, let's discuss some of our favorite glamping destinations.
1. Merzouga Luxury Desert Camps
Have you always dreamed of glamping in Morocco?
If so, then the Merzouga desert camps, within the expansive Erg Chebbi Desert, are the perfect place for you.
Live an authentic nomad lifestyle in one of the 15 KHaimas tents made from the skin of camels. Spend your days exploring the dunes on foot with a guide, or take your experience to the next level by riding an ATV through the desert.
Afterwards, you can enjoy a gorgeous picnic filled with traditional Moroccan foods underneath the stars while you watch belly dancers and learn traditional music.
Start your journey in Marrakech, Fez, or Ouarzazate to smooth the transition from life in the city to the desert.
Looking to unplug and reconnect with yourself after a stressful time at work? If so, then you'll especially love the meditation-based yoga that's offered every morning. If you're interested in ancient history, then exploring the fossils in the town of Erfoud is a must-do. You'll get to see over 500 types of fossils up close, many of which are nearly 500 million years old.
This is the perfect glamp experience for those who want to explore new worlds, get to know locals, and live for adventure.
2. Free Spirit Spheres
Do you want your glamp experience to make you feel like you're one with nature?
If so, then the treehouse-like Free Spirit Spheres outside of Qualicum Beach in Canada. Especially fascinating for those seeking eco-friendly destinations without having to compromise their comfort, you'll enjoy the stunning 260-degree views offered by the suspended spheres.
The spheres are equipped with hearing and made from Yellow Cedar and Sitka Spruce wood, meaning that you'll be warm enough should you decide to glamp in the winter months.
Don't worry — there are also phone chargers and electrical outlets, so you won't have to completely unplug in the spheres. They also move gently in the wind, meaning that life in the spheres is like living inside your own personal hammock.
You'll find it easier than ever to fall asleep, gently rocked by the breeze.
When you wake up, hit the ground running by touring the Horne Lake caves, exploring the nearby hiking trails, our even taking advantage of ziplines and sea kayaking.
3. Nature Resort Natterer See
For those who would rather head to a European destination for their glamping experience, there's no place better than the Natterer See Nature Resorts in the Tyrol region of Austria.
The safari lodge tents offer a full kitchen, separate bedrooms, balconies, and even a stunning covered terrace. If you're looking for a more traditional chalet experience, than stay in the smaller family and panorama wood lodges.
If you're a true adventurer, then you simply must try the tiny pinewood sleep barrels, which look like your own personal caravan!
Since all of the glamping accommodations are equipped with heating, we highly recommend that you visit in the wintertime so you can take advantage of the skiing opportunities of the Alps.
Want to bring your children, but aren't sure if they're quite ready to hit the slopes just yet?
No problem. The resort also offers babysitting services, so you and your loved one can actually get some peace and quiet on your next vacation.
There's an on-site store as well, so that even if you forgot some of your essentials, you won't have to travel far to get what you need.
Are You Ready To Glamp?
Thanks to this post, you now know four of some of the best-kept secrets when it comes to finding untapped places to glamp.
Snap selfies, sip hot chocolate, and get in touch with nature without having to deal with mosquitos and pitching your own tent.
Looking for additional advice about how to take your vacation to the next level in luxury, no matter where you're going? Want to know the top places to rub elbows with celebrities, how to throw the perfect holiday party, and which items from your wardrobe it's time to edit out?
We've got you covered when it comes to all things travel, beauty, lifestyle, fashion, and luxury. Make 2018 your year — thanks to our advice.