The Ultimate Guide to Snowmobiling in Park City Utah!
Photo from westgateresorts
The Ultimate Guide to Snowmobiling in Park City Utah!
"The problem with winter sports is that – follow me closely here – they generally take place in winter." – Dave Barry, Pulitzer Prize-Winning American Humorist.
Dave Barry notwithstanding, when it comes to enjoying winter sports in Utah, there's simply nothing more exhilarating than snowmobiling in Park City! In fact, renting a snowmobile or signing up for a guided snowmobile tour is one of the best ways to "go full throttle" and explore Park City's scenic backcountry in all its glory (while leaving the bustling ski slopes behind for a while in the process!). In addition to a thrilling adventure, snowmobiling allows you a great chance to view native wildlife in the beautiful Park City backcountry such as elk, moose and deer surrounded by a veritable winter wonderland. Best of all, you can discover plenty of quality snowmobile touring companies in and around Park City available for all ages and skill levels – ranging from novice rider to expert sledder and everything in between.
What's the Deal with Snowmobiling in Park City?
Park City skiing and snowboarding may get all the press when it comes to winter sports in Utah, but snowmobiling has rapidly gained popularity over the years and the Beehive State now ranks as a world-class snowmobiling destination (with more than 800 miles of groomed snowmobile trails in the state at last count!). According to Park City Magazine, skiing and snowboarding are still "why people flock to Park City … But there's another contingent of snow enthusiasts who prefer getting out there via horsepower versus chairlifts: snowmobilers." In fact, the rise in snowmobiling's popularity in Park City mirrors a general trend for more snowmobiling throughout the United States. Believe it or not, according to the International Snowmobile Manufacturers Association (ISMA), there are currently 1.2 million registered snowmobiles in the U.S. and the economic impact of snowmobiling in the United States has reached $26 billion annually.
There's a good reason for the rapid popularity of snowmobiling in Park City: Nothing beats the total exhilaration of ripping through deep powder as you skillfully maneuver your snowmobile through Park City's backcountry. According to American Snowmobiler magazine, "The name Utah itself means 'people of the mountains,' so if that reflects how you view yourself, you'll enjoy a great trip here with your hard-core sledding friends, hammering the steeps and deeps and exploring some excellent backcountry riding … High mountain bowls, open hillsides and forests, all packed with snow, are available for sledders to explore in Northern Utah. Powder is plentiful in the mountains, which makes for great snowmobiling and skiing." By the way, prime snowmobiling season in Utah runs between December and April (don't forget to book your snowmobiling tour well in advance to ensure a spot). Popular snowmobile trails and complexes in northern Utah include Wasatch Mountain State Park, Hardware Ranch, Monte Cristo, Bear Lake/Logan Canyon, Mirror Lake, Mill Hollow, North Slope and Uinta Basin. So, what are you waiting for? Plan a Park City snowmobiling excursion and prepare for a total adrenaline rush!
Best Places for Snowmobiling in Park City
Are you ready for a guided snowmobiling adventure in Park City? Fortunately, several snowmobile companies have sprung up in Park City to take care of the skyrocketing demand for this awesome winter sport. Here are just a few of the many Park City snowmobile rental/tour companies and outfitters to consider before embarking on your snowmobile adventure:
Adventures at Thousand Peaks: Ideally located on a 60,000-acre private ranch in Oakley, which lies just 20 minutes from Park City's Historic Main Street, Thousand Peaks is billed as one of the "premier" snowmobile adventure companies in the area. Only patrons of Thousand Peaks are allowed to snowmobile on the ranch, where elevations reach an amazing 9,000 to 11,000 feet. One satisfied reviewer has labeled Thousand Peaks as a "private powder paradise."
Backcountry Snowmobiling: Nestled on a 40,000-acre ranch in Coalville (the seat of Summit County, Utah) at an elevation of 7,500 feet, Backcountry Snowmobiling offers two- and three-hour, custom-tailored snowmobiling tours. In addition, snowmobilers can enjoy the novelty of snowmobile touring through three different states: Utah, Idaho and Wyoming (with spectacular views of the Rocky Mountains along the way!).
Lofty Peaks Adventures & Snowmobiling: Enjoy Utah's beautiful outdoors via snowmobile with Lofty Peaks Adventures, which boasts more than 20 years of experience offering snowmobile tours. Billed as "the premier snowmobile outfitter in the Wasatch Mountains," Lofty Peaks caters to a variety of skill levels.
North Forty Escapes: A 3,000-acre private ranch in Oakley makes for the perfect snowmobiling adventure at North Forty Escapes, which also offers Park City dog sledding tours and historic Utah sleigh ride dinners. In addition, North Forty Escapes features a free shuttle service that will pick up guests residing anywhere in the Park City area.
Red Pine Adventures: Experience guided snowmobile tours led by expert guides through the scenic Wasatch Mountains via Red Pine Adventures, which is ideally located in the heart of Park City. Red Pine Adventures boasts "brand new Ski Doo 600 ACE (All Clean Energy) Expedition Sport" snowmobiles and more than 1,000 acres of privately owned Utah backcountry for exploration.
Rocky Mountain Outfitters: A year-round adventure company with expert snowmobiling guides, the award-winning Rocky Mountain Outfitters is located on a private ranch in Coalville.
Summit Meadows Adventures: Conveniently located just 8 miles from Park City's Historic Main Street at the scenic Garff Ranch in Peoa, Summit Meadows Adventures offers guided snowmobile tours for both individuals and groups.
Tracked Out Adventures: With expert snowmobile guides and Ski-Doo Summit mountain sleds, Tracked Out Adventures boasts more than 500,000 acres of snowmobile terrain for exploration.
Snowmobiling in Park City Safety Tips
With the proper education, training and safety precautions in place, along with the appropriate gear, snowmobiling risks can be greatly reduced. Here are some general safety tips to be aware of before you embark on your snowmobiling adventure in Park City:
Make sure to take a snowmobile safety course if available (especially true for first-time snowmobile riders). It's simply the best way to learn all of the local snowmobile safety laws and regulations you need to know when it comes to snowmobiling in Park City.

Always keep track of the weather forecast and trail conditions before you depart on your snowmobiling tour of Park City. Consult the Utah Avalanche Center website at www.utahavalanchecenter.org to monitor any current danger ratings and to educate yourself on what to do in case of backcountry emergencies.

Wear appropriate clothing and protective gear so you can stay warm and insulated against the winter elements. Make sure you wear a safety-approved helmet, along with a visor and sun-protection goggles.

Check to make sure your snowmobile is functioning properly before you head out on the trail.

Always know the specific terrain where you are going to snowmobile ride, especially if you're headed deep into the Park City backcountry.

For your safety and the safety of others, never ride alone and never drink alcohol and ride a snowmobile. Two of the most common causes of snowmobiling accidents are reportedly alcohol use and high speeds.

Stay on marked trails, obey any speed limits posted along the trail and always ride at a moderate pace.

Use appropriate hand signals to communicate to others in your snowmobile group to indicate such actions as "stop," "left turn," "right turn," "slowing down," "oncoming snowmobiles," "snowmobiles following" and "last rider in line" (type "snowmobile hand signals" in Google to view the proper hand signals to use).

Always pack a first aid kit and emergency repair kit when embarking on your Park City snowmobiling excursion. The Utah Snowmobile Association recommends the following as "must-have gear" when snowmobile riding in the Utah backcountry: a modern transceiver (beacon), probe and shovel.

Keep a look out for wildlife while you ride along the trail and maintain a healthy distance from any wild animals such as moose, elk and deer you may encounter while snowmobiling.

Avoid frozen water and never ride your snowmobile over a frozen river or lake. Drowning is one of the leading causes of snowmobile fatalities.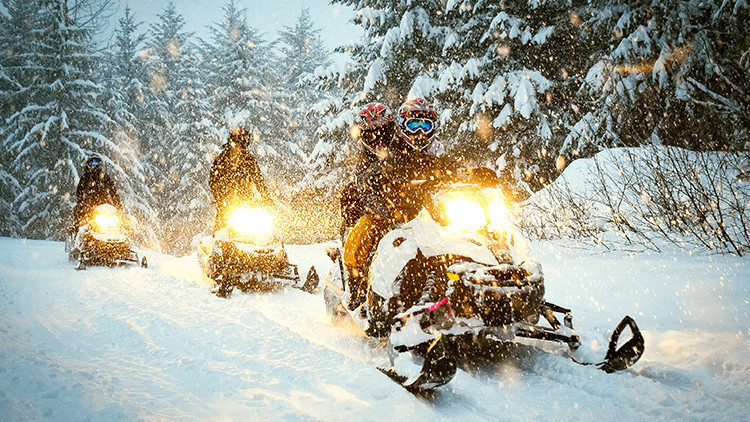 Celebrate Your Snowmobiling in Park City Adventure!
After an amazing day exploring Park City's backcountry via snowmobile, nothing beats kicking back with an ice-cold brew or specialty cocktail at the award-winning Drafts Burger Bar, a colorful and laid-back gastropub at Westgate Park City Resort & Spa. In addition to featuring more than 50 beers from around the world (including 20 beers on tap), Drafts Burger Bar offers a fully stocked bar, extensive wine list, gourmet burgers, delicious wings and spectacular views.
In addition, whether you are seeking the most comprehensive information on Park City snowmobiling, Park City hiking trails and mountain biking trails in Park City, awesome places to eat in Park City, greatest Park City distilleries or best coffee shops in Park City, you'll find the most up-to-date details on our travel blog!