In Need of Ceramic Tile Bathroom Ideas? Here Are 11 Great Options
Originally posted on https://www.belktile.com/blog/in-need-of-ceramic-tile-bathroom-ideas-here-are-11-great-options/
In Need of Ceramic Tile Bathroom Ideas? Here Are 11 Great Options
Your bathroom, whether big or small should be one of the deeply relaxing rooms in your house. This is the place where you go to freshen up and unwind after a busy day and prepare for a new day or that perfect date.
Unique ceramic tile bathroom ideas are one of the best ways of designing or renovating your bathroom. Using ceramic tiles in your bathroom will make your bathroom beautiful, elegant, and ensure it stands out.
The best thing about bathroom tiles is that they do not require much time and you will have your bathroom looking brand new and trendy in no time. Ceramic tiles are also one of the top flooring designs today.
Why Ceramic Tiles?
Ceramic tiles have been used to style and decorate homes for many years. Today, you can find these tiles in amazing designs and colors that you can use on your bathroom floor and wall.
Tiles have a way of reflecting emotion and feelings and are a good choice for color, patterns, and shape lovers. While their composition is tough, the right choice can give your bathroom a soft and calming look that can blend in well in any space and style.
There are several reasons why ceramic tiles are ideal for your bathroom. Here are a few:
1. They Are Affordable
When compared to other floor and wall covering materials like porcelain, ceramic tiles are quite affordable and you will not have to break the bank to get your bathroom done. Not only are they affordable, but they also increase the value of your home should you decide to sell it. In other words, they are also an investment worth buying.
2. They Are Water-Resistant
Every bathroom needs a water-resistant floor because of the wet and humid environment associated with bathrooms. Glazed ceramic tiles have a protective layer that protects them from water and stain. This is an added benefit when you need to clean your bathroom floors and walls.
3. They Are Easy to Maintain
These tiles do not require a lot of TLC because they are easy to clean. All you need to do is to wipe away the dirt, stains, and liquids in a matter of minutes. You will be able to easily keep your bathroom looking sparkling clean all the time.
There are also some easy ways to clean in between the tiles and the surfaces too to make them always shiny.
4. They Are Durable
Unlike other materials, especially flooring materials, ceramic tiles are durable. They are highly unlikely to crack due to the day to day wear and tear. They can last up to 20 years when installed by a professional.
The best part about these tiles should they crack, you can easily replace the single tile without interfering with the rest.
5. They Have Endless Design Options
There are numerous designs of tiles to choose from shapes, colors, sizes, and finish you can be spoilt for choice. We have a wide range of designs, patterns, and styles which include glossy white, metro brick, wood-look, and more. You can be sure to find ceramic tile bathroom ideas that complement your existing color and design theme.
Do you want to design a ceramic tile shower or a ceramic subway tile for your bathroom? Read on to find some amazing ideas on how to make your bathroom unique and stylish with ceramic tiles.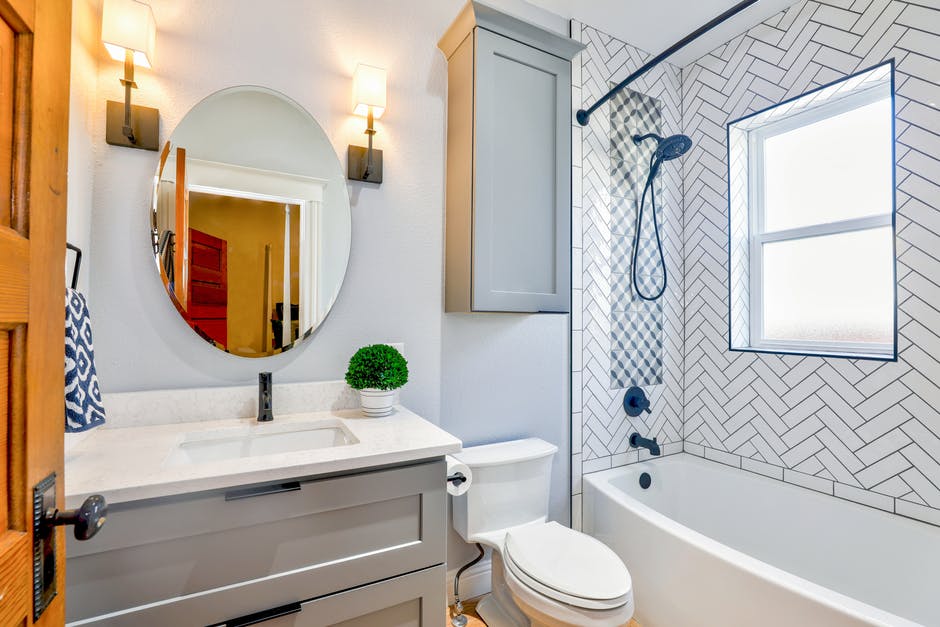 Unique Ceramic Tile Bathroom Ideas
Ceramic tiles will instantly give your bathroom that luxurious spa look. These tiles are great options for your entire bathroom.
Whether you want to design your walls or floors to enhance the appearance of your bathroom or protect the floors and wall from water damage, here are some designs that you should consider.
1. Large and Diagonal Tiles
A large ceramic hallway tile of bathroom floor tile will not only give an illusion of a longer subway but will also make your bathroom floor look bigger. Pairing up a black and white wallpaper and some large hexagon floor subway tiles will create a different element of design that will transform the entire look.
Install some glossy subway tiles in a diagonal pattern for a very different and unexpected look. This will draw your attention and your visitor's attention to the longest part of the room and it also provides a refreshing feeling.
This design is for the bold and daring because it is not very common. Remember, when it comes to ceramic tiles bathroom ideas, never shy away from trying various patterns.
2. White Wall and Floor Tiles Extended into the Shower
Whether you are a clean freak or not, you can consider installing white tiles on your bathroom floors and walls to make the bathroom appear more spacious than it already is. You can also combine white subway tiles with mosaic floor tiles for a feeling of space.
Cover your bathroom walls with plain white tiles and your floors with white tiles that have small black insets, just to keep it different from the walls.
You do not have to change the floor designs in the shower stall. You can achieve one great looking bathroom with similar floor tiles from the door to the shower stall. This design creates a unified seamless look and also expands the visual feeling of the room.
3. Pink Ceramic Tiles
If you love some splurge of color or designing your daughter's private bathroom then this design is for you. Install a pink tile flooring and combine the design with either a retro or mid-century theme for that attractive feeling.
Keep the rest of the room stark white or a great combination of color and also so that the bathroom does not become too pink especially if it is small.
4. Stretcher Bond Pattern
Use this design for a classic appeal to your bathroom. You can use different tiles to achieve this look and also create some visual interest to the room. Who said bathrooms should be boring?
This pattern is used on the walls and it also creates an illusion of space not to mention the unique look too.
5. Brighten a Dark Room with Large, Light Colored Ceramic Tiles
Is your bathroom dark with no natural light? Brighten it up with some beige floor tiles in a plain stack-bond pattern. When choosing ceramic tile designs for a dark room, keep things simple and choose a light-colored tile that can help reflect light when combined with the dark background.
6. Large Square Marble Tiles and Glossy Wall Tiles
Marble tiles are one of the most used tiles designs. This is mainly because of their elegance and style. You can combine marble floors and a deeply colored wallpaper for a more robust feel. If you love neutral colors, you can use large neural tiles that have narrow grout lines.
Install glossy tiles of your wall to reflect more light to your bathroom. You can use pale green tiles, grey tiles, beige, white, and any other soft colors that can reflect light and remain elegant.
Glossy tiles also make the room look bigger. Remember, glossy tiles should never be used on bathroom floors. They are slippery and hazardous when wet.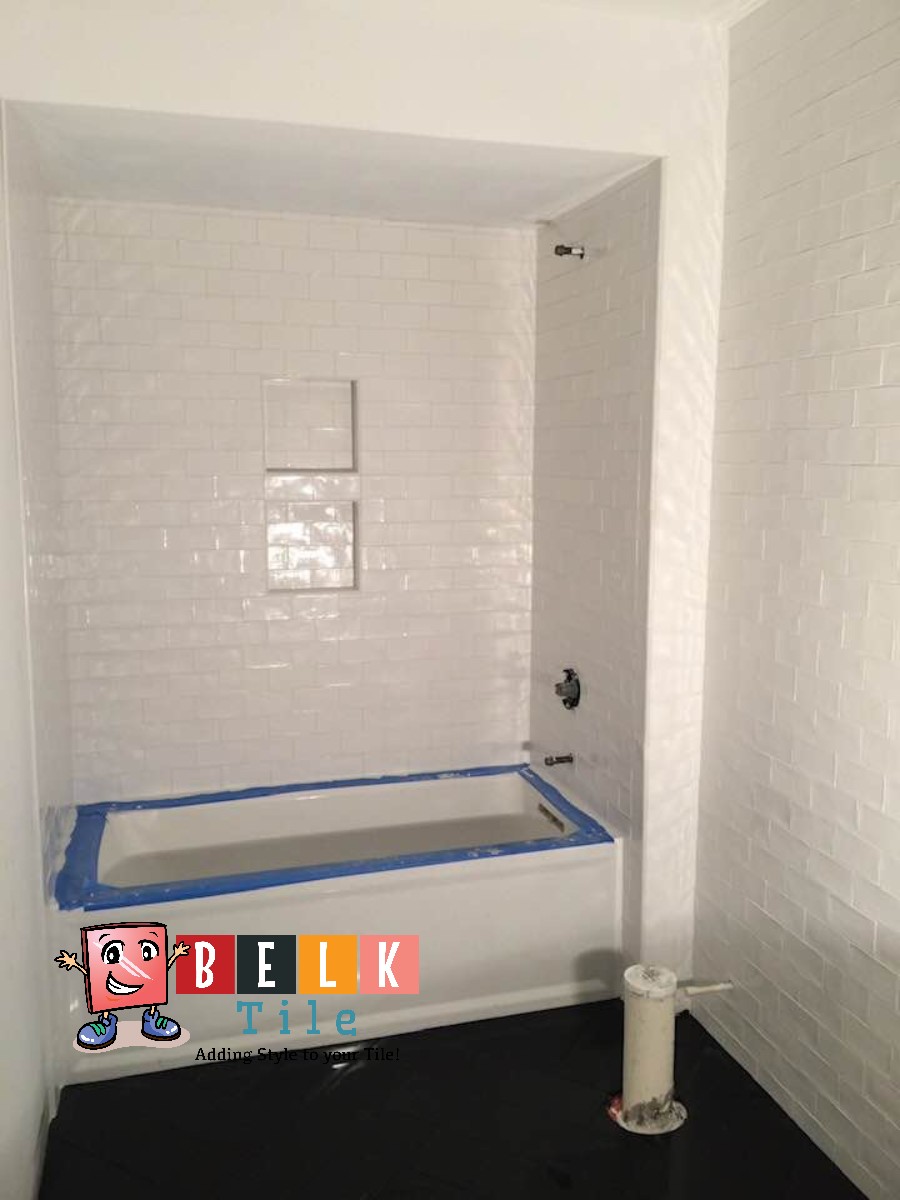 7. White Bathroom Tiles and Chevron Stripes
Chevron stripped tiles add a sense of space and depth just like with diagonal tiles design. When combined with white tiles, your bathroom will look big and elegant.
Combining a white color palette and chevron stripe floor tiles does not create any visual clutter, but rather opens the space.
8. Grout Lines Design
Using large tiles reduces the number of grout lines that create a distracting visual clutter. This design on a big bathroom with the right sized tiles can create a different design altogether.
Pick the ceramic tiles designs of your choice and create an element of small space some part of your bathroom. Keep black lines in the wall so that the eyes are drawn to the ceiling. This effect will open up the bathroom and if you have skylights you will appreciate the entire look.
9. White and Black Ceramic Tiles
Black and white are a classic and elegant look that never goes away. If you want a sophisticated look for your bathroom, then a combination of black and white tiles will get you a look that you will love.
However, this look can make space feel a little claustrophobic. Therefore, only use it on one side of the wall and keep the rest of the walls simple with another design altogether.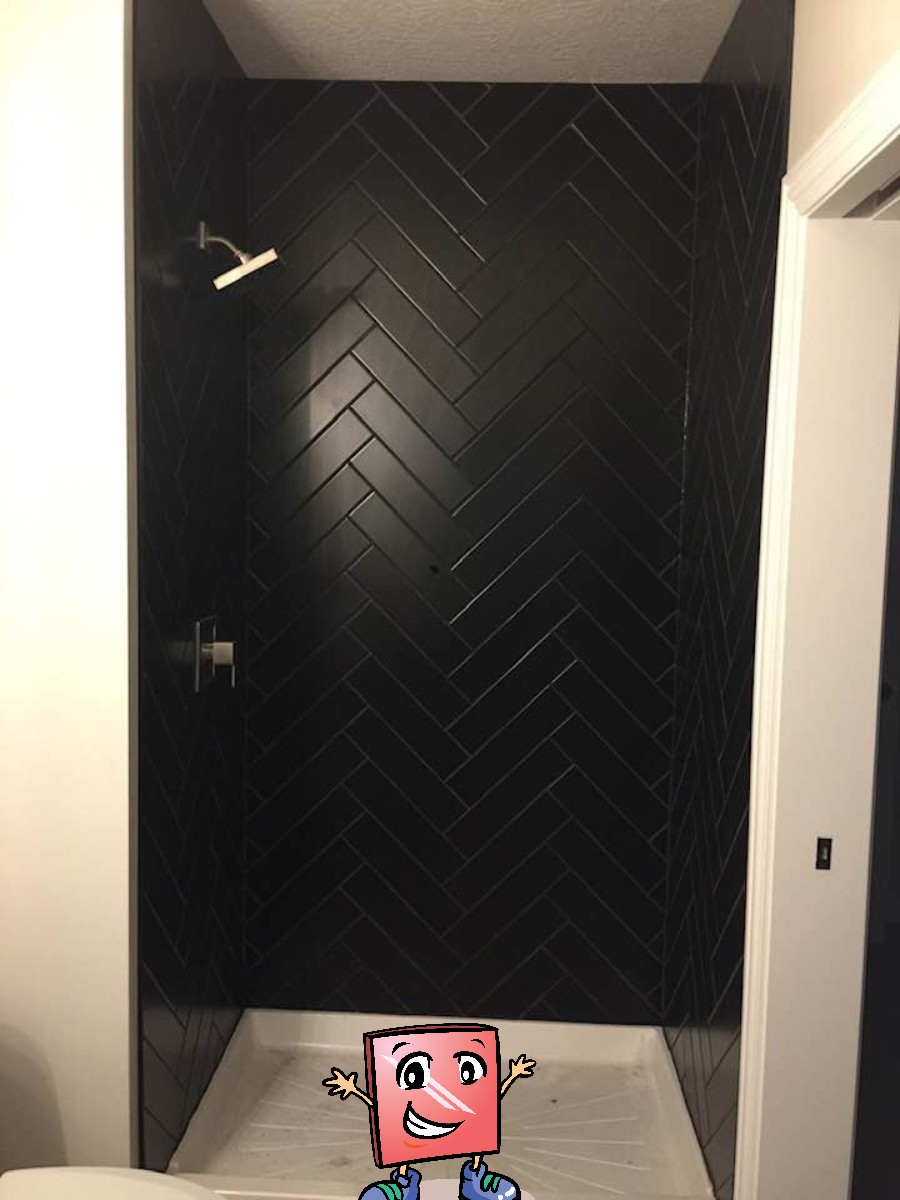 10. Make a Statement with Bold Graphics Tiles or Floor to Ceiling Mosaic Tiles
The best way to achieve this look is to use some restraint. Do not cover your entire bathroom with graphic tiles because they will quickly overwhelm you.
Choose a specific part on your wall, floor, or use the tiles on the floor and a little further up the wall for the perfect look. This will create a unique visual effect and also a sense of elongated space.
It is not only about large tiles for the perfect look. Get some small hexagon mosaic tiles and install them from the floor to the ceiling to draw attention towards the ceiling. Get some floating vanity or your bathroom for your guests to stare at once you have diverted their attention towards the ceiling.
11. Choose Solid Black or Pure White Floor Tiles
White walls or bright walls can work perfectly with dark floors. This look can work for both big and small bathrooms. You can use some black mosaic tiles on your floor if you have a large space or large black tiles for a smaller bathroom.
Ceramic tile showers look great if well designed and combined regardless of the colors used. When using dark tiles on the floor, make sure you keep the walls light.
Combined patterned walls with pure white floors create a light, airy feel to a bathroom. You can install your patterned wallpaper, these floor tiles and keep a neutral look on the rest of the space. Neutral flooring works great for smaller bathrooms for that element of space, but can also look equally good on big bathrooms.
Can I use Ceramic Tiles on any Bathroom?
When it comes to using ceramic tiles bathroom ideas for your walls or floors, you can decide to go as bold, daring, and as creative as you can. There are very many ideas that you can choose from and these ideas work well for all kinds of bathrooms.
Bathrooms that are designed with ceramic tiles are very durable, functional, and easy to maintain and wash. They also look very cool, and trendy. Ceramic tiles are no longer boring, there are very many unique tiles designs that have different patterns that can create the look you are going for.
Your bathroom walls and floors can get a makeover in no time and you can also choose to combine different designs for your walls, floors, and shower stall.
Consider These Amazing Ceramic Tile Bathroom Ideas
These ceramic tile bathroom ideas will give life, pomp, color, and style to your bathroom and make look brand new again. Ceramic tile showers and ceramic subway tiles are increasingly becoming popular. Many homeowners are using this trend when designing or remodeling their bathrooms.
We have a unique and versatile collection of ceramic tiles that you can choose from. Make your bathroom walls and floors more elegant with quality tiles from our showroom.
Are you looking for ceramic tiles for your bathroom, kitchen or any other room in your house? We have what you need. Visit our website and check out our amazing collection of ceramic tiles for your bathroom.
For more information, don't hesitate to get in touch with us.