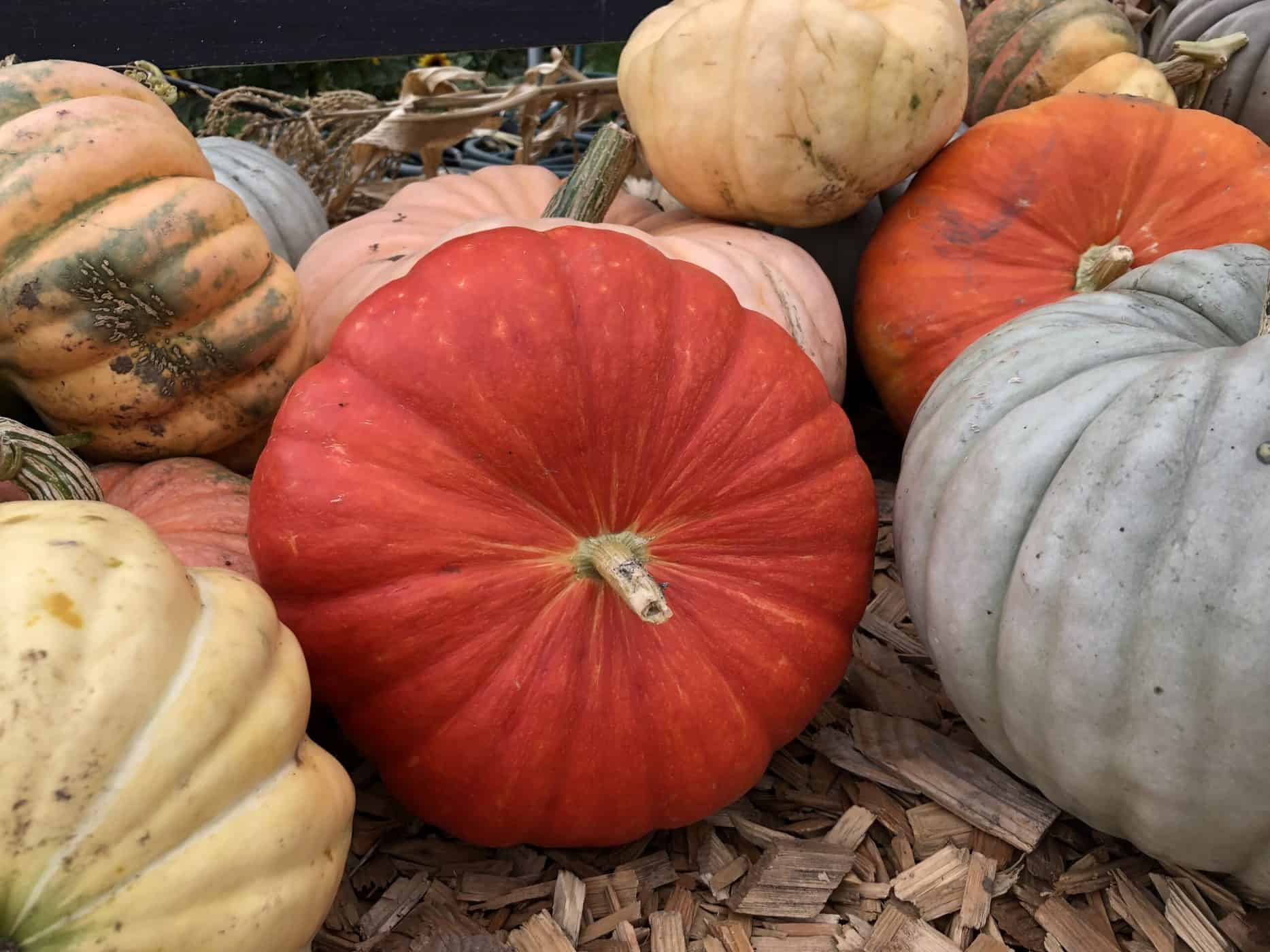 7 Best Ornamental Pumpkins for Enchanting Fall Decor
Photos by Mary Jane Duford
Originally Posted On: https://www.homefortheharvest.com/ornamental-pumpkins/
What is fall without ornamental pumpkins!? A gorgeous autumn display of pretty pumpkins goes a long way towards creating that cozy fall feeling. While there are endless different types of pumpkins, a few varieties stand out as stunning ornamental pumpkins to add to your seasonal display this fall. Here are 7 of the top varieties to look for this year.
1. Cinderella Pumpkins
Cinderella Pumpkins are among the most popular types of heirloom pumpkins for fall displays. Cinderella Pumpkins have a vibrant red-orange rind and a classic flattened shape (that truly does look like Cinderella's carriage). This variety is from France, where it is called "Rouge Vif d'Etampes".
Most Cinderella Pumpkins weigh about 10-20 pounds. While they are gorgeous in autumn displays, they are also gourmet culinary pumpkins. The sweet flavor and smooth texture are ideal for both baking and savory dishes like fall soups and stews. The Cinderella Pumpkin is a cultivar of Cucurbita maxima.
0 seconds of 3 minutes, 8 secondsVolume 0% 
Photo Credit: Mary Jane Duford
2. Porcelain Doll Pumpkins
Porcelain Doll Pumpkins are quickly becoming a go-to variety for autumn decor. These modern hybrids have a gorgeous pale pink rind color, making them unique among decorative pumpkins. A portion of proceeds from Porcelain Doll Pumpkins goes to support breast cancer research (read more from the Pink Pumpkin Patch Foundation).
Porcelain Doll Pumpkins are usually in the range of 15-25 pounds each. If that's too large for your display, the breeder behind this variety has also developed a smaller version: Porcelain Princess. Porcelain Princess pumpkins have the same pink rind, but weigh only 7-10 pounds each.
Photo Credit: Mary Jane Duford
3. Jarrahdale Pumpkins
Jarrahdale Pumpkins are classic blue pumpkins that are very popular for autumn displays. A favorite heirloom pumpkin from Australia, Jarrahdale Pumpkins have a grey-blue rind and blocky ribs. This heritage variety has been used to develop many other types of blue pumpkins available today.
Jarrahdale Pumpkins tend to weigh in the range of 12-18 pounds but can grow much larger if conditions are favorable. Jarrahdale Pumpkins are fantastic in savory fall dishes and store exceptionally well through winter. The Jarrahdale pumpkin is a cultivar of Cucurbita maxima.
Photo Credit: Mary Jane Duford
4. Big Max Pumpkins
Big Max Pumpkins are giant ornamental pumpkins with a richly colored orange rind. While many giant pumpkins tend to have a blob-like shape, Big Max Pumpkins are nicely rounded. Big Max Pumpkins can be displayed whole or carved to make the biggest Jack-o-Lantern on the block!
Individual Big Max Pumpkins routinely grow to 50 pounds, sometimes topping 100 pounds in good conditions. Big Max pumpkins are not only ornamental but can also be used to make pumpkin puree or roasted pumpkin for an autumn dish. The Big Max Pumpkin is a cultivar of Cucurbita maxima.
5. Fairytale Pumpkins
Fairytale Pumpkins are another popular French heirloom pumpkin commonly displayed as ornamental pumpkins in the fall. Fairytale Pumpkins, also called Musquée de Provence, have a dusky matte rind that begins as a dark green shade and matures to a beige-brown hue. Fairytale Pumpkins have chunky ribs and a classic old-fashioned pumpkin shape.
These pumpkins tend to grow to 15-20 pounds each. Fairytale Pumpkins are not only ornamental but also a sought-after culinary variety. Musquée de Provence is one of the best types of pumpkin for making pumpkin pie filling (along with other gourmet picks like Dickinson Pumpkins and Long Pie Pumpkins). The Fairytale Pumpkins is a cultivar of Cucurbita moschata.
Photo Credit: Mary Jane Duford
6. Long Island Cheese Pumpkins
Long Island Cheese Pumpkins are an American heirloom pumpkin with a cream-colored rind. True to their name, these beauties do look like a wheel of cheese! The soft hue of this pumpkin makes it perfect for minimalist fall displays with muted tones.
Long Island Cheese Pumpkins typically weigh about 6-10 pounds each. This variety is popular for pies and is also a great long-term storage pumpkin. The Long Island Cheese Pumpkin is a cultivar of Cucurbita moschata (like many other excellent pie pumpkins).
Photo Credit: Mary Jane Duford
7. Blue Doll Pumpkins
Blue Doll Pumpkins are modern hybrid pumpkins with blue rinds and bright orange interiors. These eye-catching fruits have thick ribs and a classic flattened ornamental pumpkin shape.
Blue Doll Pumpkins tend to weigh 15-20 pounds each. This is another variety that does double duty, both as an ornamental pumpkin and as a gourmet cooking pumpkin. The bright orange flesh is attractive in pies and cozy autumn soups.