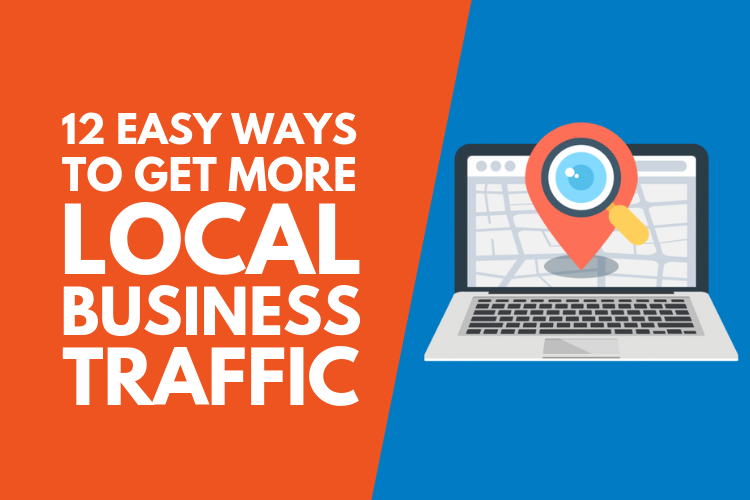 12 Easy Ways To Get More Local Business Traffic
Originally posted on https://www.innovativeflare.com/12-easy-ways-to-get-more-local-business-traffic/
According to this research by Google, up to 50 percent of all consumers who conducted a local search visited a store within the next 24 hours. What does this mean? Even if you are a business with a fairly global presence, it is still important that you leverage your local market in a bid to rise above the competition.
However, when it comes to tapping into the local market, you need to employ the best strategies. Remember that there are possibly scores of other similar businesses eyeing this very market. Of course, this does not mean that you reinvent the wheel. All you need is to adopt smarter, more ingenious and technologically-savvy techniques that will see your brand emerge as one of the best in your locale. In this post, we will uncover the 12 easy ways to get more local business traffic, so read on to find out.
How to Generate More Local Business Customers
1. Set up a Google My Business Page
One of the best methods of generating more local traffic is using Google-My-Business. This is an online management tool that was designed by Google. The tool comes with some intuitive features such as Search and Maps that make it easier for customers to locate your business.
Google-My-Business is a free online tool that has also been lauded for its ease of use. Through this tool, you can determine how information on your business shows up across Google. There are also provisions to interact with your clients and the most important part is, you can learn of how your products are searched for by your consumers, and where most of these searches come from.
2. Claim Your Yelp Location
With time, Yelp has grown from being just an online directory. The company has since added more features that enable customers to post their feedback concerning their interactions with your business on public forums.
This is a great way to win free referrals, especially if most of the reviews posted on your company are positive. Before getting started, you first claim your listings. To make your listings stand out, add as much information on your business as possible, including your exact location, products and services offered, mission, and of course top it up with the right pictures.
From there, you can interact with your customers in various ways. Some of these include but not limited to offering incentives, asking them to post their reviews after every interaction with your business and being as responsive as possible on all queries posted by them.
3. Use Local SEO
Local SEO refers to all the SEO practices that are intended at promoting the visibility of your business within your local area of operation. Local SEO works best where your business has a physical store. To make the most of local SEO, you will need to use relevant keywords. For instance, in your company description, you can add keywords such as best plumber in Colorado''. Anyone based in Colorado and searching for a plumber is likely to land on your page.
It is important to remember that search engines employ powerful algorithms and in some cases, you may not even need to include the exact location of your business. Once the business has been listed by major search engines, it will easily appear on top SERPs for anyone searching for a phrase like "best plumber near me''. According to LYFE, the best part about local SEO is that it works even for businesses without a website.
4. Start Blogging
Blogging is another ingenious way of promoting your business to your local market. To get started, you will need to find a great hosting company. You can then proceed to give your blog a name, preferably a name that reverberates with the products or services you are offering. For each blog, come up with a short and punchy headline, followed by concise and precise content.
The content should have keywords relevant to your company evenly distributed but not spammed. Remember that Google penalizes content that is not compliant with its publication standards, and using spammy keywords is a potential violation. The last and the most important step is to share links to your blog on affiliate sites as well as your social media accounts.
5. Build Backlinks
A backlink goes by many names – inbound link, inward link, inlink or incoming link. Basically, these are links that originate from a particular website to your company's website. Backlinks are very important in generating local business leads, especially if the referrer [website where these links originate from] register fairly high traffic.
For instance, if you offer Airbnb services, it would be prudent to try and get backlinks from related authority websites like TripAdvisor. Backlinks serve the same purpose as referrals or recommendations, which is why you should build them with reputable websites. However, you can also create backlinks from your very own social media profiles.
6. Get Active on Social Media
According to DreamGrow, about 3.48 billion people are using social media in 2019. Of course, not all social media users are signing in to their accounts to purchase a product, but that does not mean you should not create awareness for your brand.
In fact, Marketing Sherpa states that up to 95 percent of social media users aged between 18 and 34 are likely to follow your brand. It is these followers that will potentially generate leads. Therefore, it is important to nurture them by keeping them in the loop on every new development in your company. And when it comes to social media, you have so many options; from Facebook to Twitter, Instagram, YouTube, LinkedIn, etc. The general convention is to have profiles across all these platforms.
7. Host a Local Event
It may appear like a capital-intensive exercise, but there are lots of local events you can host without spending any significant amount of funds. For instance, you can sponsor a short soccer tournament, interschool drama festivals, etc. The intention here is to get as many people to attend these events as possible. You can then use the opportunity to offer your products and raise awareness of your brand.
There are some easy and creative ways to raise awareness of your brand using local events. You could print t-shirts and corporate caps which you offer free of charge to anyone that attends the event. This is also a time to network through sharing of business cards and anything that can pitch your company as the best in your local area.
8. Partner with Other Local Businesses
Competition for local business leads does not necessarily mean you should be antagonizing other businesses. You could partner with other local businesses for the greater good. One way to make this happen is through cross-marketing campaigns. In cross-marketing, businesses agree to promote each other's services through client referrals.
For instance, you could be running a flower shop on the same street with another business that deals in jewelry or event cakes. As you probably already know, these products normally go hand in hand. Therefore, anyone visiting your shop can easily inquire about jewelry, in which case you will refer them to that other business.
9. Google Ads
Google Ads, formerly Google Adwords is an advertising system by Google where businesses bid on keywords to allow certain clickable-ads to appear in search results. The keywords you target for should be fairly competitive and relevant to your company.
According to research by Net MarketShare, up to 71 percent of the total search market share is owned by Google. Well, you will need to pay for these keywords for your ads to appear on Google. However, the investment is worth the risk, as your ads will be potentially viewed by a significant proportion of online users. To get started, all you will need is to open a Google Ads-Account.
10. YouTube Ads
YouTube-Ads work nearly in the same manner as Google Ads, only that now you can leverage the powerful effects of visual appeal. Statistics suggest that up to 61 percent of online marketing campaigns incorporate one form of video marketing or another. And a great place to start is on YouTube, the world's number one video-sharing platform.
There are different categories of YouTube ads. The most effective category will depend on the needs of your business. When you are just starting your ads on YouTube, it is important, to begin with, TrueView or Bumper ads. TrueView ads allow a user to choose whether they want to view the ad or not. Bumper ads are non-shippable but they are a mere 6 seconds, a duration that many users will not find very intrusive. Later on, you can shift to Pre-roll ads, which play before the main video posting.
11. Facebook Ads
Considered one of the most popular social media networks, Facebook also has provisions for businesses to promote themselves by leveraging its ad features. One notable advantage with Facebook ads is that they are normally targeted at users taking into consideration their demographic, location as well as profile information. This functionality is especially important for your business, as it filters out Facebook users that are unlikely to respond to your ads.
The ad could be promoting your Facebook company page or the posts therein. You begin by creating your ad and then set your budget. Lastly, you then bid for every click that you wish for the ad to receive, and let Facebook do the rest.
12. Instagram Ads
According to Tech Crunch, the number of monthly active users on Instagram as of April 2017 was over 700 million.
Add that to the fact that this social media site mainly deals with photo and video sharing, and you will understand how an Instagram Ad is likely to earn you significant local business customers. Even better is the fact that in spite of the added visual appeal, Instagram ads still cost half as much what Facebook ads cost.
You can choose among the four basic Instagram feed ads that include Photo Ads, Video Ads, Carousel Ads, and Slideshow Ads. Instagram hashtags always have a potential of trending, so after each ad, be sure to add a relevant hashtag.
Conclusion
And there goes our guide on how to garner more local business traffic. Our last recommendation would be to hire a professional to help you take advantage of these resources if you are not comfortable doing them yourself. For example, you may need an SEO specialist to help you rank your business for local searches.