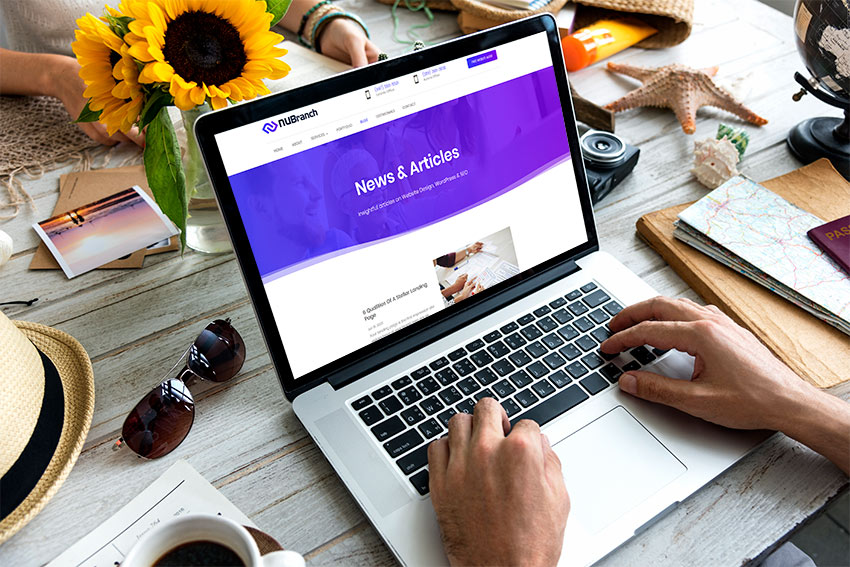 How To Create Killer Content That Search Engines Will Love To Rank
Photo From Envato Elements
Originally Posted On: https://nubranch.ca/blog/how-to-create-killer-content-that-search-engines-will-love-to-rank/
Struggling to come up with new ways to make your content innovative?
So are a lot of people.
It can be hard to create killer content that ranks high on search engines. Google changes it's algorithms about once a year, so most people are always playing catchup with their content and updates.
But when it comes to ranking high, content is—and always has been—about the quality of your content. So if you're putting together good stuff, you're always going to be in a position to succeed.
In this article, we'll look at a few SEO skills that can bolster your content in 2020 and beyond.
Select Your Keywords Wisely
Even the best content isn't going to get discovered easily if no one is searching for it. That's why it's important to do thorough keyword research and only craft content around what people are already looking for.
As your website or online platform starts to grow, you can always introduce new content that you're passionate about. But it's more important to have a plethora (20-30 articles at least) on your site that rank for a topic with high keyword volume.
An easy (and free) way to figure out the new content you're going to write is to go to Google and mess around with different variations of your topic. For example, if your topic is about camping, you can try things like:
"Camping in"
"Best camping"
"Camping gear"
From there, see what people are searching for. Craft your next 10-15 pieces of content around these items.
What Is Your Competition Doing?
Way back when you wrote your business plan (you did that already, right?), you likely discovered at least 5 other blogs that serve a similar audience to yours.
Since then, you've (hopefully) kept tabs on what those companies are doing to grow their brand.
If not, this is a valuable way to gain information that can help you create killer content.
By studying your competition, you can figure out what's working for other people that you might not necessarily have thought of on your own.
And by studying multiple sites, you may start to notice trends or areas of your niche that are underserved or not represented at all. Then you can step in and provide the solution for that topic or pain point, and grow your brand from that.
Go Deeper
The internet is littered with articles that stay at the surface-level in terms of information. These articles are nearly always written in a hurry, designed solely to drive traffic to a website through search engine ranking, and don't actually help the consumer.
The truth is, those websites won't last long on the rankings. More than ever, Google's focus is on matching searcher intent directly to the topic people are typing in.
If a website is superficial and doesn't actually solve the problem of the searcher, Google will slowly but surely eliminate it from the top of the heap.
The deeper you can get about your content—offering specific advice, or providing context around your strategies—the better off you'll be.
A few popular ways to go deeper include:
Writing 2,000-3,000 word articles
Writing 'Ultimate' guides to a topic
Perusing Google Scholar and other publications for scientific literature you can deep-dive into
This also allows you to craft more long-form content that ranks for more keywords. And if it's done well, Google will start to see you as an authority on the topics you're covering.
Make Your Page Speed Faster
Here's a simple truth about SEO in 2020: slow load times and pages that aren't mobile-friendly are dead in the water.
Sure, you might be crafting killer content that deserves to be seen. But if your website takes several seconds to load, is full of pop-ups that take away from customer experience, or doesn't have seamless mobile functions, Google is not going to rank it high.
More people than ever searched from their phone in 2019, and with voice-activated searches just on the horizon, your website needs to be as fast or faster than the search engine that brought it there.
Nail Your Citations
Besides matching searcher intent, Google's other big push is to ensure the information being talked about on your website is factual and well-cited.
The medical, health, and science communities were effectively told to wake up in early 2019. Google's shift towards authoritativeness crushed many website's rankings overnight, simply because their information was not from well-sourced websites.
If you talk about anything health or science-related on your website, be sure to properly cite your claims using databases like PubMed, Google Scholar, or other .edu/.org websites.
Also be sure to put links in an easy-to-find location so readers can follow up with those claims and read more if they so desire.
And do this right in the article, probably at the end of the sentence. The days of listing all the links in the footnotes are pretty much gone.
Aim for Snippets
Those little blocks of information that show up when you Google something used to be seen as the end of SEO.
It looked like Google was taking back control of its information. Users no longer needed to click on your website to get what they needed—they could get it right off Google.
But if you craft killer content that ends up as a snippet—meaning it's ranking in the top few spots, and most often number one—you will still get plenty of traffic to your website.
Keep this in mind when you're writing content. Keep it short, easy to understand, and digestible.
Crafting Killer Content in 2020
Crafting killer content nowadays is different than it was even two years ago.
Now, you have to be authoritative, to the point, and grounded in scientific research if you want Google to rank your content high in their search engine.
Keep these tips in mind so that when you write an awesome piece of content, you also set yourself up to get the most eyes on it as you possibly can.
For more on how we help our clients rank high on Google, check out our list of digital marketing services.