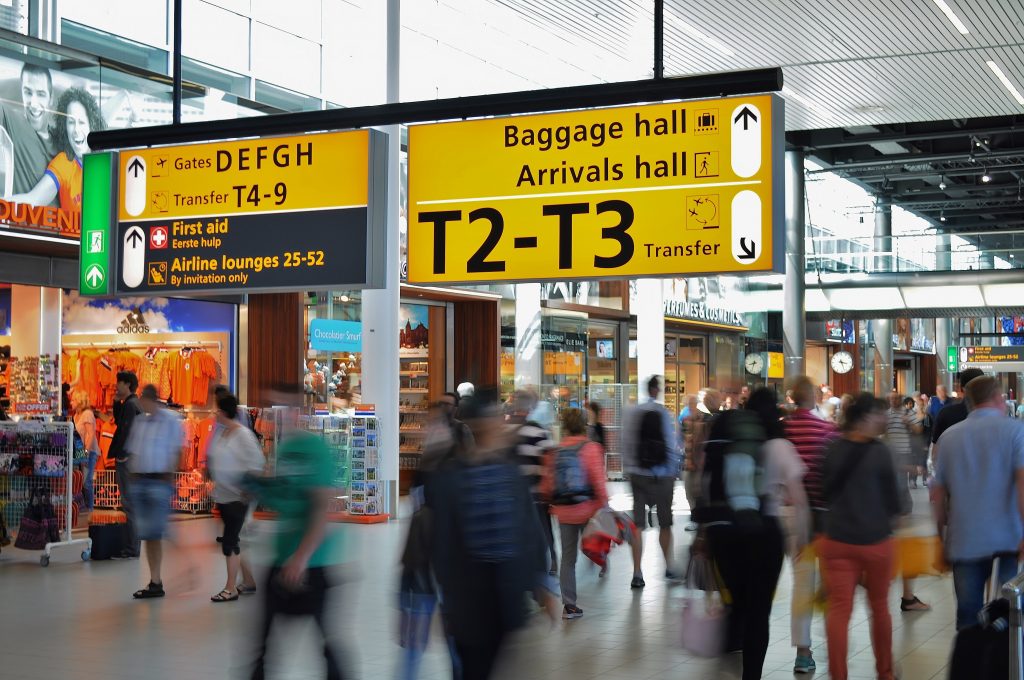 The Definitive Guide to the Closest Airport to Top US Destinations
Originally posted on https://blog.shuttlefare.com/closest-airports/
At Shuttlefare.com we specialize in helping travelers find the best, most affordable transportation to and from airports worldwide.  Whether you're a solo traveler or group of 20, we offer any and all types of airport transportation.  But let's say you're looking at visiting a new place like Yellowstone National Park.  You can't drive there because you live in Germany or Florida (well I guess you could but it would take a very long time), so you decide to look for flights.  But what is the closest airport to fly into?  Great question – and we have the answers in this article.
And if you were curious to know what are the top destinations of people who live in New York City, you can read about it in our post here.
Closest Airport to Disneyland
You got your Disneyland tickets, now you need airline tickets. John Wayne Orange County Airport is the closest distance-wise, located in Santa Ana. You can also fly into LAX for lower cost airfare, but be wary of the traffic driving to the park. Because of the congestion in LA it's best to avoid rush hour times.
Closest Airport to Grand Canyon
The Grand Canyon National Park Airport does mostly scenic, chartered flights but they have some commercial flights as well. The Phoenix Sky Harbor International Airport is huge with lots of available flights but it takes about 3.5 hours to drive to the Grand Canyon from there. Other options include McCarran International Airport in Vegas, Flagstaff Pulliam Airport and Prescott Ernest A. Love Field, which all are less than 3 hours drive to the Canyon.
Closest Airport to Yellowstone
Described as quaint and charming, Yellowstone Airport in West Yellowstone is a small airport only 10 minutes from the park. They take commercial flights but it's only open during June through September. At 90-minutes from the North Entrance is  Bozeman Yellowstone International Airport. The Yellowstone Regional Airport and the  Jackson Hole Airport are each about an hour drive to different parts of the park.
Closest Airport to Glacier National Park
The Glacier Park International Airport is about an hour drive into the park but they have shuttles and cars available for tourists. Just across the Canadian border is the Lethbridge Airport. You can also choose the Missoula International Airport which is about a 3-hour drive to the park.
Closest Airport to Lake Tahoe
Heading to a charming Lake Tahoe cabin? The Lake Tahoe/Tahoe Valley Airport is small with just one runway that will take you 3-miles southwest of the lake. Another option is Carson City Airport in Nevada. For larger airports, try Reno-Tahoe International Airport (only 30 minutes drive to Lake Tahoe) or the Sacramento International Airport, which is a 2-hour drive.
Closest Airport to Anaheim
If you're ready to enjoy sunny Anaheim weather, you have a few ways to get there. The Fullerton Airport is right in Anaheim but they have limited commercial flight options. Other nearby airports include:  The John Wayne Airport: 11.4 miles away, The Long Beach Airport: 13.7 miles away and the Ontario International Airport: 23.6 miles away.
Closest Airport to Zion National Park
Headed to the Zion National Park for a camping or hiking adventure? For a small nearby airport, there's the Kanab Municipal Airport located on the border of Utah and Arizona. You might have better luck finding a flight from The McCarran International Airport In Vegas, which is a 2-hour drive to the park. The Salt Lake City Airport is almost a 5-hour drive but some travelers feel it's worth it to avoid the chaos in Vegas.
Closest Airport to Port Canaveral
For domestic flights, there's The Melbourne International Airport which is 42 miles away. For domestic and international flights, try The Orlando International Airport (46 miles away) or The Orlando Sanford International Airport (62 miles away). You can also skip the plane and arrive by popular Port Canaveral Cruises.
Closest Airport to Myrtle Beach
Heading to a Myrtle Beach Resort? Look no further than the Myrtle Beach International Airport to arrive at your destination and enjoy the beautiful Myrtle Beach weather.
Closest Airport to Destin FL
For a smaller airport, try the Destin Executive Airport (a.k.a. Coleman Kelly Field). A larger option, just 18 miles northwest of Panama City, is the Northwest Florida Beaches International Airport. Have fun on Crab Island!
Closest Airport to Manhattan
LaGuardia Airport in the Northern Part of Queens has international and domestic flights. Newark Liberty International Airport is 19 miles from Manhattan and JFK International Airport is 20 miles from Manhattan. For nearby travel, Westchester County Airport can take you domestically from White Plains NY and is 30 miles from Manhattan. If you're traveling in from NJ, you can use the Teterboro Airport straight into Manhattan.
Closest Airport to Niagara Falls
If heading into Niagara Falls New York, the closest option is Buffalo Niagara International Airport. To arrive in Niagara Falls Canada, there's Billy Bishop Toronto City Airport (40.1 miles from Niagara Falls). Additional options include: John C. Munro Hamilton International Airport (44.1 miles to Niagara Falls) and Toronto Pearson International Airport (49.0 miles to Niagara Falls).
Closest Airport to Asheville NC
Ready to enjoy Asheville restaurants and breweries? Asheville Regional Airport includes domestic and international flights to get you to your destination. Hendersonville Airport is also nearby with a more classic and colloquial feel. Another option is Greenville-Spartanburg International Airport which offers domestic flights from Greenville.
Closest Airport to Naples FL
For domestic travel, there's the Naples Municipal Airport. The Southwest Florida International Airport is 36 miles from Naples and has more options for commercial flights.
Closest Airport to Napa Valley
The quickest way to start enjoying famous Nappa Valley wines is to use the Nappa County Airport, just five miles south of Nappa. Unfortunately, it's small, with only 3 runways and limited flights. The Sonoma County Airport is 47 miles from Nappa and services larger airlines. The San Francisco International Airport is also 58.6 miles from Nappa Valley.
Closest Airport to Marco Island
Flying into Fort Lauderdale is the fastest way to get to Marco Island under 2 hours. Other options include: Miami International Airport and Fort Myers, both just over 2 hours away by car.
Closest Airport to Williamsburg VA
Off to Busch Gardens? Newport News/Williamsburg International Airport is less than 4 miles from Colonial Williamsburg and is the clear choice for anyone traveling to this destination.
Closest Airport to Outer Banks
To get to the Outer Banks NC by commercial flight, check out the Norfolk International Airport (90 minutes drive to the Outer Banks). There's also the Raleigh-Durham International Airport, which is a bigger airport but just over 3-hour drive to the Outer Banks.
Closest Airport to Bend Oregon
Ready to enjoy some Bend Oregon restaurants? The Redmond Municipal Airport is your main option for commercial flights nearby. The good news is that it's only 20 minutes north of Bend and offers several rental car services to get you into town.
Virginia Beach
Arrive at your oceanfront hotel and take a stroll down the Virginia Beach Boardwalk in no time. Norfolk International Airport is just 20 miles from Virginia Beach. Another option is the Newport News/Williamsburg International Airport, which is 44 miles away.
Atlantic City, NJ
Ready to gamble? The Atlantic City International Airport is 17 miles from the center of Atlantic City. If you want to make Philly part of your trip, you can fly into the Philadelphia International Airport and travel 56 miles to Atlantic City.
Brooklyn, New York
Traveling to New York City by plane offers many possibilities. To get into Brooklyn domestically or internationally there's JFK International Airport and Laguardia Airport, both 12 miles from the center of Brooklyn. Teterboro Airport in New Jersey is 23 miles from Brooklyn but this is more popular for private and corporate flights.
Branson, Missouri
The Branson Airport is the only privately operated and owned airport that offers commercial flights. There's also the Springfield-Branson National Airport which offers nonstop flights to 13 cities.
Key West, Florida
With so many fun things to do in sunny Key West, don't waste too much time getting there. The Key West International Airport is just 2 miles east of the center.
Miami
If you're a sports fan, Miami is the place to be. See games for the Miami Heat, Miami Dolphins or Miami Marlins depending on the season. The Miami International Airport will get you into the action from anywhere in the world.
Savannah GA
Go sightseeing in the Historic Section of Savannah Georgia by flying into the Savannah/Hilton Head International Airport just 9 miles from the center of Savannah.
Waco Texas
Waco Regional Airport is 5 miles Northwest of Waco. This is the quickest way to get into town and enjoy the famous Magnolia Market.
Hilton Head
Hilton Head Island Airport is the only airport located on directly on Hilton Head. The Savannah International Airport can take you there for a transfer to the Island. Or you can just get off the plane in Savannah and make the hour long drive to Hilton Head by car.
Monterey CA
Heading to Monterey's famous car week? For domestic flights, the Monterey Regional Airport is just 3 miles from the city. The nearest International Airport is 76 miles from Monterey in San Jose (Norman Y. Mineta San Jose International Airport).
Gatlinburg TN
Gatlinburg has a small town feel with limited access to large airports. The Gatlinburg-Pigeon Forge Airport is 14 miles from Gatlinburg, TN. For domestic flights, the closest major airport is the McGhee Tyson Airport in Knoxville (41 miles away) or the Asheville Regional Airport (89 miles away). For International Flights, The Charlotte Douglas International Airport is 194 miles away. Once you get there, you'll enjoy the quaint feel in a Gatlinburg cabin or at one of Gaitlinburg's hotels.
Pasadena CA
To get to Pasadena, the Hollywood Burbank Airport has local flights along with daily flights from New York and Boston. The Long Beach Airport has domestic flights and is 32 miles from Pasadena. For international travel, you can fly into Los Angeles International Airport 28 miles away or the John Wayne Airport in Santa Ana, which is 48 miles from Pasadena.
Clearwater FL
Ready to check into one of the fabulous Clearwater Beach hotels? Florida has lots of local major airports including the Tampa International Airport, which is 18 miles from Clearwater and the Saint Petersburg-Clearwater International Airport, just 10 miles from the center of Clearwater. Another major airport is the Sarasota-Bradenton International Airport which is 55 miles from Clearwater.
Naples FL
For domestic flights, there's the Naples Municipal Airport 4 miles away from the city. For international or domestic flights you can use the Southwest Florida International Airport to Fort Myers and drive 36 miles to Naples.
Irvine CA
The John Wayne Airport in Santa Ana is 4 miles from Irvine offering international and domestic flights. The Long Beach Airport is 24 miles away for domestic travel. The Los Angeles International Airport is 43 miles from Irvine.
Santa Barbara
Get to the "American Riviera" by the Santa Barbara Municipal Airport just 7 miles west of downtown. If you need to fly in internationally, the nearest airport is LAX, 100 miles away.
Mount Rushmore
To see the Mount Rushmore Presidents, you'll likely use the Rapid City Regional Airport, which is 32 miles from Mount Rushmore. Other possible options include the Chadron Municipal Airport in Dawes County Nebraska (2 hours away) or Gillette-Campbell County Airport in Wyoming (3 hours away).
Huntington Beach
Enjoy the Huntington Beach Pier by flying into the John Wayne Airport 7.6 miles away or the Long Beach Airport 14 miles away. Also nearby are the Los Angeles International Airport which is only 30.5 miles away or the Ontario International Airport, 35.7 miles away.
Conclusion
We hope this article answers your immediate questions of which airport is closest to the place you are visiting, but also, inspire you to go visit other amazing places in the US. Happy travels.