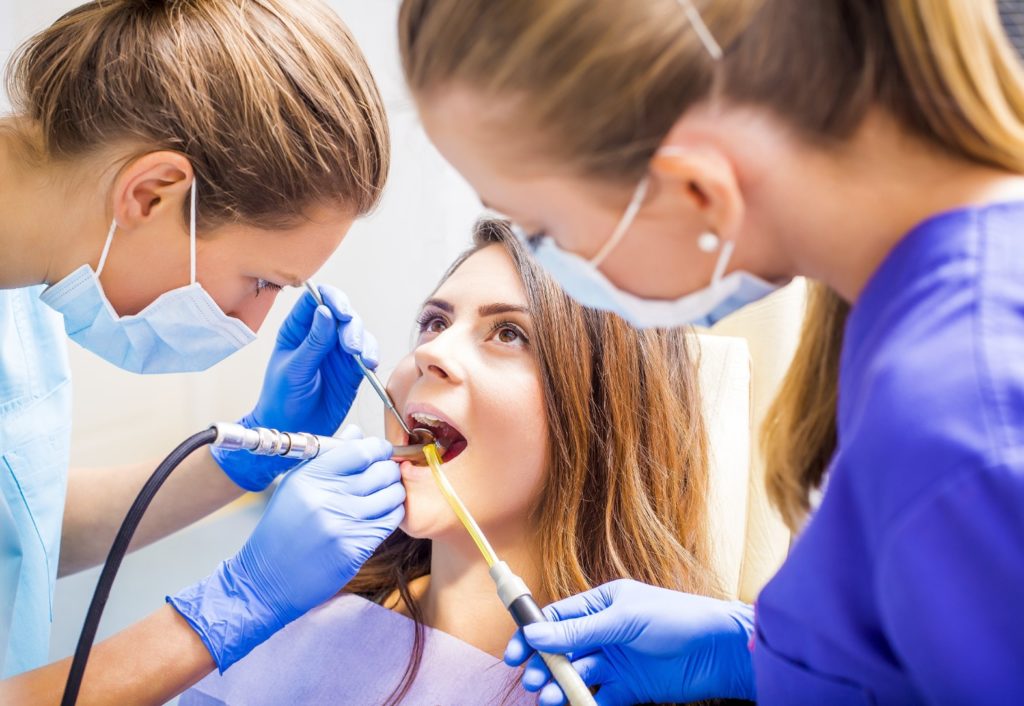 How to Become a Dental Assistant: Your Complete Guide
Originally posted on https://imbc.edu/2019/08/16/how-to-become-a-dental-assistant-your-complete-guide/
Learning how to become a dental assistant could be one of the best decisions you make for your future self.
It is an essential role in every general dental and specialty practice, providing candidates with job stability. Many students pursue this career path because of the quick entry into the workforce and the opportunity to positively impact the wellness of others.
This guide covers what job seekers need to know about how to become a dental assistant and get on the fast track to a rewarding career.
How to Become a Dental Assistant: Step-by-Step
Like many jobs in the healthcare and dental industry, candidates must complete specific education and licensing requirements prior to working with patients.
Here is a breakdown of what the process of becoming a dental assistant looks like:
CHOOSE AN EDUCATIONAL STRATEGY
Candidates have multiple education options to move their career forward.
Most students choose to complete a program at a local technical or trade school. These programs can take one to two years to complete, depending on whether the candidate will receive a diploma, degree, or certificate upon completion.
Trade programs combine classroom instruction with hands-on training in a clinical environment. Topics like oral anatomy, dental radiography, and dental materials are usually common components of the program.
Some states do not require students to complete an academic program to become a dental assistant. However, students who do take this extra step often have an advantage over other candidates when searching for employment.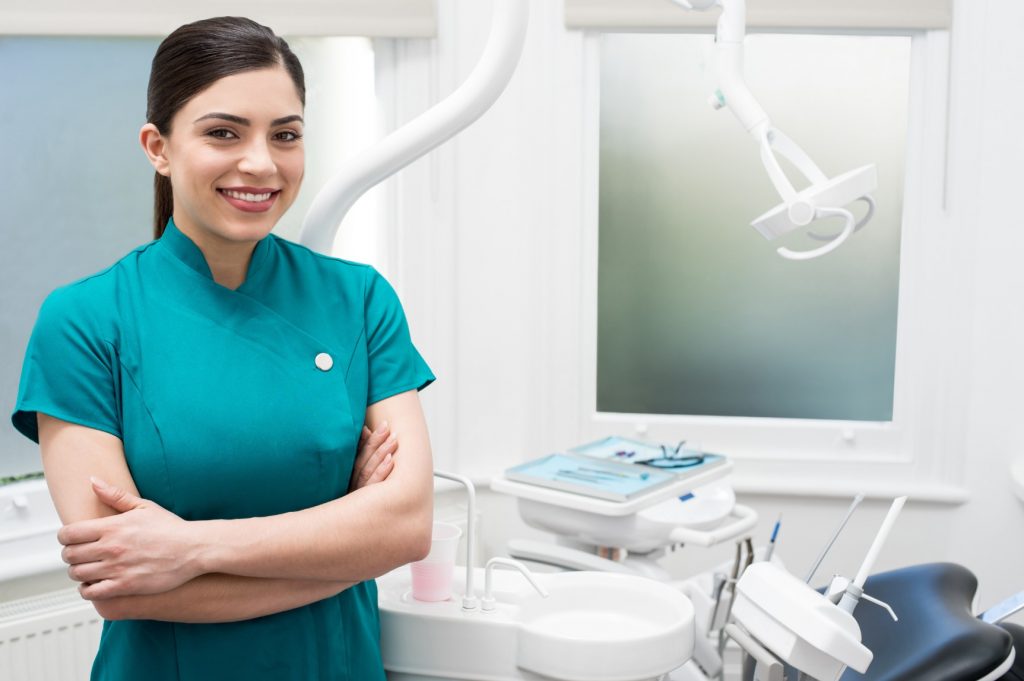 COMPLETE AN EXTERNSHIP
Some programs will offer externship opportunities for students to receive additional hands-on training. If you are not enrolled in a program, you may still be able to complete an externship, but it may be more difficult to find one on your own.
Externships enable students to perform chairside functions in a real dental office environment, under the supervision of a licensed professional, much like on the job training but without acting as an official employee of the practice.
Students who are considering focusing in a specialty area of dentistry, such as orthodontics or pediatric dentistry, may want to secure an externship in their focus area.
Having an externship is can help candidates stand out from their competition and test drive different work environments.
SATISFY LICENSING REQUIREMENTS
Licensing and registration requirements can vary by state. Students will need to check with their state dental board or by finding out more information via the Dental Assistant National Board (DANB) website.
In states that require a license or certification, students must pass the DANB's Certified Dental Assistant exam administered at Pearson VUE testing centers. The exam consists of 320 questions related to general chairside assisting, infection control, and radiation health and safety.
Candidates must achieve at least 400 of the 900 possible points to become certified. Students who do not pass the exam often complete additional coursework or training to better prepare them for the next attempt. Or, you can simply retake the test and try for a better result.
You will need to provide proof of certification prior to becoming employed at a dental practice.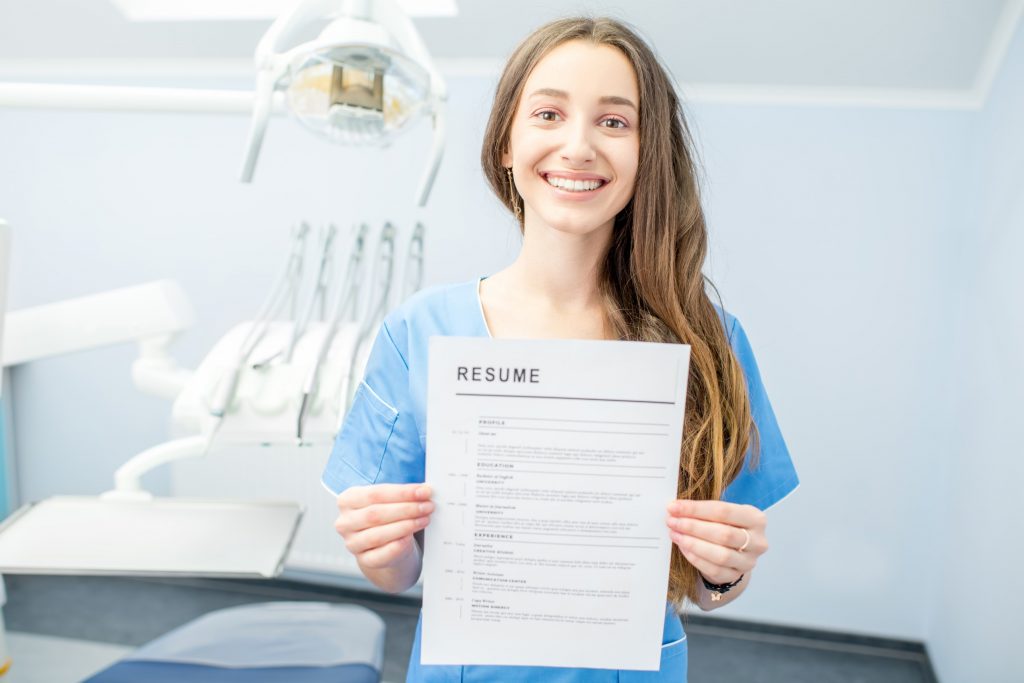 EARN AN ADVANCED DEGREE
One of the benefits of starting as a dental assistant is the ability to enter the workforce quickly. It is ideal for those who do not want to take on an expensive, intense education and would rather start earning a paycheck quickly.
However, many dental assistants decide to return to school to pursue an advanced degree. The dental industry provides multiple opportunities for advancement, and having several years of experience in the field can better guide your next career move.
If you think you might want to pursue additional opportunities in the future, such as a dental hygienist, consider pursuing an associate degree so you can later transfer your credits to a bachelor's degree program.
Helpful Skills and Qualifications
Completing the education and certification requirements is not the only bar to entry. Successful dental assistants exhibit a specific skillset that helps them complete their daily responsibilities.
For starters, dental assistants need to be excellent communicators. They are often the first person a patient interacts with at the practice and will set the tone for the patient's experience.
Also, dental assistants are usually the second set of hands to the dentist and must be able to think on their feet. Dental practices are fast-paced and assistants must be able to keep up while staying organized and level-headed.
Successful dental assistants are highly detailed people. They are entrusted with inputting data into medical records systems and handling a myriad of other details, often in a multi-tasking environment. To do this well, dexterity and good listening skills are must-haves.
Most importantly, dental assistants are not just in the dental business — they are in the caring business, too. Their core responsibility is to assist and care for patients, and must realize that not all patients will feel at ease in the dentist's chair.
A great dental assistant can have the power to allay fears and provide a calming experience, and should not take this responsibility lightly.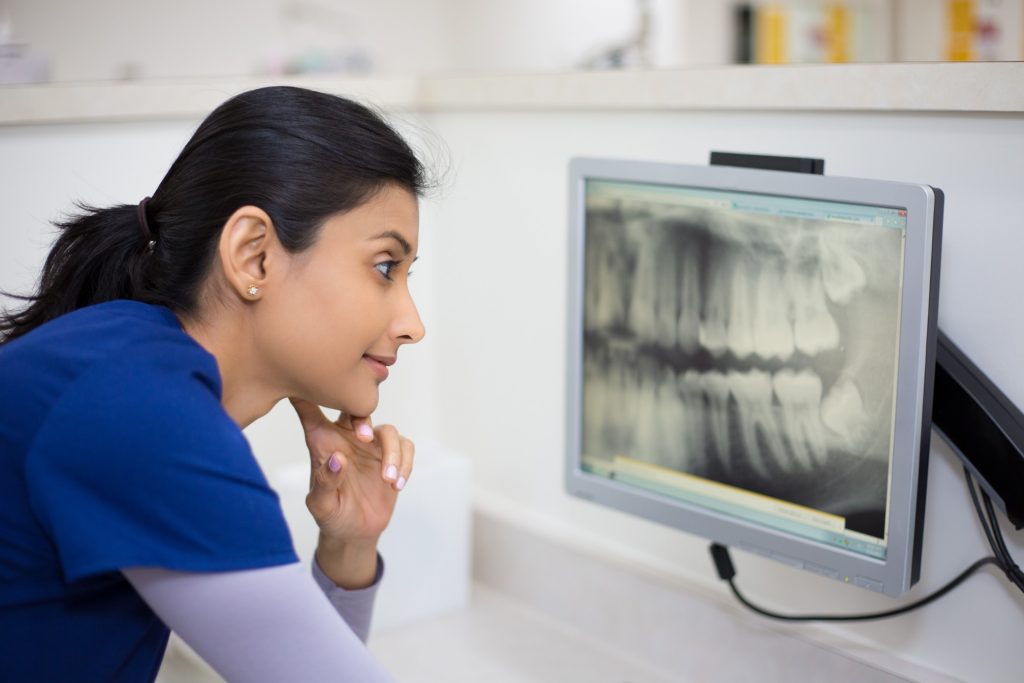 Salary Expectations
The average salary for a dental assistant in 2019 is about $37,390, though this figure can vary by city or state. The top 25% of dental assistants earned an average of $46,000.
Dental assistants may be able to earn a higher salary by having completed a degree or diploma program or other advanced education.
Nearly one-third of dental assistants work part-time, while the majority are full-time employees.
Considering that a four-year degree is not required to become a dental assistant, the salary is quite attractive.
Typical Work Environment
The majority of dental assistants work in a dental office. Here, the dental assistant works under the supervision of a dentist and alongside dental hygienists for most of their day.
During the majority of their tasks, dental assistants will wear protective clothing and gear, such as gloves, surgical masks, and safety glasses. These items help to protect the employee and the patient from infectious diseases.
Dental assistants come in contact with x-ray machines and will be expected to understand basic safety and operating procedures to minimize their radiation risk and exposure.
A Day in the Life of a Dental Assistant
A dental assistant performs many tasks in the office, from taking x-rays to interacting with patients, to scheduling appointments.
A typical day may start by greeting patients into the office and preparing them for their treatment or service. The dental assistant sterilizes and disinfects instruments, then sets them up for the dentist.
Dental assistants take active roles in the patient's care. He or she will provide patients with educational information, such as dental hygiene best practices or plaque prevention, along with post-op instructions per the dentist.
During the patient's visit, the dental assistant will record information into the patient's medical chart, collect vital signs, and even assist with dental x-rays.
If dental emergencies arise, the dental assistant will work closely with the dentist to take care of the patient.
Out of the patient's eye, the dental assistant will help to maintain dental and x-ray equipment and the office environment at-large. He or she will order dental supplies and maintain inventory to ensure uninterrupted service to the patients and smooth office operation.
Dental assistants may also assist with fabricating temporary restorations and custom impressions, or create preliminary impressions for study casts. In some states, dental assistants can perform certain procedures, such as sealant application, fluoride treatments, and coronal polishing.
There are a lot of moving parts to the role of a dental assistant, and serious candidates should consider all of the aspects of the role prior to pursuing it as a career.
Expected Job Growth
The job outlook for dental assistants looks promising, especially compared to other industries. The number of dental assistant jobs is expected to grow by 19% between 2016 and 2026, which is much faster than the average for all occupations.
Part of the reason for the expected job growth is America's aging population. As Baby Boomers age, there will be a greater need for preventative dental care and other dental services.
There has also been significant research linking oral health to general health. As scientists reveal more about this connection, more people will likely be taking an interest in their dental hygiene.
Is Becoming a Dental Assistant Right for Me?
Now that you know how to become a dental assistant, does this career fit your future?
Careers in the dental field can be highly rewarding. It is an opportunity to help and care for people while providing you with a stable career with room for growth.
At IMBC, we provide a diploma program for dental assistants to get the best head start for their new career. Find out more about our dental assisting program and take the next step to a bright future!