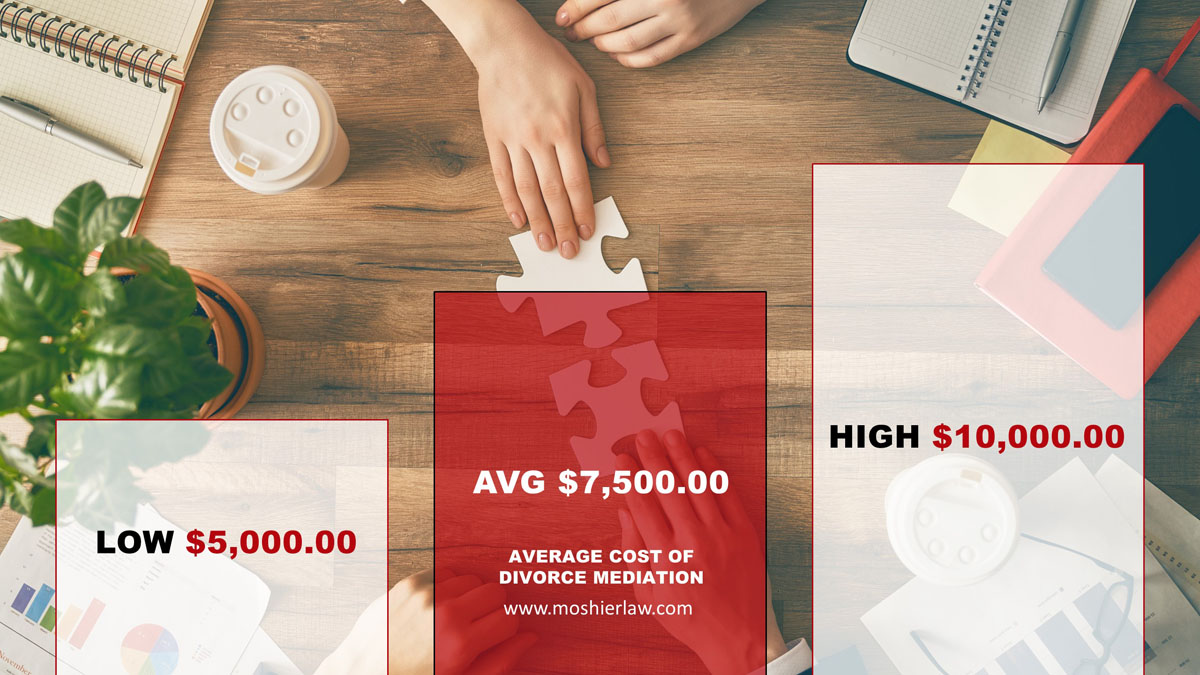 How Much Does a Divorce Cost in Arizona? & Attorney Fees
Originally posted on https://canterburylawgroup.com/what-does-a-divorce-cost-in-az/
---
Originally posted on YouTube by Canterbury Law Group, LLP

On average, an Arizona divorce costs about $20,000. The average cost of divorce in Arizona without a Lawyer is $577. The average cost of divorce in Arizona with a Lawyer is $20,000. However, the average cost of divorce in Arizona can range from $15,000 to $100,000 per side when including expert witness fees.
Hiring a divorce lawyer in Arizona can cost as much as $550 per hour. The cost to file a Petition for Dissolution of Marriage Maricopa County is $349.  The responding party will be required to pay $279 when filing their Response, or if both parties have agreed to a Consent Decree, the $279 is still due and owing from the responding party when tendering a consent decree for the court approval. Want to find a cheaper way to get divorced in Arizona? Arizona collaborative divorce only costs about $10,000 per spouse.
*Disclaimer – These fees are always changing and this is not an actual quote. If you need an experienced divorce lawyer contact Canterbury Law Group to start your initial consultation.
These costs may include:
Monthly Child Support
Monthly Spousal Maintenance
The Division of Property and Debt
Attorney Fees
Waste Claims For Reimbursement
Claims for Breach of Fiduciary Duty
And more.
Getting an Arizona divorce can be costly. However, how much you spend will depend on the type of divorce. A contested divorce with protracted proceedings will definitely cost more than an uncontested one. While there are no set rates, it is possible to get an approximate cost estimate based on historical averages of what divorcees spend on their cases.
According to some estimates, the average divorce case can cost as much as a new car. However, people typically do not spend more than $10,000 per spouse.
While costs will largely depend on attorney's fees, most people do not realize it right away, but there are other costs to consider as well. Divorces that go all the way to trial will incur third party expenses for such things as depositions, a child custody evaluator, a business appraiser, and forensic accountants to present financial data to court. If the couple is divorcing with children, then the divorced parents will have to attend a Parent Information Program class. If the divorce diverts to a private divorce mediator, then that will be an additional cost for the mediator who typically charges an hourly rate.
How Much Does A Divorce Lawyer Cost In Arizona?
Most of the expenses will come from the attorneys. Consider, for example, the average cost of a divorce lawyer in Scottsdale. Family lawyers in the Scottsdale area charge between $250 and $550 per hour on average. If you hire an immensely experienced lawyer in Arizona, the cost can be as much as $400 to $750 per hour. In addition to the hourly rate, some lawyers also charge extra for drafting letters, printing documents, travel time, mailing, stamps and so on. Divorce lawyer fees in Arizona can total a combined average of about $20,000 per divorce.  However, there is no assurance that fees come in higher or lower than this figure because every divorce is truly unique.
After attorneys, those filing for divorces should expect to pay for outside expert witnesses. The divorce case may require the services of a mental health expert, business accountant, real estate appraisers, and many others. Collectively, these expert witness fees can cost as much as the attorneys. Of course, not all divorces require experts to testify or issue expert reports. If two people with a shared business or significant real property get a divorce, the expert fees can be meaningful. So how much does a contentted divorce cost in Arizona? In some contested divorces, total costs can range from $25,000 to $100,000 per side when including expert witness fees.
Learn more about Divorce In Arizona
How Much Does An Uncontested Divorce Cost in Arizona?
Divorces do not have to go to trial if certain conditions are met. If the divorcing spouses agree on the material terms of the separation, or if one spouse does not participate in contesting the divorce, then the case does not have to go to trial. As a result, the costs will be considerably less.
The divorcing couple can go to the court and file a Petition for Dissolution of Marriage. The court, depending on the county, will charge between $300 and $400 in filing fees. This makes the average court cost of an uncontested divorce in Arizona about $620. This does not include Arizona divorce attorney fees. If the two parties amicably divorce at this point, then only court fees will have to be paid assuming the parties are sophisticated enough to paper their own divorce.
If the divorcing couple needs legal assistance, for example, a divorce attorney in Scottsdale, legal fees at an hourly rate will have to be paid in addition to court fees. Some couples prefer to hire a mediator and legal counsel.  Mediators typically charge similar rates to attorneys. Overall, the fees of an uncontested divorce are far less in comparison to contested litigation.
If you are planning for a divorce, it's best to talk to your spouse and amicably separate. Otherwise, you will have to be willing to pay a lot more for the lawyers to fight it out.
*This information is not intended to be legal advice. You can contact Canterbury Law Group today to learn more about your unique situation.
Learn more about Uncontested Divorce In Arizona
On average collaborative divorce in Arizona costs about $7,500.  Arizona collaborative divorce costs ranged from $5,000 to $10,000 according to Equitable Mediation. However, Canterbury Law Group has navigated many collaborations for less than $10,000 in legal fees per spouse.  This is a far cry from the tens of thousands of dollars that other couples inevitably can spend in a contested litigation in a court of law. Collaborative divorce is one of the peaceful divorce options, also known as amicable divorce.
COLLABORATIVE DIVORCE IN ARIZONA
Divorce mediation costs about $7,500.  Divorce mediation costs in Arizona ranged from $5,000 to $10,000 in 2019.
What is the Average Cost of Divorce in Arizona?
The average cost of divorce in Arizona is $20,000. Arizona divorce costs ranged from $15,000 to $100,000 per side when including expert witness fees in 2019. The cost of hiring a divorce lawyer in Arizona can cost as much as $550 per hour.
The complete cost of legal separation can vary enormously, from as little as $1,000 to in excess of $100,000 when matters such as alimony, child custody and having to work through the disposition of a very complex marital estate are to be decided. So, you can imagine, there are many factors coming into play to determine the total legal separation costs. Read on to learn more about these factors.
Arizona Divorce Attorney Fees
In a divorce proceeding, a request may be made to the judge by one party that the payment of the attorney fees for that particular party should be covered by the other party in the divorce process. The court can order attorney's fees paid when the party being asked to cover the cost was not represented by legal counsel or when both parties were represented by legal counsel. The importance of this is delays and errors that are unintentional yet caused by the pro se litigant can have on the outcome of the award of the legal fees of the other party that were incurred when these mistakes were being dealt with.
A.R.S. § 25-324 is an Arizona statute allowing the for the payment of fees due to an attorney in cases of marriage dissolution. The court does have the discretion to award the attorney fees against a specific party in some circumstances.
When it comes to making a decision regarding a fee award, the court is obliged to objectively make an evaluation of how reasonable the legal positions were adopted by the parties during the divorce proceedings. The subjectivity of a spouse's intentions is not taken into account when it comes to the decision made by the court and neither is the party's lack of knowledge regarding family law, divorce law, local rules and court procedures. The court will examine the available financial resources of both parties before making a decision. What is more, the court will also take into account the financial disparity between the two parties and compare the fees that are owed versus the assets of each party and so on. In three circumstances, though, the court shall award attorneys' fees against a party:
The petition was filed by the party in bad faith
The petition submitted by the party was not grounded in fact or the law
The party's petition was filed for some "improper purpose, such as to harass the other party, to cause an unnecessary delay or to increase the cost of litigation to the other party."
Other costs that may be considered for award include but are not limited to the following:
Deposition costs and expenses considered to be reasonably incurred during the litigation process and any following appeal
If the court makes the decision that orders money to be paid directly to the attorney of the requesting party, that attorney will be responsible for the enforcement of the order
Sources:
"Alona M. Gottfried, Esq." Arizona Mediation, azmediator.com/uncontested-divorce-arizona/.
"How Much Does A Divorce Cost In Arizona?" Arizona Legal Center, 12 June 2018, arizonalegalcenter.org/how-much-does-a-divorce-cost-in-arizona/.
25-324 – Attorney Fees, www.azleg.gov/ars/25/00324.htm.