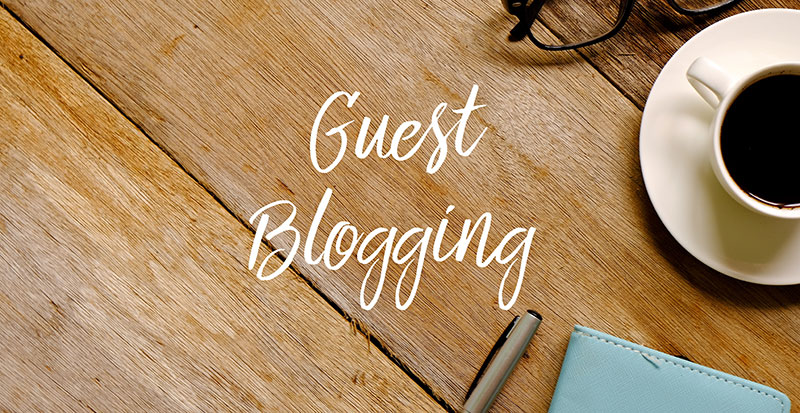 Guest Blogging for Backlinks, Branding, and Profit: A Beginners Guide
Originally posted on https://www.samsonwebdesign.co.uk/guest-blogging-for-backlinks-branding-and-profit-a-beginners-guide/
Do you want to grow your web traffic? You can achieve this and much more with effective guest blogging.
You might be wondering – why spend time and effort writing a blog post for someone else to publish?
At first, guest blogging can appear nonsensical.
However, that's until you realize the importance of backlinks to boosting your ranking on search engines. Plus, with guest blogs, you get the opportunity to reach out to an even larger audience with your blog content.
Want to get started guest blogging? We've put together a beginner's guide below to give you a head start!
1. Locating Opportunities
Guest blogging opportunities aren't just going to come your way. Instead, you've got to go out and grab them!
Don't stray too far from your niche or industry. You need to be able to create content which remains relevant to your blog's audience.
Do you sell cookware? Write for a recipe blog or an organic farming blog. Then, you can link back to your products via the blog post.
Are you an eco-tourism company? Try to write for a green living blog.
Narrow down your search for guest blogging opportunities to social media savvy bloggers. You don't want to go to the effort of producing a blog for a company, only to discover that they're not going to promote your work on social media.
2. Making the Pitch
Familiarise yourself with the blog you want to pitch to. You need to do your homework here to determine the best website for your content.
You should especially consider the following:
What type of audience are you writing for?
This includes the demographics of the target audience. If the audience for your company is senior citizens, you don't want to write for a blog targeted at millennials.
Also, consider whether the audiences are beginners and experts in their understanding of the topic.
What kind of blog content should you write?
This could be anything for "how to" posts to "top 10" listicles. The blog may include mostly short and sweet 300-word posts or 2,000-word long read posts.
Also, consider whether other guest bloggers have succeeded or not on the blog. This may indicate whether you'll have success or not.
In particular, what kind of guest bloggers have commonly written content? Does the blog owner appear to favour industry experts or freelance influencers? This could also affect your decision to pitch your blog idea.
3. Build Your Profile
If you're going to be accepted as a guest blogger, then you need to build your profile in the industry or niche.
This requires time and effort.
When you write with your pitch to the blog owner, you want them to know who you are already. If you already have a blog with a growing audience – this is a start!
If you need a short-cut, then you can also engage with the blog content on the website.
For example, comment on social media posts and share content from the blog on your website or social media networks.
4. Addressing the Blog Owner
You shouldn't just write speculative emails to blog owners. Address the blog owner with a personalized email instead. Ensure that you use the name of the blog owner if it's possible to get your hands on that information. Explain who you are to the blog owner. Introduce yourself and the name of your blog.
Then, you need to persuade the blog owner that they should accept your invitation to guest blog. Provide examples of your work and the success of your blog posts.
5. Writing a Guest Blog Post
Many people wonder what kind of content they should write for a guest post.
You probably don't want to include your best content here. However, you also want to make a compelling case for visiting your own blog.
Therefore, it depends on what you're trying to achieve with your guest blog. There are some rules which you should always follow with guest blogging.
First of all, remember, your guest post is not about your company or blog. You should make sure you're producing content which the audience actually wants to read. Rather than merely generating ads for your business.
Follow the style guidelines for the blog. You don't want to alienate your audience with confusing language which is not in keeping with the rest of the blog.
While you want to generate backlinks to your website, this should not take away from the role of internal links. You should make sure you create loops in the blog which direct readers to the blog owner's products or services too.
Finally, add a call to action (CTA) in the blog post. This can be anything from encouraging readers to leave a comment or directing people to another relevant blog post.
6. Create a Guest Blogger Bio
Your guest blogger bio is your time to shine! You can go ahead and include links to your website and blog here.
You should describe yourself and your business. Why should readers check out your blog?
Also, it's important to include social media network links, while encouraging readers to follow you.
7. Track Your Guest Post
You need to know what worked and what failed with your guest blog. You can achieve this with Google Analytics to discover how your guest blogging marketing strategy did.
Learn More About Guest Blogging
The idea of blogging for a competitor may sound strange, but it's an effective marketing strategy to grow your audience.
Follow our beginner's guide and you'll be able to increase your web traffic and enjoy improved profit margins.
If you want to find out more about the importance of blogging for your website, check out our blog here.