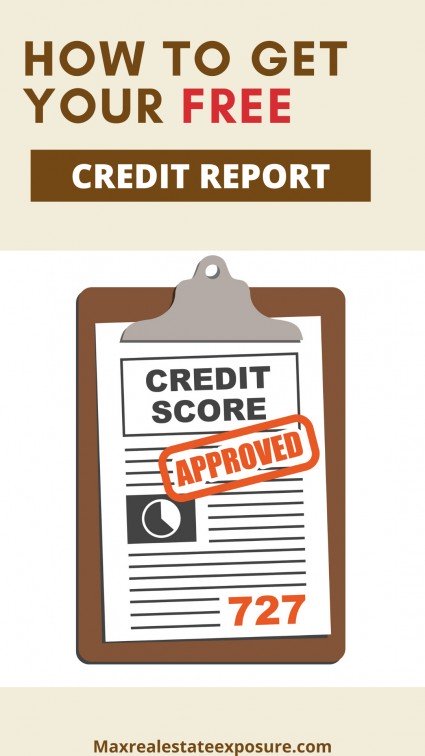 How to Get a Free Credit Report
Originally Posted On: https://www.maxrealestateexposure.com/how-free-credit-report/
Get Your Credit Report FREE!
Are you interested in learning how to get a free credit report? How about a free credit score? Your credit report is an important financial document that you should review at least once a year. There are three leading credit reporting companies that produce credit reports, Equifax, Experian, and TransUnion.
Your credit report contains so much vital information – like your standing with different creditors – that you want to make sure that everything on the report is accurate. But if you never review your report, you won't know if a company has reported something incorrect that could damage your credit rating.
That is why it is recommended by every financial institution that you check your report annually to make sure everything is kosher.
Fortunately, you can get your credit report for free once a year – so you don't have to pay any money to take care of this particular part of your financial life. Just go to the right place online, and you can order your report and get it immediately.
If you are considering buying a home in the not too distant future, getting your credit report is essential. One of the key factors in getting the best mortgage terms is your credit score. Taking the time to increase your credit score is an excellent long term financial strategy.
One of the best ways of looking at your financial picture is using a credit monitoring company such as Credit Karma. By using their services, you will be able to get an outline of your finances and suggestions on how you can improve it.
One of the most significant mistakes of first-time home buyers is not spending the necessary time to get their financial house in order before purchasing a house.
Getting a Free Credit Report – What You Need to Know
What's on your credit report?
There are four types of info on your credit report:
Personally Identifiable Information (PII) – All the main information that makes you identifiable, such as your name, Social Security number, address, employment info, and your date of birth, are on the credit report. That is because it is through this information that the credit bureaus can identify you.
Credit Accounts – Every credit account you create, such as those with credit card companies, are reported to the credit reporting agencies. Creditors let them know what type of account you have, like an auto loan or credit card, when you opened the account, what kind of loan amount or credit limit you have, the balance on the account, and the history of your payments. If you have missed payments, those missed payments will be reported here.
Credit Inquiries – Every time you tried to apply for a loan with a lender, the lender will ask for a credit report to decide on whether to approve your application or not. These requests are considered "hard" inquiries, and enough of them can negatively affect your credit score. Other times, lenders will ask for a credit report so that they can decide what type of offer they want to send you, like a pre-approved card offer. These are "soft" inquiries and do not affect your credit score. Your report will show the last two years of inquiries. Here is an excellent explanation of both hard and soft credit inquiries by Credit Karma.
Public Record and Collections – The credit bureaus will collect public records and add them to your report, such as bankruptcies. They will also put any collections for unpaid debt on your credit report.
Watch the quick video to see what you need to know about getting your credit report and free credit score.
How do you get your credit report for free?
The federal government passed legislation that makes it possible for you to get a credit report for free every year from the major credit reporting companies. Known as the Fair and Accurate Credit Transactions Act of 2003 (FACTA), it led to the creation of AnnualCreditReport.com, a site where you can go to get a free report from Equifax, Experian and TransUnion. You can also order your free annual credit report by:
Phone – Call 877-322-8228
Mail – Print a form and request a report by mail by sending the form to the address listed on the form.
Just remember, you can't contact the credit bureaus directly to get a credit report for free. You have to go through the government website. Otherwise, they will charge you for your request – and the whole point is to get the credit report for free!
How long will it take to get my free credit report?
If you request your report by phone, the document will be processed and mailed to you within fifteen days. When requesting your report by mail using the online form, it will be processed and mailed to you within fifteen days upon receipt.
One of the best first-time buyer tips is to verify the information found in your credit report before you get preapproved for a mortgage.
Steps to Get a Free Credit Report
1. Visit AnnualCreditReport.com.
This is the website where you will find your options for getting a free credit report once a year. Other sites try to mimic this one, so make sure that you type in the right web address. It is relatively easy to land on a site that is not providing you with a free report or just plain wrong.
The Annual Credit Report site is the only one authorized to grant a free annual credit report that you are entitled to under the law. Other sites claiming to provide "free credit scores," "free credit monitoring" or "free credit reports," are not part of the legally mandated free annual credit report program. With some of these fake sites, the "free" offer comes with strings attached.
For example, many of these sites say they are providing you with a free service, but what really happens is you have to pay after a trial period expires. If you fail to cancel during their trial period, you might be agreeing to let the company start charging fees to your credit card.
2. Input all your information to verify that you are who you say you are.
The site will ask for all the standard information you provide on other sites to verify your identity. These include your full name, your address, your Social Security number, and your birthday. Double-check what you have input before moving forward.
Given you will be providing sensitive information, lots of people wonder if it will be safe. AnnualCreditReport.com says that your information is encrypted when you are filling out the form, and it sends your information to the three credit bureaus.
According to ACR, there are physical, electronic, and procedural safeguards put in place that provide security, including internal and external firewalls.
Technically speaking, your credit report could be accessed if an impersonator had enough of your personal data points.
3. Request a credit report from each of the three major credit bureaus.
You have to ask for a report from each of the big three – Equifax, Experian, and Transunion – separately, so make sure you get a report from each of them. Although the information on each report should be similar to the others, there is always a chance that one will have different information or errors than another one.
4. Answer all the security questions they throw at you.
They don't want to give your private financial information away to identity thieves, so the site will ask you a series of questions that only you should be able to answer. For example, they may ask where you got your car loan from or how much your mortgage payment is each month.
Sometimes people have trouble with some of the questions they are asked, particularly when they concern accounts that are really old. You might not remember the exact details of such accounts, so you might not be able to answer the question correctly.
If you cannot manage to make it through the screening process, you still have other options. You can get credit reports by mail or by phone without going through the same screening process.
5. Get your credit reports – save and print them.
Once you make it through the screening process, you will be able to download your credit reports. But you can only do this once per year without having to pay a fee, so you want to make sure you save the documents so you can look at them later.
You can save the files to your computer, to the cloud, or you can print them up on your printer. Getting your free credit score is super simple.
What if you've already ordered a free credit report and you need another one?
If you don't want to pay full price for each of your three credit reports – and who would? – you may still have some options depending on your circumstances. These include:
You've had an application for credit denied. If your application was denied due to something on your credit report, you have up to 60 days from the time you are told you were denied to get a free copy of your credit report.
You are unemployed. If you are unemployed and you plan to start your job search within the next 60 days, you can get a free credit report after you have already gotten your free annual credit report.
You are on welfare. If you are on welfare, the Fair Credit Reporting Act (FCRA) gives you the right to request an additional credit report after you have requested your one annual credit report.
You are a victim of identity theft. If you were unfortunate enough to have your identity stolen by criminals and you now have false information on your credit report, you can get a free credit report in addition to your free annual credit report. Here is some excellent information on how to report identity theft.
You live in a state that gives you another free credit report. Certain states have implemented laws that entitle their citizens to an additional free credit report after they have gotten their free annual credit report under federal law. These include:
Colorado
Georgia
Maine
Maryland
Massachusetts
New Jersey
Puerto Rico
Vermont
Correcting Incorrect Information on a Credit Report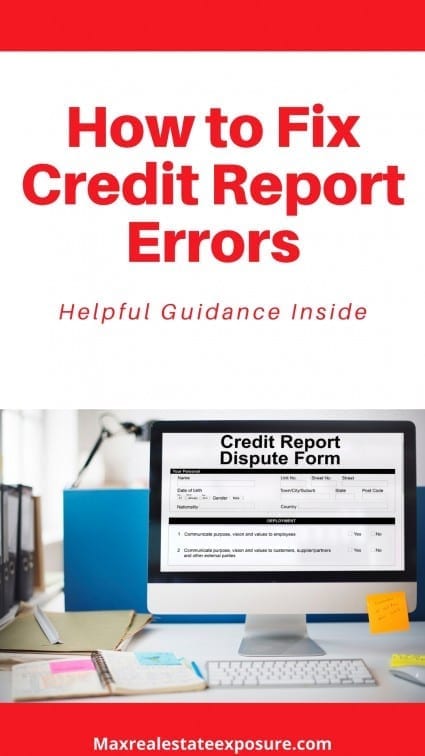 If you get your credit report and find that something on the report is inaccurate, you need to contact the credit bureau and tell them of the error. They are usually obligated to check on any errors within thirty days. All of the bureaus have options for reporting errors online, so you can go to their websites and let them know something is wrong.
The companies must also send all the information you provide about the inaccuracy to the organization that provided the info. Once the information provider receives notice of a dispute from the credit reporting company, it has to investigate and review the information. They must then report the results back to the credit reporting company.
If the information provider discovers the disputed data is inaccurate, it must inform all three nationwide credit reporting companies, so they'll be able to correct the information in your file.
As mentioned previously, getting any errors fixed on your credit report is vital as not doing so can have impactful future financial consequences. For example, you may find yourself in a position where you must rent to own for a while because you don't qualify for a mortgage.
A credit reporting agency can report the most accurate harmful data for seven years and bankruptcy information for ten years.
Final Thoughts on Getting Your Credit Report
Hopefully, by now you have a complete understanding of the importance of monitoring your credit scores. If you plan on becoming a homeowner, it is a crucial exercise to stay on top of the information found in your credit report.
You need to be vigilant about checking for errors. Don't think for a moment that it isn't commonplace to find mistakes.
If you want the best mortgage rates when buying a home it behooves you to make sure your financial data is accurate.
Other Essential Credit and Mortgage Advice
Use these additional resources when buying a home to make the most sound decisions. If you are buying a home for the first time it is essential to be as educated on the process as possible.