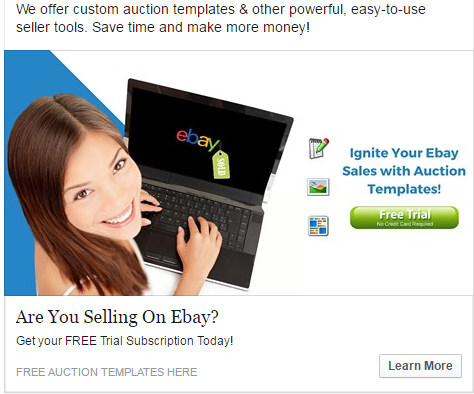 eBay Templates for your eBay Store – Auction Templates
Ignite Your Sales with eBay Templates and Easy-to-Use Seller Tools
We have new eBay templates!
Yes, ebay does keep changing their requirements…yes we are keeping on top of this.
You must use one of our 'Responsive' templates to be eBay compliant active Content, HTTPS and Mobile Optimized.
To Change to one of the New eBay Compliant Templates:
Log into your BiggerBids accounts, and you simply apply a new 'Responsive' template (in step 3) for a particular auction/listing (very easy).
This will generate a new BiggerBids HTML code.
Copy this new HTML code.
Then you go into eBay, and revise the listing by removing the old HTML code and pasting in the new HTML code.
You do not have to change images or descriptions, you are simply choosing a different theme.
There are more themes in development.
Note on a future eBay update: "eBay's latest requirement that there should be no watermark on images by March 2018"
Ignite Your eBay Sales with Custom Auction Templates and Other Powerful, Easy-to-Use Seller Tools
Want to sell MORE products on eBay while spending LESS time creating individual listings?
Through customizable templates and other convenient seller tools, BiggerBids helps you build credibility, attract more eager buyers, and explode your profits in the online auction marketplace!
Our templates are eBay compliant (NO) active Content, HTTPS and Mobile Optimized templates are Mobile friendly, iPhone Friendly, iPad Friendly, Android Friendly, Tablet Friendly.
Mobile Responsive Active Content Compliant Custom Designs Mobile Friendly Shopper Friendly Eye-Catching Templates. eBay Mobile Responsive Templates.
BiggerBids clients are seeing up to a 60% boost in sales.
Robust, Professionally Designed Templates:
A high-quality, great-looking eBay listing helps build confidence in your buyers—and your brand.
Choose from hundreds of modern, stylish designs in our lightbox gallery.
Our uniquely flexible templates even let you add unique components such as a feedback section or refund policy.
Plus, they're guaranteed to be 100% eBay friendly, so you never have to worry about compatibility.
Easy to Use (No Technical Skills Necessary):
You don't have to know HTML or CSS to use our eBay templates.
Simply enter your details in the appropriate fields.
Or use our straightforward text editor for custom layout configurations.
Then, watch your product listing come to life!
BiggerBids offers the perfect blend of power and simplicity.
Creating and editing your eBay auctions has never been faster or easier.
Time Saving Features:
Speed up the listing process by building reusable profiles for information that stays static across your auctions.
When creating a new auction, simply apply your profile and voila!
Most of the work is already done for you.
No need to enter the same information again and again.
You can manage multiple selling profiles within your account.
Cross-Promotion:
Get more mileage out of every eBay auction with Scrolleo, a dynamic Flash-based tool that's integrated with all our templates.
Scrolleo "scrolls" your other current eBay listings across the screen, giving them valuable added exposure that accelerates sales.
Unlimited Image Hosting:
While other services require you to constantly "upgrade" to new storage limits, BiggerBids gives you first-class image hosting without bounds.
Upload your product photos and graphics in bulk directly to your eBay templates, so they're available whenever you need them.
We even offer bonus tools like advanced image watermarking (to protect your images) as well as simple and effective image editing.
Reliable Support at Every Step:
BiggerBids is trusted by eBay sellers around the world—and we're here to help you succeed.
That's why we offer comprehensive user support ranging from step-by-step video tutorials to our Frequently Asked Questions archive.
If you can't find the answers you need on our site, our real-live experts are always just an email away.
One Flat Fee. Unlimited Access to eBay Templates
Enjoy unrestricted access to BiggerBids' powerful suite of eBay seller tools—from our vast template gallery to our image hosting—for a nominal subscription fee.
There's no commitment; you can cancel anytime!
Get everything you need to build eye-catching, detailed eBay listings that captivate shoppers without overwhelming them.
Create an infinite number of auctions using one intuitive online interface. Since our system is web-based, you can log in and manage your listings anytime, anywhere.
The best way to grasp the potential of our eBay seller tools is to try them yourself!
Sign up for our risk-free trial and get full user privileges for 15 days.
Website Templates for ebay Sellers ~ Auction Templates for ebay
BiggerBids was originally launched for primary use on eBay, sellers with eBay Stores and eBay Motors…and it's still our biggest base of users.
If you're already selling on eBay and have found yourself here at BiggerBids, chances are you already know that you need something more than eBay's default tools.
So, what we want to do is help you determine if BiggerBids meets your specific needs with our auction templates.
Mobile Responsive Active Content Compliant eBay Templates
Everything you need. Nothing you don't.
Subscription Options