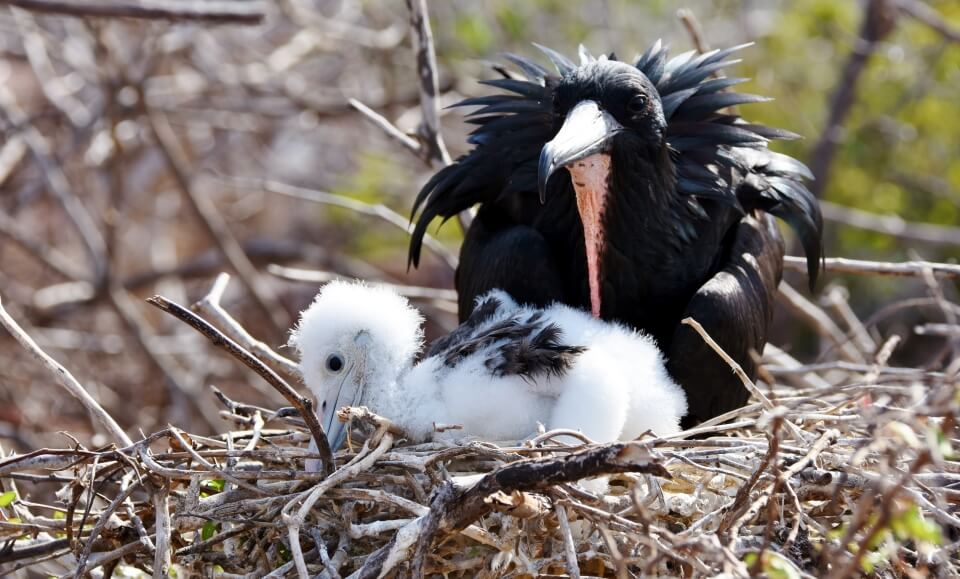 Day Tour or Bay Tour in the Galapagos: What's Your Best Choice?
Photo From finchbayhotel
Originally Posted On: https://www.finchbayhotel.com/blog/day-tour-or-bay-tour-in-the-galapagos/
There are different ways in which to explore the magnificent Galapagos Islands. When it comes down to planning, travelers usually base their decisions on budget, time or specific interests. Be it through a Galapagos expedition vessel or a land-based option, there's no doubt you will be amazed by the wonderful world you will encounter in the archipelago. The unique and tame wildlife, the rare vegetation, the hospitality of its people (yes, for those of you who didn't know, 3% of the Galapagos are inhabited), they all add up to a one-of-a-kind experience. When choosing a land-based option, make sure you go for the one that will transform a regular vacation into an unforgettable one. It's all about the details, service, and exploration choices!
Table illustrating the difference between Bay Tours and Days Tours in the Galapagos.
Day Tour or Bay Tour in the Galapagos?
A beach-front hotel in a secluded location, like Finch Bay Galapagos Hotel on Santa Cruz Island, is the perfect place from which to discover the Enchanted Islands. Once there, visitors are highly encouraged to try to visit some of the archipelago's most beautiful beaches and its most iconic neighbouring isles in order to get a more in-depth understanding of this wholly unique place. To do so, you will find two highly popular options that are in Puerto Ayora: a Day Tour or a Bay Tour. Read on to learn the difference between a Day tour or a Bay Tour in the Galapagos and choose the one that will make the most of your time in this unique destination!
Aboard our Yacht Sea Lion, our guests will explore the must-see visitor sites of Galapagos.
Bay Tour
Bay Tours are usually operated by small motor boats that do not have permits for disembarking on the uninhabited islands that make up the Galapagos National Park. This means they only visit the surrounding beaches of Puerto Ayora and passengers are only allowed to snorkel around the boat in open water. Bay Tours also don't include a Naturalist Guide as part of their trips and it's usually the boat's owner and "chauffeur" that are in charge of everything, from explanations to safety. Most of the time, Bay Tours don't include snorkeling equipment and they may or may not include a box lunch, depending on the package visitors decide to go for. The boats are usually small and have no indoor space or air conditioning to help cool down from the intense Galapagos sun.
Santa Cruz is one of the inhabited islands of Galapagos. Bay Tours don't include a comprehensive exploration of the archipelago.
A Bay Tour, as its name implies, focuses on observing Santa Cruz's coastline and bays without disembarking at National Park Visitor Sites (remember that inhabited areas are not considered part of the Galapagos National Park). On a Bay Tour, passengers would have the chance to observe some of the Galapagos BIG15 and other wildlife from a distance, but no close-up observation and understanding of their behaviors is possible or even explained. As mentioned before, Bay Tours in Galapagos do anchor in specific places, but only out in open water to let their guests swim and practice snorkeling directly beside the boat. As safety measures, Bay Tours are required to provide their passengers with life jackets.
Day Tour
A Day Tour is the other option that you can choose for exploring the archipelago if you decide on opting for a land-based excursion. Day tours are provided by yachts that do have permission to disembark at iconic islands – North Seymour, Bartolome, South Plaza and Santa Fe – and are done in the company of a professionally-trained Naturalist Guide. It's an excellent way to experience the Galapagos National Park and the uninhabited islands. If you want to have the best coverage of Galapagos BIG15 iconic species and see a plethora of wildlife in its natural habitat (without the disturbance of human civilization!) a Galapagos Day Tour is the way to go. Witness blue-footed boobies nesting or doing their silly courtship dance, walk by huge colonies of frigatebirds and Galapagos sea lions, or observe marine iguanas basking under the equatorial sun. A true and fulfilling Galapagos experience comes from being able to observe these beautiful creatures up close.
It's also important to note that Galapagos Day Tours on yachts, as is the case with the Finch Bay's own Sea Lion Yacht, usually take care of everything for those onboard. Not only are all safety measures considered, but also lunch and snorkeling masks are included. On our Sea Lion Yacht, a delicious buffet-style lunch awaits guests that are coming back from swimming, hiking or snorkeling. This lunch is prepared fresh and on board by the yacht's own cook. If you require a special meal or have dietary restrictions, be sure to let us know at the Hotel's reception – we'll be more than happy to accommodate our culinary fare to your specific needs. The Sea Lion also has an indoor, air-conditioned space where guests can sit comfortably and an open, covered deck from which to observe the amazing Galapagos landscapes!
Aboard the Sea Lion Yacht, a 5-member crew is at your disposal, making sure you are safe and comfortable at all times. Our Naturalist Guide briefs the group prior to disembarking at a specific island or before partaking in any activity. That way, they talk the group through all safety procedures as well as informing them on what they are about to see: animal and plant species, geology and history. Each island has its own particularities that make it unique and special. Without a doubt, they are all worth a visit, which makes a Galapagos Day Tour a superb choice!
We are ready to provide you with a superb service onboard.
NOTE: According to the National Park's latest count, there are only 11 yachts authorized for Day Tours on the island of Puerto Ayora, so make sure you don't have the wool pulled over your eyes!