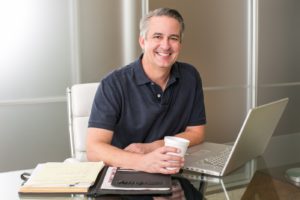 BUYING OR SELLING A BUSINESS IN 2021
Photo from depositphotos
Originally Posted On: Buying or Selling a Business in 2021 | Synergy Business Brokers (synergybb.com)
Despite what many people think, 2021 is a good time to buy or sell a profitable business. In fact, we sold more businesses in 2020 than any other year, and 2021 is shaping up to be even better. We'll cover some of the reasons why the outlook for 2021 is favorable for buying or selling a business. Keep in mind that Synergy Business Brokers focuses on selling companies that have net incomes of $200,000 to $6 Million, so we'll be talking about this segment of the market.
HIGH DEMAND FOR THE PURCHASE OF PROFITABLE COMPANIES
The private sector has mirrored, to a certain degree, the stock market. Public companies that have continued to grow during the pandemic have seen their stock prices soar. Private companies that have continued to grow profitable during 2020 and 2021 have also seen their valuations rise.
However, since many business owners think that it is a bad time to sell, there is less supply of profitable companies. This has further increased the demand for these companies. In most cases, we have many interested buyers and multiple offers. This puts the seller in a position of leverage in negotiating price and terms.
Of course, you can't have a price that is out of range with normalcy, but you can expect a very healthy market for profitable companies if you price it correctly. For buyers, this means that they will need to be transparent with their financial capabilities to close on a deal. Business Brokers and owners will want to make sure they have the financial capabilities before investing time with them.
If a buyer needs financing, we can put you in touch with banks that can prequalify you, which will help to make the best use of your time and the seller's time. Typically you will need to have 10% to 20% in liquid capital, good credit, and relevant work experience or own another profitable business to qualify to purchase a business. Keep in mind that if you are competing against an all-cash buyer such as a private equity firm or public company, you may need to make a better offer in addition to being prequalified.
HOW DOES COVID 19 AFFECT BUYING AND SELLING A BUSINESS?
Most things can be done remotely, so the business sales process has not been interrupted by COVID-19. People can meet when necessary with social distancing. Otherwise, most things can be done electronically and through phone calls and zoom. We had virtual closings before 2020 and now moving into 2021 have even more of them, with money being exchanged via wire and documents signed electronically.
WHAT INDUSTRIES ARE PARTICULARLY DESIRABLE IN 2021
Any business that is growing profitably during the pandemic has seen a lot of interest from buyers. However, other businesses may have been adversely affected in 2020 and are now expected to rebound in 2021.  To give you an example of some of the businesses that we have sold during the pandemic, they are as follows:
Software Companies
Electrical Contractor
Environmentally Friendly Companies
Food & Beverage Distribution
Managed Service Provider (MSP)
Cleaning & Sanitizing Products company
Utility Services Construction
IT Services Company
Consumer Products Packaging
CNC Machine Shop
Property Management
Healthcare Businesses
Contract Manufacturing
Engineering
Education
Security services
WHAT BUSINESSES FOR SALE ARE AVAILABLE IN 2021
If you are interested in buying a business in 2021, please view our current businesses for sale below based on industry.
If you are interested in one of the businesses, please fill out our electronic NDA on the listing of interest and provide us some information on your qualifications on the electronic NDA form.
WHAT IS THE PROCESS FOR SELLING A BUSINESS IN 2021
The first step is a confidential consultation with one of our Senior Business Brokers. The consultation can be in person or on the phone. After that, if we both decide that it is a good fit, then we will send you our listing agreement for your review. Keep in mind that there is no fee on your part unless we sell your company. So our goals are aligned. We make money based on a percentage of the sale price.
We'll review your financial information and give you a potential selling price. We won't proceed with the marketing plan unless we agree on a potential price range. When we agree on that, we'll develop a marketing document that doesn't give away your business's identity until buyers sign a confidentiality agreement and provide some information on their qualifications. For more information, you can read about our 15 step business sales process.
WHAT ARE THE PROSPECTS FOR BUSINESS GROWTH IN 2021
Of course, no one can predict the future with certainty. Still, most people expect the economy to rebound pretty strongly when the vaccine allows us to reach herd immunity. Then people will be freer to travel, gather, and spend money in a variety of ways. This awareness creates the expectation for most businesses to improve their net income in the second half of 2021. This creates a demand from buyers that want to capitalize on this expectation.
PROSPECTS FOR SELLING YOUR BUSINESS AND RETIRING IN 2021
On the flip side, many business owners may consider selling their business in 2021 to retire and travel more and spend time with friends and family that they weren't able to see much during the pandemic. With demand high for profitable businesses, they will be able to capitalize on this and have additional money to do the things they could not do in 2020.
BUY OR SELL A BUSINESS IN 2021 WITH SYNERGY BUSINESS BROKERS
If you are interested in buying a business, please view our Businesses for sale to see if we have a business of interest. If you are interested in selling a business, please contact us for a confidential consultation.  We have been rated as a top Business Broker by many different firms including: