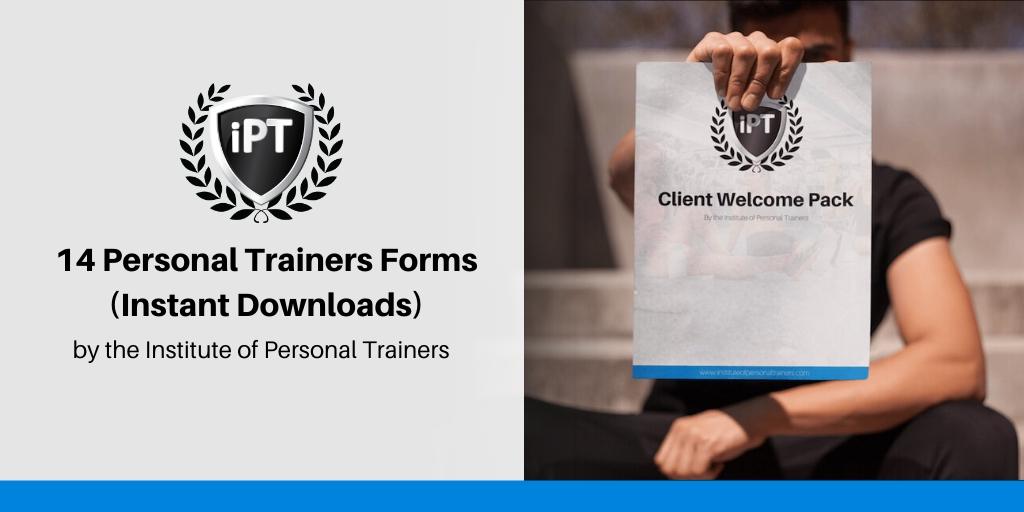 14 Essential Personal Trainers Forms For Your Fitness Business
Photo from instituteofpersonaltrainers
Originally Posted On: https://www.instituteofpersonaltrainers.com/blog/personal-trainer-forms
If you've started a fitness business you're going to need personal trainer forms. The essential documents required to both run a profitable business and manage your clients effectively.
Instead of making you sign up to yet another email marketing list to get your free personal trainer forms, waivers, release forms, consultation forms, intake forms and forms for clients, you can directly download them straight to your computer in Word format.
1. Client Welcome Pack
This is probably one of the most important forms you can have in place as a personal trainer because it is an opportunity to make a great impression on a new client. It can answer the questions that they have about personal training with you and can be fully customised for your own needs.
​Provided to us by the Online Trainer Academy, this document includes suggested topics, including outlining how your programme works, specialist terminology, gym etiquette, guidelines on workouts, sleep and safety. But can and should be fully personalised to your own business needs. Consider those things which your clients ask you most often when deciding what might be important to include.
2. Coaching Success Guidelines
This document lays out the expectations between the client and the personal trainer. It allows you to formally share information about how you conduct the training process and your philosophy as a personal trainer about your values. It outlines the coaching process – which is useful for people who may not have received support before.
​It's a useful way to clarify who is taking responsibility for which parts of the coaching process. Fully customisable, and could be amended to reflect each individual client's definitions of success so that it might be more easily recognised – and celebrated – when achieved and at each step along the way.
3. Client Goals Questionnaire
This simple form encourages your clients to think carefully and clearly about the goals they set and why they are important. The questionnaire uses a mix of closed and open questions to dig into client expectations as well as the reasons they value these as goals.
Crucially, there's scope for clients to record the effectiveness of their current regime, as well as setting projections for what they would like to achieve in the future. Research supports the idea that formalising goal setting, as well as finding the driving "why" behind the goals can improve adherence to exercise and nutrition programmes, and therefore improve success rates.
4. Client Lifestyle Questionnaire
This fully customisable form encourages clients to report on the lifestyle factors which are useful for considering the impact of personal training in the context of wider health markers. It has questions relating to work, sleep, stress levels, as well as a deep dive into their current exercise and nutrition habits.
​It's written in such a way that it could be sent to the client to complete alone, or completed together where there is more scope to talk about some of these answers in more depth. Includes a goods mix of subjective and objective markers which are illuminating when used alongside careful, non-judgemental questioning.
5. Nutrition Diary
This low tech solution is the perfect resource for the client who is new to tracking their food. A simple grid where they can hand-write the meals for each day of the week. This can be especially effective for clients that think they're accurately reporting and recording their food but are still gaining weight.
This can be particularly useful for clients who are resistant to using apps or find it difficult to make tracking their food a habit. Can be edited to include extra information where appropriate, such as hormonal cycles or mood tracking if the client requests help with emotional eating.​
6. Monthly Review Form
This is a very basic form which can be filled in and emailed to the personal trainer once a month. The questions are open-ended and there's plenty of space for the client to include a detailed response.
​The questions ask the client to identify goals which remain unmet and areas which could be improved going forward, which shifts the responsibility for problem-solving onto the client. This is an important step because when clients have identified a possible solution themselves, they will be fully on-board with using their own suggested methods of solving any issues they have.
7. Client Accountability Form
This is such an important part of the coaching process, and it's so easy to get it wrong despite both parties having the best intentions. This form, completed at the beginning of the coaching relationship, can help to clarify what course of action the client would like the personal trainer to take if they aren't doing what they need to.
​It suggests ways that the client might want to manage a lack of compliance and a way to review the coaching relationship after a number of days. This level of accountability discussed at the outset of the training relationship shows a real commitment to managing any roadblocks.
8. New Client Agreement Form
This form outlines a number of agreements between the trainer and the client which are useful to have in place in advance of the start of the training sessions. They include a commitment agreement, what happens in the event of a late start or no-show, your policy on refunds, as well as the way you would like to get paid.
It's useful to have these agreements formally discussed and signed so that clients fully understand the way things operate – particularly with regards to the finances around a late cancellation. If these aren't in place at the start of the coaching relationship, they can be hard to put in place after.
9. Payment Arrangement Form
This form details the agreement of the payment schedule. It includes information about the fee, payable monthly (or customisable to whatever schedule you use in your personal training business). It details the payment options available (PayPal, bank transfer, direct debit etc), as well as the cancellation schedule.
​It's recommended that you send this information on company letterheaded paper, or formally invoice it when appropriate. Clarity around the payment information is particularly important for clients when committing to long term coaching relationships.
10. Medical Release Form
This medical release form may be necessary for clients who need medical clearance from their GP before starting a personalised exercise programme. It invites the doctor to indicate if training is to be avoided when the patient has cardiovascular health problems and is taking medication to manage their symptoms.
​There is space for the doctor to sign, indicating that the patient is cleared for exercise and any necessary modifications that should be in place for them. If you client does need a medical release form, it should be kept on file as it will include a list of medications.
11. Contract for Services
This is a contract outlining the appointment, duties, invoices, payments, expenses, confidentiality, and legal rights and responsibilities of the trainer. It's written to outline the relationship between the personal trainer and the gym facility they work at and could be edited to reflect the details of that relationship such as rent arrangements or hours worked in lieu.
​It is likely that the gym will have their own version of this contract, but in the event, they don't have this in place, this could be used as a template to reflect the working relationship.
12. Referral Request Form
This form is written in the style of a friendly letter or email. It congratulates the client on the progress they've made so far and invites them to refer your services to a friend or colleague that would also be a good fit.
​Asking for referrals within your personal training business is encouraged every few weeks, and can be a source of many positive, long term coaching relationships. This letter makes it easier for you to ask for those word of mouth referrals in a way which is standardised and can be systematised within your personal training business.
13. PAR-Q Form
The physical activity readiness questionnaire (PARQ) is probably the most essential form for your coaching pack. It's a straightforward form which should be completed before any physical activity is undertaken, and is the document which clears your client as safe to embark on a physical exercise regime.
​Under some circumstances, further clearance from a doctor may be necessary. The PAR-Q should be completed again if the client has returned after 6 months of lapsed training and all PAR-Q forms should be kept on file. In order to be compliant with GDPR, keep your completed PAR-Q forms only as long as needed.
14. Online PT Informed Consent
Provided to us by PT Distinction, this form outlines a general statement of the objectives of the online training programme as well as the procedures that will be followed to achieve them. There is a short section outlining the potential risks of the training programme – which are important in a remote training context when your client is working without your immediate supervision.
​There's also a section outlining the potential benefits. Both paragraphs can be customised where necessary to more precisely reflect the client's particular programme. Additionally, there's a section at the top of the form which includes contact information – if you wanted to send a personal card through the post; always a nice touch!
Get More Personal Trainer Forms
If you like these
personal trainer forms
and think you'd benefit from not only more documents for fitness businesses, but social media posts, email marketing templates and Facebook ad templates,
Join the Institute of Personal Trainers
.