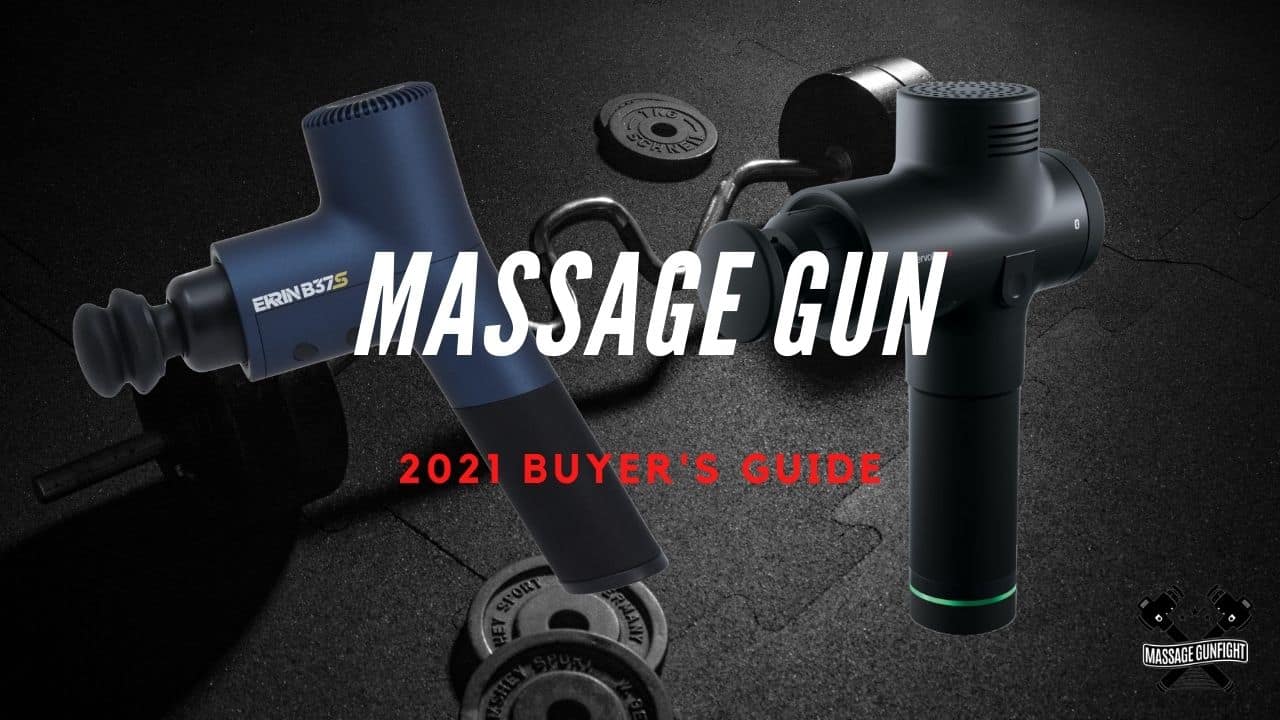 Best Massage Guns: Buyer's Guide 2021
Photo
from massagegunfight
Originally Posted On: https://massagegunfight.com/massage-gun-buyers-guide/
10 Best Massage Guns Compared
The Ultimate Massage Gun 2021 Showdown
Whether you're an avid athlete or simply suffer with muscle aches and pains, you've likely thought about buying a percussion massage gun.
Research is continuing to evolve, but in some studies, massage or its derivative has shown to be extremely effective:
"The current evidence suggests that massage therapy after strenuous exercise could be effective for alleviating DOMS and improving muscle performance." [1]
So if you're going to incorporate a massage gun into your recovery routine, how do you choose which is best? In the last couple years, massage guns have flooded the market, making it increasingly more difficult to make that distinction .
To help you make a more informed decision, we took it upon ourselves to buy and test the most popular massage guns available.
What we looked for in a percussive massage gun:
Design and Ergonomics: If you're going to invest a couple hundred dollars or more into a massage gun, we wanted to make sure it was made well and comfortable to use. We asked ourselves, "Is this something we could use without much fatigue?".

Features: We looked at what came included in the box. We also looked at the devices themselves to determine what differentiated each model from the others. Ultimately, we simply tried to justify the price differences and which offered the most value.
Battery Life and Charging: If you are going to be using your massage gun with any amount of frequency, it's important to know how long it's going to last before it cuts off. No one wants to be tied to a wall socket!

Noise: We ran the various scenarios of where you might use your massage gun. For us, the last thing we want is to draw attention to ourselves while trying to stretch out a tight hamstring.
We used and abused each of these devices to determine which is the best massage gun to buy in 2021. Per the usual, let's start this Massage Gunfight showdown.
Best All-Around Massage Gun: Ekrin B37
Ekrin
Update #1: Read our review and then order now to get 20% off! Use promo code "MASSAGEGUNFIGHT20"
The Ekrin B37 is ranked as being one of the best massage guns for its perfect balance of power, design, and cost.
From the unboxing of the Ekrin B37, we knew it was special. The overall feel and design of the B37 is premium. From the soft touch polycarbonate body to the 15 degree angled handle, it feels wonderful to hold in the hand.
Powering it on, the thrill continues as the brushless 5-speed motor seamlessly and smoothly hums along at 1400-3200RPM. There are very few massage guns that deliver this amount of power.
We think the Ekrin is a great choice for not only the avid exerciser, but anyone that frequently complains of muscle soreness and muscle knots. The icing on the cake? The price. It costs about half that of the Theragun Elite. Read our full-review here.
A LIFETIME warranty and free shipping from a US based company is included. International shipping available!
What buyers say: "The Ekrin B37 massage gun has met all of my needs and exceeded all of these expectations." one buyer wrote. "Absolutely love this. Now I am kicking myself for waiting so long. Wish there were more than 5 stars available to rate it."
Limited-time: Get $46 off with promo "MASSAGEGUNFIGHT20" at checkout.
opove M3 Pro Max
The M3 Pro Max is easily one of our favorite massage guns for it's great power and affordable price. Compared to the original M3 Pro model, it's much more powerful and has some added features that make it worth the extra money.
The design and ergonomics on this model are very good and similar to a Hypervolt. It's a fairly ubiquitous design, but it works well.
The opove M3 Pro Max massage gun provides plenty of thumping power given the massage head travel amplitude of 15mm. With 4 variable speeds, you can dial in the intensity as you see fit. At times, we found ourselves dialing back the speed because it was almost too much. That's not a bad thing!
We found the battery life to be more than acceptable. The lithium ion battery seems to hold a long charge that we appreciate. Total charge time is rated at 2-3 hours.
What buyers say: "What I can tell you for sure is that it works great, it's relatively quiet for how powerful it is and the fit and finish are top-notch."
(Get 20% off the purchase price with promo code "MGF20" at checkout.)
We took a gamble testing out the addsfit MAX and so glad we did. We had never heard of it before, but it is rated 4.8/5 stars on Amazon. After a thorough trial, we're impressed. The body is covered in a soft touch plastic and the grip is very comfortable for hands of all sizes.
With 9 appreciable speeds, you can adjust the percussion to your liking. We found the performance to be inline with the best massage guns out there while keeping noise to a minimum. You can easily hold a conversation with your gym mate without using a megaphone.
It's worth noting that unlike other massage guns, the head attachments are made of an elastic, soft silicone. Frankly, it was a nice change from the rock hard alternatives, while still offering a deep massage.
Battery life is acceptable. After using it for several days off and on, it still has over half a charge left.
The addsfit MAX comes in a molded case with 5 attachments and a charger. When you register your product online, an unheard of 3 year warranty is included.
What buyers say: "This massage machine is magical. Multiple members in our household get a lot of tension headaches and we have a volleyball player in the house with very sore muscles all the time so we decided to try this massager at home to see if it could help solve these problems. WORTH IT!!! This thing is absolutely powerful and effective."
Most Innovative Massage Gun: LifePro Fusion X
We're not trying to play favorites here, but LifePro makes some really fantastic massage guns.
The LifePro Fusion X heated massage gun is one of our favorites for its new and innovative features. It shares many of the same specs as other massage guns, but has a few distinguishing options we absolutely love!
Let's talk about the ceramic heated attachment head shall we? At first, probably like you, we thought it was a total gimmick. Come on, how can a attachment actually provide enough heat to offer any sort of therapeutic relief? We were completely wrong! With 10 minutes of preheat time, it gets super toasty and feels really good as you float the massage gun across your muscles.
The build quality of the Fusion X is top-notch. It's very solid and doesn't feel like a cheap toy. All the attachments and the battery stay firmly seated in the body.
Thanks to the 5 speed brushless motor, the Fusion X is very quiet and won't disrupt the entire house. We found the motor did provide sufficient power for most users. However, the massage head only has an amplitude of 10mm which might not be deep enough for some.
An attractive molded case is included with 5 attachment heads and a charger.
LifePro offers a Lifetime Warranty on all their equipment. That covers any mechanical or electrical failures. By far the best warranty in the industry.
What buyers say: " I've had several other massagers of different types and this one is by far the best. It is powerful, very well put together, and is simply a quality product that does what you expect it to do."
Premium Massage Gun: Theragun Elite
The Theragun Elite is hands down one of the best massage guns for not only its stellar looks, but outrageous functionality too. We consider it the Apple of massage guns. It's well designed. It's aesthetically beautiful. Like an iPhone, you'll do well to protect it, because it's not exactly cheap to replace, but in our opinion 100% worth it.
Unlike its last generation predecessor the G3, the all-new Elite is leaps and bounds better in almost every way. Topping that list is the noise level. The Elite is about 75% quieter thanks to the new QX65 brushless motor. Second, the beautifully designed triangular shaped body design is now smaller and lighter than the G3. Very impressive!
The Theragun Elite has a built in battery with an estimated run time of 120 minutes. Performance wise, the Elite has 5 speeds available with up to 40lbs of stall force pressure. Although plenty powerful, you'll need to upgrade to the Elite's older sibling, the PRO for more power and increased battery life thanks to 2 removable batteries. Alternatively, if you're in love with the Theragun Elite, but hate the price, they do offer the Prime and mini models too.
The Theragun Elite comes in an attractive molded case with 5 attachments and a power cord. Available in white or black!
See our in-depth review of the Theragun Elite here.
The Best "Not A Hypervolt" Massage Gun: opove M3 Pro
(Get $45 for a limited time here)
With over 2000 positive 5 Star reviews on Amazon, the opove M3 Pro is set to dethrone Hypervolt. With what looks to be a complete knock off of the Hypervolt, the M3 Pro is hard to distinguish from its counterpart. Same shape, size, and design? Check. Removable battery? Check. Same set of attachments? Check. Same warranty? Check. Carrying case? YES (unlike the Hypervolt)!
There's truly not a whole lot that differentiates the Hypervolt vs. the M3 Pro unless you nit pick. With the two side-by-side, the Hypervolt does appear to be more refined. The finish is smoother. The seams are less pronounced. The battery indicator is uniform around the base. That's being ultra picky. In our opinion, the M3 Pro is one refresh cycle away from meeting the Hypervolt's quality. That says a lot for a device that's $150 less.
So is there any reason left to buy the Hypervolt? The only significant difference we noticed when testing the two was in the percussion. Each share 3 speed settings. We noticed that the highest speed on the M3 Pro was about the middle speed on the Hypervolt. The Hypervolt percussed just a bit faster when set on high. Is it enough to degrade your muscle busting sessions? Probably not.
Should you buy it? The best analogy we can come up with is that it is the difference between buying a Toyota and a Lexus. Essentially the same reliable cars with one having a more premium fit and finish.
What buyers say: "I cannot express the amount of relief I've gotten from this product. It is powerful enough to get into the deep tissues where my pain lives and release the tension therein. I suffer from some chronic pain due to a few ailments, and this has worked better than any prescription."
Most Popular Massage Gun: Hyperice Hypervolt
A massage gun comparison is never complete without the Hypervolt. Next to the Theragun, the Hypervolt is one of the hottest massage guns on the market today. We've personally been using a Hypervolt on an almost daily basis for a year now without issue. It's reliable, holds a consistently long charge, and its 3 speed motor provides more than enough percussion. In practice, the Hypervolt is quiet, mostly. On the highest setting it does tend to run up the decibel meter. Not so much that it becomes uncomfortable, but enough to be an annoyance with ongoing use.
As mentioned, battery life is good and lasts about the 3 hours advertised. The battery is removable, making it easy to swap out a replacement. That's a huge plus over the competition.
In general, the Hypervolt is a well made, proven percussion massage gun. In the box you'll find 4 attachments and the charger only. We wish for the money spent it included a hard case, but that's sold separately.
What buyers say: "I've yet to run into a muscle knot this will not eventually break. I went from full lock to jelly within about 20 minutes of usage. The unit is drastically more powerful that other consumer products."
Small But Mighty: VI Jigsaw Massage Gun
(Update: Get 10% off with promo code "MASSAGEGUNFIGHT10")
The VI Jigsaw is one of the most powerful massage guns around and comes in at a really great price.
The one and only reason the VI Jigsaw massage gun is so far down the list is for one reason: It is LOUD. Like working in a steel factory loud. However, if pummeling your tight, sore muscles into submission is your goal, this is the massage gun for you. The VI Jigsaw is best described as being industrial. From the look to the feel, this massage gun is sturdy. The diminutive size caught us off guard at first. We fully expected it to be bigger, but as it goes, size doesn't matter.
The VI Jigsaw has 6 speeds ranging from 400 to 2400RPM. Trust us, it gets the job done. We also liked the fact that it comes with not one, but two fast charging batteries. Similar to the Pulse FX and the DEEP4s, the massage head rotates 90 degrees for better maneuverability.
In the box, you'll find a carrying case, two batteries, a charging base, and 3 different massage tips. Comes with a 1 year warranty.
What buyers say: "This thing is amazing. I researched all of the percussion massage guns currently on the market, and this is going to be your best value. The more expensive devices get the same job done, but may only be quieter."
Best Budget Massage Gun: Playmaker MVP
The PlayMakar delivers a considerable amount of power for its mid-sized form factor. At around $150, it ticks all the right boxes which makes it one of the better affordable massage gun out there. The MVP delivers quality percussive therapy, the battery lasts up to 5 hours and it's lightweight.
Compared to the other best massage guns, the performance isn't quite on par, but not by much. It still delivers surprising level of relief for all your aches and pains. If you're looking for an all-around great percussive massage, the Playmakar MVP is worth your consideration.
The MVP comes with six attachment heads, including two more comfortable ball heads. Comes with a 2 year warranty for piece of mind.
What buyers say: "I looked for a long time, to find a massager that really had some punch to it and was a decent price. I found that with PlayMakar MVP. It has great, adjustable percussive strength, and the numerous attachments with the MVP give you everything you need to address any problem muscles."
Best Mini Massage Gun: LifePro DynaMini
LifePro DynaMini
The LifePro DynaMini takes small to a whole nother level. During our hands-on time, we were impressed not only by the portability and power of the DynaMini, but also by the impressive battery life as well.
In order to fully appreciate the DynaMini, you really have to accept it for what it is rather than the tradeoffs that come with such compactness. This is the perfect go-to massage gun to use while you travel, in the car, while you're shopping–you get the idea. It's so portable and discreet, no one will know you even have it.
One of our favorite features of the DynaMini is the fact that it's charged with a USB-C cable. USB-C has become the ubiquitous charging cable of most laptops and cell phones nowadays. It's nice to know you won't have to worry about carrying around yet another charger.
Inside the box you'll find 4 massage gun attachments, a USB-C cable, and a sharp looking carrying case.
What buyer's say: "This Mini gun is amazing! Super compact, super convenient charging, super easy to pack, thanks for the free travel bag!"
If you're looking for some ideas on how to use a massage gun, be sure to check out our article: How To Use A Massage Gun To Turbocharge Recovery
Editors Note: To determine "the best massage gun", we tried to remain as objective as possible. Every massage gun on this list was personally tested by us. We believe recommending something without any hands on experience lacks integrity. As an affiliate marketer, we may earn a commission from qualifying purchases.