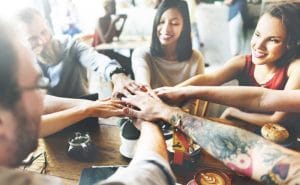 Addiction Treatment Center Programs Worcester Massachusetts
Treatment for drug and alcohol addiction cannot be a one-size-fits-all approach. That's why Washburn House in Worcester, Massachusetts customizes its addiction treatment programs for your unique needs. After a thorough evaluation, our medical team at our addiction treatment center in Worcester, Massachusetts will determine which type of addiction treatment is best for you. Then you'll partner with a Master's-level clinician and a case manager, who will walk you through your recovery process every step of the way. We may also assign you to live in our women's or men's rehab center.
Our Addiction Treatment Programs in Worcester, Massachusetts
Medically Monitored Detox
Detox is often the first step on the road to recovery. This is when the body clears the substance you've been using from your system. It can be an uncomfortable period, as you start to feel withdrawal symptoms. Our skilled team will customize your detox program to make your experience as safe and as comfortable as possible. And our medically trained staff will always be available.
Clinically Managed Inpatient Drug Rehab
After completing a detox program through one of our addiction treatment programs, you may enter our inpatient drug rehab program. In this residential program, you will live at the treatment facility and receive 24-hour care. Living at Washburn House helps keep the distractions of work and home life from interrupting your path to recovery. During your stay, you will attend at least 10 hours of group therapy and 15 hours of group psycho-education per week. In addition to group therapy, our inpatient drug rehab program includes three one-on-one therapy sessions each week.
Day Treatment
If you have graduated from inpatient drug rehab or have a sober living situation at home, our day treatment program (partial hospitalization) may be right for you. During this outpatient treatment program, you will not live at Washburn House, but you will attend up to six hours of group therapy five days a week at Washburn House. Our partial hospitalization program in Worcester, Massachusetts includes one-on-one counseling and group counseling. Some may be prescribed medication to help with recovery, but it will be combined with behavioral therapy.
Intensive Outpatient Program (IOP)
After completing a PHP or other inpatient treatment program or while living in recovery at home, you may choose to continue your journey in our intensive outpatient program. Despite its name, intensive outpatient drug and alcohol treatment is less intensive than day treatment. You will only be asked to attend about three hours of group sessions at our intensive outpatient rehab center in Worcester, Massachusetts at least three days per week. Individual treatment is still available with this outpatient program, so you can stay focused on your personal recovery plan.
We believe you should have a choice in how you recover. That's why we offer several specialized classes through our addiction treatment programs. The classes that are currently available are:
Yoga
Cooking
Painting
Poetry
Book club
Journaling
Music therapy
Building healthy relationships
Making a budget
Identifying your triggers of addiction relapse
At Washburn House, we are constantly improving our programs, including our addiction treatment programs in Worcester, Massachusetts, to better meet your needs. Our programs include:
Meth addiction treatment center
If you're finished struggling with addiction and ready to start your recovery journey, call our addiction treatment center in Worcester, Massachusetts today at 855.298.3104.