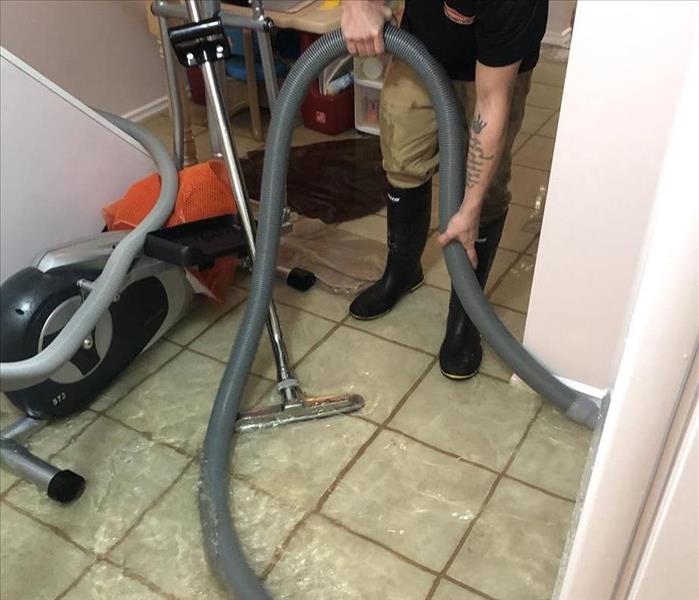 What Should I Do When Water Damage Happens?
Photo by SERVPRO
SERVPRO of Mississauga Can Help You Remediate Water Damage in Your Home
Having an appliance suddenly break down and leak onto your floor could make anyone worry about the possibility of water damage. Imagine a scenario where the water supply line of your washing machine breaks and causes a mini flood in your upstairs laundry room. The pooled water can sink into every nook and cranny in sight. Before long, it can travel along with the frame of your home and soak other floors without warning, leaving a trail of damage in its wake.
What Can You Do When an Accident Causes Water Damage in Your Mississauga Home?
A fast reaction means everything during a water damage emergency. You can prevent further damages by quickly:
Shutting off the water supply to your house
Immediately calling for professional services
Locking any pets away so technicians can move about freely
Here at SERVPRO, we have built our entire business model around getting to your home when you need us. From your first call, our goal is to get our technicians out of our facility and to your home. Our highly trained water damage restoration technicians (WRT) can use our signature green vans to arrive at your home as quickly as possible.
How Can You Find All the Spilled Water in My House?
A washing machine leak can spill a lot of water into your home, and it doesn't have any issues moving about. Here at SERVPRO, our techs are trained to look for signs of water damage and can use advanced technological devices to look for hidden pockets of water. Our techs can use various techniques and devices to find water, such as:
Moisture meters
Physical signs of water damage
As our technicians probe your home, we can locate the pockets one by one and use wet/dry vacuums and extractors to remove any standing water.
If you think you need water damage remediate, get help immediately. Get in touch with SERVPRO of North Mississauga by phoning (905) 238-7376. We're always ready for you.
To find out more about Mississauga, click here.