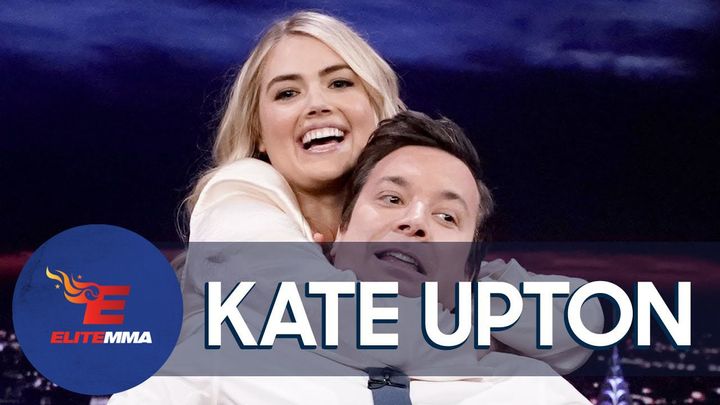 Actress Kate Upton Reveals She's Doing MMA Training at Elite MMA
For the longest, Kate Upton's MMA training was Elite MMA's best kept secret. Since the announcement of Kate's first belt promotion, many of Elite MMA's students have been asking, "Which class is Kate doing? That's the one that I want to do!"
What Is It Like Doing MMA training For A Celebrity?
Elite MMA Co-owner, Frost Murphy, says, being able to maintain clientele privacy and keeping training discreet is something that we take very seriously. We are happy to provide this service for Kate and our other students who may be celebrities, political figures and those with high public profiles wanting to keep their training under wraps. For now, Kate is continuing to train in the private setting, but who knows… Maybe someday she'll be choking out all of the students in the group classes!
Coach Josh Lanier posted:
I am very proud and honored to have @kateupton as a student. She is one of the hardest workers in the room, expects nothing but gives everything in every training session. From rolling 10 hard rds to sparring Muay Thai for a hour she is the definition of a fighter. Congratulations on your first stripe"
Hai Nguyen, cofounder of Elite MMA, was present at Kate's first belt promotion. "As a lifelong martial artist, what I saw coaching Kate is that she is a powerful, confident, and determined individual. She doesn't care what she has to do to get the job done. She was highly coachable, did what she knew and implemented any feedback without hesitation or question.
With her training, we were really able to effectively push her to her limits. Her regimen includes Boxing, Muay Thai, Kickboxing, wrestling, and Brazilian Jiu-Jitsu. Her potential to succeed in martial arts was evident with her stand up discipline. Kate was able to train for 20 minutes non-stop, then she trained 10 rounds with Coach Josh and myself trading off on her without any rest. She performed at a world-class level. Thank you @justinverlander & family for providing the space for her to follow her dreams both on and off the mat.
What Other Celebrities Are Taking MMA Training?
Since the announcement on her Instagram page, Access Hollywood, NBC and so many of the other major media outlets have covered the story as so many other celebrities seem to be flocking to Jiu Jitsu and MMA Training. Ashton Kutcher, Keanu Reeves, Demi Lovato, Vince Vaughn, Tom Hardy, Sean Patrick Flanery, and Usher just to name a few… but we can't leave out everyone's favorite Hollywood Jiu Jitsu Black Belt, Al Bundy himself – Ed O'Neill!
"We will continue to respect Kate's privacy and help her with her martial arts goals, just like we do for all of our students in Houston, Baytown, Kingwood, Humble, and Atascocita," says Elite MMA cofounder Eric Williams. '
If you are curious to see if Jiu Jitsu is for you, stop by at one of our 5 locations in the Greater Houston Area and take a Complimentary Session, You won't regret It!