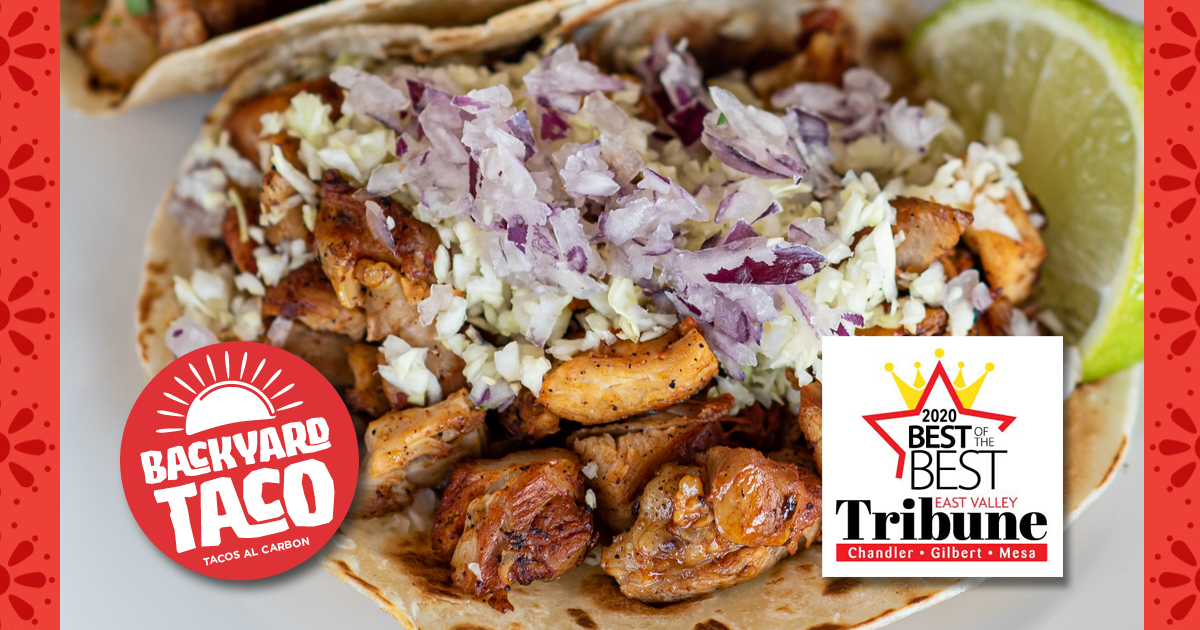 Backyard Taco Was Voted the Best Tacos in the Arizona East Valley 6 Years in a Row!
Originally Posted On: Backyard Taco: Voted Best Tacos in the Arizona East Valley for 6 Years Running
When we started cooking tasty, creative tacos in our back yard all those years ago, we never dreamed it would lead to this. However, have just one meal at any of our four Backyard Taco locations in Arizona, and you won't have to ask why we're adding two new locations just to keep up! Whether you grew up a taco lover at heart or you've recently started looking for authentic Mexican food made with the freshest ingredients and boldest flavors, Backyard Taco is the absolute go-to when it comes to enjoying great food with friends and familia!
Want proof? The Tribune recently honored Backyard Taco for serving the best tacos in the Arizona East Valley, making our record an impeccable 6 (!) years in a row.
WHAT WE OFFER THE ARIZONA EAST VALLEY
From our humble roots crafting quality home cooking in our own backyard, we have since developed our classic Mazatlan, Mexico-derived techniques across an amazing team of cooks and restaurant staff. We bring a taste of our home to each of our restaurant locations, and all serve up a menu of creative, authentic tacos that can only be described as "crazy good" and "to die for!" To say the least, our customer testimonials tend to speak for themselves!
Our quaint little taco shops are now in six convenient Arizona locations and offer online ordering, indoor dining, take out and drive-through service. If you prefer to experience our tacos in the comfort of your PJs, we offer third-party delivery, too. No matter which way you choose to enjoy our authentic Mexican food, we promise you'll love every bite. Best of all, most of our customers like to stick around for the exceptional service and the connection they feel to the awesome community we've built right here in Arizona's backyard.
If you need to save your tacos for another time, Backyard Tacos has you covered. We sell gift cards that can be used at all our locations, and we cater, too! Covid-19 restrictions may have put limitations on large gatherings, but we can still help you with supplying delicious tacos and other Mazatlan staples for your nearest and dearest. Give us a call to work out the details.
OUR FAVORITE MENU ITEMS
While we know you'll develop a few favorites of your own, there are so many tasty tacos on our menu, you'll need somewhere to get started. Check out our favorite menu items (as if we can pick just one!) Keep in mind, all our food is homemade, using the most high-quality fresh ingredients.
THE BEST TACOS
You haven't lived until you've tried Backyard Taco's famous street tacos. Made with soft, warm corn tortillas, these tacos are filled with your choice of slow marinated, grilled meats. Choose from carne asada steak, chicken, birria (shredded beef), or pork al pastor seasoned with authentic spices and flavors to satisfy every mouth they enter.
CRAZY POTATO (PAPA LOCA)
We bake our potatoes until they're crispy on the outside and hot and fluffy on the inside. Then, we top yours with your choice of seasoned meats (or veggies for our vegetarian amigo), cheese, or al pastor sauce. This potato is served with sour cream and chips, making it a meal in its own right!
STUFFED QUESADILLAS
You've never had a quesadilla quite like this. We fill two warm tortillas with your favorite meat or seasoned vegetarian fillings and stuff the whole thing with gooey melted cheese. It's a perfect meal for one or an appetizer for two to share.
GRILLED GORDITAS
Gorditas are an authentic Mexican flatbread made from cornmeal and fried until they've reached the perfect savory crispiness. Then, we stuff them with your choice of meat and veggies, as well as cheese or our famous al pastor sauce.
GRILLED TOSTADAS
Better than any nacho or Mexican pizza you've had at the chain down the street! We layer crunchy corn tortillas with your choice of meat, lettuce, refried beans, and lots of radish, cilantro, onion, and avocado. Fresh, hot, and bursting with flavor, grilled tostadas can satisfy any craving.
BURRITOS
Our burritos are a hearty meal packed with your favorite Mexican flavors. Fill yours with our finest marinated meat, fajita veggies, rice, beans, and cheese, and we'll wrap it all in a giant flour tortilla. The result is the world's most flavorful burrito, ready to feed the hungriest of burrito lovers.
WHO'S BEHIND BACKYARD TACO
We are Ruben and Maricela Alvarez, and we're immensely proud of our Mazatlan heritage. Years ago, we began by cooking for mostly friends and family until everyone who fell in love with our authentic Mexican food could no longer fit in our backyard! We found a larger space, and from there, Backyard Taco was born. Now, our love of good home cooking has expanded to four restaurants with more to come throughout Arizona's East Valley.
Whether you're in our backyard or at a Backyard Taco location, we truly believe that "Happiness is Homemade." It's utterly amazing to see people young and old enjoying what we love best—good friends and great food! It's no wonder Backyard Taco is known as the best taco place in town.
WHERE CAN YOU GET THE BEST TACOS IN TOWN?
Come see us and experience our award-winning tacos for yourself! Currently, we have four convenient locations throughout Arizona East Valley:
CHANDLER – GILBERT RD. & GERMANN
2400 S. Gilbert Rd. Chandler, AZ 85286
GILBERT – HIGLEY & 202
1420 S. Higley Rd. Gilbert, AZ 85296
MESA SOUTH – STAPLEY & 60
1633 S. Stapley Dr. Mesa, AZ 85204
MESA NORTH – UNIVERSITY & STAPLEY
1524 E. University Dr. Mesa, AZ 85203
COMING SOON
We're growing! Backyard Tacos continues to expand so we can better serve the communities who have become like family. Look for our two new locations coming at the end of 2021:
QUEEN CREEK
Riggs/Ellsworth
Queen Creek, AZ 85142
MESA
Signal Butte Rd./US 60
Mesa, AZ 85209
LEAVE US YOUR MOST DELICIOUS TACO-BASED THOUGHTS!
Would you like to share a comment about a recent visit? Drop us a line, let us know what you think, and tell others what you liked best about your Backyard Taco experience. We love our community and our customers, and we take your feedback very seriously. We appreciate your business and hope to see you again soon!
For more information about our restaurants, complete our online form or call a Backyard Taco location directly.