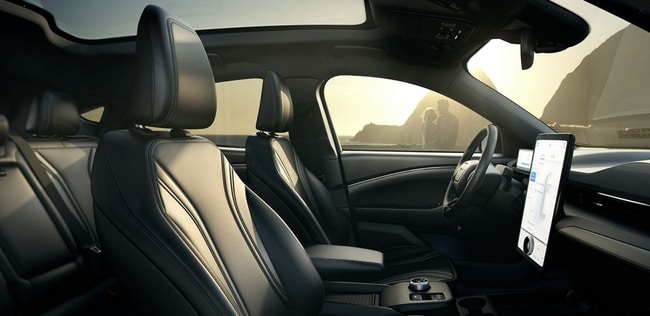 A Comprehensive Overview of the 2021 Ford Mustang Mach-E
Originally Posted On: https://www.taylorfordlincoln.net/blog/2021/may/4/a-comprehensive-overview-of-the-2021-ford-mustang-mach-e.htm
It's time you met the 2021 Ford Mustang Mach-E. Born from the Mustang's iconic roots, the Mach-E delivers all the thrills you expect from a Mustang in the form of a crossover SUV. This all-electric crossover has an expansive range and zero emissions unless you count the gasps of your passengers as you speed away.
It's no wonder the Mustang Mach-E won the 2021 North American Utility Vehicle of the Year award. In this comprehensive overview, we'll discuss the finer points of the 2021 Mustang Mach-E.
Exterior Style
Ford offers the Mach-E in five trim levels. The Select, California Route 1, Premium, GT, and First Edition trims have subtle design differences, yet all unmistakably a Mustang Mach-E.
The Mach-E's carved hood flows forward to the aerodynamic nose. Sharp lines and LED headlights give the Mach-E a menacing stare. The chiseled sides and 18-, 19-, or 20-inch wheels show off the Mach-E's athletic profile.
The rear fascia gets signature taillights, a rear spoiler, and the classic fastback design for a bold appearance as it disappears. An available fixed-glass roof offers a spectacular view.
Select Trim Exterior Highlights
The base model Select trim rolls on 18-inch Carbonized Gray-painted aluminum wheels wrapped in all-season tires. With no engine, you get a trunk in the front, and the manual liftgate opens the rear cargo area. A power liftgate is available as an option.
LED reflector headlights with auto on/off functionality, LED taillights with sequential turn signal indicators, and a center high-mounted rear stop lamp let you see and be seen. The headlights turn on automatically when the wipers are activated.
Side-view mirrors power-fold, feature heated glass, and have integrated turn signal indicators. These mirrors also feature a Pony projection lamp that illuminates the ground as you enter and exit the Mach-E.
California Route 1 Trim Exterior Highlights
A panoramic fixed-glass roof comes on the California Route 1 trim, along with an infrared reflective windshield. The 18-inch wheels are stylish High Gloss Black-painted aluminum with Low Gloss Black aero covers. Black painted side-view mirror caps replace the body-color version on the Select.
Premium Trim Exterior Highlights
The Premium trim adds a foot-activated power liftgate for hands-free access to the rear cargo hold. You also get acoustic laminated front door windows that reduce road noise. The Premium trim features 19-inch Machined-Face aluminum wheels with High Gloss Black-painted pockets.
The signature daytime running lights come standard on the Premium trim.
GT Trim Exterior Highlights
Ford uses 20-inch Cast Aluminum wheels with aero covers, or you can opt for the 20-inch Machined-Face Ebony Black-painted wheels. Ford offers the panoramic glass roof as an option on the GT.
First Edition Trim Exterior Highlights
The panoramic fixed-glass roof returns in the First Edition trim. Wheels also revert to the 19-inch Machined-Face aluminum with High Gloss Black-painted pockets found on the Premium trim.
Powertrain
Two powertrain options are available on the 2021 Mustang Mach-E. The first is a standard range battery pack with 68 usable kWh. The second is an extended-range battery pack with 88 usable kWh.
These batteries power the electric motor that drives the rear axle. AWD models have two motors, one for each axle. The combination of both motors produces an incredible 480 horsepower and 634 pound-feet of torque.
Less powerful configurations put out anywhere from 266 horsepower and 316 pound-feet of torque up to 346 horsepower and 428 pound-feet of torque.
This all-electric SUV may not have the growl of its sibling, the 2021 Mustang sports car, but when properly equipped, the Mach-E goes from zero to 60 mph in only 3.5 seconds.
Driving Range and Charging Capability
Depending on the battery pack and electric motors used, the EPA estimates the driving range to fall between 211 and 305 miles on a full charge. Every model features a fast charging feature and a mobile charger that adds 30 miles of range in an overnight charge using a 120-volt outlet and up to 80% of battery life overnight using a 240-volt outlet.
Ford offers a home charging station for install by certified electricians. This home charging unit recharges at the rate of 32 miles every hour and a full charge overnight.
You also get access to the FordPass charging network, the largest public charging network in North America.
Interior Comfort
Slipping into the cockpit of the Mustang Mach-E, you are immediately immersed in the ergonomic comfort of bolstered sport bucket seats. Ford uses the beautiful and durable ActiveX seating material with unique Miko inserts and Metallic, Copper Metallic, ST Redline, or Grabber Blue stitching.
Heated and ventilated seats are standard on the upper trims and available on the others, as well as a heated steering wheel. Ambient lighting in multiple colors on the upper trims lets you set the interior tone to match your mood.
Front door scuff plates feature the Pony graphic and unique trim lettering. Cargo space behind the rear seat totals 29.7 cubic feet. With the back seat folded, that number grows to 59.7 cubic feet. Add in the front trunk's 4.7 cubic feet, and you've got some serious room for gear.
In-Vehicle Technology
All your in-vehicle tech operates with Ford's Sync 4A system and a massive 15.5-inch touch screen. Sync 4A combines cloud-based connectivity and simple, conversational voice recognition to deliver a personalized driving experience like no other.
Built-in cloud-connected navigation gives you everything from traffic updates, optional routes, construction zone alerts, and more. Apple CarPlay and Android Auto support let you sync your smartphones for hands-free operation. Making calls, accessing your favorite apps, and streaming your music is done with intuitive voice commands.
Over-the-air technology updates from Ford happen seamlessly and often without you even noticing. These updates improve your ownership experience and can reduce the need for maintenance. When maintenance is necessary, you can schedule service at your local Ford dealership from your Sync 4A interface.
Sync 4A lets you customize your driving experience with three selectable modes. Your Mustang Mach-E can now match your mood, adjusting audio, lighting, and responsiveness with Unbridled, Engaged, or Whisper mode.
Key by Amazon in-car delivery is also available to Prime members. Now you can have your package delivered to your Mach-E wherever it may be.
The Ford+Alexa app allows you even more Amazon capabilities. You can shop Amazon, control your smart home devices, and more from inside your Mach-E.
Ford Co-Pilot360 2.0
Ford's driver-assist suite Co-Pilot360 2.0 comes standard in every Mach-E. The suite features intelligent systems designed to elevate your driving experience while keeping you safe.
Pre-Collision Assist with Automatic Emergency Braking
The pre-collision assist with automatic emergency braking system uses sensors that scan the road ahead for potential hazards. The system sends visual and audio alerts when it detects a hazard. If you are slow to react, the system will automatically brake for you to help lessen the severity of a possible impact.
Post-Collision Braking
Accidents don't always end at a complete stop. A post-collision braking system recognizes you've been in an accident and engages the brakes, preventing your Mach-E from possibly rolling into a second crash.
BLIS
Ford's BLIS (Blind Spot Information System) uses optical sensors to scan the sides and rear of your Mach-E, alerting you when vehicles enter your blind spots. You can change lanes with confidence.
Rear Cross-Traffic Alert
A rear cross-traffic alert system uses similar technology to alert you when vehicles approach from either side while you are backing up. This system is convenient in those crowded parking lots.
Reverse Brake Assist
Reverse brake assist works in tandem with the rear cross-traffic alert system. Should you fail to react to the rear cross-traffic alert, the system will apply the brakes for you.
Lane Keeping
The lane-keeping system tracks your Mach-E while traveling within marked lanes. When the system detects an unintentional drift, you'll receive an alert. In some cases, the system will use gentle steering correction to return you to your lane.
Rear View Camera
A rearview camera system sends a video feed to your center display from a camera mounted on your rear bumper. This video feed features guidelines and distance indicators to help you back up safely.
Reverse Sensing
The reverse sensing system provides audio alerts as you approach objects. The alerts are beeps that increase in frequency the closer you get to an object.
Intelligent Adaptive Cruise Control
Intelligent adaptive cruise control uses radar and camera technology to keep your Mach-E at a preset speed and distance from the vehicle ahead. The system automatically slows your Mach-E down when traffic slows, even to a complete stop. When the way ahead clears, the system returns you to your preset speed and distance.
Active Drive Assist
New in 2021, Ford will add Active Drive Assist. This system uses road-mapping technology to allow hands-free driving of your Mach-E.
A lane-centering system uses subtle steering adjustments to keep you centered within marked lanes. Speed sign recognition can automatically adjust your speed when the limit changes.
Active park assist helps you park. It controls the steering while you operate the accelerator and brake pedals.
Test Drive the 2021 Ford Mustang Mach-E
The 2021 Ford Mustang Mach-E changes everything you thought you knew about electric vehicles. Innovations in power, style, comfort, and technology shine through.
At Taylor Ford-Lincoln, we understand what SUV drivers want. That's why we stock the most extensive inventory of premium SUVs like the Mach-E.
We invite you to browse our inventory online or visit our showroom. One of our friendly, knowledgeable staff will happily show you the best features on the Mach-E and let you take it for a test drive.