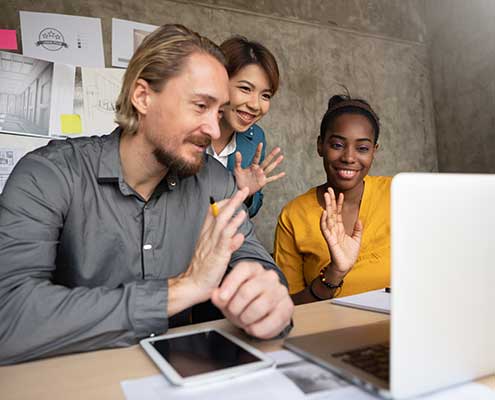 SATELLITE OFFICE TECH SUPPORT
WHAT IS A SATELLITE OFFICE?
Why do I need satellite office tech support?
If you own a business, chances are you'll eventually want to expand, broaden your reach, or just mix things up. But expansion doesn't have to mean changing floors in your building or renting a larger space that you can't afford. According to an article on satellite offices by cic.com, many companies today are choosing to open satellite offices, or branch offices, rather than uprooting the main hub of operations. Often these remote offices are used as sales offices have unique IT support needs.
Satellite offices are generally small offices located in a separate area from the main office. There are several reasons why a company would choose this option over the traditional "moving to a larger office" option. Even if a business owner isn't looking to fully expand, satellite offices can offer new opportunities and ways to profit that are worth considering.
THE PERKS OF SATELLITE OFFICES
Benefits of Opening Another Location
1. Less Mess
First and foremost, no one wants to deal with the mess and stress of relocating. For anyone looking to grow his or her business, satellite offices allow for a fresh start without the extra work of leaving behind the central workspace.
2. Affordability
Smaller offices can be much cheaper than large ones, especially in a prime real estate location. Multiple small offices in ideal locations allows for more flexibility and efficiency than a larger office space, limited to one location.
3. Clientele
A new area means a new market full of possible future clients. For businesses that rely on client-relations, a satellite office can be a way of attracting new customers and clients.
4. Partners
Satellite offices open new opportunities for companies that are in the market for new partners. Depending on the kind of business, finding new partners can be a key element to succeeding. Networking options increase ten fold with satellite offices, making partnering up ten times easier.
5. Employees
If you want employees who are the most experienced in or best suited for your industry, an office location is a crucial part of that recruitment process. Some areas naturally attract certain employment fields. A satellite office in a popular spot for engineers will be optimal for an engineering company.
WHY CHOOSE OUTSOURCED IT SUPPORT FOR SATELLITES?
Here Are 5 Reasons to Outsource your Satellite Office Tech Support
One of the biggest reasons OnsiteIn60 has branched out into other states is that many of our clients have satellite offices. These satellite offices require IT support and security just as much as the main client office. People need IT help that they can rely on, no matter what the circumstance. Similar to onsite IT support, you have options when it comes to the type of provider you hire. You could hire an in-house employee or a freelancer, but here is why outsourced IT support is the best option for companies with satellite offices.
1. Commitment
If the main office is already provided services by an outsourced IT company, you'll want the same trusted service at your satellite office. OnsiteIn60 has always taken steps to ensure our clients are secure and satisfied. Our locations page is testament to how dedicated we really are.
2. Convenience
If your company has an IT department or hires freelancers, the satellite office will be vulnerable and isolated. Hiring a new freelancer could be risky and starting a new department may be too expensive. OnsiteIn60 has locations all over the East coast, making us accessible to many of the satellite offices of the companies we service.
3. Flexibility
Time-zone issues? No problem. It doesn't matter if you're in the office late or in the UK, OnsiteIn60 offers fast, rapid response no matter what time a day! Prices of service are also set to your terms, so you only pay for what you need.
4. Cost Savings
There's no need to hire full time employees, especially at a satellite office. Employees with paid vacation won't save you money. Again, you only have to pay for what you need.
5. Reliability
Employees need time off, but this is a risk to your business. There needs to be a guarantee that you can have help when you need it, any time of day. Outsourced IT companies provide on-call, on-schedule, and even full time support and services. There's nothing more reliable than that!
STAY CONNECTED WITH ONSITEIN60
When you feel lost in space, we're mission control for your satellite office tech support.
For the most part, there are so many worries when expanding your business, and the last thing you need is a tech issue. If you want a fast, efficient solution when the going gets tough, plan ahead and hire an outsourced IT company for your satellite office tech support. You'll find that no one can help your business remain secure and productive like a trustworthy outsourced IT company.