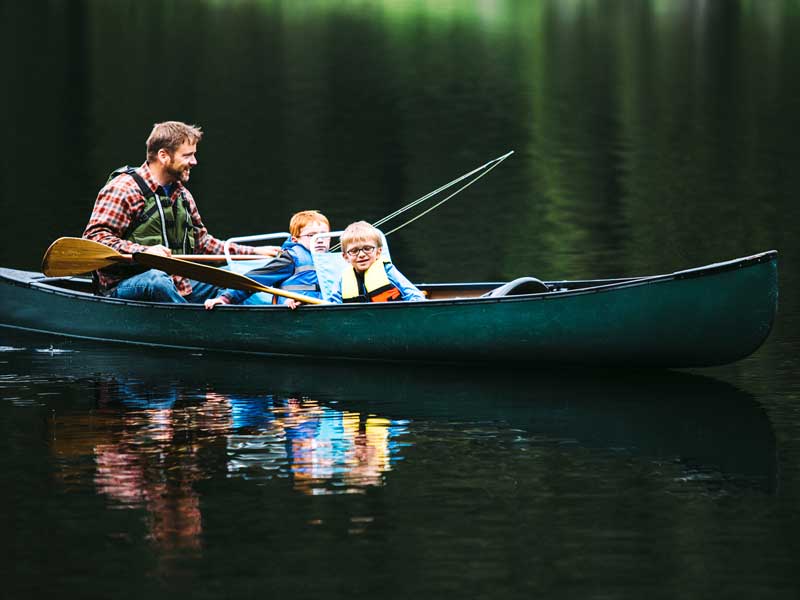 6 Ways To Get Your Kids Hooked On Fishing
Photo From assets.fishingtv
Originally Posted On: https://www.fishingtv.com/6-ways-to-get-your-kids-hooked-on-fishing/
Now then, unless you have been living under a great big rock for the last few decades you should be aware that fishing, yes fishing, is one of the largest participation sports in the world! You don't believe us? Then go check! For us anglers, this is no surprise, it's an amazing pastime and one that can offer so much more than most sports.
But why get kids fishing? Well, the thing with fishing is that anyone doing it will ride a roller coaster of emotions pretty much each and every time they go out! Kids love all that, it gets them revved up! Each trip out on the water is different too. There are highs and there are lows, a great way for kids to harness and make the most of their emotions.
It brings excitement and at times despair, but it also instils in them some awesome traits, discipline, patience and an attitude that sits well in this modern world!
More than this, fishing takes them to places and allows them to experience an awful lot of more of the great outdoors that they would never normally see.
This time out in the wilderness or even just down the local pond, allows them time to reflect, to ponder life's mysteries and to bring about a little bit of focus!
Would you rather they be outside and active or sitting on the couch playing computer games? No brainer, right!
Here are 6 Ways To get Your Kids Hooked On Fishing
1. Treat Fishing Like An Adventure.
Get them excited about what's involved, talk about it and explain what you're going to do and how you're going to do it. Weave some stories and get them enthralled so that they want to go!
Preparation and planning are crucial as it draws them in, they want to be part of this adventure.
They can also have little tasks leading up to the adventure, helping with whole rigmarole that goes into these trips to the water.
• Finding the location, this can be done with maps, even apps on your phone, seeing the venue in Google maps is amazing, you can point out key features!
• Helping collect bait for your target species (this can be as exciting as the fishing)
• Trimming the tag end of the knots on the rigs an adult has tied up
• Tying their own flies (with adult supervision)
• Packing the kit away all neat and tidy
There's a host of thing that can help build the excitement. Jees, even helping to make the sandwiches will get them involved!
2. Family Values
Most young people follow in the footsteps of a family member, they see a grown up getting ready to go out and they want to be part of it, kids want to be included!
It's an easy route to get kids fishing and a safe way, one that can bring people closer together a way of bonding if you like. It's time together and that's precious in our hectic lifestyles. How many times do you hear people mention that they'd wished they had spent more time with their kids? We're guessing lots! Fishing allows you to have that shared time with your kids and provides great memories.
3. Choose The Correct Venue
The last thing that you should be doing is going fishing for yourself, it's not about you, it's about the kids. When choosing a venue, here's what to look for.
• Make sure the place has PLENTY of fish in it, they need to be catching fish and lots of them, simple!
• Pick a water that is easily accessible, drive right up, get your gear and go, no long hikes into the wilderness!
• The venue shouldn't be deep and dangerous, shallow water is the ideal choice. A small pond, canal or similar is what you're after. Even better if it's clear, they'll see the fish!
• The timing of your trip can be key too, a nice sunny, warm day is far preferable to everyone than a miserable and cold one!
4. Don't Let Them Get Bored
Get them involved from the start, they can set up their own gear, put some time in learning them the basics, how the rod works, how to wind the reel, using the net, hooking on bait, setting the float! Keep them focused!
If the fishing slow, let's face it, it can happen to the best of us then get them looking for bugs.
Take a little net so they can see what lives in the water or even in the bankside vegetation. Kids love this, seeing all the little creepy crawlies can bring about as much excitement as catching a fish does. It's especially exciting for fly fishing kids, they can see what they are trying to copy in order to fool the fish.
Another option is taking them for a walk around the venue, trying to find signs of fish. They love it this thrill of the chase, hunting down the creature they're after, stalking their prey of you like!
5. Entertaining.
Make the whole thing educational, always try and make them aware of what it is that's going on around them.
Talk them through what is going on under water and how the fish that they are after behave. Help them to understand why the fish are wanting that particular bait, lure or fly and why the way in which we fish these items makes them appealing.
The sights that can be seen on the water can be fascinating to kids. You can point out the flora and fauna, why a certain plant lives near moisture or why that bird is diving under water to chase little fish. This is teaching them things and keeping the focus on the day, all of this they will take back with them. Pestering their family and friends with knowledge that they have learnt on the bank while fishing!
6. Give Them Goals
Kids love to compete, whether that's with their siblings, older relatives or other kids. So, often when you're on the water you can keep their interest by setting targets.
They don't have to be big targets, things that are achievable and ones that don't impact on the day's enjoyment, no point in setting a target that's never going to happen!
Try targets like these:
• Cast in a straight line, give them a point to aim for on the opposite bank
• Distance, oh they love this, how far can you cast, can you beat the last cast etc.
• Accuracy, again giving them something to aim at time and time again
• Catch another one, seems simple right but just saying, go on catch another, can bring about more focus and thought as to what they're doing.
• Try and land a bigger one, same as above, it keeps them in the zone that little bit longer.
As you can see there are so many way that you can get kids fishing and more importantly keep them focused on what they are doing.
It's an active sport, you're always doing something, even when they are waiting for a 'bite' they are focused. They are outside and active, a far better proposition than them being stuck at home on game console, right?
This article was written by Steve Cullen, an expert fly angler and fly tier who presents our Essential Fly Fishing Series which features some excellent videos to help you learn fly fishing.