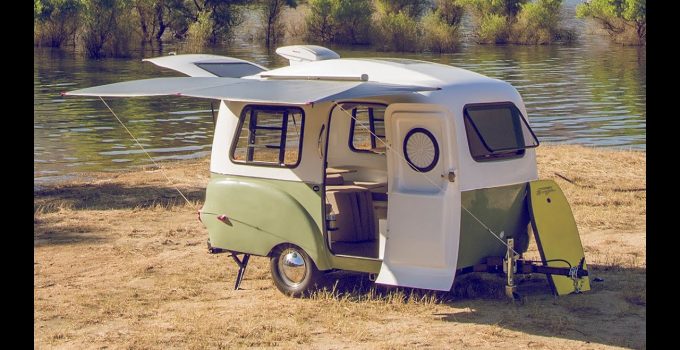 15 Fantastic Small Campers with Bathrooms & Showers (Travel Trailers)
Originally posted on https://www.crowsurvival.com/small-camper-trailers-with-bathrooms/
When you're in the thick of the wilds, sometimes you'll need to tend to the needs of nature. Doing your business outdoors is not ideal, however, when the nearest restaurant or building is miles away, it's your only option. Or is there another way?
I know when I bought my first camper, space was a major consideration. I wanted to have as much space as I possibly could for the essentials that I couldn't live without. Sadly, that meant saying goodbye to the bathroom and hello to nature's toilet. If it's good enough for every other mammal on earth, then it's probably good enough for me.
However, as I've discovered in the years since then, it's possible to have your cake and eat it, or in this case, have your space and a toilet. I've put together these seven amazing examples of compact camper trailers that make room for luxurious bathrooms.
THE 15 BEST SMALL CAMPERS WITH BATHROOMS
1
Summary
Retractable entry steps
Stabilizing jacks for added safety
Large grippy off-road tires
Lot's of clever storage spaces
A rust-resistant stove suitable for indoor and outdoor use
A generously proportioned sink
Hard-wearing vinyl flooring
Luxurious heated beds for those cold nights
Multifunctional cushions
A functional dining area
Audiovisual capabilities
If you have the Sport Trailer, you need not pay for a room in a dubiously appointed hotel ever again. Revamped for 2017, this trailer packs an amenities filled punch, with all the essentials included without any wasted space.
Looking at the trailer for the outside, it's compact, simple and sleek design contains a ton of clever features that have been included to ensure life in the wilds is that much easier.
Moving onto the inside you'll be surprised at what's been packed inside the compact package.
That's just the start of it. If it's a beautiful sunny day, just open up the roof vent with built-in mesh screening and let sunlight and nature soak in.
Of course, we're here for one reason, and that is for the bathroom. In this respect the Jay Sport does not disappoint, boasting a heater that is larger than you'd expect for a trailer of this size, coming in at a sizeable six gallons. This water tank powers the indoors and outdoors shower, as well as the toilet and sinks taps.
2
Summary
Exterior fitted 110-volt outlet
A battery pack rated for 12 volts
A lockable freshwater fill
The option of connecting to city water
Exterior lighting
When you're looking to take your small family with you on your outdoor adventures, then the Casita Trailer might just be the perfect pick. This trailer easily fits in three adults in its 17-foot length. The dining area can be quickly and easily transformed into 2 sleeping spaces and is easy enough to switch it back as required, so making this space you need shouldn't be a problem.
This trailer has been designed from the ground up to withstand a range of climates and terrain conditions. It's made from reinforced fiberglass and is custom-fitted for each and every Spirit Deluxe.
The interior of the camper is equally impressive, with a decently sized bathroom to boot. The toilet and the shower have been separated in order to provide increased privacy, and a powerful extractor fan is in place to deal with humidity and to ensure the space is well ventilated and smell free.
If you're looking for additional space to store your space, you're in luck. There are several carpet lined overhead storage spaces which are perfect for stashing additional camping equipment or other bits of gear.
3
Summary
The mini DAB Radio
The curtains (you can choose to have these made to your own specs or choose one of the available options based on your fabric choices)
The color of the kitchen or bathroom walls
The seat cushions, which can be either vinyl or fabric
Adaptable seating area that can be converted into a sleeping area
Plenty of wardrobe and cupboard space for all your belongings
Attractive roof lighting
Polycarbonate windows made from recycled materials
Built-in fridge freezer with enough space for a small family
Lime green
Gray
Navy Blue
Orange
Stone
Duck Egg
Even though this is a UK based firm, Barefoot Caravans can send it to the USA. The trailer was designed by a quartet of caravan design experts, what's even more impressive is that they received a well-deserved trust award for their efforts.
Perhaps the most appealing aspects of this trailer are its range of customization options available to the buyer. You can choose one of six colors for a range of the trailer's features.
You can either choose to make sure everything compliments each other or choose to mix things up to a more ecliptic design.
So, even though Barefoot caravans feature funky designs and sleek shapes, what else about them makes them a sensible purchase? There is a tone of features that make this a standout choice.
We should of course also talk about the bathroom. Powering the shower, toilet and sinks is a 30-liter water tank with a combi water heater from renowned manufacturer Truma. Powering this can be accomplished with either gas or electricity.
The bathroom itself comes with a range of attractive features such as a full portrait mirror, ample cupboard space, a shower, sink, and toilet. When you're on the road with this trailer, you'll probably never want to return to your home.
4
Summary
Optional spare tire
Vented roof space
Cleverly designed doors
Ample storage space
Insulated and laminated windows
Separated freshwater and wastewater systems
A key hook
Integrated clock
Cleverly designed work surfaces and tables
Curtains and shades for every window
Integrated stove with three gas burners
A built-in fridge that's capable of holding enough food for a small family
Thermostat controls for the easy adjustment of the internal temperature
Lance has been producing a range of truck campers and trailers for just over half a century. Exemplifying those years of experience and dedication of their craft is the Lance 1575, which despite is reasonable weight (2,700 lbs) has still managed to cram in a ton of useful features.
Just because you're on an adventure, it doesn't mean you have to be without the small luxuries. Lance has made sure you'll have all the essentials to hand.
When you're on an extended road trip, it's normally the small things which make you feel like you're in a home away from home, to that point, Lance has done a great job of making sure that all of those small things are present.
And of course, there is a bathroom present as well. Lance has included a foot-operated toilet that's both easy to use and easy to clean. The toilet is plumbed into the black tank system and does its job very well. If you like plenty of light in your bathroom, you're in luck, with the skylight providing bucket loads of naturally occurring light. It might be small, but the bathroom has everything you're looking for.
5
Summary
Increased fuel economy due to better aerodynamics
iPod connectivity for increased entertainment. If you love podcasts like me, this might be right up your street.
Weather-resistant outdoor and indoor furniture
Fully wallpapered
Towing it is a piece of cake
The Elite range is known to be sporty, eye-catching, colorful and for their compact dimensions. Even though they are small in size, they are substantial campers made from an aluminum frame, reinforced fiberglass and industrial-strength Styrofoam for insulation and sound dampening. This means the campers are more than just cute looking.
The Elite is one of the smallest campers we've come across and is even smaller than most of the diminutive options on this roster. As the external and internal dimensions are petite, you can expect to make some concessions if you're planning a road trip with one of these beauties.
The manufacturer has had to employee some clever design designs in order to save on space and maximize what is available. As such, furniture tends to have rounded edges that just fit with little room to spare. If you're above 6 feet, the camper might not be for you, as the highest section maxes out just shy of six feet.
However, despite its size, the Elite manages to pack some great features into its footprint.
At this point you might be wondering if they managed to squeeze a bathroom in, the good news is they did. Furnished with a shower and a rather nice toilet, the bathroom has everything you're likely to need.
6
Summary
A sleeping area that converts to an eating and sitting area
Seats with clever storage compartments
An integrated gas-powered stove and sink
Ample closet space
Reinforced cabinets
Carpeting or tough vinyl flooring
Additional power outlets
Power Converters
Built-in air con
Heat Strips
Exterior lighting
Integrated microwave
Scamp has proven that great things can be wrapped in small packages. The smallest offering from Scamp measures in at a diminutive 13 feet, which is far smaller than the largest offering from the same company. Despite the size, you can still choose one of the two-floor plans and the one we're most interested in features a bathroom as the front and center, with a fully functional shower.
Made to accommodate a small family, the Scamp utilizes intelligent design and thoughtful planning in order to best utilize all the available space. Powering the bathroom and shower is the 12-gallon holding tank.
If you're willing to pay a little bit extra have a lot of extras fitted.
7
Summary
Aircon and heating strips
Powerful integrated fan for maximum air circulation
Branded and matching dinette sets
Essential items such as microwave, fridge, gas-powered stove and oven
Sink covers that double as cutting boards
Full blackout window covers
Extreme visibility front windows
A built-in HD TV with sound system
Reinforced windows with dark tinting
Reflective and insulated room for increased temperature control
Extensive awning
Easily used inlet for freshwater
Hot and cold exterior shower
Hookup for cable TV
For nearly a century, Airstream has been producing vehicles with the traveler in mind. The latest 2018 sport exemplifies this design philosophy. The brand is so well known that nearly everyone without an interest in RVs will have heard of their vehicles.
The Sport boasts several fantastic features.
Not to be outdone, the bathroom provides sophistication and class, everything is well appointed. Ventilation is provided by powerful roof fans, preventing moisture and air entering into the rest of the trailer. The toilet is made from porcelain and is easy to operate and clean. Adding the finishing touches are the retractable clothesline, the towel bar, and the custom-made shower head.
Not one to disappoint, the outside is equally well-appointed. Mounted outside the trailer is the black water tank wastewater system which makes it easy to dispose of the bathroom waste.
8
Summary
It has large, insulated dual pane windows that open up to ninety degrees, thus allowing for an amazing view, enough lighting, and aeration.
It comes with air conditioning.
It has an open furnace.
Large fridge with double doors.
Spacious walnut cabinets and pantry.
Large sink with a pull-down faucet.
Wardrobe with enough room for clothes.
It has a wet bath with an electric water heater.
Has a solar panel to provide power for your little guy minimax.
A touch screen TV.
An open furnace to keep you warm at night.
A front kitchen with a six-gallon gas and microwave.
The rotating dinette tabletop allows you to enjoy a meal in comfort.
It has comfortable beds that you can pull out whenever you need some rest.
The little guy mini max trailer is a light teardrop from Liberty Outdoors. It is a small, yet highly convenient and comfortable trailer that saves you a lot of time, space and energy. It easily packs a good amount of everything you need and tows well behind SUVs and family cars. Its quality and detail make it stand out, and thus perfect for fun adventures outside!
The trailer is strong and resilient, making it trustworthy enough for outdoor activities with no worries about denting it. It is spacious enough to hold your luggage. As you can discern from its name, the little guy mini max sleeps two to three people. Here is why it stands out:
The little guy minimax is super convenient for you and your family or friends for when you are planning on having outdoor fun, like camping. It is an all in one ensemble for everything you need, from food, to sleep, and packing your clothes. It is also affordable, so hurry and get yourself one! Totally worth it.
9
Summary
Premium, durable tongue and groove siding (timber) used to clad its exterior and boasts of large windows, which allow airflow and natural light into the camper.
Highly energy efficient – achieved through wool construction, airtight construction, low-energy appliances and lights, and the inclusion of an external gray water tank.
Spacious kitchen with a generous counter and large kitchen sink.
Ample headroom, floor space, and storage
Pneumatic trailer brakes
Multiple 120V & USB outlets
A wet bath that incorporates a toilet and indoor shower
Freshwater system
Two-burner induction cooker
High-efficiency refrigerator
Heating and air conditioning comes as optional
If you are looking to hit the road soon, the non-toxic materials and sustainably sourced timber used to construct the Homegrown Trailers make these campers a beautiful, ideal, and eco-conscious choice. Timberline by Homegrown is handcrafted using low-waste methods and techniques of construction, meaning the 23-foot long camper is considerably lighter (has a dry weight of 3,950 pounds) than other trailers of the same size. Despite its lightweight, the layout of the trailer allows 3-6 people to sleep comfortably.
The highly innovative photovoltaic and water system essentially means that you can take the robust trailer off-the-grid for long trips even under extreme weather conditions. The important additional features of the camper you wouldn't want to miss out on include the following:
We love the flexible interior and large kitchen area. This is certainly the type of camper outdoor lovers can shape to match their exact needs. Furthermore, the composting toilet, a 2.5-gallon hot water tank, and 23-gallon water system provide everything you need in a well-equipped camper bathroom thus making it an ideal choice for hitting the open road. Timberline by Homegrown combines the lifestyle and beauty of tiny house living with the mobility of camping life, which allows you to enjoy adventures and seek out nature in a self-sufficient and comfortable way.
10
Summary
28″ by 84″ storage space in the front deck allows you to load extra luggage, and toys to keep your kids entertained during the vacation. It also features an expendable metal decking allowing you more space to pack your bikes, and extra recreation gears, etc.
Stereo system. The FM/AM stereo system allows you to stream efficiently. On the system, is also a USB port that allows you to charge your mobile devices, etc. To wrap it all up, there's also that Bluetooth mp3 player specially designed to help you enjoy your favorite music comfortably.
Adventure master. It's 15″ Mud Rover Radial Tires Built With Aluminium wheels are designed to give you an amazing 12″ ground clearance so you can maneuver different terrains with the utmost ease.
Built for luxury. On the front end is a king-size bed for your leisure. At the back end, the shelter is also queen size bed to give you unmatched comfort for your vacation partners.
On the left side is another bed to provide more space for luxury, and comfort. Just opposite this bed, you're going to see a dinette, and the table beautifully designed and placed for you to enjoy your meals or play games.
The kitchen area is fully furnished for a perfect finish. Just next to the front tent end bed is a cabinet in which you can fix it a port-a-potty and shower.
Do you fancy small size modern camper van designs with bathrooms? If so, then the Forest River Flagstaff 228BHSE was undoubtedly made for you. It is not only a lightweight travel trailer but also super spacious to accommodate you, and your luggage.
It features different floor plans to give you an array of options to choose from depending on your needs. Besides, its small size and configuration provide you with plenty of towing options. It's also super light, so your movement to different destinations is not limited to flatter grounds only.
It's affordable, requires very little maintenance, and also very easy to tow around. Besides, this camper is compatible with most competent towing cars.
11
Summary
Overhead kitchen cabinet which makes meal preparation easy anytime, anywhere. On the walls' sides are hanging wardrobes for ease of keeping your clothes.
The high wall package is also modified to provide enough room for packing accessories.
There's no way dirty water is going to mess your appliances. The double pan sink fitted with high rise faucet makes cleaning of your utensils seamless.
Entirely designed to give you a home-like feel. The bedroom is fitted with fans and Bunk Led Lights. If you're going for a vacation in colder regions, the thermostatically controlled mattresses will add you that much-needed heat.
Your comfort in the bedroom is never compromised. The king-size and queen size beds in the bedroom will give you the much-needed rest after a long day out exploring new destinations.
To ensure top quality, and boost convenience, the bed frames are made of aluminum and the bows, and poles all coated in powder.
The ROCKWOOD also has a bathroom fitted with hard wall showers. There's also a private flush toilet for you, and monitor to hold water pump switches and batteries for you.
If you're looking for a spacious campervan with a private shower area or fully furnished kitchen, living, and bedroom area, Rockwood High Wall Series HW276 is one trailer you should consider. It allows up to six occupants to sleep in and provides plenty of space to load your extra luggage.
This camper comes with three burner cooktops in the kitchen, and a microwave fitted with a cabinet. After preparing your meals, just spread out your 72″ by 50″ in the special slide-out room, and enjoy yourself.
They're ultra-light, so you won't need a bigger tow vehicle to tow it. They're also small sizes which makes them easier to pack in small size campsites plus they're quite affordable.
12
Summary
Adaptive modular interior system
Comes with large panoramic windows that allow for natural light
Dimmable switch lighting
Sleeping space for five
Wide entry door
Lightweight design
Are you dreaming of a summer trip road adventure? Well, the Happier Camper offers a fun way of enjoying outdoors without sacrificing on the amenities you enjoy back at home. It's equipped with modern amenities that leave no details untouched. But what is more interesting is the lightweight design- it can be towed by a mini cooper. The interiors floor space measures 42-square feet and is packed with everything you need. Needless to say, it can fit in standard single packing space.
Just because you want something small, you should not give up on the bathroom. The camper has a hot shower, bathroom, tablet docket station, 100 W solar panels, AC power sockets, and more. Another cool feature is that you can transform the camper in different styles to fit your taste and preference. If you're a tourist, you can create additional space for kayaks, motorbikes, and bicycles. Want to host a dinner party? Just snap in the benches. The Happier Camper comes in different colors including turquoise, red, and blue.
The happier camper offers endless possibilities for outdoor enthusiasts. It's versatile thanks to the modular components or cubes. This means you can transform the small space to whatever configuration you need. It offers enough space for the dining table and kitchenette. And when it's time for bed, you simply rearrange the seating and get a flat bedroom area.
It's worth mentioning that you can transform the camper into an office space. Most of the modular components can double as outdoor furniture. The back hatch can be kept open to allow cool air circulation and natural light. Finally, a camper is easier to tow and takes less effort to maintain.
Looking at construction, you can be sure the camper will serve you for many years. The exterior is made of a fiberglass shell that comes in a wide range of finishes. Not to mention, the rugged materials can withstand any elements for the ultimate camping experience. Depending on the model you choose, you can get a shower and a bathroom all in one unit.
13
Summary
A complete bathroom featuring a toilet, shower and wash hand basin.
Modern and convenient interior fittings providing incomparable luxury.
Attention to detail in materials and aesthetics used in its construction.
A U-shaped dinette that can sit up to six.
The dinette converts to an additional sleeping space.
Includes a vent fan, water heater, microwave, and LED lighting throughout the trailer.
A fantastic electric awning.
This light camper is packed with a complete bathroom among other amenities to make your camping experience a memorable one. As a towable camper, the Jayco Hummingbird will prove convenient to your expeditions. This camper is fitted with a compact kitchen, a Murphy bed and plenty of storage spaces. This ensures that you can easily prepare your meals and carry tonnes of gear with you as you camp. Sufficient storage space is especially important if you'll be on the road for long.
The ultra-light characteristic of this trailer enables it to be effectively towed by an SUV or a pickup truck. Jayco Hummingbird trailer also includes a skylight thus unlimited integration with nature. This is one of the reasons for making this trailer outstanding and adorable in equal measures. Additionally, you can easily carry bicycles on this trailer. This is a feat yet to be achieved by many camping trailers.
Choosing this trailer over many others out there will never disappoint. The bathroom feature will especially ensure that you're always covered regardless of your location. The kitchen, equipped with a gas hob, drawers for all your utensils and a fridge will also ensure that fresh meals are always prepared. With this trailer, you can be sure nothing will be compromised in terms of comfort or even luxury.
14
Summary
Exterior front storage box
Spare tire with carrier4 Crank-down stabilizer jacks
Two king beds at both the ends of the camper
Toilet and shower combo
2-burner cook-top
A toilet/shower chest located near the entrance door
Comfortable dinette seating for four
13,500 BTU Roof Mount Air Conditioner
The Somerset Mesa is a folding pop-up camper that can be enjoyed just about anywhere that you travel. It has all the modern amenities that you need to host people, cook, serve lunch, dinner and more.
With the Somerset Mesa, you'll have plenty of space to enjoy the outdoors, instead of having to spend money at a hotel you're not used to. This trusted pop-up camper has all the amenities you need. There's no need to ditch the ways of modern life — there are plenty of essentials to this camper with plenty of efficiencies when it comes to interior spaces.
And when viewing the exterior of the Somerset Mesa camper, it's simple design provides plenty of essential features that are included to make sure that your stay in the woods is a nice mix of modern life and the rugged outdoors.
As for the inside of this pop-up camper, expect to host at least eight adults. And there is plenty of storage, albeit a compact type.
And with the Somerset Mesa, the mesh screening can be adjusted depending on the heat of the summer or late spring as you enjoy life outdoors.
And when it comes to safety, the Somerset Mesa has a carbon monoxide detector. We like this pop-up camper for its perfect outside grill for those fishing types who like to cook up the fresh catch of the day. With sizable king beds, a collapsible dinette for additional sleeping and 12′ awning, this pop-up camper is sure to please.
15
Summary
4 CU FT Refrigerator
Convection Microwave
Digital Media Stereo options w/ Bluetooth
12 Volt Dual USB Port
Residential Grade Linoleum flooring
Digital TV Antenna
The KZ Escape Mini Trailer is an ideal way to get around to all your favorite destinations. Small, but relatively lightweight compared to other trailers, it has plenty of amenities that would make you feel comfortable at an RV park, a campsite or in the woods on private property.
When it comes to towing, the KZ Escape is very easy to tow. This trusty trailer stays true to its name, but with plenty of options that a modern house would have. You can still embrace the modern life with space for a flat-screen TV, cable TV hookups, a comfortable queen bed, maple kitchen with a two-burner gas cooktop and beautiful countertops.
Concerning the interior of the KZ Escape Mini Trailer, there are high-tech options, galore. And there is plenty of examples that will make you believe you are living in a regular house.
With the KZ Escape Mini Trailer, you can also enjoy your privacy with tinted windows and lovely pleated window shades add to the style.
We like the KZ Escape Mini Trailer for so many reasons. For one, it is ultra-lightweight, which is good for reducing your gas mileage for that long haul, Second, the KZ Escape comes in four different types: The M181KS, M181RK, M181SS, and M181UD. Each of these versions has its own social amenities and customizations.
Plus, the KZ RV app allows you to stay state-of-the-art, with checklists for camping trips, RV maintenance tracking and more. KZ RV also provides its customers with an "Off-Road Package," which includes 15″ Mud Tires, double entry step, additional ground clearance, and an electronically-controlled heated holding tank.
WHY CHOOSE A SMALL RV TRAILER OR CAMPER?
There are several benefits to choosing a tiny travel trailer over something much larger. While opulent Class A's and 5th Wheels may look good on paper, they are often impractical for most people.
Not only are small lightweight campers you can pull with a car or SUV easier to maneuver and far more forgiving if you make a mistake, they often contain most of the amenities you'll ever need. Despite the compact dimensions, mini travel trailers can contain almost everything that there larger brethren do, albeit often at a scaled-down version.
Then there's the cost as well, a small RV trailer will have a far smaller upfront cost compared to something larger. The ongoing costs are also significantly less. The gas used while towing, repairs, camping site fees, and insurance is often much better for mini RV trailers.
HOW TO GET A GOOD DEAL ON SMALL TRAVEL TRAILERS FOR SALE?
Looking for the best deal possible when buying a small travel trailer for sale is absolutely the right thing to do. Even small campers or travel trailers can cost a significant amount of money, so putting the effort in to secure a good price is well worth the effort. To help with this process we've put together several tips to help you secure a bargain.
IT'S WORTH SHOPPING AROUND
There should be no such thing as dealer loyalty. Even if you bought your last compact RV from a friend of a friend who owns an RV dealership, it doesn't mean that they'll give you the best price.
Shop around, take a look at as many dealers as possible as well as online. Knowing that you can secure a small camper for one price will put you in a much better position to negotiate with other dealers. Play dealers against each other to see if they can beat each other's quotes. They should work to get your money, you are the customer after all.
CONSIDER BUYING USED
It's often a false economy buying something new as it'll lose money as soon as the paperwork is signed. There is often a conception that new items are likely to have fewer issues, that they may last longer and will require less maintenance. However, that's not always the case.
Buying a used or nearly new small camper can save you a significant amount of money. If you spend less upfront, you'll have more money available in your budget to invest in upgrades, new features and if need be, repairs.
AVOID BRAND LOYALTY
Brands spend significant amounts of money and resources into securing your brand loyalty. We all have our favorite smartphones, cars or even toothpaste. When it comes to tiny travel trailers, it's no different. However, at the end of the day, small campers all provide a means to an end. They are made to provide a comfortable shelter when you're traveling.
You may have your heart set on a particular model or brand, but take a look at some of the other compact RVs we've discussed above and you might be surprised at how much you can save.
CUSTOMIZE AT A LATER DATE
Just like cars, small campers tend to have a range of optional extras that are designed to improve the comfort and functionality of your small RV, but they also increase the price.
There's nothing wrong with buying the basic model and then upgrading it over the years. Think of it as a home that always has a DIY project that can be completed. Chances are you're not going to miss a particular feature if it's not there.
LOOK AT FIXER-UPPERS
If you're handy with a hammer and saw and you're looking for a project then consider buying an old small travel trailer and doing it up.
There are a ton of resources out there and facebook groups dedicated to people doing this.
You might find you can get an old small camper for a fraction of the cost of a new and then with the money you've saved you can gut it and design it exactly how you'd like it. Often the final cost is less than half of buying new.
There are obviously risks involved, so it's worth knowing what you're doing.
SHOP AROUND FOR FINANCE
Financing can turn what looks to be a great deal into a money sink. Rates largely depend on market rates and trends are closely linked to the auto industry.
It's worth shopping around for finance, both online and on the high street. You can then use these rates to get a better rate from the dealership when you're finalizing the deal on your small camper.
CLUB TOGETHER
Even though the term timeshare might send shivers up your spine, take a second to imagine that concept applied to small campers.
If you have a group of friends or like-minded acquaintances why not club together to buy your dream tiny RV. By working together you can split all the costs, including maintenance.
Just make sure you have a legally binding contract created so one of you isn't left out of pocket.
Make Money From Your RV When You're Not Using It
Outdoorsy, RVShare and RVwithME have made it possible for everyone that owns a mini travel trailer to make some money on the side.
Simply list your RV when you're not planning on using it and you can make a significant amount of money. It might be enough to pay it off faster or pay for the upgrade you've always wanted.
BUY AT THE RIGHT TIME OF YEAR
The season can have a significant impact on how much you end up paying for your RV. Generally, during the offseason or when a new model is about to be released is the best time to buy a small camper.
You can check out our in-depth guide on the best time of the year to buy an RV here.
FREQUENTLY ASKED QUESTIONS
HOW MUCH DOES A SMALL CAMPER WEIGH?
Small campers will weigh an average of 2,000 lbs. This can vary a great deal from camper to camper, with some weighing under 1,000 lbs, while others weigh in excess of 3,000 lbs.
HOW MUCH DOES IT COST TO RENT A SMALL CAMPER?
Renting a Small Camper will cost an average of $125 a night. Newer models will likely cost more, while older models will cost less.
HOW MUCH DOES A SMALL CAMPER COST?
Small Campers will cost on average $12,000 to buy new for a base model. More luxurious or larger models will cost more, as much as $25,000.
WHAT SIZE GENERATOR FOR A SMALL CAMPER?
This really depends on how many appliances you need to run. A 2,000-watt generator will run most small appliances, but it won't be able to handle air con. If you'd like to run an air conditioner, then you'll need at least 3,600 watts.
CONCLUSION
If like me you like to spend some time in the outdoors for weeks at a time, a few small luxuries can go a long way. You might be forgiven for thinking that in order to enjoy the room for multiple recipients, cooking areas, appliances, and a bathroom, you'd need to invest in a large trailer.
As we've already demonstrated in this article, that's not necessarily true. You can quite comfortably live, sleep, cook and shower in a camper that quite comfortably fits into a standard garage. The only prerequisite is knowing what to look for and where to find them.  We hope you love our list of small campers with bathrooms, but as always, if you have any comments or think we've missed anything, simply let us know in the comments below.
If you liked this article, you might also like to check out our other travel trailer recommendations here or learn more about RVs here.