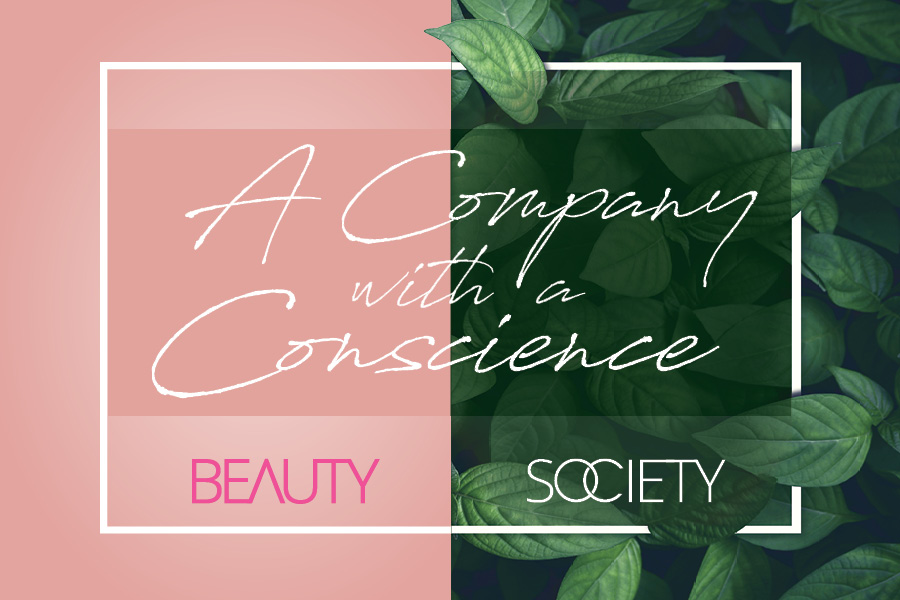 Eco-Friendly – 15 Years and Growing!
COMPANY WITH A CONSCIENCE
Once in a great while, a company makes the decision to do the 'right thing' rather than the easy thing.
They are intentional about putting the wellbeing of their customers and the planet ahead of their profits. And they stick with that philosophy year after year.
One of those companies is Beauty Society, an anti-aging skincare and cosmetics company. And since inception, their mission statement has been 'a company with a conscience'.
Beauty Society was founded in 2004 in a Southern California beach town. Being close to the ocean instilled their desire to be unwavering in their eco-conscious initiatives. They have recently been named number the 15th most eco-friendly beauty companies in the entire world! (Read the article)
ECO-FRIENDLY BEFORE IT WAS TRENDY
Long before being an 'eco-friendly' business was the trend (or necessity) it is today, Beauty Society committed to the future with conscious (and often expensive) decisions.
Decisions that made them part of the solution to reduce trash on the nearby beaches. And decisions that meant they would not be contributing more trash into the ocean.
Seeing trash on the beach and plastic in the ocean solidified Beauty Society's desire to be as 'green' as possible. Inspiring them to choose costly biodegradable packing peanuts and recyclable packaging rather than cheap Styrofoam peanuts and plastic.
They chose to reduce pollution in shipping by delivering 99.9% of their product through the post-office. Why? Simple – the post office already delivered to every house, 6 days a week – no need to send an extra big brown polluting truck into the neighborhood.
Earth-friendly packaging and delivery methods are great, but Beauty Society's true genius has been with its product refill program.
Early on they realized they were onto something. Customers were obsessed with their products, and they were ordering the same items again and again.
Beauty Society decided that instead of continually sending a bottle or jar in every order, they did something no beauty company had ever done before. They asked their customers to keep and reuse the packaging and began selling recyclable refill pouches.
The product refill program 'Treasure Not Trash' was joyously embraced by their customers. They love getting great skincare and cosmetics while being part of the eco-friendly movement and saving the planet (and saving money too with the 15% refill discount).
The refill program is incredible for two reasons. One, they recyclable. And two, customers have kept hundreds of thousands of extra jars and bottles out of our nation's landfills.
The goal of waste reduction has even been improved upon with a worldwide, giving-back tree planting project
For almost a decade, every time a Beauty Society refill is purchased a tree gets planted through its strategic partnership with Eden Reforestation Projects.
Eden Projects has planted over 265,545,717 at the time of this article, and Beauty Society is listed as a top 50 tree planting partner worldwide.
The past 12 months have been utterly tragic for the world's rainforests. With deforestation occurring at a record pace and massive fires in the Amazon and Australia. Beauty Society's Plant a Tree with Every Refill Purchased gives customers the opportunity to be actively involved in saving the planet, while also reducing landfill waste.
Thankfully after quietly doing the right thing for 15 years, Beauty Society has finally received its much-deserved recognition, they have recently been named number the 15th most eco-friendly beauty companies in the entire world!
If you have not yet heard of Beauty Society, you can check them out risk-free with their unheard of 12-month money-back guarantee at www.beautysociety.com. Beauty Society skincare and makeup products are also cruelty-free, formulated without parabens, sulfates, gluten and combine natural botanicals with safe science.
Congratulations Beauty Society on earning the title of number 15 in the world for your eco-friendly efforts. And thank you for staying the course. Thank you for keeping your commitment to being a 'company with a conscience' putting our planet over profits; the entire world thanks you!