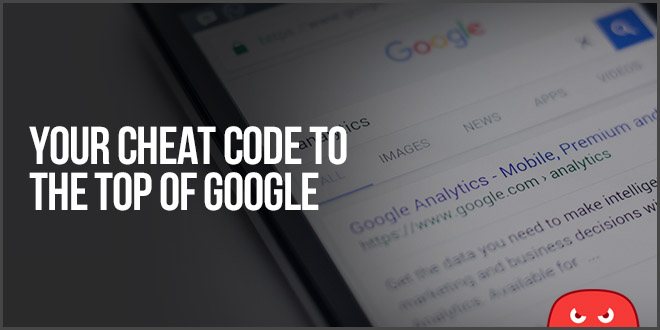 Your Cheat Code To The Top Of Google
Photo From The HOTH
Originally Posted On: https://www.thehoth.com/blog/google-cheat-code/
Are you frustrated with your SEO?
Whether a past company let you down or your own efforts are falling short, there's no denying SEO is complicated.
Heck, sometimes I bet it feels like you're going 9 rounds in the ring with Google every day, just to crawl out with no wins and only battle scars to show for.
Well it shouldn't be that hard, and it's not…
Sometimes, all it takes is a simple shift in SEO strategy to take your site from barely hanging onto page two to dominating page one.
Check this out:
Here's a client of ours who is in the e-commerce space selling audio equipment for both cars and DJ's.
They decided to let us manage their SEO and within 2 months of their campaign going live, their organic traffic started growing.
Even in a fairly competitive space, our custom SEO strategy was able to HUGELY impact their web traffic, more than doubling it over the time they worked with us.
Here's another client who used our HOTH X managed SEO service.
They're actually a new marketing agency who's thinking about reselling our services and before they did so, they wanted to try it out for themselves.
Their site went from ranking for almost no keywords, to ranking for almost 500 in only a few months
By using HOTH X, we were able to simulate a viral-like sensation allowing them to rank for a lot of keywords, fast:
Here's another client who runs an online sports website.
This was a very competitive niche that they were able to DOMINATE by investing in consistent SEO, long-term.
Committing to SEO over a long duration of time is what allowed this business to almost 5X their website traffic and sales.
They continued investing in our managed SEO service, HOTH X, even after they achieved success because they know these results are just the beginning.
By using HOTH X, they now have an estimated traffic value of $12K+ PER MONTH.
That means for them to get the same amount of traffic with paid ads they'd have to pay over $12,000 a month!
Their SEO paid for itself in less than one month.
SEO In 2020
There's no denying using links and content in a strategic manner move the needle.
As you see from the graphs, SEO isn't your quick fix. It takes time, patience, and consistent work to see results.
But if you want to get your rankings going in the right direction (TO THE TOP!), then this is your secret weapon.
Would you like to know how to apply this to your business?
We've opened up spots on our calendars to chat and answer any questions you have, for free.
Whether you just have general questions or want us to go in deeper to analyze your site, this call is your first step towards growing your SEO and getting more website traffic.
To book a call with one of our SEO consultants, simply choose a time below: