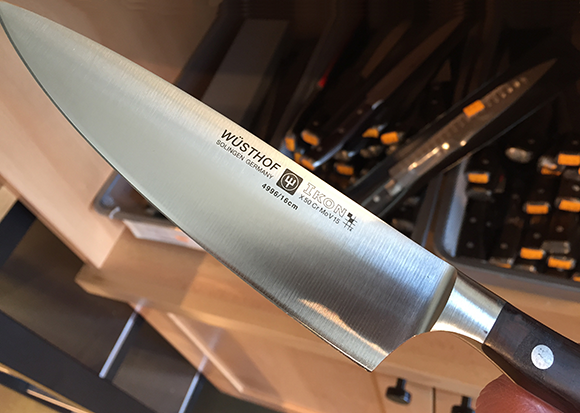 Wusthof Knives — a Buyer's Guide
Photos by Nate Ouderkirk
Originally Posted On: https://kitchenknifeguru.com/wusthof-knives-a-buyers-guide/
Wusthof knives are one of the most well-known and trusted in the kitchen-knife universe. Enter any kitchen supply store from Macy's to Sur La Table and you will see the name "Wusthof" dancing out of the glassed-in wall cabinets. Peek into any professional kitchen of note, and odds are, you will see someone slicing a julienne with a Wusthof blade.
Manufactured in Solingen, Germany, since 1814, Wusthof knives, along with the other major German maker, Henckels, have all but dominated sales of knives around the world for the past 50 years. And there is good reason (other than smart marketing)—they are well made with a very high nod to quality. Wusthof takes pride in its relentless pursuit of excellence. Of course, it doesn't hurt that the company is currently run by Viola and Harald Wüsthof, seventh generation of the same Wusthof family that founded the company 200 years ago!
All this said, there is one very important caveat to be made: Wusthof makes quite a few lines/models of knives. And if you desire to benefit the most from what the brand offers, you should stick to the forged lines (as opposed to the stamped) and be fully aware as to what those lines are.
BUYER'S GUIDE If you don't have time for small talk, CLICK HERE to skip down to my recommended Wusthof knives.
Wusthof Knives—Forged and Stamped Lines
FORGED KNIVES
ClassicLooks like it sounds, with a triple-riveted polypropylene handle that feels like woodClassic IkonCurvy, ergonomic polypropylene handle that feels woody as wellClassic Ikon CremeCurvy handle, but creme colored, not blackIkon (Blackwood)Curvy African Blackwood handle—not only feels like, but is, woodGrand Prix IICurvy polypropylene handle that looks and feels like syntheticCordon BleuJust like Classic, but no bolster—thus, lighter and easier to sharpenCulinarCurvy, pure stainless steel handleEpicureCompletely retooled design with recycled-wood-fiber handle, custom-made for Sur La TableXlineBeautiful, modern design originally made for William-Sonoma; polypropylene handle, but looks like wood; hard to find in U.S.
STAMPED (LASER CUT) KNIVES
GourmetLooks like a Classic, but it's notSilverpoint (II)Looks like Gran Prix, but it's notProLight and thin like a VictorinoxEmerilA failed partnership project and discontinued
Again—Wusthof's forged knives are what I recommend and will concentrate on in this article. So, unless otherwise noted, I am always talking about their forged knives.
Are you with me?
FORGED VS. STAMPED A forged knife is made from steel that has been heated and hammered and heated and hammered some more, so as to realign its molecular structure and make it stronger and more resilient. While a stamped knife is literally stamped out of a roll of steel and thus lacks this strengthening process. With modern manufacturing techniques the lines have now blurred. But in the case of Wusthof, their forged knives are higher quality and will stay sharp longer.

Wusthof Knives—How They're Made
Wusthof knives all use the same X50CrMoV15 stainless steel—with molybdenum and vanadium added to enhance their hardness, durability, and resistance to corrosion. There is nothing out of the ordinary about this steel, but it's tough and definitely won't rust. Each knife is drop forged from a single billet of steel, the blade and handle one solid piece, thus they are all full-tang (one piece of steel from the tip to the heel). The knives are heat-treated to a Rockwell hardness of 58 which is the norm for German-style knives. Finally, they are all sharpened (with a few notable exceptions) to an angle of 14 degrees per side. This is much sharper than what German-style knives used to be sharpened at (around 22 degrees) and shows the influence of the Japanese invasion.
FULL-TANG Read How to Buy a Great Chef Knife to learn more about the tang and other kitchen knife terminology.
(Above: Future blades emerging from heat treatment at the Wusthof factory in Solingen.)
All the various forged lines share the same manufacturing process. . .This recipe for knife-making creates a durable blade that can withstand a lot of stress and still not chip and will retain a sharp edge for a respectable amount of time. It can't quite match the blistering sharpitude of many Japanese knives which are usually made of steels with higher carbon content. But for a home kitchen (and most professionals as well), it's more than sharp enough. Plus, it won't require the maintenance and vigilance demanded by many Japanese blades.
What's important to remember about Wusthof is that all the various lines (forged, that is) share the same manufacturing process, the same forged blade at their core. But they are customized into a spread of styles that distinguish themselves from each other by their handles and their balance and feel. (Left: Blanks that will become Wusthof Classic chef knives.) So if you're in the mood to splurge and spend $200 on an Ikon chef knife with a Blackwood handle (a gorgeous knife), please understand that the extra money you're spending is going to the handle and the feel, not to the engineering of the blade. And understand that a Wusthof Classic chef's (which costs $70 less) should slice through a carrot just as effortlessly as the Ikon Blackwood, hold it's edge just as well, have just as long a life cycle. The same is true for the Classic Ikon, the Grand Prix II, et al. The blades should all perform similarly.
There is one mild exception to this rule—the Japanese hybrid models (within each line). The santoku, nakiri, and chai dao are all slightly thinner than the corresponding chef knife and are sharpened to 10 degrees per side (instead of 14). This holds true for both Classic and Ikon versions of these knives and allows them to slide through food with slightly less resistance.
PEtec (PRECISION EDGE TECHNOLOGY) Wusthof's patented system of high-tech sharpening that guarantees each and every knife leaving the factory floor has been sharpened to their specs. By measuring with lasers and using robots to do the sharpening, the aim is to insure every blade is evenly sharpened from tip to heel and that there is consistency from knife to knife. This would be exhausting to verify, but my impression is that if you want a knife with a guaranteed sharp edge out of the box, your odds are good with Wusthof.
Buyer's Guide Contents
• • •
Wusthof Knives—Recommended Lines
For the purpose of this article (and because we're awash in knives), I'm going to focus on 8-inch chef knives and their Asian-style counterparts. But with each chef knife, I'll give you a snapshot of what other knives come in that style/collection.
To review: All knives are forged from the same steel. All are full tang. All are tempered to 58 HRC (Rockwell hardness), and all, except the Asian hybrids, are sharpened to 14 degrees per side.
KNIFE PRICES Because the prices of many name-brand kitchen knives can fluctuate wildly—sometimes up to 50 percent—please understand my quotes have to be ballpark. But if you click on the link to the seller's website, you will get the exact current price there.
Wusthof Classic Chef Knife
BUY NOW $100–130 @ Sur La Table / Amazon

The original—with a traditional triple-riveted polypropylene handle (but it looks and feels like wood) and a full bolster. Well-balanced and not too heavy. Holding it in your hand, you feel like a pro.
BOLSTER In a traditional forged knife, the bolster is that narrow wedge of steel that separates the handle from the blade. It's supposed to protect the cook's fingers from slipping on to the cutting edge. Many modern forged knives have minimal bolsters or none at all. For more details, read How to Buy a Great Chef Knife.
The Classic line boasts the largest collection—roughly 70 types of knives in all (not including accessories like forks). Everything from an ultra-narrow salmon slicer to three cheese knives to a bird's beak paring knife. And chef knives, Lordy! It sports 8-, 9-, and 10-inchers and, in case you're cooking for an army, 12- and 14-inchers, too. And, of course, it has a full range of santokus, and a nakiri as well. (Right: An 8-inch chef knife next to a 14-incher at the Wusthof outlet store in Norwalk, CT.)
If all your kitchen knives simply must match (mine don't), that would be a definitive reason to go with the Classic line. It's the most comprehensive collection of knives Wusthof manufacturers. As you grow your kitchen knife collection, adding specialty knives, etc., you can rest assured you'll find it in the Classic series. If you can't find it in Classic, Wusthof doesn't make it.
Wusthof Classic Wide Chef Knife
BUY NOW $153–170 @ Sur La Table / Amazon

This bad boy is a fantastic option for cooks doing some serious slicing. A wider blade can power through large fruits and vegetables (like butternut squash or heads of cabbage) or large quantities (think cubing up pork tenderloins) without being overcome by the food. The Classic wide blades are a 1/4-inch wider than regular blades. So a regular chef's, at its widest, is 1 3/4 inches, while a wide chef is 2 full inches. (Just don't forget that the extra width might prevent Big Boy from fitting in the usual slots of your wood block. A small price to pay for the extra chopping power.)
Ikon Series Knives
A contemporary answer to the Classic with a curvy, ergonomic handle. It comes in three versions, each identical, except for the color of (and material in) the handle: 1) Classic Ikon, 2) Classic Ikon Creme, and 3) the Ikon (Blackwood). (Below: Classic Ikon chef knife, hollow edge.)
The Ikon series totes a half bolster which offers a slightly different balance/feel than the Classic and makes it much easier to sharpen. It also has, what Wusthof calls, a second half-bolster at the very end of the knife where the steel core spreads out to cover the entire butt and which aids greatly in the balance act.
The handle really is something. It not only looks graceful as a deer antler, but fits into your hand (or mine, at least) like a kid-leather glove. This is my favorite Wusthof knife. (Tip: If you can afford it, you might want to spring for the 9-inch chef which, to me, feels even better and more balanced than the 8-inch. The handle is exactly the same size as the 8-inch, so it looks like they designed the handle with the larger knife in mind.)
What's so cool about the Ikon series is that they're not only beautiful, but serious tools that you can plan on having in your kitchen for decades.
Wusthof Classic Ikon Chef Knife
BUY NOW $120–160 @ Sur La Table / Amazon

Black polypropylene handle that (like the Classic) looks and feels like stained/varnished wood. A stylish, yet workhorse, knife. Medium-sized collection: 28 knives, including 9-, 10-inch chef, and 6 1/2-inch santoku.
Wusthof Classic Ikon Creme Chef Knife
BUY NOW $120–150 @ Amazon

Ditto the Classic Ikon, but with a creamy-white handle. Kind of Western, no? Harking back to pearl-handled pistols and what not. Small collection, only 17 knives—6-, 8-, 9-inch chef, and 6 1/2-inch santoku.
Wusthof Ikon (Blackwood) Chef Knife
BUY NOW $190–200 @ Amazon

Why the heck, for the sake of clarity, didn't Wusthof officially name (or rename) this knife the Ikon Blackwood? At any rate. . .this top-of-the-line version comes with a genuine wooden handle made of Grenadilla wood (African Blackwood)—one of the hardest woods in the world. Classy stuff and it's an eye-catcher in an understated sort of way. And, yes, you can feel the subtle difference of the natural wood in your palm. What's more, the blades tend to be ever-so-slightly thinner and lighter than the Classic Ikon. I assume it's for balance, to match the lighter weight of the Grenadilla wood.
This is the knife to buy for that very special person who's passionate about cooking and appreciates fine things. Medium-to-small collection: 20 knives including a 6-, 8-, 9-inch chef; 5-, 6 1/2-, 7-inch santoku.
Wusthof Epicure Chef Knife
BUY NOW $130–190 @ Sur La Table / Amazon

The Epicure was custom-designed for Sur La Table in partnership with Epicurean (the maker of cutting boards). Thus, the recycled-wood-fiber handle that's made of the same material as Epicurean's Richlite boards. The Wusthof engineers went back to basics and retooled everything, not just the handle. Notice the subtle, continuous arc of the spine, the shape of the blade (steeper curve at the tip), and the full-sized bolster (unlike the Ikon). It's even got a ceramic coating for protection and to help prevent food from sticking. (I'm not certain how effective this is in practice, but it certainly sounds like a cool idea.)
The blade is a touch wider than both the Classic and Ikon which means it will offer more knuckle clearance. The handle is roomy as well. So, if you have large hands and are always feeling cramped, the Epicure is worth checking out.
For me, I have reservations: 1) My hand tends to swim in the handle, and 2) the balance tips forward too much. Some folks may not mind this, or even like it—I prefer a knife more evenly balanced. Bottom line—although I love the look of the Epicure, I still favor the Ikon series or the Classic. Small collection: 8 knives total including 6-, 8-, and 9-inch chef knives and a 7-inch santoku which I love—because the handle feels better and it balances perfectly. See below in Wusthof Japanese-Style Knives—Recommended Models.
Wusthof Le Cordon Bleu Chef Knife
BUY NOW $100–120 @ Amazon

Look carefully, otherwise you'll wonder: What's the diff between this knife and the Classic? Another collaboration is what—this time with the legendary Le Cordon Bleu culinary school in order to come up with a knife tailored for chefs. It's almost identical to the Classic, but with a half bolster to lessen the weight, its 30% lighter. When you're a sous chef chopping celery and carrots all day long, a lighter blade can help ease the strain.
Soooo. . .if you do a lot of chopping and you like a German-style knife, but you don't like how fatigued your hand can become, the Wusthof Cordon Bleu might be a perfect solution. Plus, because of the reduced bolster, you can easily sharpen the entire length of the blade. (Just like the Ikon series.) I'm also guessing the blade is a touch thinner than the Classic which will give you less resistance and better performance. But I haven't been able to verify this fact yet with Wusthof. Smallish collection: 11 knives including 6-, 8 -, 9-inch chef knives, plus a 7-inch santoku.
Wusthof Grand Prix II Chef Knife
BUY NOW $110–137 @ Amazon

You could characterize the Grand Prix II line as a less-expensive, not-quite-as-nice version of the Classic Ikon. There's no skimping of quality in the blade and the handle has a similar ergonomic curve to it (sans rivets), buuuuut. . .the material the handle is made of looks and feels more like the plastic/synthetic it is. And it's noticeably lighter in the hand. The knife lacks gravitas, the stuff the Ikon oozes from every pore. Nonetheless, if your budget is super-tight and you really want a quality German knife, or maybe you just prefer the lightness, then the Grand Prix II fills a niche.
(Granted, I may be overstating my case—because I've read some reviews that have raved about the balance of the Grand Prix II. But I can't help but wonder if these self-same reviewers tested out the Ikon, they might rave even louder about it.)
Anyway. . .please also note that unlike the Ikon, the Wusthof Grand Prix II has got that midriff bulging bolster which will make it trickier to sharpen but offer more finger protection. Medium collection: 30 knives, including 6-, 8-, 9-, 10-inch chef, cleaver, and two santokus (which, true to form, don't have bolsters).
Wusthof Culinar Chef Knife
BUY NOW $120–150 @ Amazon
Honestly? I just don't get this knife. Why would I want a cutting/slicing tool with a handle made of polished steel so smooth (without a single gripping texture) that at any moment it might slither out of my fingers like a Brook trout? True, it's a sleek, contemporary design—like a Gran Prix II with a handle that's morphed from plastic to steel. But can you imagine cutting up an avocado with it? No fun at all.
However . . . if smooth steel handles are your thang, rest assured the blade will have the exact same quality as all the other Wusthof forged knives. Medium-small collection: 20 knives; 6-, 8-, 9-, 10-inch chef knives, plus santokus.
Wusthof Xline Chef Knife
BUY NOW $179 @ Amazon / 2-Piece Knife Set

I fell madly in love with the look of this knife when I first saw photos of it surfing the web. As Wusthof puts it: "Dynamic lines, crossing over at the centre of the bolster forming an X, link the handle to the blade in an intelligent and ergonomic way. Edges, corners and straight lines are continued from the blade into the bolster and handle." Yes! In an instant, I recognized it as one of the most eye-catching designs I'd ever seen in a quality kitchen knife. (No surprise it garnered a prestigious Red Dot Design Award in 2013.)
Then I sauntered into a Williams-Sonoma store and placed one in my hands. Uuuuf. It weighed a ton. The Xline went from the being the most beautiful chef knife to the most weighty one as well. My love affair cooled. But, if you don't mind heft and you appreciate beauty, this is still a super-fine knife. (Also please be aware the handle is a bit large and square-ish.)
Oh, there's one other catch—the Xline tends to be as rare as the snow leopard. At least in the States. Supposedly, they were custom-designed for Williams-Sonoma and you can see them listed on the German Wusthof website. But their long-term fate in the U.S. has been in limbo. Although just recently, they've been making a comeback. . .so, stay tuned. Small collection: 8 knives total; 6-, 8-inch chefs and a santoku.
Wusthof Double-Serrated Bread Knife
Wusthof Classic: BUY NOW $90–120 @ Sur La Table / Amazon
Wusthof Classic Ikon: BUY NOW $100–160 @ Sur La Table / Amazon
Double-serrated might sound like a gimmick, but it's not. The cutting edge of this bread knife has larger serrations and then smaller ones within the larger ones which adds up to one smokin' bread knife. If you are sick and tired of your bread knife sliding off crusty peasant bread loafs, or smooshing down baguettes before actually carving into them, your time has come. This knife is meant for you. Even angel food cake! (So the promo goes.)
When I visited the Wusthof outlet store for the first time last spring, my Wusthof guide raved about this knife. I didn't let on, but went, "eh" inside. But as I shopped for other flashier items, I mulled it over and gradually realized it was a brilliant idea and a powerful tool. So I put it in my shopping basket, along with too many other cool knives that my heart wanted but my wallet didn't, and, unfortunately, it didn't make the cut.
When I got home that night and whipped out one our bread knives to slice up a warmed-up ciabatta loaf, and could feel the edge barely grip the crust as I gingerly sawed, trying not to smush it down to nothing, I realized I'D MADE THE WRONG DECISION. But it's on my calendar to return to the next major outlet sale and NOT LEAVE WITHOUT IT.
If you eat any kind of baked items on a regular basis that need to be hand sliced—this bread knife will make you smile and keep on smiling.
• • •
Wusthof Japanese-Style Knives—Recommended Models
Although I've already touched on these Japanese-style knives above (in my encapsulations of collections), I think it's important to spotlight them because they are so terribly useful. And many are discovering they have a hankering for the slightly reduced length and weight of this style of knife versus the traditional chef knife.
Wusthof's Japanese-style knives generally come in two sizes—5-inch and 7-inch. I recommend the 7-inch because it's closest to an 8-inch chef and can handle most kitchen tasks. For me, a 5-inch is a bit too small to be my go-to knife. But if small works for you, then you've got options.
As the chef knives above, the blades are all forged, full tang, and pass through the same rigorous manufacturing process, the only difference being they are 1) slightly thinner, and 2) sharpened at a 10-degree angle instead of 14. What does that add up to? Improved sharpitude, these babies can slice!
Wusthof Classic Ikon Santoku, 7-Inch
BUY NOW $130–170 @ Sur La Table / Amazon

I've featured this wicked beauty for years as one of my favorites in my article: Best Knives—Six Recommendations. So all I can do is gush. It's nimble, it's sharp, it's sexy, and it's got that wonderfully comfy Ikon handle. It's the babe of my kitchen. It can slice through melons, split an avocado, and chop up oregano. If you're looking for a slimmed down go-to knife for your kitchen, you will never regret buying it.
It comes in the Classic line as well (with a different handle, of course). And if you need a paring knife and can't resist a deal, you should consider the Asian two-knife set. You get the santoku along with a 3-inch, straight-edge paring knife for at least $20 less than buying them separately.
SANTOKU (sahn-TOH-koo) KNIFE Santoku in Japanese translates as "three virtues" or "three uses." Traditionally, Japanese knives were highly specialized, each designed for a specific task (slicing sushi, dicing carrots, etc.). But the santoku blade was invented for a variety of tasks—cutting, chopping, mincing—most everything done with a chef knife in the West.
Wusthof Classic Chai Dao (Hollow Edge), 7-Inch
BUY NOW $120–140 @ Amazon

Strictly speaking, the chai dao is Chinese, not Japanese, but let's not mince cultures. Santokus and Japanese-Asian-style blades come in a range of shapes—some pointier, some longer or wider than others. But the most important distinguishing factor of this blade, versus your average santoku, is the smooth, round curve of the cutting edge. This allows you, without lifting, to rock it back and forth when you dice veggies. Which can save hand and arm energy. It's a technique that needs to be practiced, assimilated—and, I must admit, I'm still assimilating.
Regardless—the other thing I love about this knife (and santokus in general) is the "scoopability factor." You know, the way you can use the wide blade to scoop up what you you've just chopped and toss it in the pot. This baby's got a high scoopability factor—3/8" wider (or taller) than the Ikon santoku above. If you'd like to save $30 and don't care about the scalloped edge (it only comes into play when you're pull-cutting through something thick anyway), buy the model that's not "hollow edge."
In Chinese, "chai dao" means vegetable knife.
Wusthof Epicure Santoku, 7-Inch
BUY NOW $152–190 / Amazon

Although billed as a santoku, if you compare the shape and width of this blade to the chai dao above, it's pretty similar—the main distinction being a straighter cutting edge. And it has a similar scoopability factor, too, all good things.
On the Sur La Table website, the Epicure santoku is tagged a "cooking class favorite." Although I'm perpetually wary of hype, having taken it for a test drive in the store, I can totally see why it's so popular with the class. It nestles into your palm like it belongs there, and it's uniquely handsome to boot. It suffers none of the bulkiness I felt with the Epicure chef knife.
But it is pricey. If you're looking for pure cutting power, there are better values to be had. Otherwise—if you're seeking a kitchen knife that's well-made, stylish, and most of all comfortable, the Wusthof Epicure santoku is highly worth investigating.
Wusthof Classic Nakiri, 7-Inch
BUY NOW $80–130
@ Amazon / Sur La Table
I haven't had a chance to get my grubby mitts on this nakiri, so on a tactile level, I know less about it than the other Japanese-styles knives covered. But it's gotten raves on Amazon and near to nil negative reviews which is rare nowadays with so many opinions out there. So, it definitely has something to say for itself.
The blade is 2 inches wide (or tall) which makes it wider than the Classic Ikon santoku (1 3/4"), but a touch narrower than the chai dao at it's widest. (To give you some perspective—your average 8-inch chef knife is 1 3/4" wide.) What's nice about this size is that, although it's wider than a standard chefs, it's not as wide and cumbersome as a traditional Chinese cleaver. So, you can chop and scoop without banging into things or catching yourself with the edge of the blade. Plus, it's got a rounded tip which, again, makes it a touch safer. That's my two-cents worth at least.
This is the ideal knife for someone who does a whole lot of chopping and dicing in the kitchen. But, look out—you might get hooked. Many of the Amazon reviewers have been converted to using the nakiri for almost everything they do.
BUYER BEWARE Wusthof is such a powerful brand that it does attract knock-offs. Please be aware that the best way to guarantee you're buying a genuine Wusthof blade is to buy from an Authorized Wusthof Retailer.
• • •
Wusthof Knife Sets and Knife Block Sets—Recommendations
Kitchen knife sets are always tricky because it's nearly impossible to get exactly the knives you want. You invariably get a knife (or honing steel or kitchen shears) you don't really need—the 6-inch utility knife being the classic culprit. (Although after 20 years of neglect, I've finally found a couple of uses for mine. Woo-hoo!)
Nonetheless, a knife set can serve the purpose of jump-starting your kitchen with a bevy of blades without having to go through an exhausting series of buying decisions. And it can also make quite a splash as a gift. So sets have their place. (Please note: If your knife set does not come with a block, you should buy one, or a knife storage drawer, or at least some knife covers. Protect those edges!) (Below: Wusthof Classic Ikon 7-piece block set.)
Here's the roadmap: First, I'm going to divide the knife collections into three basic categories: 1) two-piece chef and paring knife sets, 2) medium-sized sets, and 3) full-sized sets. Then, within each category, I'll focus on the six Wusthof knife lines I've recommended above, touching on sets/blocks worth considering, and drawing some distinctions.
Oh, one other important detail. Just because a Wusthof knife set isn't in this listing, doesn't mean I wouldn't recommend it. This is not a definitive list, just a sampling of sets to consider with some useful guidelines.
On your mark, get set, go!
THE CORE THREE A bare-bones kitchen can get by with just three essential knives. Curious? Check out How Many Knives Do You Really Need?
Wusthof Chef and Paring Knife Sets
This is my favorite type of knife set to recommend because you get two out of the three core knives every kitchen should have—a chef and a paring knife. Pure muscle, no fat.
The sets below feature an 8-inch chef and a 3 1/2-paring knife. An 8-inch chef knife is the standard for home kitchens and there's a reason why—it's big, but not too big. These sets run from around $120 to $200. There are cheaper chef-paring knife sets that feature 6-inch chef knives. But unless you know for sure you want a shorter chefs, I don't recommend them. (Right: Wusthof Classic 2-piece starter set.)
Wusthof Classic 2-Piece
Starter Knife Set
@ Amazon / Sur La Table
Wusthof Le Cordon Bleu 2-Piece Starter Knife Set
@ Amazon
Wusthof Gran Prix II 2-Piece Knife Starter Set
@ Amazon
As I've already mentioned, santoku knives (and the other Japanese models I recommend) can stand-in for traditional chef knives. The size I recommend (comparable to an 8-inch chefs) is a 7-inch blade. And that's the size that comes with the sets below.
Wusthof Classic Ikon 2-Piece Asian Santoku and Paring Knife Set
@ Amazon
Wusthof Classic 2-Piece Asian Santoku and Paring Knife Set
@ Amazon (Below: the Classic 2-piece Asian santoku and paring knife set.)

For those who already own an 8-inch chef and are adding on, or are certain they want a smaller chef knife, here are two sets with a 6-inch chef:
Wusthof Classic Ikon 2-Piece Knife Set (6-inch chef)
@ Amazon / Sur La Table
Wusthof Epicure 2-Piece Knife Set (6-inch chef)
@ Sur La Table / Amazon
Finally. . .there does exist a "core three" set for the Gran Prix II line. This ideal grouping is rare though. And, unfortunately, the set only saves you $10 from buying them separately.
Wusthof Grand Prix II 3-Piece Knife Starter Set
@ Amazon
Wusthof 200th Anniversary 2-Piece Knife Set
@ Amazon
In celebration of 200 years of knife making, Wusthof has issued a limited edition 2-piece set in a vintage style circa 1920s. Wusthof's way of making whoopee.
The handles are real wood, rosewood to be exact, the rivets are brass, and the blades, and this the most important part, are forged from carbon steel—not high-carbon stainless. Carbon steel is what most knives were made of before the stainless revolution. This sets these knives apart from all the other forged knives I've covered in this article and here's why: 1) carbon steel is harder (HRC 59) than high-carbon stainless and will take a sharper edge and stay sharp longer; 2) unlike stainless, carbon steel corrodes and is susceptible to rust if you do not keep it dry after using. It will also gradually develop a dull patina that will give it a cool, vintage look. (The set comes with a little bottle of oil you should use to protect them.)
Excuse me while I effuse, but these are seriously beautiful knives. Well-conceived and painstakingly executed. I think I like the feel of this chefs even better than the Classic Ikon—something about the balance and the natural wood. Please be aware that it's a 9-inch chef and a 4-inch parer, but don't let that extra inch on the chef scare you. The blade's so light and nimble and natural in the hand, you'll hardly be aware.
Wusthof Medium-Size Knife Sets
If you need the core knives for a home kitchen and you want them all to look alike and fit in their own block—this is the type of set you're looking for. Most often it will come in the same configuration: paring, chef, bread, utility, shears, honing steel, block. You can often find different types of wood for the block, Acacia being my personal fave. These sets range from around $330 to $760.(Below: Wusthof Epicure 7-piece knife block set)
Wusthof Epicure 7-Piece Knife Block Set
@ Sur La Table / Amazon
Core three, plus shears, a honing steel, and a serrated sandwich knife—which I think is much more useful than a utility knife. And the handsome Acacia block. Bought separately, these would all add up to $100–200 more.
Wusthof Classic 7-Piece Knife Block Set
@ Sur La Table / Amazon
with Acacia Slim Block
@ Amazon
The slim design and Acacia block might be worth paying extra for—it is a beauty. And not as massive.
Wusthof Classic Ikon 7-Piece Knife Block Set (also with a Walnut block)
@ Sur La Table / Amazon
same in Classic Ikon Creme (with slim block)
@ Amazon
Wusthof Grand Prix II 10-Piece Knife Block Set
@ Amazon
If you need a lot of paring knives and you don't mind the Grand Prix handles, this is a very useful set. You get three paring knives!
Wusthof Ikon (Blackwood) 8-Piece Knife Block Set
@ Amazon
Beautiful, top-of-the-line set. Five knives: 3 1/2-inch paring, 4 1/2-inch utility, 8-inch carving, 8-inch bread, 8-inch chef—and shears, honing steel, block. You get a carving knife, yea!
HONING STEELS I am not crazy about the honing steels that come with most knife sets. They are usually made of a ridged steel that is tougher on your knives' edges than is necessary. I recommend using a ceramic hone—for more info see my article What's a Honing Steel?
Wusthof Large-Size Knife Sets
These jumbo knife sets define "pricy" and are a bit over the top. One of the main elements bumping up the price are the steak knives. Those who really really crave forged, high-quality steak knives along with their kitchen knives will need to pony up.
Steak knives aside—if you've got the budget, enjoy cooking, and have more than one chef in your kitchen (like our house), you'll probably find the extra blades come in handy. Especially on special occasions and crunch cooking times like holidays and big dinner parties. These big-boy sets run from (take a big breath) $1,000 to $2,000. (Below: Wusthof Classic 36-piece knife block set.)

Wusthof Classic 36-Piece Knife Block Set
@ Amazon
This puppy's in a league of it's own. I can't imagine ever needing another knife to do anything. Multiple paring knives, multiple chef knives and santoku knives, multiple carving knives, a cleaver, the list goes on and on, and, of course, for good measure, a couple of those really weird-looking cheese knives.
Wusthof Classic 21-Piece Knife Block Set
@ Sur La Table / Amazon
One-third of the items in this set are steak knives (you get 8). Then: a chef and a santoku, a boning knife, a serrated sandwich knife and a regular bread knife, a paring knife and a bird's beak peeler (and, of course, the obligatory utility knife)—which are all regular bill of fare for a busy kitchen. To top it off, you get a carving set (knife and fork)—and, of course, the honing steel, shears, and block.
Wusthof Classic Ikon 22-Piece Block Knife Set
@ Amazon
This is just about the largest set you can buy in the Classic Ikon line. (OK, there's one larger featuring 26 items.) What I like most about this set is that you get two chef knives and two santokus. It's fun to have lots of options! The official list: paring knife, two utility knives, bread knife and sandwich serrated, 6- and 8-inch chef knives, 5- and 7-inch santoku, boning knife, 8-inch granton carver (no fork), and eight steak knives. Plus, the shears, steel, and block.
• • •
Wusthof Steak Knife Sets—Recommendations
I must admit, I'm not a huge fan of paying a premium for steak knives. Most of us don't use them often enough for their sharpitude to be a major issue. They just need to look nice and cut reasonably well. Thus, in this one instance, I'm not a stickler about recommending only the premium Wusthof forged lines (Classic, Ikon, Grand Prix) for a steak knife set.
Below is a sampling of sets that cover a range of blade quality as well as style, fit, and finish. In my opinion, any one of them could do the job. Priced from $55 to $375.
Wusthof Stainless-Steel Steak Knives, Set of 6
@ Amazon
Set of 8, with Wooden Case
@ Sur La Table / Amazon
Rave reviews, best value, serrated blade. And, unlike everything else Wusthof-ian, they're made in China. All the sites that sell these say they're forged, which doesn't make sense. I'm sure they're stamped, but it's been hard to verify. So what? They're only steak knives


Wusthof Gourmet Steak Knives, Set of 6 & Storage Block
@ Sur La Table / Amazon
The Gourmet line is stamped, not forged. Rave reviews as well.


Wusthof Classic Steak Knives, Set of 4
@ Sur La Table / Amazon
Forged . . . and you pay for it.


Wusthof Classic Ikon Steak Knives, Set of 4 with Wooden Case
@ Sur La Table / Amazon (no case)
Classic Ikon Creme w/case
@ Amazon
Ikon Blackwood w/case
@ Amazon
Top of the Pops!
• • •
Wusthof Wrap-Up
Hope you've had a successful tour through the world of Wusthof! I've tried to give you a roadmap that you can return to again and again when you're feeling lost. Don't worry if at the moment it all feels like a blur. Just remember this one, most important, thing—stick to the forged lines. That's where Wusthof's reputation lies.