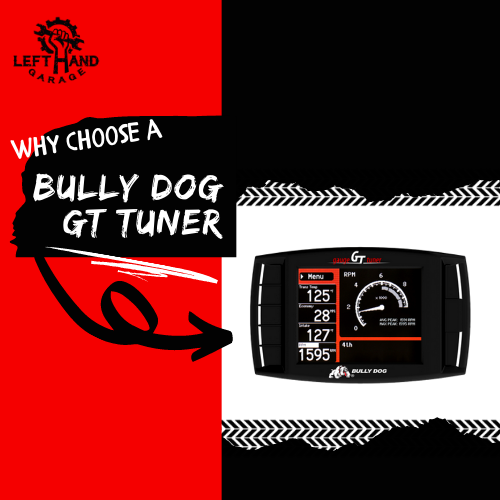 Why Choose a Bully Dog GT Tuner?
Photo from  SEMA Data Co-Op
Originally Posted On: Why Choose a Bully Dog GT Tuner? – Left Hand Garage
You're likely asking yourself why you should choose a Bully Dog tuner. Well, if you're looking for an engine tuner that will boost your vehicle's performance as well as fuel efficiency, then it could be time to have a look at the range of Bully Dog products.
Most trucks and cars will now come with a standard engine control unit, which will limit the true capabilities of your vehicle, starting with its performance. The Bully Dog brand offers a range of impressive yet affordable performance-boosting products for diesel and gas trucks, no matter if you have a Ram, Dodge, or Ford truck.
Over the years, the company has become known particularly well for its focus on producing products that enhance horsepower and marketing their software that improves drivability for both cars and trucks. In addition to this, the brand is continuously innovative and runs its own beta testing program to ensure its tuners' excellence. Continue reading if you want to learn more about why you should choose a Bully Dog Tuner.
The Bully Dog Brand
Before we dive into how the different tuners work and what benefits they offer, it's important to learn a little more about the brand itself. Although the company's products are more affordable than some of their competitors, it's still essential to invest some of your valuable time getting to know the brand.
How The Brand Is Innovative
Impressively at the 2008 SEMA tuning show, industry experts named the Triple Dog GT programmer one of the products that had the best engineering they had seen. Additionally, many might not realize that the company has been the first to launch vehicle-specific products more than 100 times in recent years.
If you need an industry-specific example of the brand's innovation, consider their Bully Dog GT programmer. This product was the very first of its kind that could function as a tuner, diagnostic tool, monitor, and gauge all in one. Interestingly, it also happens to be the first programmer to incorporate software that specifically addresses a driver's effect on fuel economy.
In terms of innovative software, the brand has its own unique software called Driving Coach. The brand specifically designed this software to aid drivers in managing their different vehicle's fuel efficiency. The Bully Dog software takes it one step further by notifying you if you are driving inconsistently, and it even grades your driving on a scale of F to A+ so that you are aware of your driving habits. This way, you will know how to be as fuel-efficient as possible.
The Beta Testing Program
With the technological advances of the modern world, it's important for a brand to conduct beta testing programs. Bully Dog has one of the most vigorous testing programs in the industry, and every product they design is first placed into comprehensive engineering tests.
After the engineering testing process, they put the product into the beta testing program, where actual drivers will utilize the product and report their findings.
By doing this, the brand can provide the best product possible for its consumers. Essentially the brand provides a product range that has gone through multiple manufacturing steps before its end product is sold, which ensures its quality.
What A GT Tuner Does for A Vehicle And Why You Likely Need One Installed
Tuners are specifically engineered to break the factory performance settings that limit your vehicle's overall performance capabilities. A tuner's software, for example, which is the Bully Dogs software on its devices, will communicate with your car or truck's ECU and tell it specifically how to optimize the vehicle's engine performance.
Once the software communicates with the device, your vehicle will likely have better fuel economy and more power.
Bully Dog Triple Dog GT Platinum Diesel and Gauge Tuner
Many people don't know that a diesel truck can achieve power gains if an aftermarket tuner product is used. With an impressive array of features, this device is ideal for a range of different vehicles. By installing a Triple Dog GT diesel gauge or tuner, you are effectively providing your truck with increased acceleration and towing capabilities.
Amongst all the Bully Dog products, the GT diesel tuner is one of their best-selling models. Studies were conducted on a 2005 Ram truck with a 5.9-liter Cummins engine after the device was installed. What the unit did was provide the Ram not only with engine monitoring but also engine safeguarding.
Additionally, it also had diagnostics features and performance capturing. The performance features of this device allow you to choose between three different modes. Each mode will provide a different power level of torque ranging between 50hp and 120hp.
This diesel tuner gives users up-to-date information on the performance of their vehicle. With an easy installation process, a driver only needs to plug in the device via an OBDII port and perform a once-off simple software download directly onto the vehicle's ECU.
Moreover, this GT tuner comes preloaded with the brand's unique Driving Coach feature, which will allow you to get up-to-date information on all your vehicle parameters, including fuel efficiency.
Installation of The Bully Dog Triple Dog GT Platinum Diesel Tuner
Installing a Bully Dog Triple Dog GT Platinum Diesel Tuner is incredibly easy as the whole process takes less than 30 minutes. Should you prefer to do things yourself, you are in luck. First, you will need a computer to do the software installation to the SD card and then the device.
Next, you will need to look for a key on the ignition circuit and attach the device's power cable to the fuse. Once you have successfully achieved this, you will then install the adapter plug cable. You will then need to take your HDMI cable and plug it into your device's adapter cable's correct end. After this step, you must take the HDMI cable and place it inside the driver-side A-pillar so that you can connect it to your tuner.
Now you're practically at the last step. You will now take your adapter plug switch and move it into the battery position. Then take your OBD II plug on the adapter cable and plug it into your OBD II port, which you will have under your dash close to your car's steering column.
Your last step is programming your Bully Dog GT Platinum Tuner. Most importantly during this step, you need to make sure that your battery voltage doesn't drop as it can stall the device. To save yourself the hassle, if this happens, it would be best if you considered utilizing a 20-amp battery charger during the programming process.
When you're ready to start the programming, turn your ignition on but don't start the vehicle's engine. After a few moments, you should notice the initialization screen switching over to the display menu. After this has occurred, you can select the functions and vehicle parameters that you want in place to modify and control your truck or car's engine capabilities.
When selecting your parameters on the Bully Dog GT Platinum Diesel Tuner, you can recalibrate the speedometer according to your tire size. There is a range of other features available that you can enable that we will discuss under the next heading.
Features of The GT Platinum Diesel Tuner
Below we will look closely at a select few of the features that the tuner will provide your truck. With this tuner, there are predominantly three categories that the features fall within. Remember to adhere to safety warnings and diesel refueling precautions.
The diesel tuner has the capability to notify you with an audible and visual warning if the limits that you have set are likely to cause harm to your vehicle.
If your car's limits are presenting problems, then the tuner will initiate defueling protocols, which is an added feature that will look out for the following parameters:
Your car's turbo boost pressure
The coolant temperature
Your car's oil temperature
The vehicle's transmission temperature
The gas temperature, or as it's also known, the "pyrometer"
Economy Features for The GT Diesel Tuner
View your vehicle's wasted energy output.
Select the fuel economy goals that you require for your needs.
You can choose to display your trip economy.
Carefully monitor your driving activity to see where you need to improve to increase fuel efficiency.
Check the average economy.
You can also carefully select the sensitivity you want for certain driving conditions.
Performance Tuning Features of The GT Diesel Tuner
Conduct performance testing.
You can record and examine performance testing results.
Utilize the software program to analyze and observe horsepower, torque, and speed curves.
Monitoring Features of The GT Diesel Tuner
Manage your vehicles mass air flow.
Check the injection pulse width.
Manage records by being able to read and erase diagnostic trouble codes.
Monitor engine RPM.
Look at the engine load.
Monitor fuel economy.
These are a fraction of the features offered. The tuner offers many more, but these are a few of the key features.
Bully Dog GT Gas Platinum Tuner
This device is truly an all-in-one product. Not only will it provide a Driving Coach feature, but it will also give drivers both monitor and gauge features. The tuner might be small, measuring in at only 3 inches wide and 2 inches long, but it sure is mighty. As we have already touched on the Driving Coach software, we will just reiterate what it will specifically provide with this device.
Driving Coach will allow drivers the ability to conduct custom tunes so that they can learn where they are wasting energy. If you know where you and your vehicle are wasting energy, you will be able to address the problem and fix the overall fuel economy.
Incredibly the GT Gas Platinum Tuner is capable of adding approximately up to 25 horsepower. It achieves this by providing you with accurate, real-time diagnostic information. Additionally, this device is ideal for most car and truck models due to its portability.
In terms of vehicle performance on the high-octane performance setting, you can achieve a peak horsepower level of up to 35hp. Moreover, the device works on both regular 84+ fuel and 91+ octane fuel. The device also has allotments for up to ten custom tunes, which in and of itself is impressive.
Depending on the truck or car you have, the device will be able to control everything from how long you want an accessory to be switched on to turning off a seatbelt chime. You can also perhaps most impressively set the device to allow you to run both the fog lights and high beams at the same time.
On a side note, the device is aesthetically pleasing with a size that won't take up space in your vehicle.
Installation of The Bully Dog GT Gas Platinum Tuner
Now you might think that a four-in-one high tech product would be difficult to install. Trust us, we thought so too, but the reality is that the entire installation process is actually quite simple.
You will need to first plug the device into the OBDII port under the dash. Then you need to take the tuner from the box and plug it into the OBDII port. After that, it's fairly simple as you will need to follow the prompts and program your settings.
Don't forget that you will first need to do the software update at a computer before you can do the final step of programming your device according to the settings that you want.
Features of The GT Platinum Gas Tuner
Below are listed a few of the most notable features offered with the GT Platinum Gas Tuner.
Speed limiter: With this feature, you can change the top speed your car can reach before the engine automatically limits the power.
Rev limiter: The rev limiter feature will allow you to regulate the RPM and increase it should you want to.
Auto door lock: This will let your car automatically lock the car doors any time that your vehicle surpasses 15mph.
Wide-open throttle disable: You will be able to disable the throttle position, which will allow you to use up to 100 percent of your vehicle's throttle capabilities before you hit 40mph.
Throttle sensitivity: This feature will allow you to adjust the throttle sensitivity in performance, extreme, fuel saver, and stock modes.
Transmission shift points: When using an automatic transmission, you can change gears at different RPM intervals.
Traction control: you can choose to disable the traction control.
Headlight delay: after the engine switches off, you can set how long you want the headlight lamps to be on.
Engine fan: With this feature, you can disable and enable the engine fan regardless of what your vehicle's coolant temperature is.
Axle ratio: you can correct your vehicle speedometer and your fuel efficiency calculations if you have changed your car's gear ratio.
Daytime running lights: You can disable or enable daytime running lights.
Fuel dynamics compensation: With this feature, you can enable or disable your vehicle's fuel dynamics compensation algorithms.
Optical flash when locking: Your car's hazard lights will flash every time the doors are locked using a remote.
Bully Dog Triple Dog GT Diesel Programmer
Besides the Bully Dog diesel and gas GT Tuners, there is another popular product by this brand. The Bully Dog Triple Dog Diesel Engine Programmer won't do any damage to your car or truck and will grant you performance levels you might never have seen before.
The product is easy to install and is mostly just a plug-and-play device. When you switch on the device, it will automatically adjust your vehicle's engine and ECU settings to ensure the car runs at wholly optimal levels.
Benefits of the Bully Dog Triple Dog GT Diesel Programmer
The programmer is completely plug-and-play, which alleviates much of the hassle drivers face when trying to optimize their vehicle's performance. You won't need to cut or assemble any wires as you will only need to plug in the supply cable and wait for the device to start. If you're worried that you won't be able to install this, any qualified mechanic will assist you.
This programmer is one of the best digital ones available on the market today. The digital tuning system is designed to be far superior to the normal analog programmers that frequent the market. You certainly don't need to worry about this device because the resistor in the box won't trip your car's ECU cold fuel maps when it's sitting at a low RPM range.
If you have an automatic transmission or a manual transmission, you can use this tuner. Unlike other products on the market, this tuner doesn't require a process known as chipping. This means that your ECU does not have to be opened physically, allowing you to keep your warranty.
The monitor on this device will display more than 15 different vehicle parameters.
Warranty
All Bully Dog products come with a one-year warranty, unlike some of their competitors. This warranty not only covers the device but will also cover all the accessory items found in the box upon purchase.
However, you should remember that superior, reliable performance can't be guaranteed if the device isn't installed properly in your car or truck. You should also avoid trying to modify the tuner in any way. It is highly recommended that it only be utilized in the way it was intentionally made to be used.
Can You Use Your GT Tuner on More Than One Vehicle?
Unfortunately, you cannot use your GT Tuner on more than one vehicle. Once you have purchased and installed the device in your vehicle, a process known as vin-locking will be performed. This protects the brand from the device being used on multiple vehicles without the correct licensing in place.
However, the majority of GT tuners can be used on a range of vehicles, from trucks to cars.
Why a Pyrometer Probe Kit Is Important
As most of the Bully Dog GT tuners provide increased performance, it's crucial that drivers monitor exhaust gas temperatures when a vehicle is under a heavy load, such as towing. By monitoring this, you will make sure damage doesn't occur to your truck. It's also important to know that a GT tuner will work on many of the late model Dodge, GM, and Ford pickup trucks.
Let's get down to what the nitty-gritty of a pyrometer kit will do for you. Most importantly, a pyrometer will help you as a driver determine if your vehicle is functioning at safe temperatures. If you are aware of any temperature changes, you can prevent damage from happening to your turbocharger or engine by safely backing out of the vehicle's throttle.
A pyrometer kit is especially important if you frequently tow or carry significant weights with your truck. It's also essential to use one of these kits if you travel in hot weather, travel up steep gradients, or if you often participate in motor sporting activities.
Whenever you want to use an engine to its full potential, it's crucial to use a pyrometer probe so that it can continuously monitor the integrity of the engine. Most kits will come with everything you need to monitor exhaust gas temperatures on the Triple Dog monitor's display.
Additionally, by installing a pyrometer probe with a diesel GT tuner, you will be able to unlock the refueling feature.
Final Thoughts on The Bully Dog Products
The Bully Dog brand is undoubtedly one of the best GT tuner manufacturers on the market. With their engineering process and beta program, they have consumers' needs in mind. Additionally, their products are easy to use, calibrate and install.
If you choose to go with one of their devices, whether it be a diesel or gas GT tuner or programmer, your vehicle will likely have much-improved performance and fuel economy.
As it comes with a one-year warranty, you will have the assurance that the product is quality. As it's sold in fifty states, including California, you are likely to have no issue locating one of their devices.
Are you looking for a Bully Dog Product?  Rest assure Left Hand Garage has a complete selection at the lowest prices.  Check out our full selection of Bully Dog Products by clicking here.
Or if you have any questions call us directly at 904-447-7878.